We explore the best-in-class in BBQ side tables and trolleys, to help make your next outdoor entertaining event a breeze.
The perfect way to spend some 'outdoors-y' bonding time with your friends and family, a barbecue is the height of summer sophistication. And, a BBQ side table is an ideal complement to your grill!
A reliable and sturdy BBQ table will sit nicely next to your grill, allowing you to store plates, condiments, napkins and even to serve your tasty food from, without rushing back and forth to the kitchen, or forgetting your tongs at the crucial moment! The whole purpose of a barbecue is to catch up, entertain and enjoy some delicious food, and a good side table facilitates this beautifully.
With a range of options available from helpful side shelves to purpose-built BBQ trolleys, we'll take a look at some of the best options for BBQ side tables available on the market right now.
Last update on 2021-04-16 / All Pricing & Imagery from Amazon Product Advertising API
From value-picks to the crème de la crème, we've covered all the bases.
A stainless steel and portable trolley with a range of thoughtful features
Cost: Price not available
With a maximum capacity of 120kg, this side table trolley comes in at dimensions of 85 x 50 x 81cm. Its stainless steel top makes it very durable, super easy to clean and non-food reactive, which is important! It also won't react to the heat of your freshly cooked hot dogs, burgers, and kebabs, and is safe to keep outside or in the garage when BBQ season is over.
Without a doubt the best and most unique feature of this side table option is the built-in bottle opener, helping you to double up as bartender for the night – and giving you no excuse to leave the BBQ while you cook!
This trolley is very versatile – with two wheels and a large handle, it's very easy to move to and from the barbecuing area, and can be quickly moved out the way once the food has been served to make more space for entertaining. It even has four built-in hooks for your tools, such as your tongs and metal spatula, and it can even be used for hanging up your 'best chef' apron at the end of the evening!

Pros
Easy to assemble
Made of very durable stainless steel
On wheels, making it easy to move and put away once the food is ready and has been served
Multipurpose and sturdy: many customers using it to hold a pizza oven
Comes with a great range of features: a built-in bottle opener and hooks for your BBQ utensils!
Cons
Expensive delivery fees, but to be expected for the weight.
---
The lightweight, portable option with adjustable heights and a handy handle
Cost: Price not available
Our value pick option for BBQ side tables is this adjustable table from Andes. This one is the only one on this list that's not purpose-built with BBQing in mind, but this has the benefit of being appropriate for indoor and outdoor use, as well as for a range of other tasks!
This lightweight and adjustable option comes with four height settings ranging from 73 to 94 cm. Assembly is simple, as it comes folded ready to unfold, and it takes seconds to fold this table back up – making it easy to put away and store when required.
Ideal for camping BBQs, the Andes comes with a carry handle and a 30kg max load, making it super-portable for trips away. The major downside to this is that it can feel a little flimsy outdoors, particularly in windy conditions – and you'll need to be mindful of the weight restrictions, more so with this model than any other side table on the list.
Pros
4 adjustable height settings: 73 to 94cm
Light to carry, folds away in seconds
Comes ready to use, no assembly required
A multipurpose, foldaway table!
Cons
Very lightweight – couldn't handle any significant weight on top
Wouldn't be appropriate for outside use in windy conditions.
---
A side table that nestles nicely with your BBQ grill.
Cost: £75.99
Another triumph for stainless steel, the Onlyfire Grill Side Table is the most sturdy of the options for anyone with a Weber charcoal grill. While it could work for other BBQ shapes and sizes, this side table has been purpose-built to attach seamlessly to those infamous circular kettle grills.
At dimensions of 55 x 48 x 7cm and a weight of just 3.84kg, the Onlyfire is positionable on any side of the barbecue – adding a significant amount of extra space, perfect for holding condiments, salads or cooked meats fresh off the grill.
Its strong material and locking attachments hold it in place securely, and it comes with four built-in hooks (two on each side) for easy access to your all-important grilling tools. Finally, it comes with adjustable leg heights to match your BBQ, and these can be altered individually to compensate for wobbly surfaces or uneven ground.
Pros
Easy and secure attachment to a Weber (or similar) charcoal grill
Strong material, made of stainless steel with a high-quality finish
Adjustable leg heights
A lightweight option at 3.84kg
Four built-in hooks for your BBQ tools!
Cons
If stored or left outside, rainwater can collect in the legs, which may require manual intervention to drain.
---
A multipurpose folding table that can be picked up and packed away in moments.
Cost: Price not available
The Toro Folding Table with metal worktop is a versatile side table, suitable for outdoor BBQs and indoor cooking alike with its maximum load capacity of 100kg and 6.2kg weight. Its foldable nature allows you to put it up and down with ease, while its slim foldaway size fits neatly in small storage spaces.
Perfect for barbecue prep or holding a table grill, the Toro has a work surface of 53 x 63cm and is made of powder-coated metal to keep it heat-proof, food safe and sanitary. Its two large wheels make it easy to manoeuver, while its sturdy base keeps it still when you need it to be.
This folding table has a storage area for barbecue accessories and its 66.5cm height makes it ideal as a BBQ side table, supporting food prep and serving.
The only big drawback of this option is that many costumers have reported that it's difficult to assemble, with awkward assembly instructions that are often hard to follow.
Pros
Can be used as a side table or to hold a table grill
Space-saving, easily folds away
Built with sturdy aluminium
A good maximum load capacity of 100kg.
Cons
Assembly instructions difficult to understand, can take a while to put together.
---
A purpose-built barbecue trolley made with the great outdoors in mind.
Cost: £126.90
Made with barbecuing in mind, the Beneffito Portimao is the ideal option for households with a modern feel. While it can be used as a work surface or grill stand, its two-tier system makes it perfect for the BBQ.
Its lightweight properties make it super-simple to move around the garden, with two large wheels and a handle for accurate manoeuvering. Built with stainless steel in black, this trolley is food-safe and very easy to clean. Coming in at a weight of 12.5kg, it's on the heavier side of the options on this list, but can be used as a versatile trolley for the kitchen (or elsewhere!) when it's not BBQ season.
The two shelves really maximise the storage space, allowing you to keep plates and cutlery on the bottom, with food and condiments on top for easy serving. The other alternative is to use the top shelf to hold the grill, and the bottom to hold your accessories – as this is the only shelf or side table option in this list without built-in hooks for holding your ancillaries.
One major flaw for UK customers is that the instructions have been frequently marked as being complicated, making assembly difficult. The manufacturer also, while claiming that there are instructions included, says that they may not be in English. So bare this in mind if you're not a dab-hand with DIY building projects!
Pros
Two tiers of storage, making the most of the space
Lightweight, easy to move due to wheels and handle
Made from a durable and easy-to-clean material, with a stainless steel top
The load-bearing top shelf can hold table grills or pizza ovens!
Cons
Tricky-to-follow assembly instructions
The only option for side tables on this list without BBQ tool holders built-in.
---
A small grill shelf perfect for when you're lacking in outdoor space.
Cost: £31.99
The smallest of our side tables on the list, the Denmay Grill Table Shelf is a small shelf suitable for circular BBQ grills. Interestingly, this is another product built with Weber charcoal grills in mind – but the least versatile of this entire list, only fitting circular grills that are 22" in size.
What's good about this BBQ shelf is that it's purpose-built and the colour matches the black of most grills well, making it a valuable extension to your BBQ. It also comes with no assembly required, which is handy! It also comes with four hooks – two on each side of the shelf – to help you store your grilling tools close by.
As the lightest option in our list, the Denmay comes in at a weight of 1.52kg, and dimensions of 26.6 x 24.8 x 13.4cm.
However, the main issue with it is that the surface area is so small, it's unlikely to hold much more than a single plate of sausages, or a couple of stacks of napkins. The manufacturers suggest buying two – one for each side of the grill – to nab some extra space. Overall, this product is probably more suitable for BBQing on the go, or while camping, than hosting large-scale events in the garden for family and friends.
Pros
Four built-in tool hooks
The colour matches the frequently used shade of black on many charcoal grills
Portable, lightweight and no assembly required.
Cons
Very small, not a large surface area
Only suitable for round Weber or Weber-style 22" grills
Probably not suitable for large entertaining purposes.
---
Why should I use a BBQ side table?
Overall, there is a wide range of benefits to incorporating a BBQ side table into your next garden party. First of all, the large majority of them come with built-in hooks which makes your tools accessible while you grill. Is there anything worse than picking up a scolding hot metal spatula when it's been inadvertently sat on the BBQ for a few minutes?!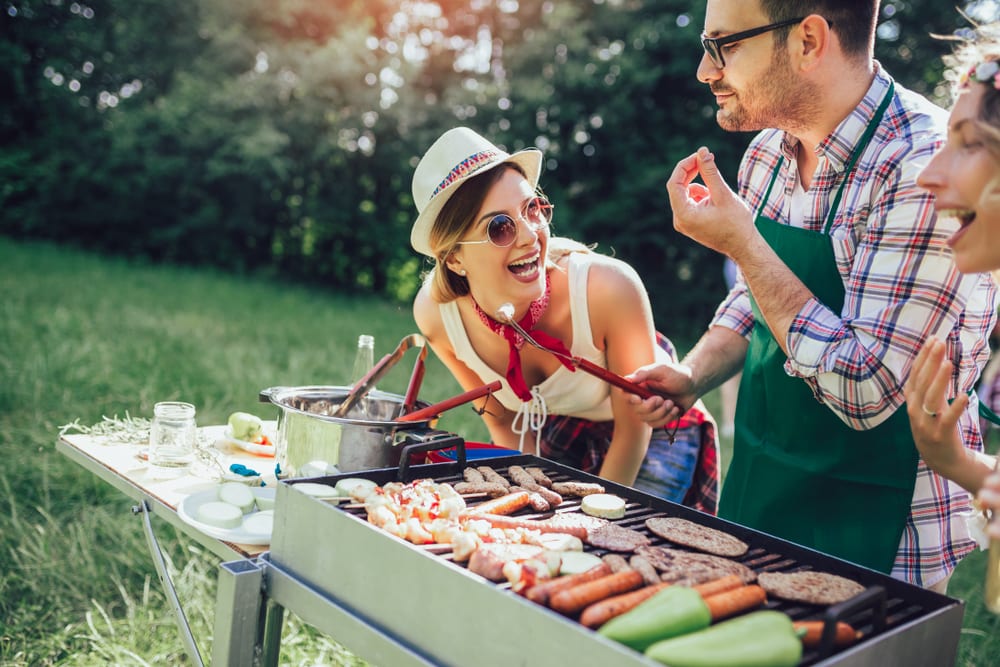 The next major benefit to a good BBQ side table or trolley is the extra sociability – the combination of handy hooks and extra storage make it really simple to stand in one place and socialise with your loved ones, rather than rushing back and forth between the kitchen and grill to grab your tools, skewers, mustard and burger buns!
Finally, they can be used to serve as you go – saving you stuffing scolding hot burgers into buns with your hands when each one is ready! You can simply add the cooked meats to a plate on your side table or shelf, which then becomes a handy serving table for your friends and family to serve themselves from.
Happy barbecuing!

Sophie Lorford
Sophie is a freelance writer who loves the great outdoors, travel and learning new things. Juggling motherhood with a passion for writing, Sophie loves to give guidance and help others with her work.