Decking is the perfect addition to any garden or outdoor space.
Giving some additional room for entertaining, playing or often used to facilitate outdoor kitchens and dining, decking is generally an elevated platform made from natural wood such as oak, ash or beech.
Although made of wood, keeping your decking in tip-top condition shouldn't be a headache. While we don't recommend painting or treating newly-laid decking (you should leave it for six months or so to weather naturally first), painting your decking can be a great way of treating splinters, filling in small cracks and making it look fresh when it's weathered.
With treatments recommended twice a year – in the spring and in the autumn to prepare for the two weather extremes (hot and very cold weather) – there are a few options available for deck treatments including paint, stains or oils.
Below, we'll review several of the UK's best options for deck paints and treatments with added protection.
When it comes to deck treatments, there's a lot to think about! It's important to consider your choice of oil-based or water-based paints, as well as thinking about colour, textures (including grip), and drying times. All these considerations need to be made to inform the next steps too, such as whether or not you'll need a thinner, and which tools you'll need such as timber block brushes, paint rollers or paint sprayers.
Last update on 2021-04-22 / All Pricing & Imagery from Amazon Product Advertising API
Below, we'll look at some of the best options for decking paint including colour options, treatment types, drying times and application methods. Let's get started!
A high-performance anti-slip paint with a range of colour choices.
Cost: £69.95
Available in 5 sizes: 946ml, 1.8l, 2.8l, 3.7l and 3.8l, the Dura Grip Anti-Slip Decking Paint is at the top of our list as a best pick.
Built with decking, floors and boats in mind, this epoxy paint comes with an anti-slip texture, for the ultimate in safety for bare feet, fluffy paws, shoes and sandals. Available in 10 colours including reds, blues and browns, this multi-purpose paint is perfect for wood, concrete, fibreglass, metal and tiles, and is perfect for decking.
The 946ml size covers up to 7m2 with two coats, and dries within 12-24 hours – with the second coat suitable for application after just two – promising immediate water and stain resistance. It's also chemical resistant, so perfect for decking next to swimming pools or home hot tubs. Stir well, and apply using a paint roller applying light, even pressure and avoiding thick coats.
Pros
Available in a wide range of colours
Multi-purpose for many materials and flooring types
Perfect for decking, with anti-slip texture
Chemical, water and stain resistant
Easy application and quick drying.
Cons
Comes with a slightly glossy finish, some customers prefer matte options for decking
Not suitable for use with a paint sprayer, due to its non-slip particles
Can be sticky when wet.
---
Our value pick decking treatment with anti-slip properties.
Cost: £29.95
An oil-based decking treatment, the Firmtread Anti-Slip from Paint People gives a soft tint to enhance any wood decking, giving it a new lease of life.
An anti-slip coating, this option is a very cost-effective method of updating and protecting your decking. While it won't block out the colour of your wood entirely, it's available in several modern colour options including sage, charcoal, silver birch and even clear. The coat has a light texture to it with a matte, low-sheen finish, keeping your natural wood looking as fresh as the day it was installed.
With minute particles, the Firmtread provides a grippy coating to your decking without the uncomfortable gritty feeling on your feet, protecting you and your family from wet decking falls. At a standard size of 2.5L, one pot will cover 20m2 of decking with two coats of treatment, is touch dry within 2-4 hours and ready for recoating after 8.
Pros
Fast-drying, suitable for a second coat within eight hours
Large tin size to cover a wide surface area
Oil-based treatment with anti-grip properties
A premium, commercial-grade paint for the home
Cost-effective and available in a wide range of colour options
Enhances and protects the natural wood.
Cons
The particles mean it may not be suitable for spray gunning application
It's not a paint, so won't cover any previous treatments or colours.
---
A 'rescue paint' perfect for old, tired and weathered decking
Cost: £55.99
Available from the household name Ronseal, the Decking Rescue Paint is designed with long-term decking protection and repair in mind.
Promising to fill small cracks, seal down splinters and covering grey wood, the Rescue Paint is available in five colour options: charcoal, chestnut, English oak, slate and willow.
Its long-lasting and scuff-resistant finish protects your decking from weathering, and comes in at two large size options – 2.5l or 5l. The 2.5l option will effectively cover a 10m2 ridged decking and 12m2 smooth with two coats, with the 5l doubling this providing 20m2 and 24m2 of coverage respectively.
This option is perfect for older or well-weathered decking, because of its properties that allow it to 'repair' your decking and improve its appearance, and Ronseal report that it's rainproof just 90 minutes after application – although, ideally, it needs to stay dry outside while it dries for the best possible results!
Pros
Improves the look of old or weathered decking
Covers a large surface area with two coats
Repairs splinters, fills holes and cracks in decking
A good range of colour options
Scuff-resistant with a matte finish.
Cons
Reports of it flaking quite quickly from customers
Not suitable for paint sprayers – only for paint brushes, timber brushes or pads.
---
A tough non-slip deck paint with a range of modern colour options.
Cost: Price not available
Created for one purpose and one purpose only – adding colour and grip to decking – this quick-drying paint has a wide coverage suitable for rigged, grooved or smooth decking surfaces.
With a range of modern options from 'Battleship Grey' to 'Oxford Blue', this paint adds a fresh pop of colour to your decking. Coming in sizes of 2.5l or 5l, the coverage is 13m2 per litre, giving you between 32.5 – 65m2 in total across the two coats.
While unsuitable for paint spraying, you can use an application brush or roller to apply this grippy deck paint – with the manufacturer recommending the use of a timber block brush to paint.
With a drying time of 2-4 hours, this quick-drying and thick paint covers splinters and holes while providing protection against the elements and protecting your feet, keeping your decking looking at its best for the long-haul.
Pros
A nice range of colour options
Suitable for ripped, grooved or smooth decking surfaces
Adds colour, grip and weather protection to decking
A wide coverage area, up to 65m2
A durable and thick paint that seals cracks and small holes.
Cons
Not suitable for paint spraying, recommended that a timber block brush is used to apply this paint.
---
A multi-purpose paint for those who enjoy a coordinated outdoor colour scheme.
Cost: £48.99
An oil-based multi-purpose paint, the Multi-Purpose paint from T.A Paints is perfect for garden decorators who want their garden fence, sheds and decking to match.
Suitable for barns, outdoor furniture and even metal frames, this paint comes in 1l, 2.5l and 5l sizes, with 37 colour options from 'Aircraft Blue' to 'Golden Yellow', covering all the natural wood shades too with a gloss finish.
As with most of the other options on this list, this paint is touch dry within 2-4 hours, and ready for coating again 12-24 hours after the first coat has been finished. With coverage of a 8m2 litre, this is one of the only paints to make the cut that is suitable for paint spraying (with a suitable thinner – the manufacturer recommends using white spirit), and comes with a high gloss finish, rather than matte.
Its oil-based formula lends itself nicely to weather protection, claiming to last much longer than its water-based alternatives. Chemically resistant, this is another paint that's great for homes with swimming pools or hot tubs, protecting the natural wood from harmful chlorine chemicals.
Pros
A good range of colour options with a high gloss finish
Suitable for a range of materials: Brick, metal, timber, concrete, stone and wood
Chemically resistant and weather resistant
Multi-purpose so can be used for garden furniture, storage, fences and decking.
Cons
Doesn't ship to Ireland, the Highlands or AB postcodes
May fade at different frequencies on different materials or items, so the colours may not match throughout the garden for the long-term.
---
How To Paint A Deck
When painting your deck, it's important to start the process on a dry day. Nothing is worse than painting your deck for hours and then a downpour spoiling your work, or even attempting to paint a wet deck!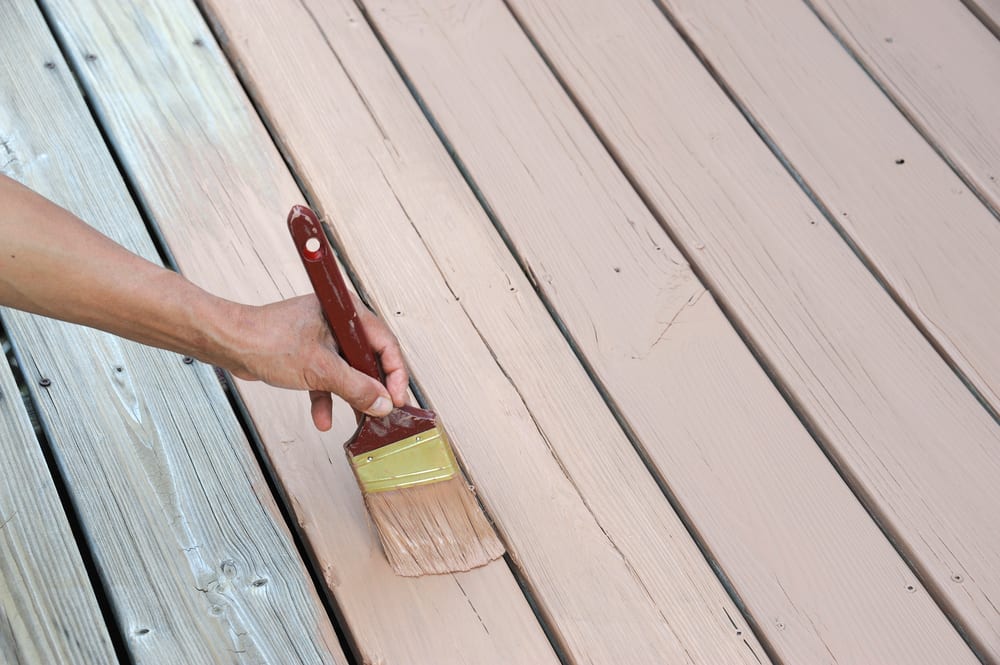 The first step is to take everything off the deck. Use a broom to clear off any dirt, garden waste or general rubbish from the wood. Now is a good time to look for any raised screws or broken boards, and fix these before starting the treatment.
Once your surface is clear, clean it with some purpose-made deck cleaner and scrub, rinsing with water after 30 minutes or so. The best tool for efficient cleaning is a pressure washer, or you can use a garden hose.
The next step is painting! Once your deck has been left to try for 24-48 hours, gather your tools such as a brush, paint roller or even a paint sprayer if you're going all-out. However, if you do decide to use a paint sprayer, plan this ahead of time for two reasons:
Your chosen paint or protective treatment may contain small particles for grip, which may clog a paint sprayer
Your treatment may require a paint thinner added, to reduce the viscosity and make it suitable for spraying.
After mixing the paint thoroughly for several minutes, start in the farthest possible point of your deck and work your way back to avoid stepping on wet paint. Then, leave to dry and apply the second coat as per the manufacturer's instructions. This is important, because 'touch dry' and 'dry dry' are two very different things – it's almost never ready for a second coat until it's been left overnight.
Can You Use Fence Paint On Decking?
Although matching your fence to your decking may seem appealing, fence paint isn't designed with foot traffic in mind. The other big consideration is that fences and decks weather at different rates – so the colours won't match for longer than a few months anyway, which would be disappointing!
Purpose-built decking paint is designed with feet, paws and even chemicals such as chlorine in mind, so for the most durable treatment possible, use fence paint for fences and deck paint for decking – even though it might not be a perfect match.
Happy painting!

Sophie Lorford
Sophie is a freelance writer who loves the great outdoors, travel and learning new things. Juggling motherhood with a passion for writing, Sophie loves to give guidance and help others with her work.