Unless you're lucky enough to live off-grid in the middle of a forest, most of us have some form of garden fence surrounding our outside space – yet fencing is an often overlooked area of garden design.
As fences tend to have a large surface area, changing them can have a big impact on a garden. By doing something as simple as painting your fence, you can breathe new life into your exterior space, and make it feel fresh and modern.
If you don't fancy picking up a paintbrush, there are plenty of other options for changing your fence – you could change it from wood to metal, or stylish bamboo; decorate it with lighting; or you could even transform it into a vertical garden.
To provide you with more inspiration, we've put together this collection of 24 stylish garden fencing ideas, that are suitable for any outside space. Why not have a look through, and see if any take your 'fence-y'?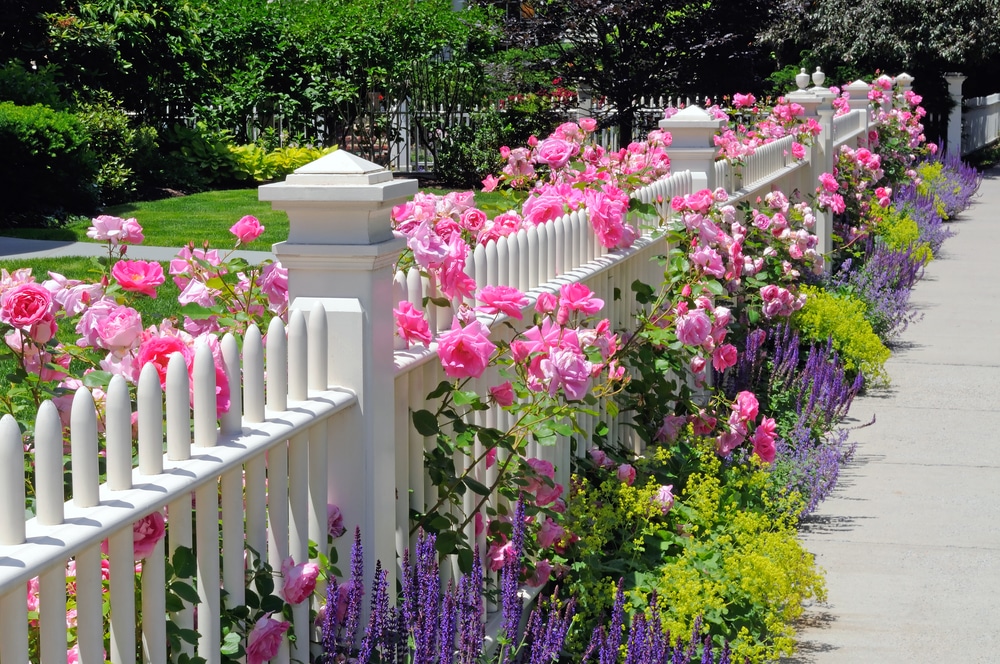 1. Flower power
One of the easiest ways to transform a fence, and add colour and greenery to your garden at the same time, is to surround it with flowering plants. In this example, a white fence is covered with roses, sage, catmint and speedwell.
To recreate this look, give your fence a lick of paint to make it gleaming white, and then plant several varieties of flowers, in complementary colours, along the base. Include at least one climbing plant, and tie it to the fence to get it started.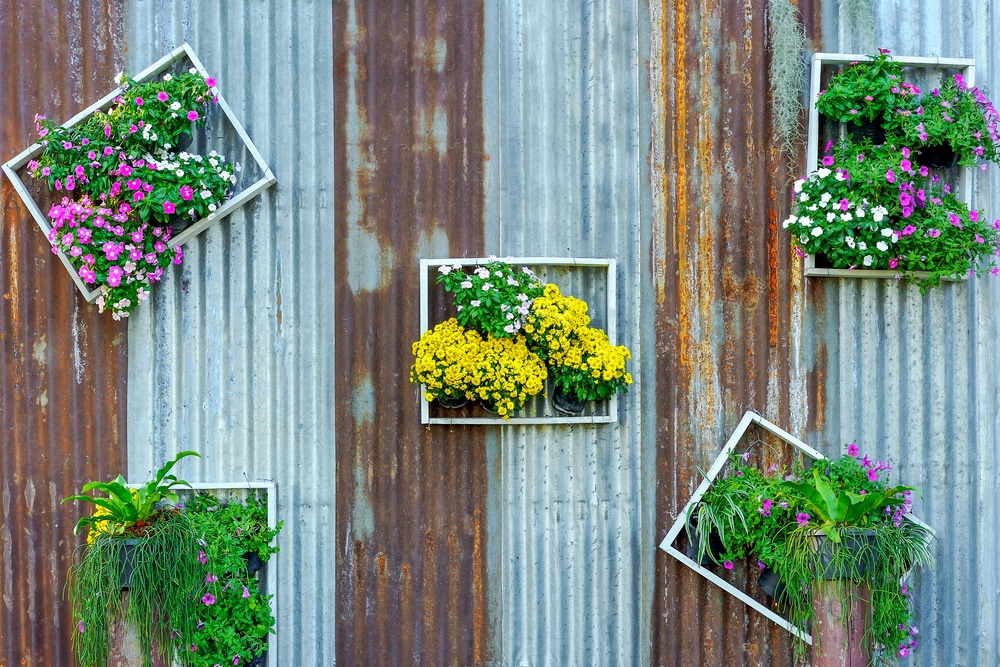 2. Vertical garden
An easy way to effectively transform a tired-looking fence is to create a vertical garden. You can do this by fixing plant pots or boxes to your fence, or by hanging bottles or baskets along it.
Fill the planters with colourful flowers or herbs, and you've got practical as well as stylish fence décor, which also makes excellent use of all the available space.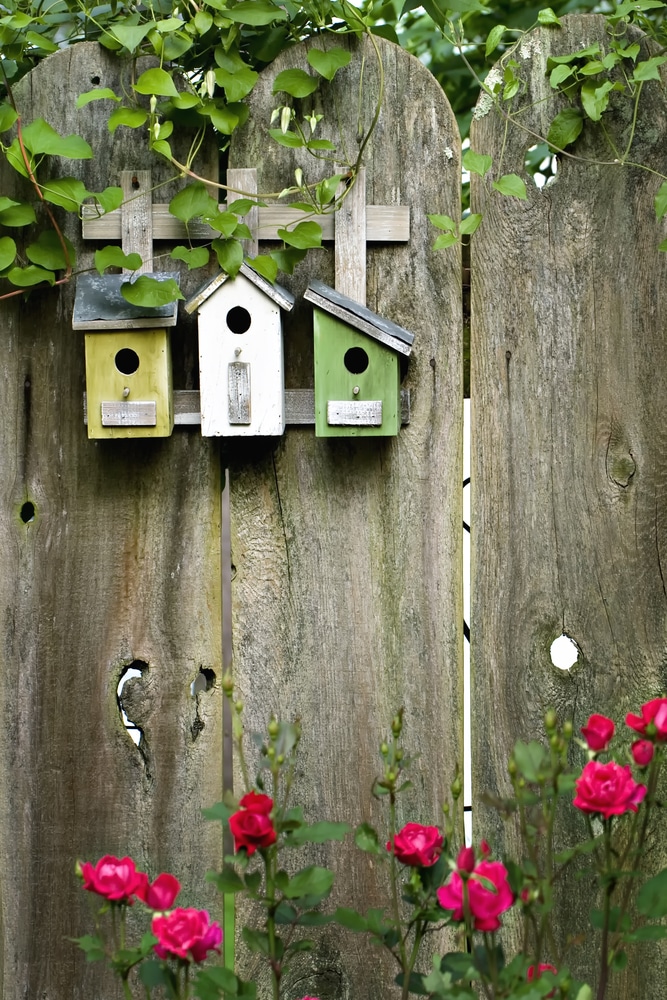 3. Bird home-sweet-home
Another way to brighten up a boring fence is to mount a birdhouse on it. This can not only serve as an attractive feature in its own right, but will also attract more birds into your garden, giving you more nature to observe.
You can mount birdhouses directly onto a wooden fence, or use a trellis. To recreate the look shown, choose a selection of houses in different shapes, colours and sizes, and mount them side-by-side.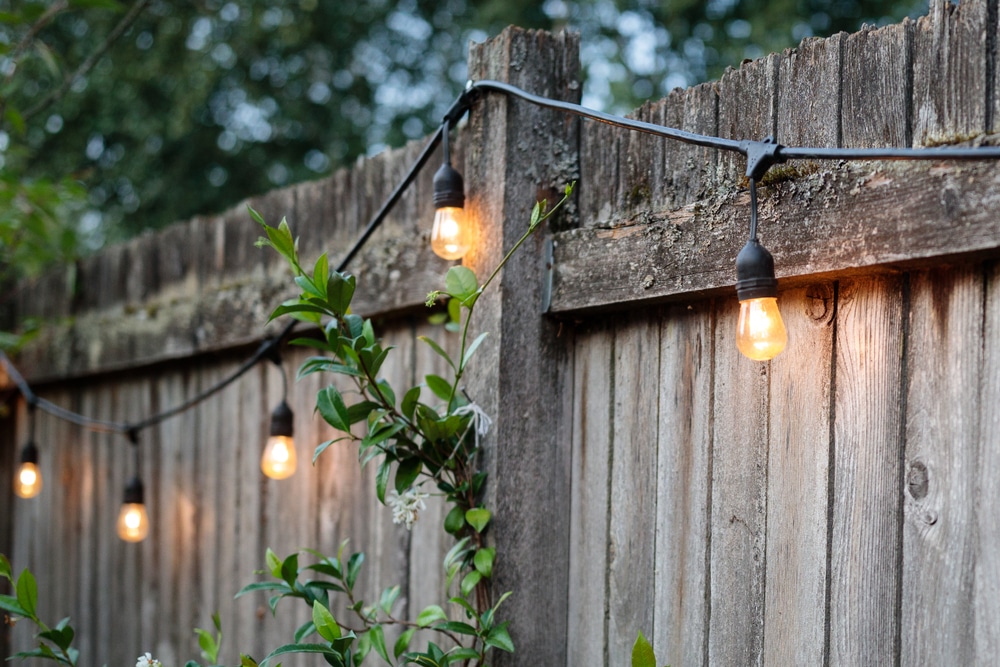 4. Festooned fence
If you'd rather decorate your fence with something that will make your garden more appealing to humans, you could try stringing some outdoor lights along it.
Festoon lights are particularly popular in garden design right now and will give your outside space a stylish, retro-carnival feel, that's perfect for summer garden parties.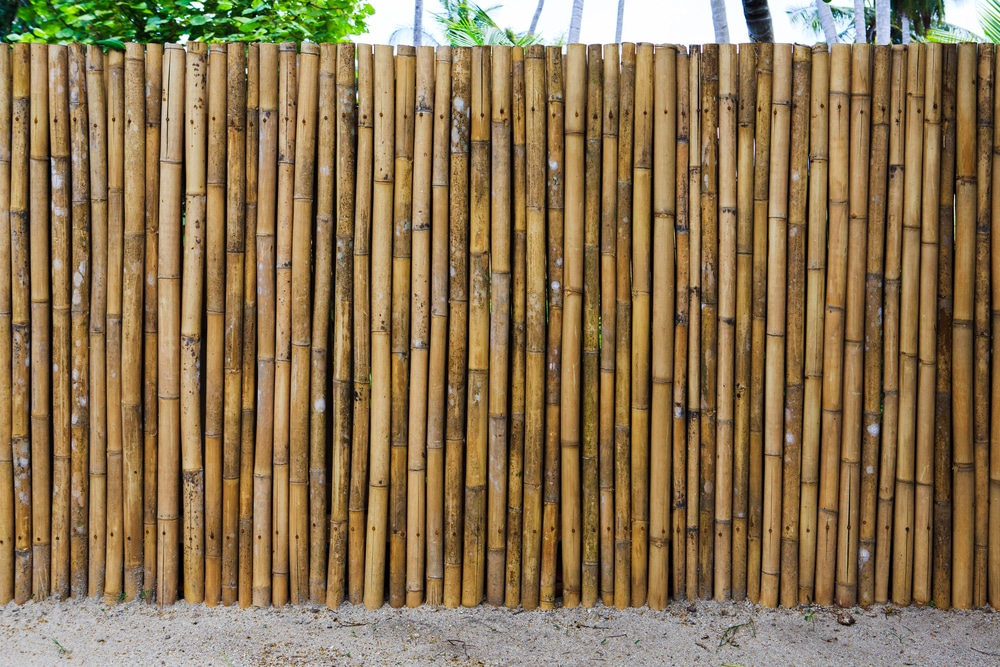 5. Bamboo boundary
Fences don't have to be wooden – there are lots of alternative materials you could use. This bamboo fence is perfect for giving your garden a modern, oriental feel.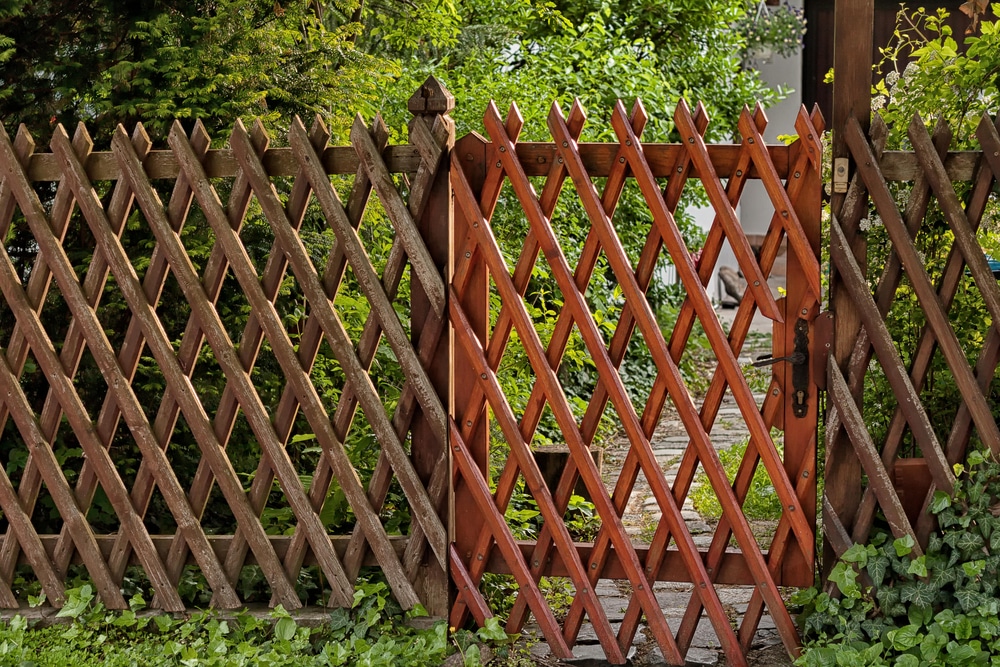 6. Lattice lines
Similarly, fences don't have to consist of your bog-standard planks in horizontal or vertical lines. This unusual latticed fence will add interesting shapes and lines to your garden.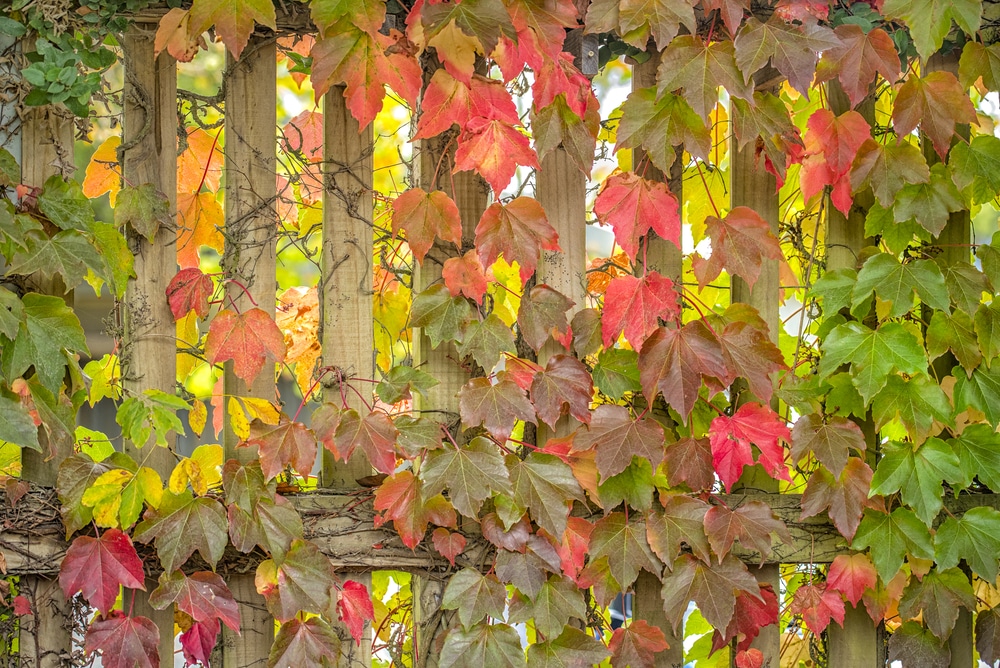 7. Under cover
Covering a fence with a climbing plant or trailing vine is a great way to make it blend in with the natural surroundings of your garden. This wooden fence has been almost completely obscured by a Parthenocissus creeper plant.
The effect is particularly striking in autumn when the leaves turn various shades of red, brown and gold.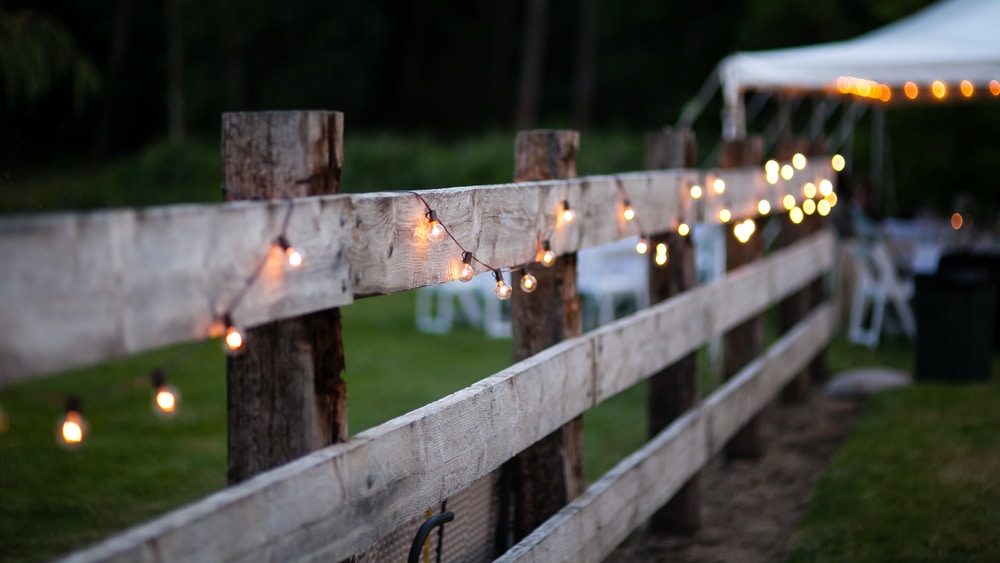 8. Fairy lit fence
It's hard to believe how much an old wooden fence can be transformed with just a string of fairy lights. Wrap some warm white string lights around the top rail, and watch as your fence is transformed from old and dilapidated, to rustic and charming.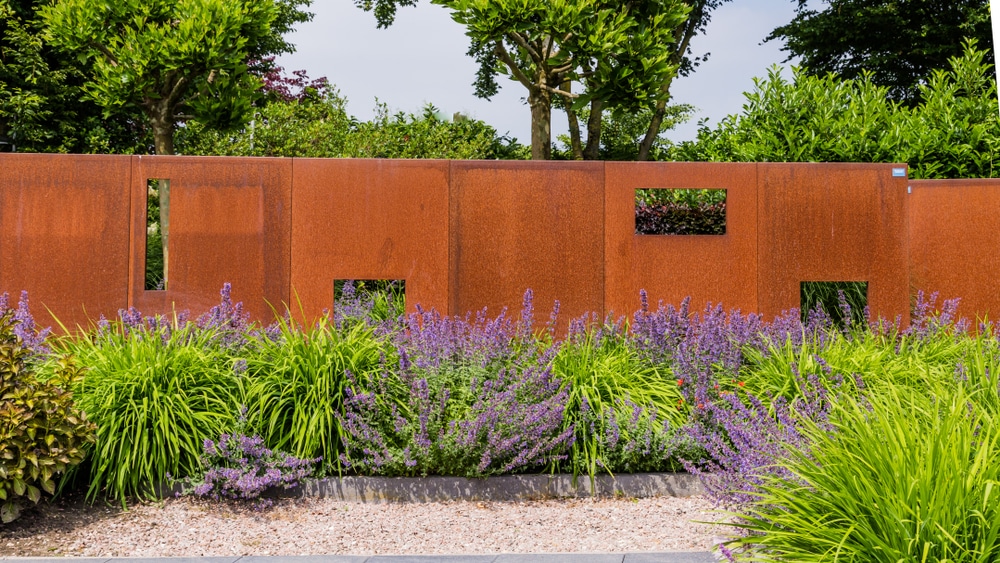 9. Modern geometrics
In this modern garden, the fence is made from a rusted metal screen, with geometric windows. Recreate the look by installing a sheet metal fence, or painting your existing fence rusty orange, and cutting out squares and rectangles. Plant purple flowers and grasses along the bottom for contrasting colour.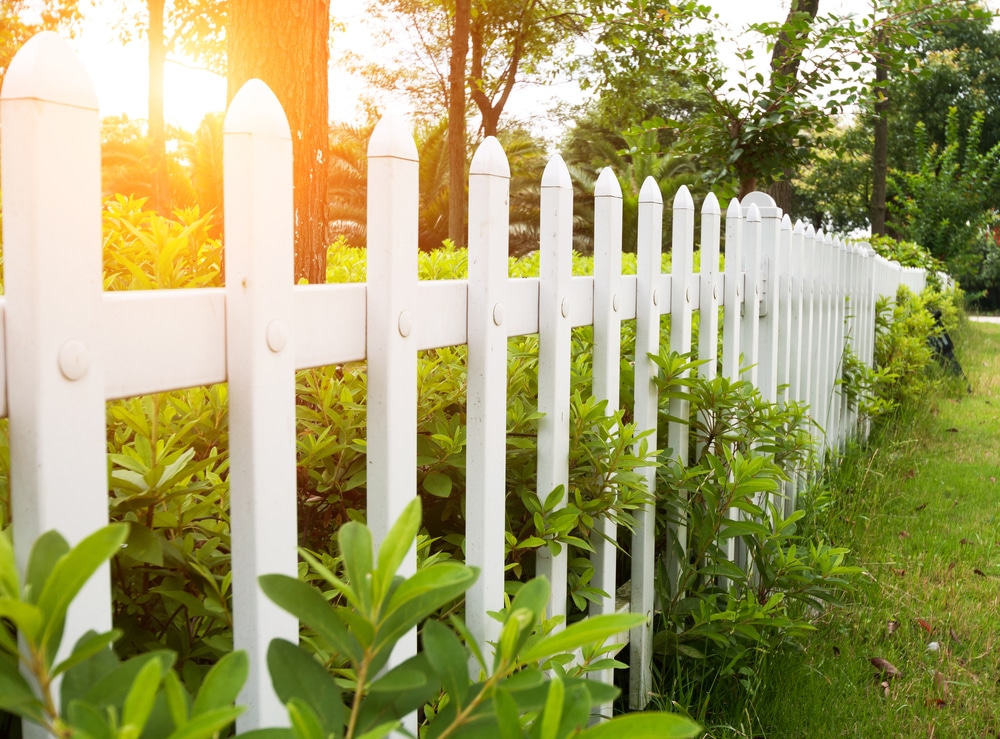 10. Paint perk up
Sometimes, all you really need to transform a fence is a lick of paint. White will look fresh and new, and give your garden a country cottage feel. Invest in some good-quality wood paint that will protect your wood from rot, and look great for several years.

11. Match winner
Your fence doesn't have to contrast or stand out from the rest of the garden to look good. This example shows a fence which matches the surrounding decking and garden furniture, pulling the look together and creating a well-styled design.
Be sure to break it up with some well-placed plants and brightly-coloured outdoor cushions, to avoid all the components blending into each other and becoming boring.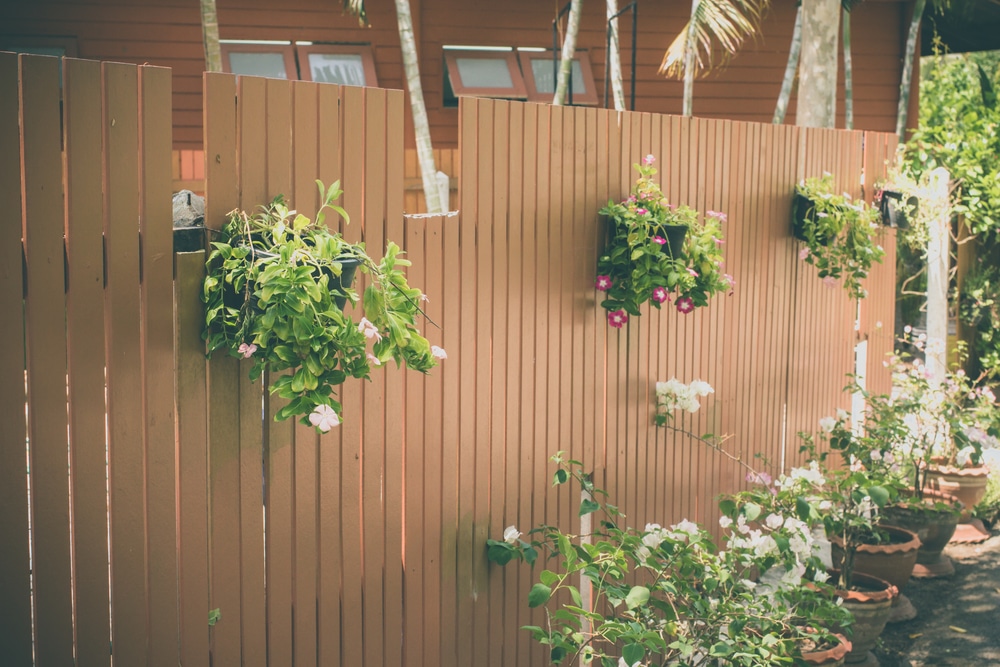 12. Blooming marvellous
Fixing hanging baskets full of flowers to your fence is an easy way to break up a wall of wooden planks, whilst adding more greenery to your garden. If you want to cover more of the fence, choose trailing plants that will cascade down.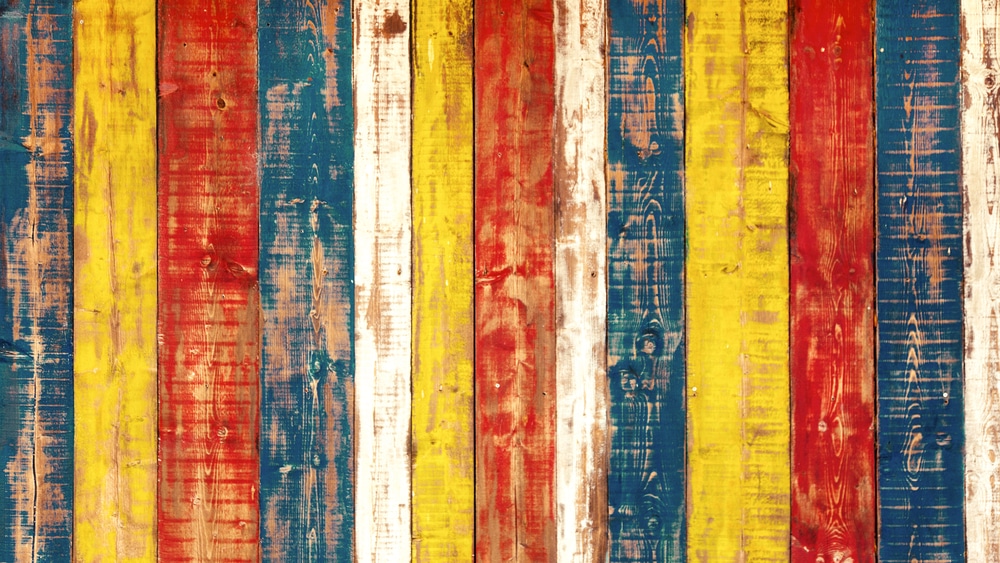 13. Striped stockade
If you fancy a bolder look, try painting your fence in more than one colour. This close-up of a wooden fence shows how each plank is painted a different colour, creating a striped effect.
Keep your palette to 3 or 4 colours to contain the amount of paint you need to buy. To create the distressed effect shown, sand the fence down with sandpaper once the paint is dried.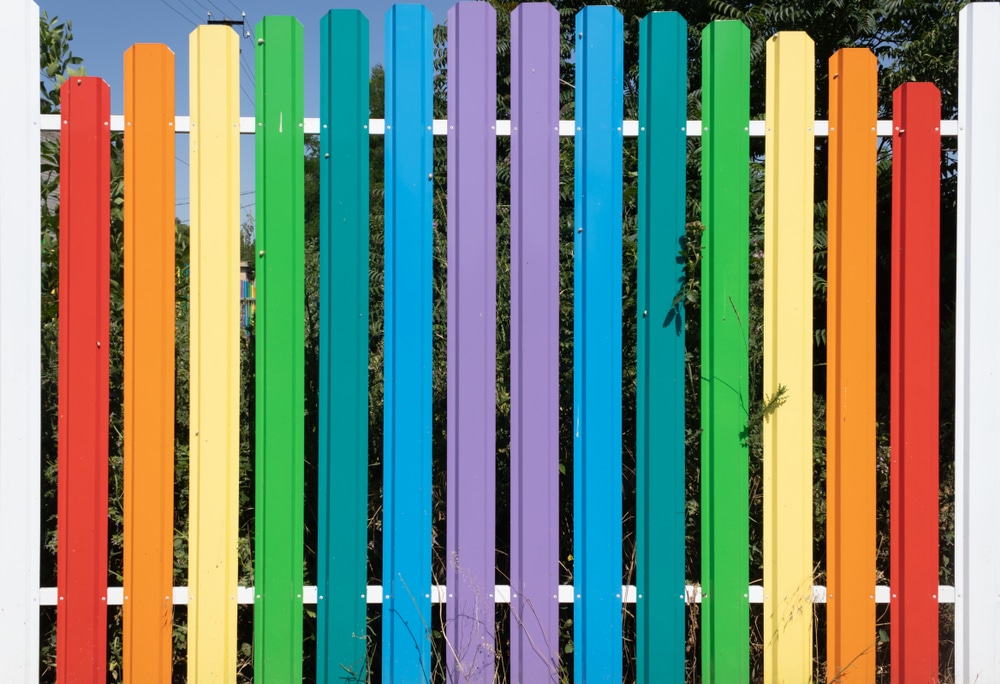 14. Rainbow rails
It's not only wooden fences that can be painted in bright colours. This metal fence is made up of rainbow-coloured strips, creating a fun and tropical look. This design would be perfect for a children's or festival-themed area of the garden.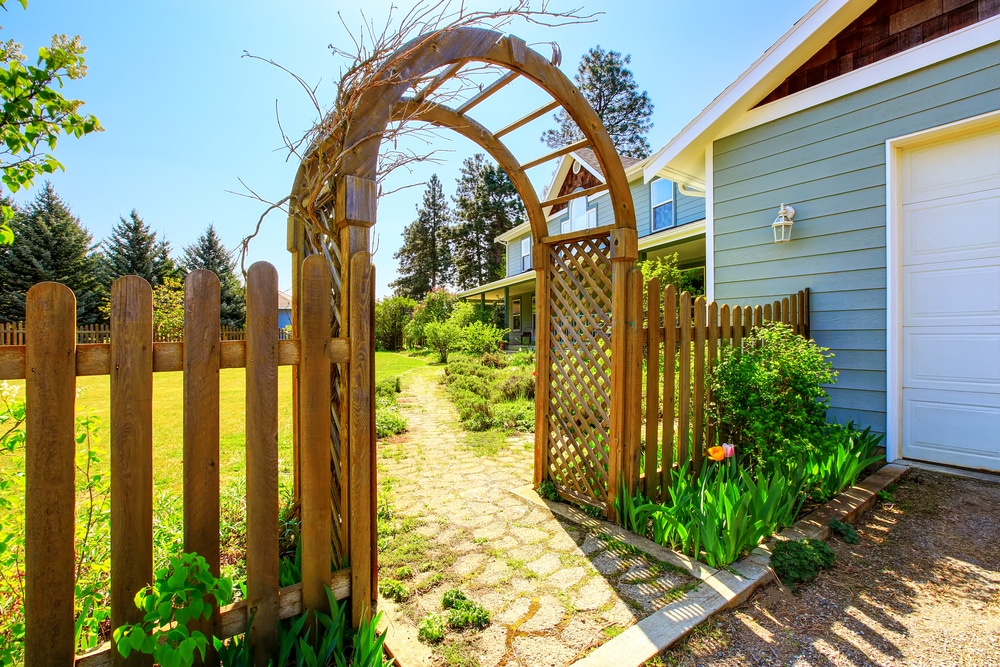 15. Enchanted archway
Why not break up a plain wooden fence by adding in a funky arbour or archway? This can make a great alternative to a gate and works particularly well if your fence cordons off different areas of your garden.
Decorate your arbour with climbing vines, flowers or fairy lights, for a magical 'secret garden' look.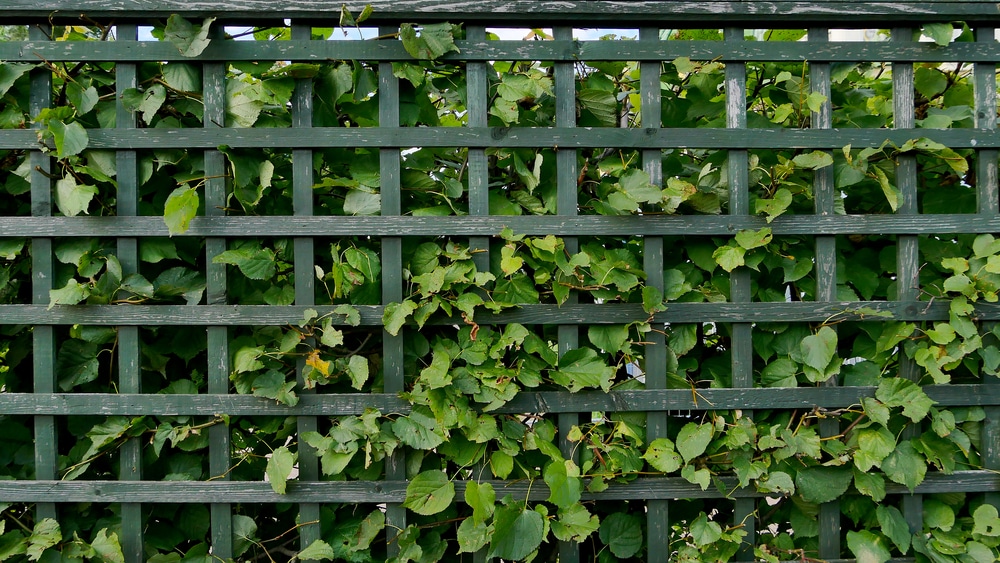 16. Blend into the bushes
If you want a fence that's as inconspicuous as possible, try this green lattice-style option, placed in front of a hedgerow. With its dark green wood stain, it would be difficult to see the fence at all unless you're up close!
You can encourage your hedge to envelop your fence by tying it at various points along the fence, using garden twine.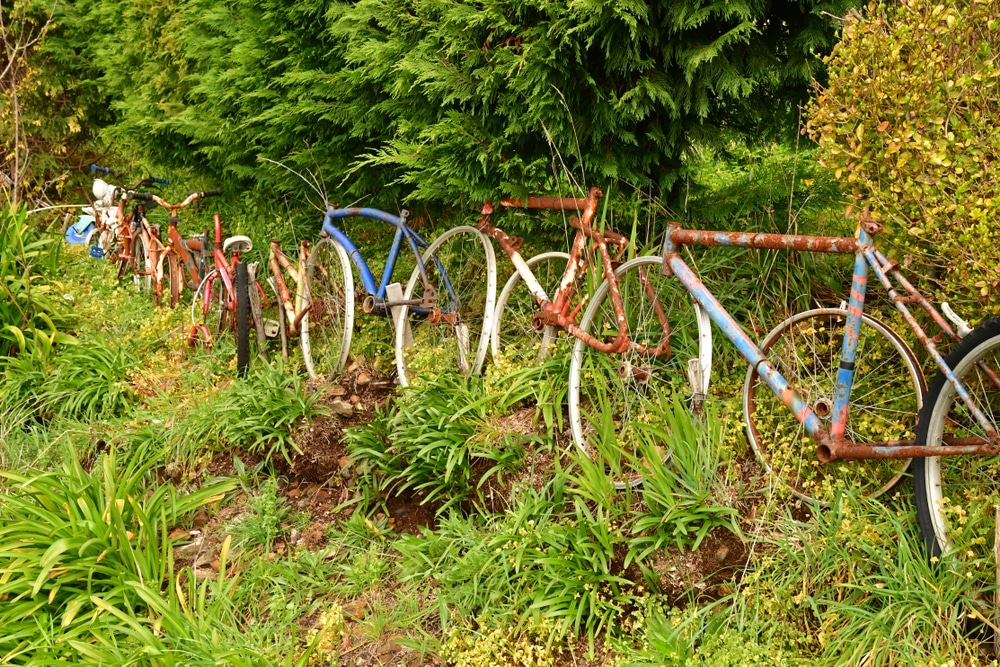 17. Bicycle border
When it comes to planning a garden fence, don't be afraid to think outside the box! This row of rusted bicycles makes a fabulously unique fence idea, and will give your garden a vintage feel.
To recreate this look, source old bicycles from second-hand shops or online marketplaces. Compliment with garden furniture made from used tyres and pallet planters, to complete the hipster, junk-yard look. This is perfect for those who want to make a statement with their garden design.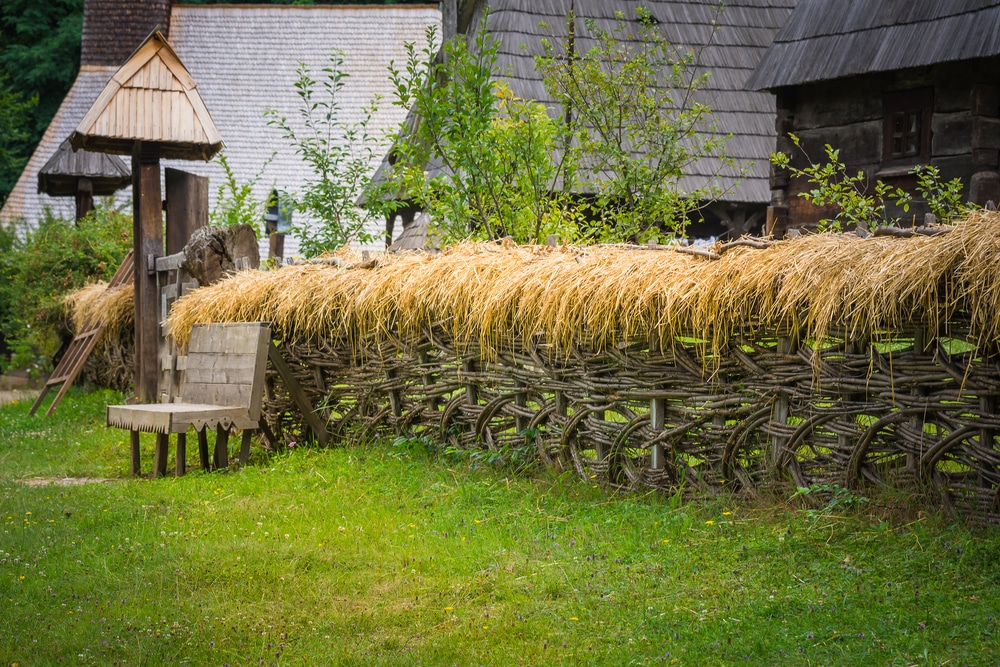 18. Country charm
We're stepping even further back in time with our next fence idea; this traditional knitting fence with grass top. It makes a great choice for the gardens of older buildings, such as thatched country cottages.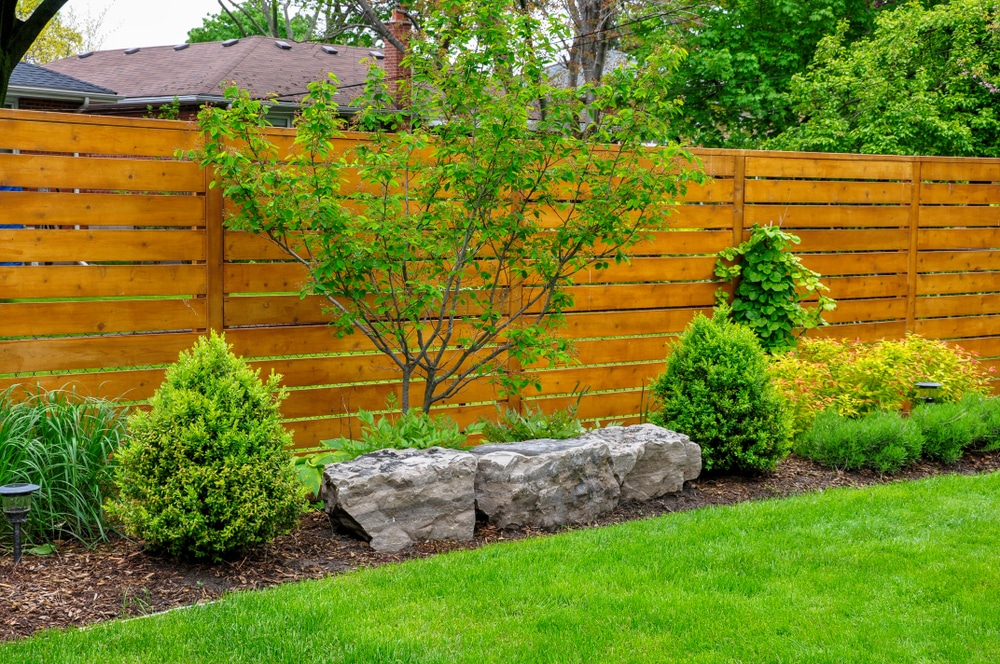 19. Asian inspiration
This Asian-inspired look is created by incorporating a low-maintenance garden border in front of a minimalist cedar fence. To recreate this look in your garden, first, treat your wooden fence with a honey-coloured wood stain.
Then, choose a selection of low-growing, green shrubs and bushes to plant in front of the fence, along with a couple of taller trees. Add a few, well-placed large rocks, to create the feeling of a rockery.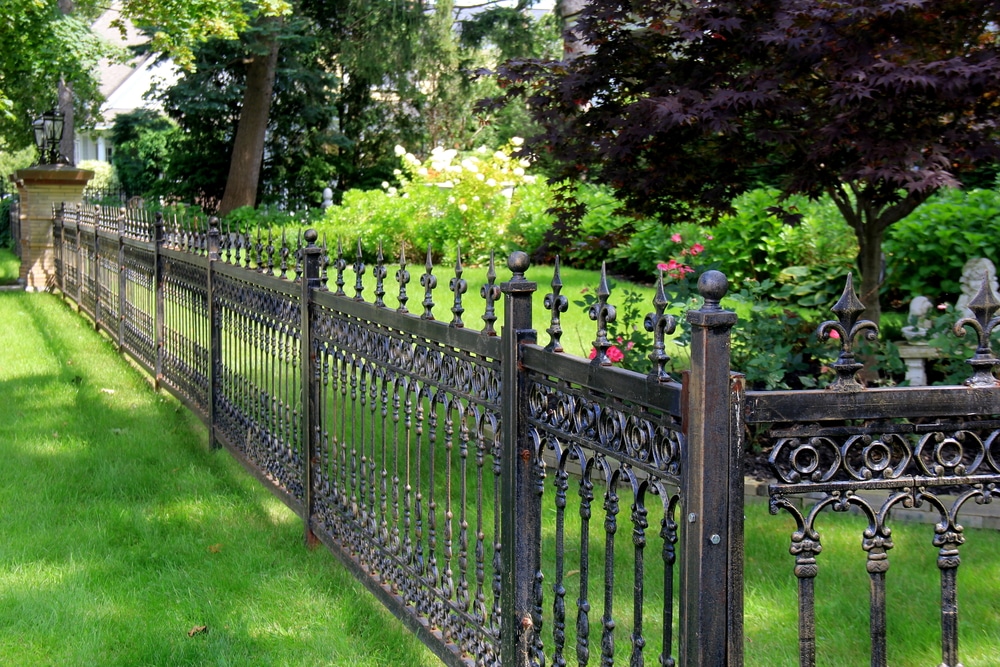 20. Gothic rampart
Wood often dominates the world of garden fencing, but this traditional-style metal fence shows why that shouldn't be the case. Made from durable wrought iron, the black finish creates a gothic-inspired look, that would be equally suited to townhouses or country manors. Plant bright pink or purple flowers nearby if you want to soften the look.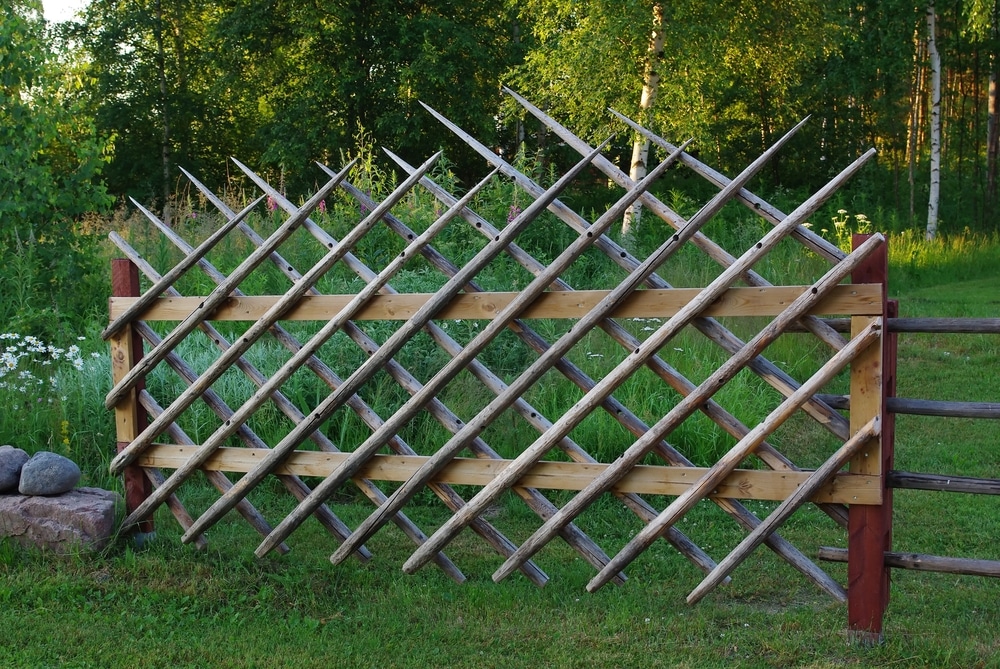 21. De-fence
If you thought a wrought iron fence looked imposing, check out this spiky wooden fence design! Not only is it super unique and stylish, but we highly doubt you'll be getting intruders climbing over it.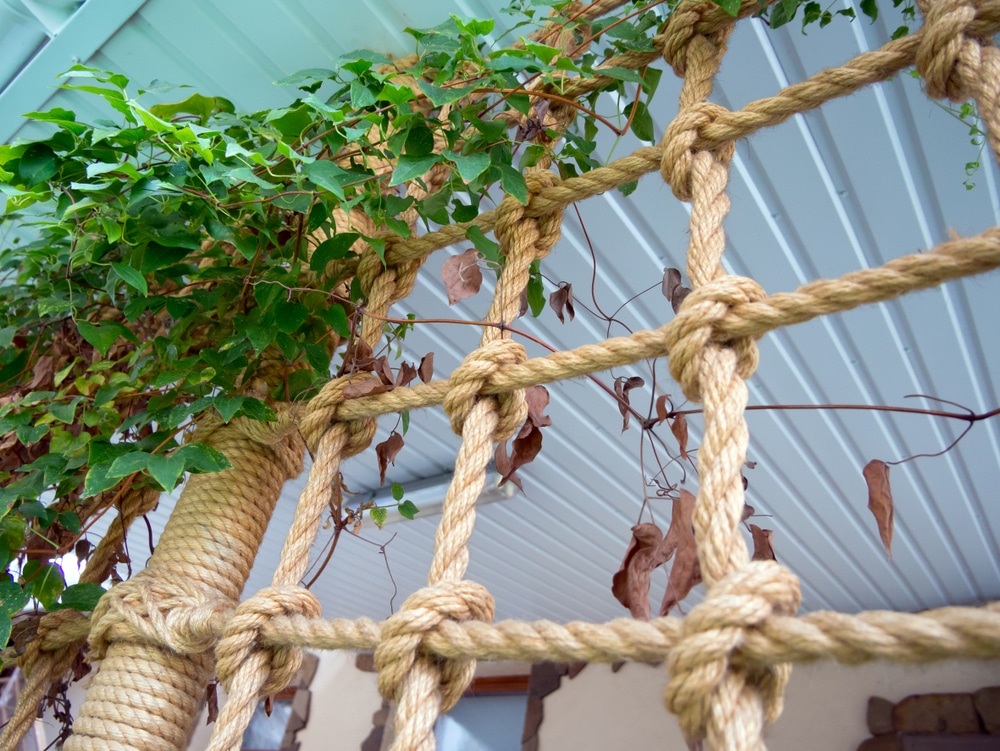 22. Rope railing
Here's another idea for a fence made of something other than wood. This knotted rope barrier will bring a natural feel to your outside space – especially if you encourage climbing plants to grow on it. It would also look great in a nautical-themed garden, alongside old ship lights.
This option is probably best for an area with at least partial cover from the elements, to ensure the rope stays ship-shape and looking its best.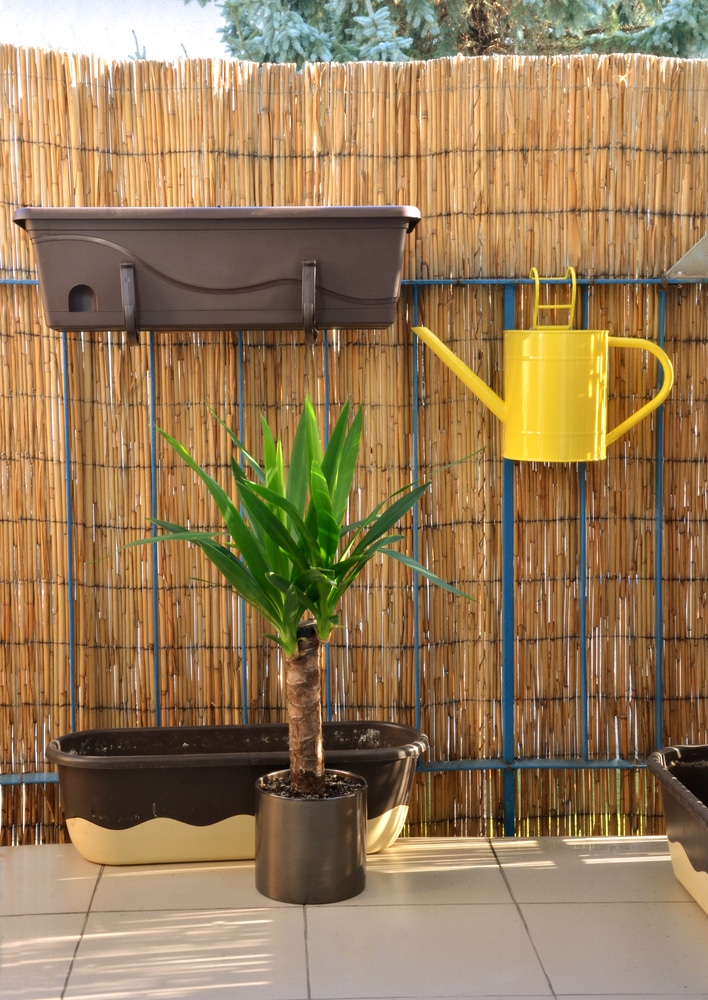 23. Bold bamboo
The combination of a spiky, tropical plant and yellow watering can on this bamboo fence creates a summery look, capable of brightening up even the dreariest British weather.
Bring this effect into your own garden by placing bamboo screens behind your existing fence, and then fixing colourful garden accessories to the fence in front, and adding a potted bonsai palm for Caribbean vibes.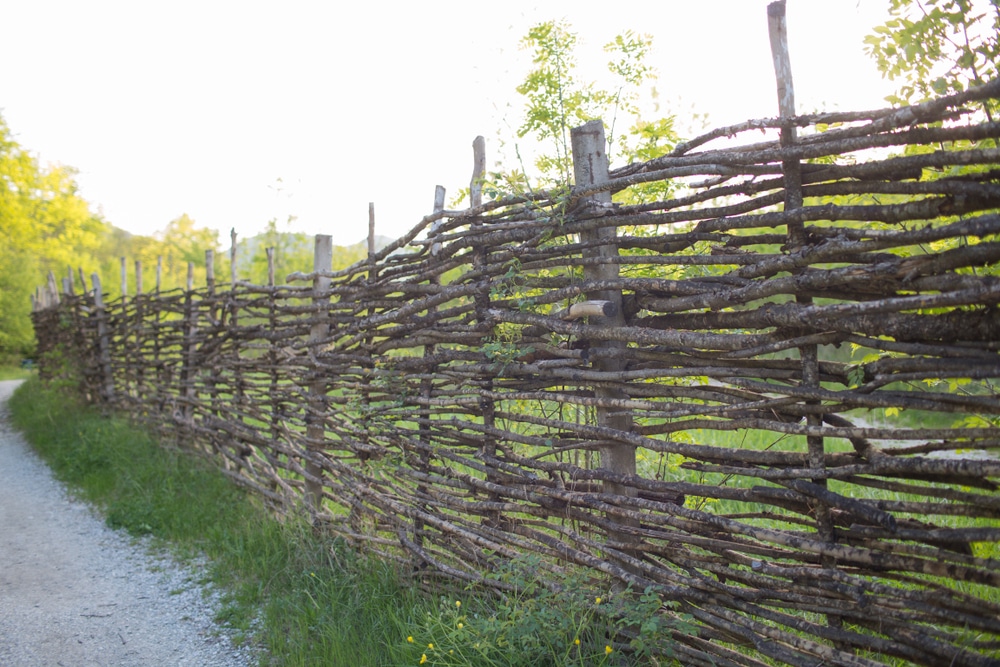 24. Wall of wicker
Finally, this traditional wattle fence will bring natural rustic charm to your garden. This is one you can make yourself if you're feeling handy – start with the upright stakes (choose a hardwood for these), and weave the wicker between them, alternating in front and behind. You can use any long, slender saplings for the wicker, such as hazel or willow.
FAQs
How do you paint a fence?
To paint a wooden fence, you should first prepare it by scrubbing it and removing any dirt and cobwebs. If the fence is already painted, sand the wood down to remove the old paint, and ensure a smooth finish.
Next, apply a primer of wood treatment to the wood, which will help to protect it from rot. You can use a brush, roller or spray gun to apply the paint. Once the primer has fully dried, apply your coloured wood paint – you will probably need 2 coats to achieve an even, opaque finish.
What is the best colour for a fence?
The best colour for a fence depends on your personal preference, and the look you want to achieve in your garden. Here are some of the most popular colours for garden fences, and the advantages and disadvantages of each:
White
A white fence will reflect the light and can make your garden appear bigger. Trailing plants will stand out against a light-coloured background. However, white will show the dirt more than darker colours.
Grey/Blue
Grey or dark blue fences look modern and stylish, and can complement bright garden accessories. They also work well with any surrounding dark green foliage, and won't get too obviously dirty.
Green/Brown
You can't beat a green or brown fence for a traditional look. Natural colours such as these will blend into the environment and are perfect if you just want a fence that looks like a fence.
Yellow
A bright yellow, pink or turquoise fence will add a fun, summery feel to your garden, and will look great alongside colourful flowers and tropical plants.
Can I paint my neighbour's fence?
If your boundary fence is owned by your neighbour, then you cannot paint or make changes to it without their permission – even if the other side of the fence backs onto your property. You also cannot grow trailing plants along it, or do anything else to alter or damage it.
The owner of the fence does, however, have a responsibility to keep the fence in a good and safe condition. If there is a dispute over the ownership, position or condition of the fence, you can contact the Citizen's Advice Bureau for assistance.
April Foot
April is a freelance writer who specialises in writing about home and garden design and the environment. She is an avid wildlife-enthusiast and adventure-seeker, and feels happiest when in the Great Outdoors.