As the saying goes, "you never get a second chance to make a first impression".
If this is true, then your front garden is your first opportunity to wow the world, and to show them what you are made of.
We spend so much time pottering in our back garden, planting, pruning and perfecting. While this is certainly a good cause, it does mean that our poor front gardens often get overlooked.
Whether it's passersby or guests that you want to impress, we have put together the best tips and tricks and inspiration to make your front garden stand out and be a cut above the rest.
Planning and preparation
Before you begin, the first thing you need to discern is what you want to achieve with your front garden.
As with all gardening, it is important you know what your goals and limitations are before you start to help your garden reach its maximum potential.
1. What style is your house?
The very first thing to consider is the style and era of your home. Ideally, you want your garden to compliment and accentuate the character of your house.
If you have a country cottage then taking a traditional approach to your front garden will give you the best results. Likewise, if your house is a more modern build you may want to consider a more contemporary design.
2. How much space do you have?
Even if your front door opens directly onto the street, you can still give the impression of having a front garden, albeit a small one.
If you have very limited space than climbing wall plants, hanging baskets and window boxes can still create a lasting impression on passersby.
Whatever the size of your garden, make sure you have a clear idea of how much or little you want to do with it before you begin.
3. How much time do you have?
As with any project, gardening or otherwise, know how much time you have available to commit to it is vital.
Gardening can be time-consuming, but it doesn't have to be. If you are pushed for time then keep things simple. Potted plants are quick to create and very low maintenance.
Welcome home
Once you have established the style you want for your garden and figured out how much space and time you have, you are ready to get started.
One of your front garden's primary functions is to lead you and your guests to the front door.
Ideally you don't want visitors traipsing across the more delicate parts of your garden, so we recommend you find a way to help guide them directly to your door.
4. Pave the way
A path is an obvious choice to help guests find the best way to your home.
A carefully designed path is not only functional but can also add charm and elegance to any style of garden.
A path can be simple, extravagant, whimsical, traditional or modern and there's almost no limit to the types of material available to use.
A basic gravel path will work just as well as a line of stepping stones, all you need do is decide on the style that fits your front garden.
5. Light the way
Not only can garden lighting be the epitome of elegance and style, they can also act as a landing strip for your guests.
You can pair them with a path or just have them leading across your lawn towards your front door.
Garden lighting is a low-cost way to accentuate the beauty of the entrance to your house. They're also very helpful at the end of a cheeky night out.
6. Flowerpot power
As previously mentioned, flower pots are an excellent option if you are limited on time but they can also provide your guests with a direct route to your front door.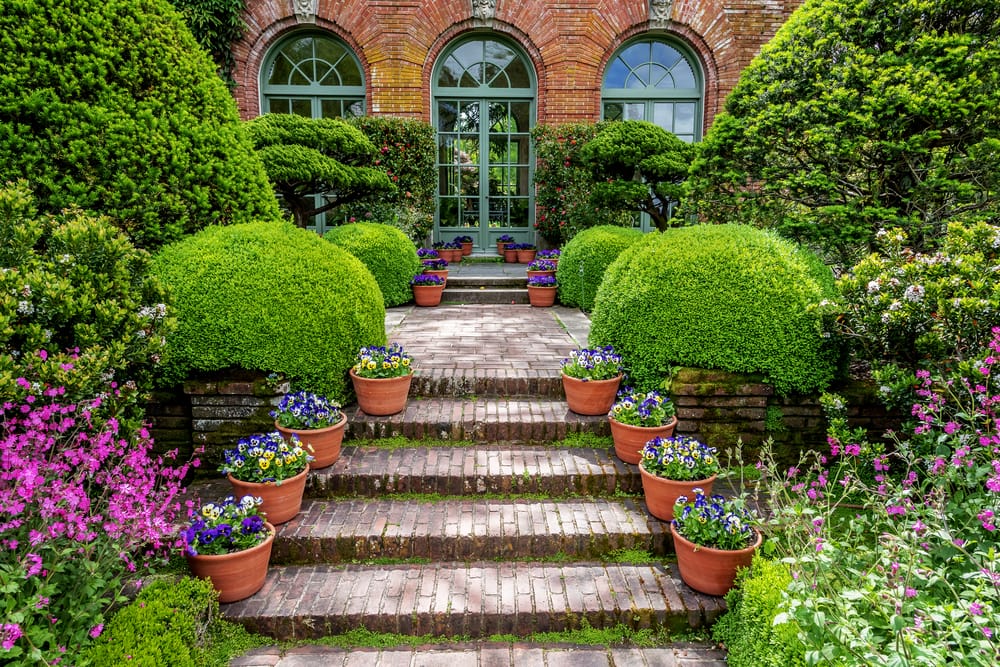 Again, these could either be placed along a path or simply across your lawn.
Do make sure you consider what seasons the flowers bloom in. By choosing a few different varieties you can have beautiful colours more often than not, all year round.
7. Lucious landscape borders
Landscape borders (also known as garden borders) are perfect to create a clean, clear direction to your door.
You can use borders to create a walkway across your lawn, or to accentuate a path, and they're the perfect opportunity to impress your guests with your green fingers.
Great fun to design, you can really go all out with your borders or just keep them simple and classic. Either way there will be no confusion among visitors as to which direction they should be heading.
Get inspired
Once you've established what you want to achieve with your front garden and why, the next step is to get at it!
With so many styles and themes to choose from it can seem quite daunting, so we've put together some inspiration to help you whittle down the perfect design for you and your home.
8) Traditional front garden
While this design will fit most easily with a traditional, countryside cottage, you can make it work with some modern houses too.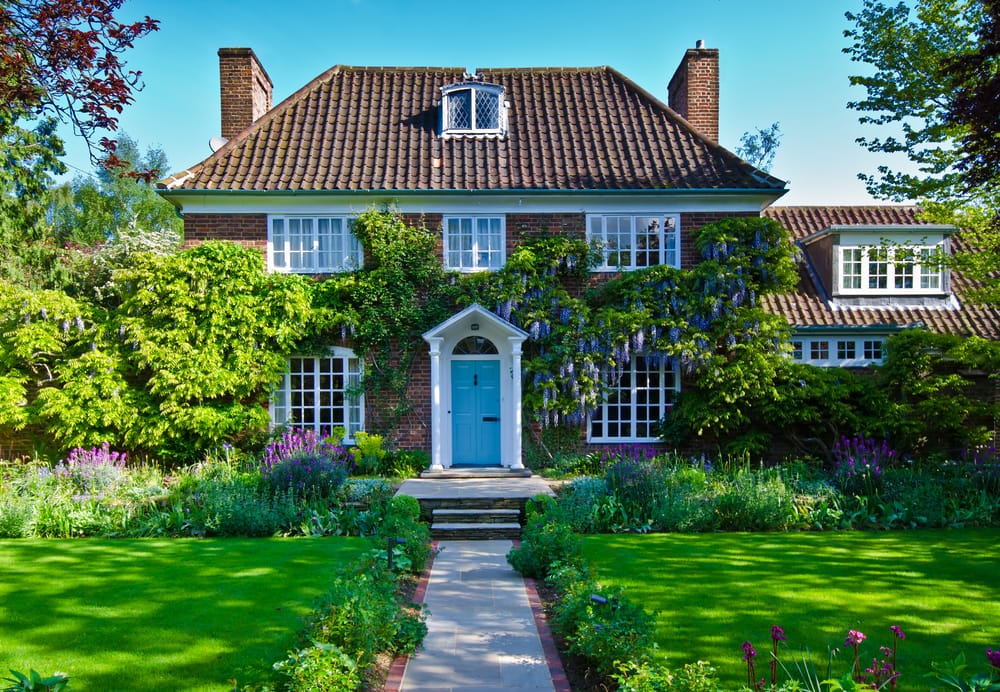 Traditional gardens tend to be very well defined with everything having its place. You can expect to see lots of colour with a big focus being on springtime bulbs.
Hedges will be neat, clipped and well kept and the lawn will have strong edges. White picket fences and hanging baskets are also often included.
On the front of the home you may also see climbing wall plants and a charming, brightly coloured front door.
9) Modern front garden
A modern garden should connect with the modern house's interior as if they are almost extensions of each other.
Instead of a lawn, these gardens tend to feature materials like stone, iron, gravel and wood.
You could also expect to see contemporary garden statues that emphasise the voguish style of a modern home.
Geometric shapes are frequently included with patterns that repeat throughout the space.
A modern front garden will be a clean, bold statement that resonates with the style of the house it belongs to.
10) Japanese themed front garden
This theme of garden has become immensely popular over the last ten years.
A Japanese garden has three main elements: stone, water and plants.
The stone provides the structure of the landscape of the garden whilst the water represents the life-giving force. The plants provide colour and serenity.
This theme would work perfectly if you have a front garden that isn't level as Japanese gardens rely on asymmetric balance.
Consider including lanterns, bridges and water features to totally embrace this style, but do keep in mind that this type of garden may not fit with every house.
11) Morrocan themed front garden
Thanks to the strong winds and searing heat, Morrocan gardens are famous for their beautiful courtyards and, while in the UK we may not experience the same intensity in weather, a front garden Morrocan themed courtyard can be quite the head turner. When tastefully done, it will be the talk of the town.
This is a superb choice if you haven't got, or wish not to have a lawn. Unlike the Japanese style, a Morrocan theme is all about symmetry and to achieve this you are going to want to pile on the tiles. Opt for greens, blues, whites and maroons in impactful geometric shapes.
When it comes to plants and trees, choose evergreen varieties to give the impression of eternal summer. A water feature will also help to give weight to this style.
A wooden pergola adorned with rugs and cushions will certainly complete the look and before long you will be spending more time in the front garden than you do in the back and a Moroccan styled wall around the perimeter will afford you the privacy to enjoy it every day.
12) Greek-themed front garden
Gardeners in Greece know they have to pick plants that can withstand the elements so if you are opting for a Grecian theme, you will want to consider hardy plants that would tolerate extreme changes in the weather.
Stone walls and arches painted in those famous whites and blues will instantly make your Greek garden recognisable.
Greece is also famous for its pottery, making use of clay and terracotta pots filled with perennial herbs and plants will help to boost that Grecian feel. Make sure to also include plants that add splashes of colour poppies and bougainvillea.
Greek gardens are also famous for their citrus trees, so think lemons, limes, oranges and tangerines. Our climate, however, is not hugely suited to these plants so we recommend growing your trees in pots and taking them inside in the winter.
13) Mediterranean themed front garden
Though similar to the Greecian theme, there are subtle differences with a Mediterranean themed garden.
One of the key components of this style is creating a shaded space to sit, the afternoon sun can be searingly hot in the Mediterranean so pergolas feature heavily and not only provide shade but also an intimate place to enjoy a meal al fresco with friends and family.
This theme is a great choice if you don't have a front lawn, due to the droughts that can be experienced in Mediterranian countries gravel is widely used with large clay plant pots used for the flowers, herbs and plants. You can also make use of pebbles, cobbles and tiles.
Water features are an absolute must for this style, whether you opt for a small ornamental pond or go all out with an extravagant fountain, the water will add another dimension to your front garden whilst also attracting birds and butterflies.
Mediterranean gardens are also famous for their clipped topiary and hedges and this will add structure and drama to your front garden.
14) Minimalist front garden
Once only used in interior design, this style has now also taken root firmly outside. With a minimalist front garden you will need to exercise restraint, opting for neutral colours, clean lines, neatly trimmed grass and hedges and zero clutter.
When done well, this style of garden will be an oasis of calm and the epitome of modern elegance.
Space and how you use it is everything when it comes to this theme. You need to limit the number of materials you use and just select a few bold elements.
Harmony is everything with this design. Greenery should be clipped into crisp shapes, the lawn should be completely symmetrical, and any ornaments should be simple and sleek.
Gravel and paving can certainly be used but it should be understated and in keeping with the neutral tones.
15) Maximalist front garden
Polar opposite to the minimalist garden, a maximalist style gives you the opportunity to totally overindulge and then some. Your mantra for this garden is "more is more"!
The maximalist approach is all about going bigger, bolder and brighter. But this isn't about creating clutter, it's just about creating a lively, larger than life, opulent look for your exterior.
Avoid symmetry, and remember that not everything needs to match. Choose different coloured and sized pots, mismatch your outdoor furniture and really take the opportunity to be playful with space.
Go all out with garden containers, pack in as many as is possible whilst remembering to stop if the space starts feeling overly hectic.
Lawn ornaments are also ideal for this style, think funky and quirky and allow yourself to go all out and let loose.
16) Whimsical front garden
Adding whimsy to your front garden is a great way to really express yourself and create a unique, personal look that will turn heads.
In our houses, we decorate our homes with ornaments and decorations that are personal to us and this too can be applied to a garden.
Find weatherproof ornaments are small replicas of things that are unique to your family, whether it's models of loved family pets or a racehorse, this is an easy way to make the garden all about you.
Repurposing things like an old kids toy or a writing desk will also add charm and character to the landscape, and seeking out antiques and other curios will really capture the theme.
Wind chimes and hanging homemade art pieces will really set the tone to this style and why not hide shells you've collected from the beach around the garden – the options really are endless.
17) Rock front garden
Rock gardens are a brilliant way to create beautiful and interesting layers, shapes and textures to your front garden and their rugged beauty can be a real statement.
The great thing about rock gardens is that you can also incorporate many of the styles and themes mentioned in this article in the design.
Rock gardens are the perfect way to showcase small plants and they are fairly easy to care for and maintain.
Choose plants with similar requirements to allow your front garden rockery to flourish evenly. Rock plants such as alpines, small shrubs and perennials are ideal and will establish themselves in the uneven terrain.
Make sure you choose flowering plants that will add a splash of colour and pick stones and boulders that will emphasise and accentuate the theme you have chosen.
Start your fantasy front garden today!
Hopefully this article has given you plenty of inspiration and shown you how to turn your front garden from drab and functional to fab and fantastical.
When it comes to designing a front garden the sky really is your limits even in the most modest of spaces.
Remember to have your style in mind and a firm idea of how you are going to utilise the space you have to work with.
We also recommend that you also consider how much time you have to spend on your front garden as this will, of course, determine how successful you are with achieving your gardening goals.
Don't be afraid to think outside the box, you may even choose to combine two or more themes and styles together.
We wish you luck on the exciting journey of transforming your front garden, with love, care and determination your front garden will make a great impression on everyone who sees it.