In Britain, we take disproportionate pride in our garden buildings, so much so that we have a Shed of the Year competition that attracts some truly awe-inspiring entries.
Such buildings are a way to get the most out of your garden by making the space work for you. Often a garden building will be dedicated to the activities you enjoy most. This could be a shed that holds all your gardening tools, a fully bespoke structure where you give yoga classes and massage therapy, or anything in between.
In this article, we've rounded up some garden building design ideas to show you what's possible. We were pleasantly surprised by just how creative British gardeners can be with the space available to them. Below you'll find everything from summerhouses with quaint verandas, to micropubs, monetised shepherds huts, and more.
1. The perfect shed
Garden sheds are a quintessentially British thing. Everybody knows someone whose shed is a graveyard of forgotten projects, broken lawnmowers, and endless nuts and bolts and odds and ends. Usually, there's a musty smell of turpentine and mild dampness permeating through.
But a shed doesn't have to be this way.
Done right, your shed can be a place of organisation and productivity. A place where you can steal away from your family indoors to finish projects, organise your tools, and plan the next wave of industrious garden improvement.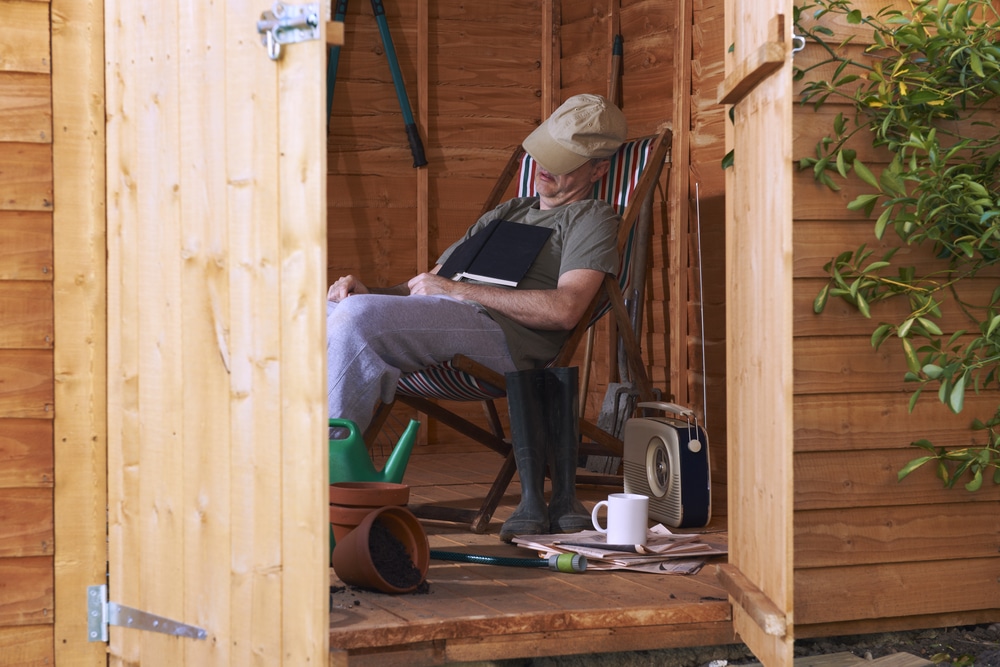 A shed can be a haven for smart garden storage, too. You can keep your tools here, so they're always on hand for garden jobs. You can store bikes, drawing on an ever-increasing of secure storage options. Or perhaps you need somewhere to store logs between chopping and burning them? Anything you need in your garden can be stored effectively and sensibly in this space.
You're not limited to a wooden structure, either. Plastic and metal sheds are popular alternatives, each offering its own benefits.
2. The greenhouse
Probably the second most recognisable garden building after the shed. A greenhouse is made of glass and is designed to trap heat inside to create an environment that plants love.
If you're a green-fingered gardener, you won't want to be without a greenhouse. Here you can keep seeds and sprouts out of harm's way until they're strong enough to be planted outdoors. You can store all your gardening tools so that they're close at hand when something needs to be dug, pruned, or cut back. And you can do all of this year-round, safe in the knowledge that just like your plants, you'll be protected from the elements.
3. The potting shed
A potting shed is another traditional garden building that combines the best parts of a greenhouse and a shed. If you only have space for one building in your garden but can't decide between these two favourites, here's your answer.
The humble potting shed has a lot to offer. A prominent glass front captures sunlight, giving plants the warmth and light they need to thrive. Other non-windowed walls give you an element of privacy where tools, bags of soil, and other gardening items can be stored out of sight.
4. The summerhouse
This type of garden building is effortlessly rustic and is designed to facilitate comfortable relaxation. It's a simple structure, often with seating and a veranda where the garden can be enjoyed from a comfortable vantage point.
If you've not seen one before, think of it a little bit like a beach hut but in your garden. Traditionally, summerhouses employ gentle colours, airy windows, and doors that open wide. In good weather, you throw open the doors and windows and sit inside in the shade. Then, when things get colder, you can hunker down inside with a hot drink and a blanket.
It's a versatile, inviting, and comforting space where your imagination and creativity can shine through.
5. The playhouse
Gardens are famously places of play, and children of all ages will appreciate nothing more than a building tailored to this purpose. Whether you go for a small plastic wendy house, or a hand-built scaled-down play cottage, you guarantee fun and enjoyment for years to come.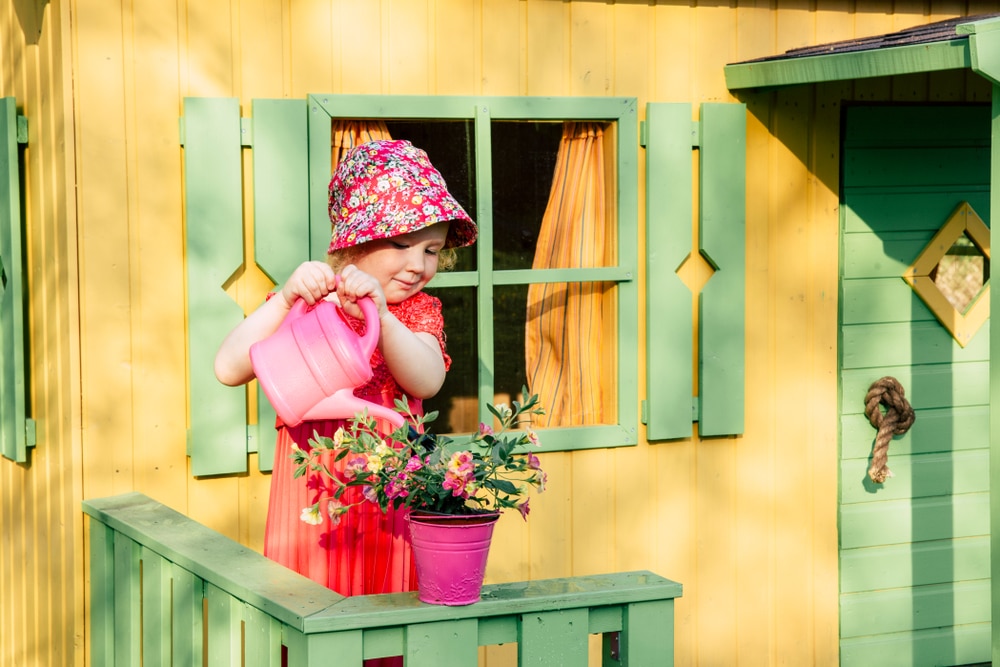 A playhouse doesn't need to be elaborate. The imagination of a child is a beautiful thing, and they will create games out of almost anything. Involving kids in the creation of garden buildings for play is a nice way to get them excited, and will make sure the planned playhouse is fit for purpose.
6. The treehouse
Do you have a robust and sturdy tree in your garden? If so, you have the opportunity to create one of the most popular types of garden building.
Whether you go for a traditional box-style treehouse (like The Simpsons) or a more elaborate network of suspended rooms and connecting walkways (like the Ewok Village in Star Wars: Return of the Jedi), a building suspended up a tree will bring adventure and magic to your garden.
7. The writing retreat
Many authors have sworn by having a space set aside in their garden for writing. Amongst them are household names like Philip Pullman, Dylan Thomas, Roald Dahl, Virginia Woolf, and many others.
These spaces are designed to focus the mind and to surround authors with the tools and inspiration they need to make the words flow. The books written in such buildings are a testament to the power of having dedicated space to pursue your passion and craft.
This article by the Guardian showcases the writing retreats of the authors mentioned above. Why not take a look and find some inspiration for your garden building.
8. The garden office
While not all of us are famous authors, an increasing amount of us are turning to work that can be done from home. A garden office can enhance the working life of the homeworkers amongst us by following the same logic as a writers retreat, that a dedicated space to work in allows for more productivity and more focus.
The act of walking to your garden office is a powerful way to move from one headspace to another. You're leaving concerns in the house, and going to a place set up especially for working.
And don't worry about connectivity: if Wifi doesn't reach your garden office, you can pick up a signal booster or run an ethernet cable from the house. Or, you could relish the opportunity to have a room kept deliberately offline, where work can truly flow.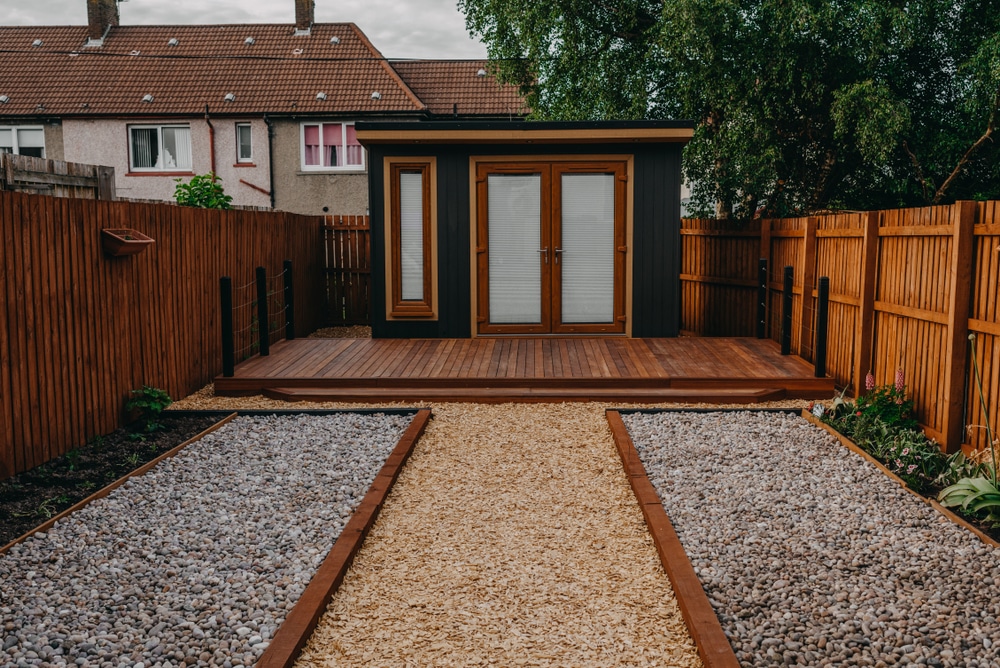 9. The music studio
There's no getting away from the fact that musical instruments are loud. If someone in your family is learning guitar, drums, or, God forbid, the violin, giving them a space far away from the main house could be the best decision you ever make.
As their interest in their new hobby increases, your garden building can evolve from a practice room to a band rehearsal room, a recording studio, or even a teaching room.
Many musical instrument teachers nowadays use outdoor buildings for their teaching. Partly for the reasons mentioned in the "garden office" section, and partly for the fact that a purpose-built music room can be more easily soundproofed than a spare room in the house.
10. The craft studio
If the past few garden building ideas have shown us anything, it's their ability to provide a sanctuary for the pursuit of almost any activity or craft. Studio space is essential for those of us lucky to make our livings from creative arts like pottery, sculpting, engraving, stitching, painting, and so on. Such spaces are also fantastic for hobbyists to explore their new passions.
Creating a garden building especially for your hobby is a strong commitment to sticking with it, and to continuing to improve. As you practice more and more, the space will begin to reflect your interests, your skills, and your inspiration. Before long, you'll have created a lovely space in which to be.
11. The yoga studio
The yogis amongst us will understand the importance of having a quiet space for their sun salutations and down dogs. Finding space at home to do yoga can be tricky. Often furniture must be pushed aside before practice, then put back afterwards. Neither of these ad hoc rearrangements is conducive to the relaxed headspace that yoga requires.
A garden building studio is an opportunity to set a space aside just for your practice. In the same way that walking to a garden office helps you to enter a productive mindset, so too does walking from your house to your yoga room. The fresh air, the sensation of grass on your bare feet, the breeze against your skin: all will combine to prepare you for a great session when you get to the studio.
12. The treatment room
As with music teachers, many massage therapists or practitioners of other treatments are turning to garden rooms for their professional activities. The appeal is the same as many of the garden building ideas in this list: a space dedicated to the activity at hand, rather than slotted into whatever space is available indoors.
With massage and similar therapeutic pursuits, customers will appreciate the privacy of being away from what's going on in the house. The ability to arrive at an appointment and enjoy their treatment without having to interact with any family members or pets will enhance the overall experience. You can also curate the space more carefully. Scents, lighting, music: all can contribute to creating a haven of rest and relaxation.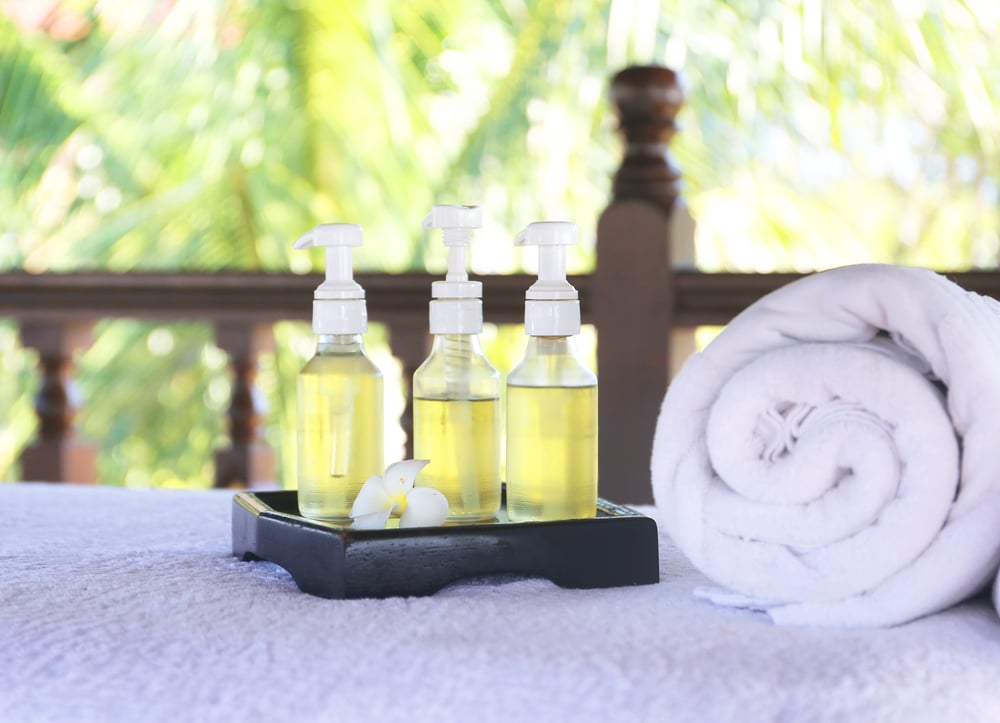 13. The barbecue hut
"Britons are buying BBQ huts for their back garden" proclaimed the Daily Mail back in 2018. These garden buildings are perfect for enjoying al fresco dining in the temperamental British climate, and we expect them to continue to grow in popularity.
If you're not familiar with the concept, now's the time to get acquainted. There's a large grill in the centre of the hut, surrounded by bench seating. Everybody sits around and enjoys the heat, the smells, and the food, while a flue safely removes the smoke from the hut. Dependant on the weather, you can eat outside when food is ready, or stay inside in defiance of the rowdy elements.
These huts are an ideal way to make outdoor dining an option year-round. Having a barbecue on a cold, dark winter's evening, comfortably ensconced in your hut draped in blankets, is a unique pleasure.
14. The local pub
Britain has a proud tradition of turning sheds into pubs, and this is definitely something we encourage. Owners invest considerable effort in condensing all the best things about British pub culture down into the space available in a shed, and the results can be incredible.
The warm and welcoming soul of a pub is inherently compatible with the cosy compactness of a shed. Whether you like modern or traditional pubs, a bar in your garden building is a way to bring the charm of the local pub a little bit closer to home.
15. The man cave
A space set aside for the men in our lives is another increasingly popular use of garden buildings in Britain. If there's not a spare room (or basement) in your house for this purpose, relegating husbands, boyfriends, and teenage sons to the garden is a suitable alternative.
With a bit of imagination and elbow grease, your shed will become a haven for playing games, watching sports, or any other activity better kept isolated from the calmness you're trying to cultivate indoors.
16. The birdwatching nook
If your idea of a great weekend is sitting still for long periods of time, staring through a pair of binoculars, then you're not alone. Birdwatching is an ever-popular British pastime, and all sorts of feathered friends visit our gardens.
Combining a space for birdwatching with feeders and other methods of attracting birds to your garden will help you to get the most out of your hobby. The nature of the building you create will depend on how Bear Grylls you want to go. A small wooden structure to keep you dry while you peer through a set of binoculars is at one end of the spectrum. A complex hide complete with camouflage and cameras to automatically alert you of the presence of any wildlife is at the other.
17. The Airbnb
As Brits continue to enjoy staycations, glamping, and other similar ways of experiencing luxury closer to home, garden buildings can bring in a bit of extra cash. With the rise of Airbnb and similar platforms, it's easier than ever to open up your home – or, in this case, your garden – to paying guests.
If you're feeling entrepreneurial, why not incorporate a shepherd hut, a traditional gypsy caravan, or a yurt into your garden? These are just three examples of purpose-built capsules of cosiness that are sure to appeal to guests.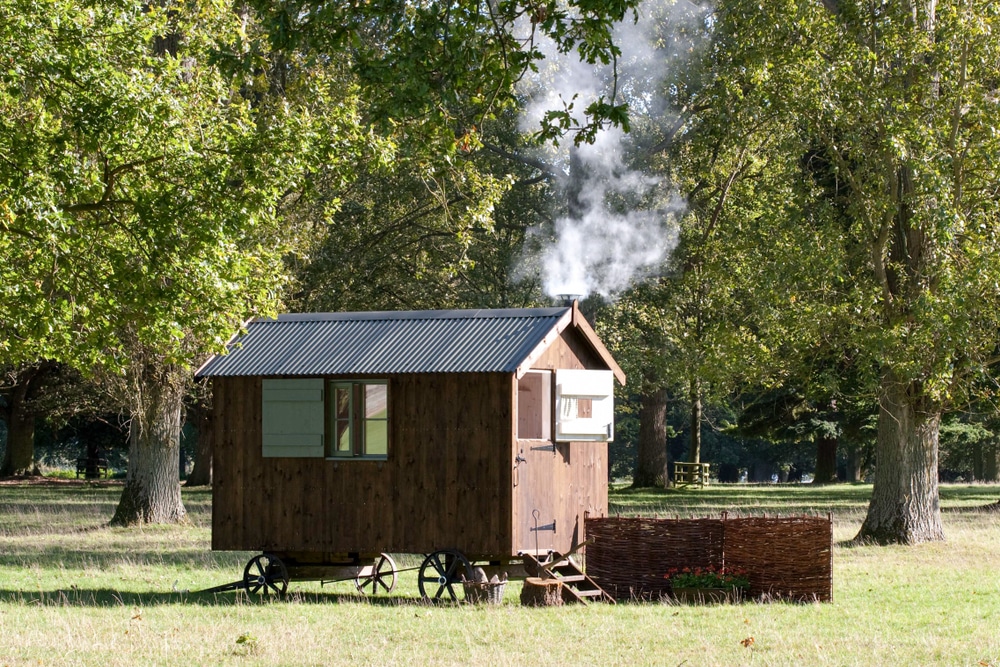 Shepherds huts are another popular garden building on Airbnb listings. These huts were initially designed as mobile shelters for shepherds tending distant flocks. Inside were the facilities to take cover from the elements, make some food, and get a good night's sleep.
A traditional gypsy caravan evokes a real sense of adventure and exoticism. Although a genuine article is quite expensive, modern replicas can be surprisingly affordable. Just big enough for a bed and a kettle, these caravans are incredibly cosy.
A yurt is a good option if you don't want the garden building to be up all the time. This canvas dome can be put up and taken down as needed and neatly stored away when not in use.
The sky's the limit
When it comes to garden buildings, your options are close to endless. You can opt for a traditional shed to store all your tools and bits and bobs, or you can unleash your creativity and construct an elaborate network of treehouses. It really is up to you.
Your needs will determine which is the best garden building for you. If you need space for a hobby or your employment, then an office, studio, or treatment room will best suit your needs. If you want somewhere to relax, then a summerhouse (if you relax with a cup of tea) or a yoga studio may be preferable.
Whatever you choose, your garden will have a new lease on life. We hope these garden building ideas have given you some good inspiration!