Adding lighting to your outside space is an easy and effective way to improve the look of your garden, create a cosy ambience, and extend your summer evenings outside.
There are many different types of garden lights, all of which offer a different look. The best option for you will depend not only on your design preferences, but also on the space you have available, and the brightness level you require.
It is also important to consider how your garden lights are powered. If they're electrical, you'll need an available plug socket. If it's batteries, you'll face the cost of replacing them. Solar-powered lights are environmentally-friendly, but their output is limited by their access to sunlight.
If you're looking for outdoor lighting inspiration, check out this collection of 29 incredible garden lighting ideas. We hope it encourages you to get creative and illuminate your outside space!
1. Mix-and-match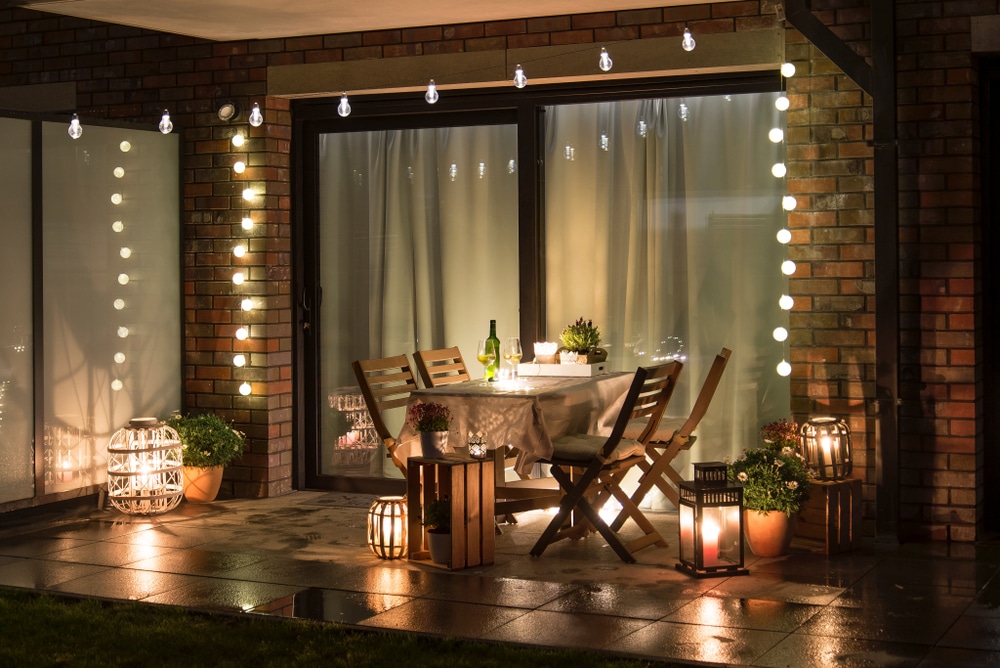 One of the most effective garden lighting looks can be achieved by mixing different types of lights in the same area. This outdoor dining space showcases a combination of lights, including string lights and lanterns.
To recreate it, hang outdoor fairy or festoon lights over your windows or patio doors, and position mismatched lanterns around your dining table. The result will be perfect for a romantic dinner under the stars!
2. Light the way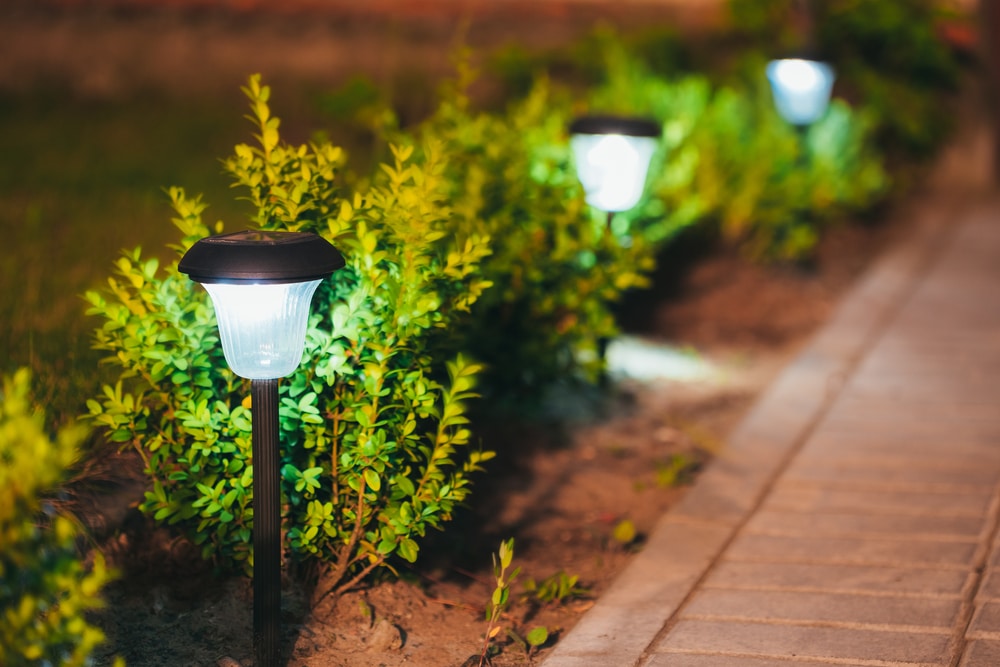 This type of solar-powered garden light is perfect for lighting up garden borders, or illuminating pathways so that you can safely find your way to your door in the dark.
These lights usually come on a spike, so you can insert them directly into your lawn, or the soil in your flower beds. This makes them easy to install and move around, and as they're solar-powered, you can position them anywhere with access to sunlight.
3. Funfair festoons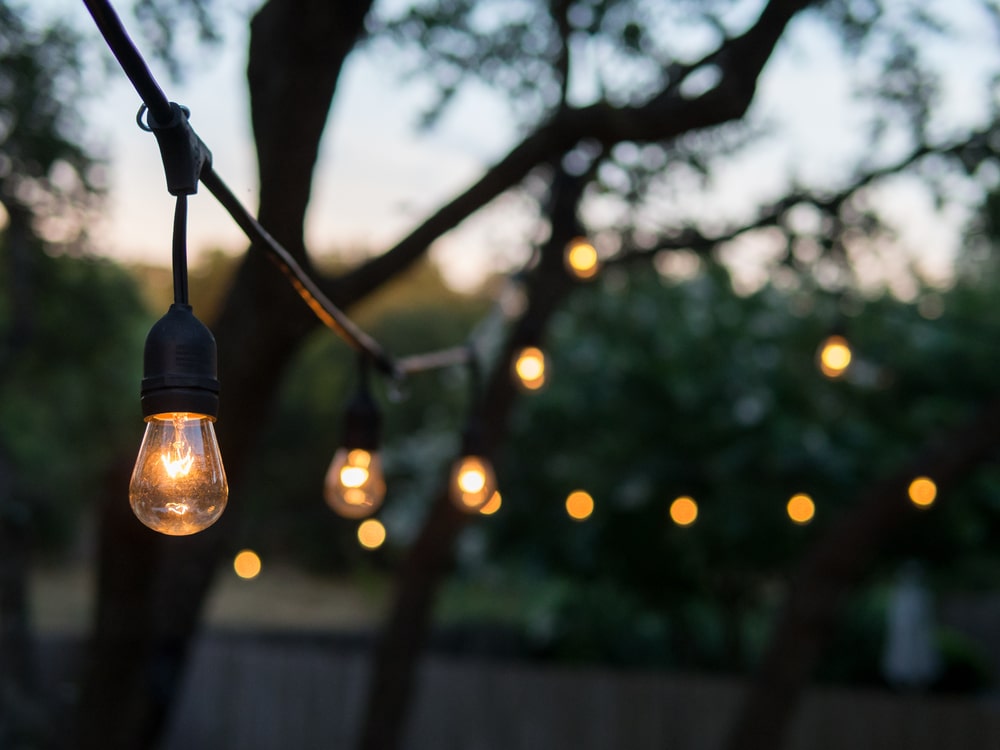 Festoon lights are the most popular type of outdoor lighting right now. These retro-style bulbs look stunning suspended from tree branches or hung across the width of your garden. The effect is one of a vintage fairground and is perfect for creating a whimsical look for weddings or summer garden parties.
4. Languishing lanterns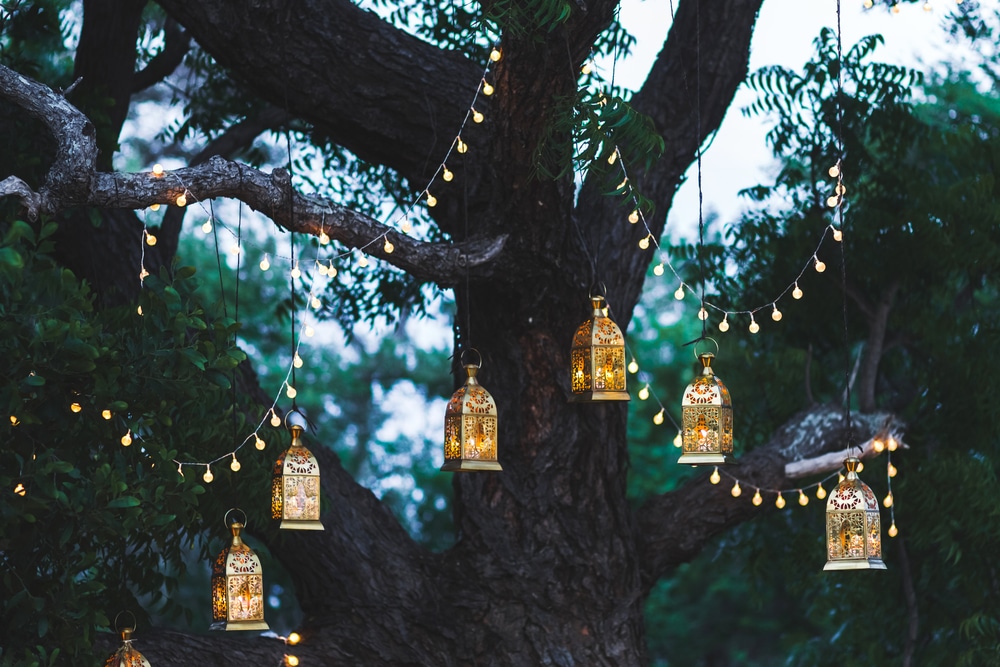 As well as festoon lights, traditional-style lanterns can also look fabulous hung from tree branches. These ones have candles inside, so they don't require any electricity – just be careful to extinguish them when you're finished, and never leave them unattended.
If you don't have a tree in your garden, you could also hang lanterns from fence posts, or the roof of a pergola.
5. Fairies in the trees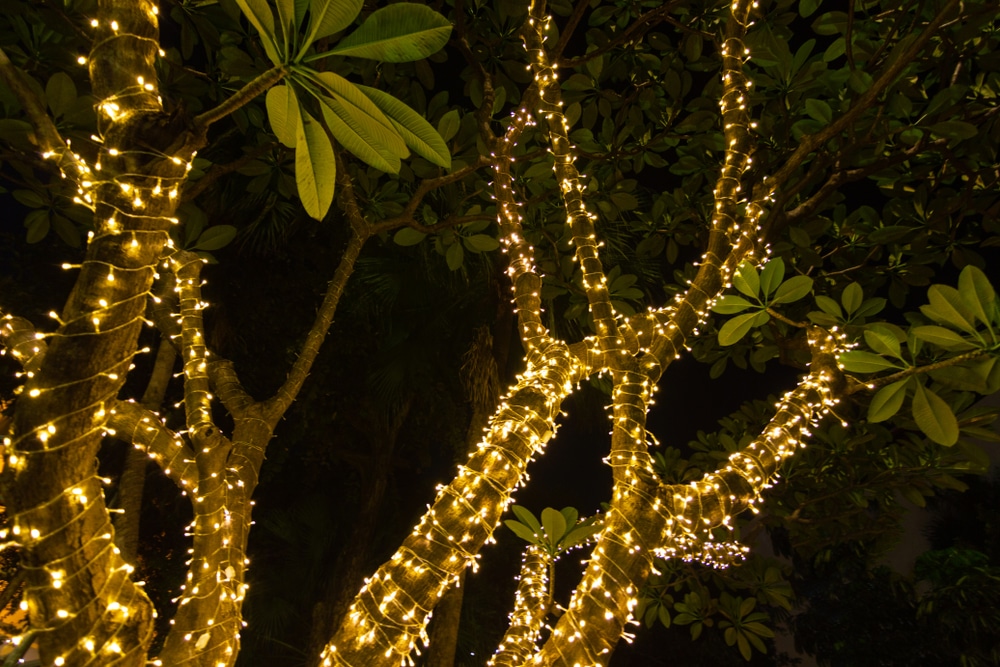 Lights don't just look fabulous suspended from trees; if you're lucky enough to have a tree in your garden, you can also wrap outdoor-safe fairy lights around the trunk and branches, creating this stunning effect.
This will look fabulous year-round but can be particularly spectacular over the festive season. You'll need a lot of fairy lights to cover a whole tree, so you might need to purchase several strings – make sure you can power them all.
6. Luminescent plants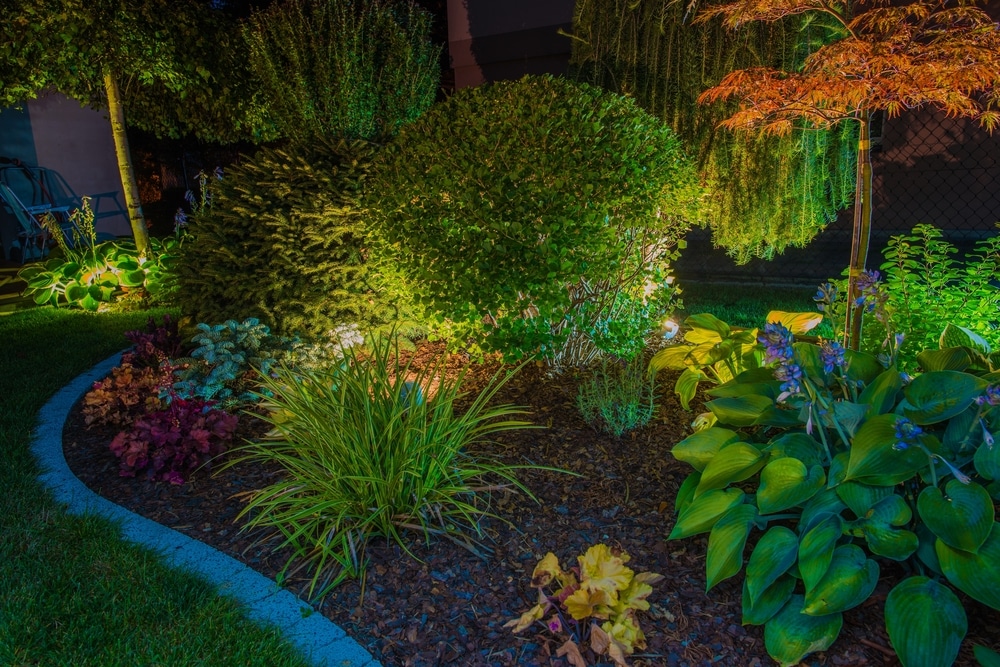 Alternatively, if you don't have trees in your garden but you do have border plants and shrubs, you can use lighting in combination with them, to magical effect.
These plants are illuminated by well-positioned lighting to create a tropical, ornamental garden feel. Bring this look into your own garden by placing LED spotlights underneath the plants you want to highlight.
7. Outdoor cinema club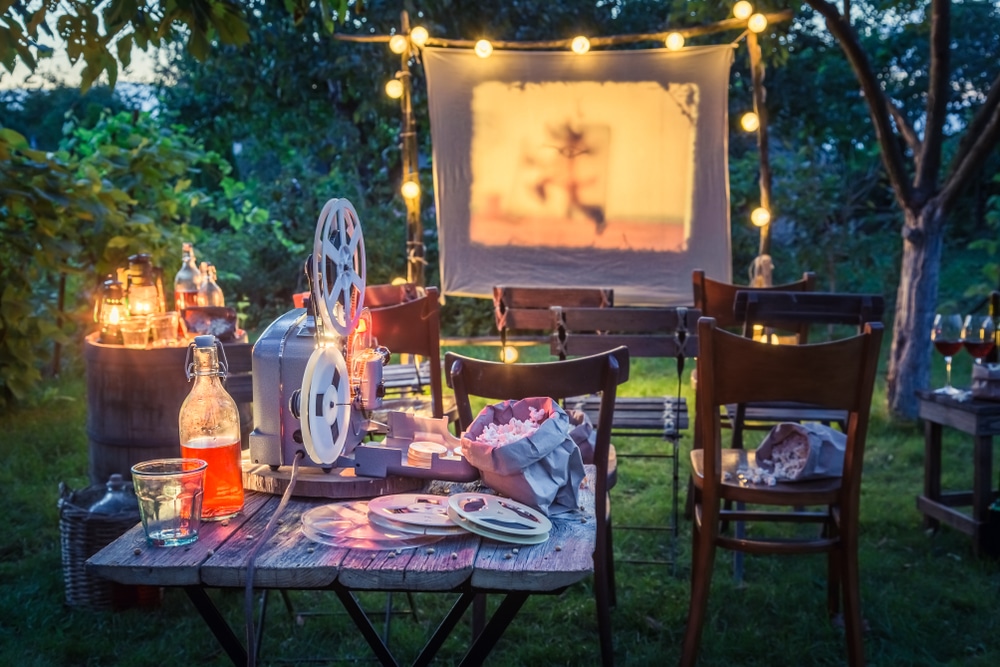 This incredible outdoor cinema set-up makes use of several types of lighting as part of its design. To re-create this cosy look, make a frame structure out of wooden poles, and suspend a white canvas between them. Wrap fairy or festoon lights around the poles.
Next, set up a projector and point it at the canvas, creating your own cinema screen. Fill your garden table with popcorn and snacks, and position seating in front of the screen. Dot lanterns around, to help people find their seats.
8. Festival fun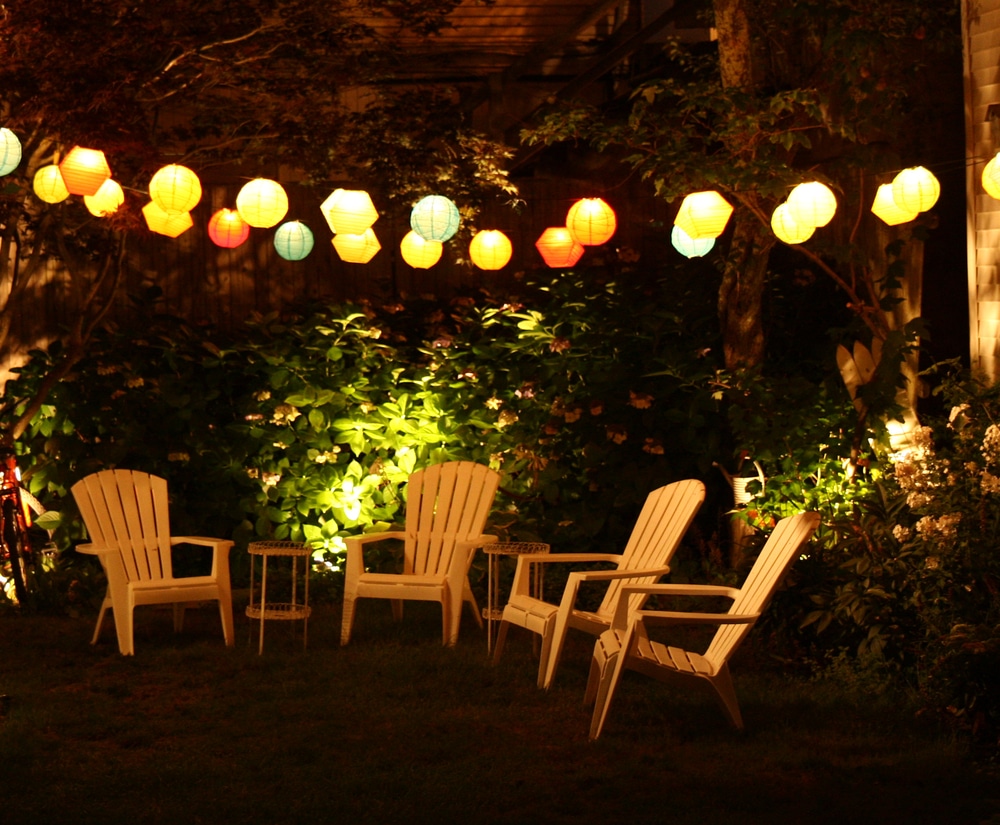 Colourful lanterns give this outdoor space a festival vibe, perfect for summer parties. To create this look at home, string coloured paper lanterns over your patio or seating area.
Make sure to attach them to secure points at either end, such as a building, tree or fence post. Invite your friends over, pour out the drinks, and pretend you're in a secret glade at Glastonbury.
9. Glass globes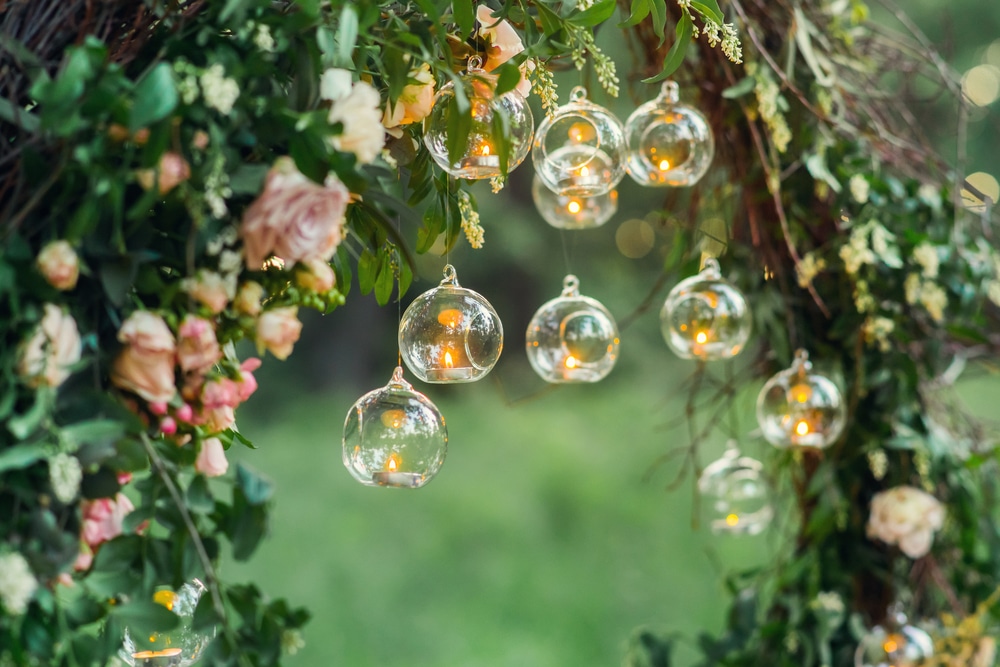 These globe-shaped glass lanterns are another great choice for adding a whimsical, romantic feel to your garden. They look particularly effective hanging from a garden archway, alongside flowers and vines.
As they are lit by tea lights, this is another one that you'll have to be careful to keep away from foliage and remember to extinguish them before you go inside.
10. Light rain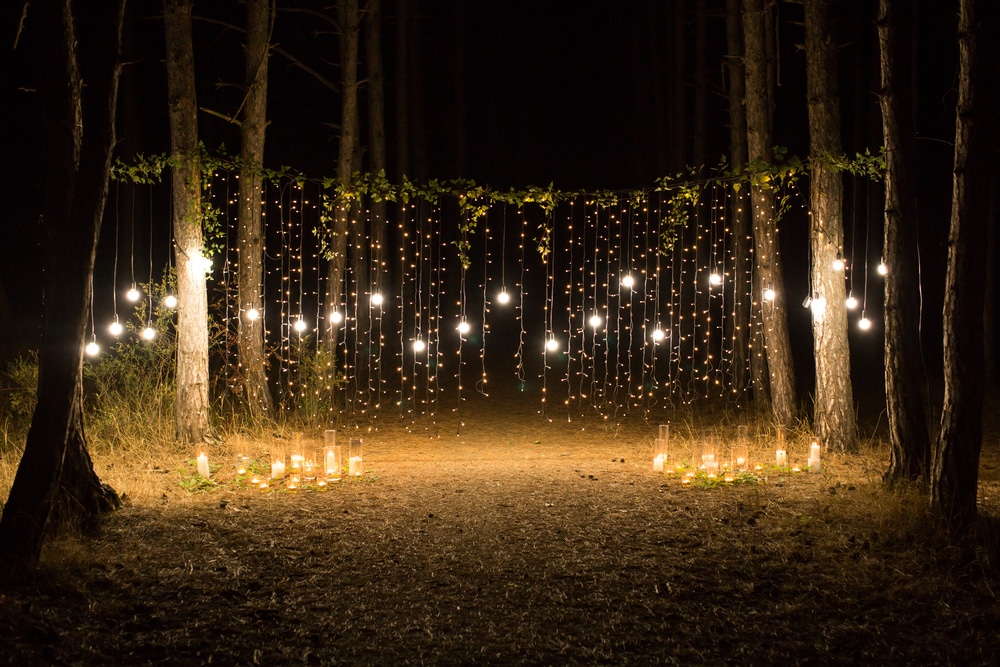 Garden lighting doesn't have to be positioned horizontally; it can also run vertically. Here, a string of waterfall lights is suspended between two trees, creating a magical wall of light.
To recreate this look, you'll need a string of vertical fairy lights and 2 secure fixed points from which to suspend them. Make sure to keep them out of reach of young children and animals.
11. Original orbs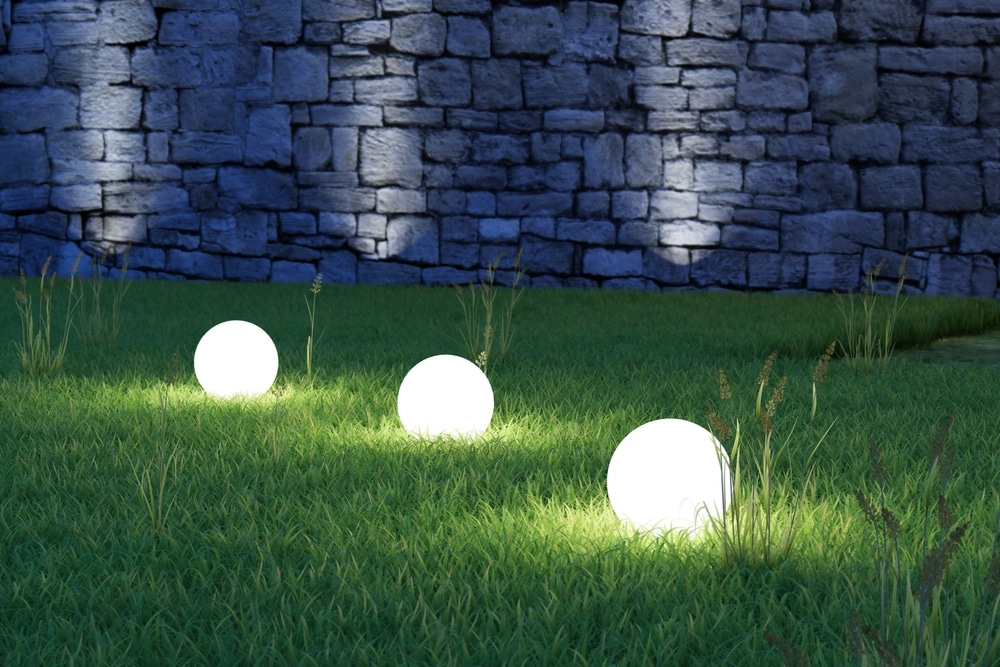 These unusual orb lights are a fun way to add interest to your lawn at night. Look for LED battery-powered orb lights – they're available in white or multi-coloured styles, and some even flash, if you want a more disco-like effect.
If you have a pond in your garden, you can also buy waterproof orbs that will float on the surface of the water.
12. Rustic charm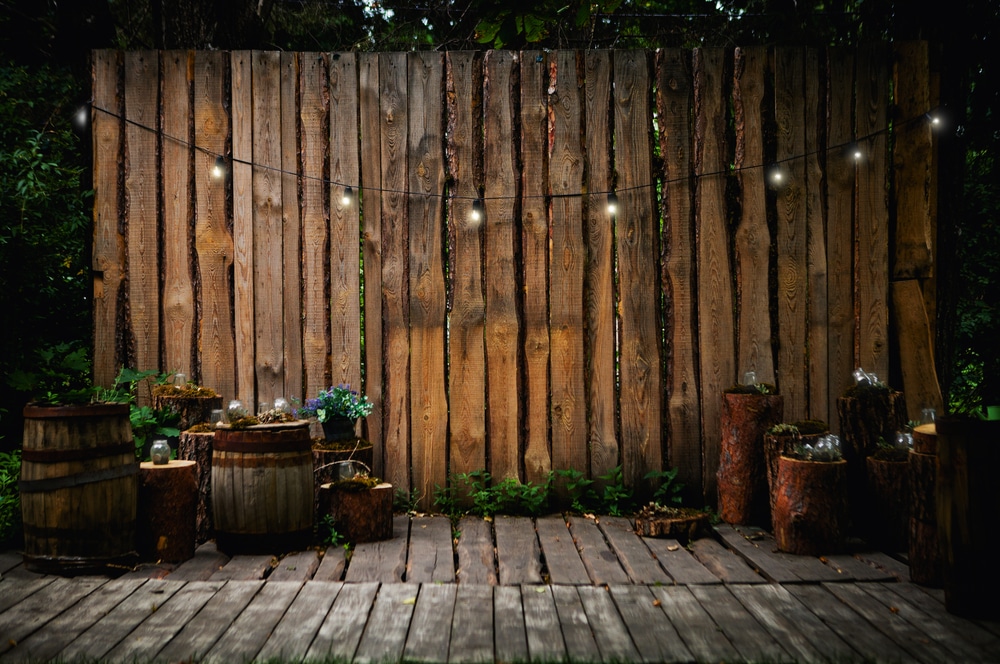 Festoon lights aren't only for stringing across your garden or hanging from trees. Here, they are used to add interest to wooden panelling. Recreate the look in your garden by hanging strings of LED festoon lights across your fence. You could even place some wooden barrels at the base, with candles or lanterns on top, to complete the rustic look.
13. All decked out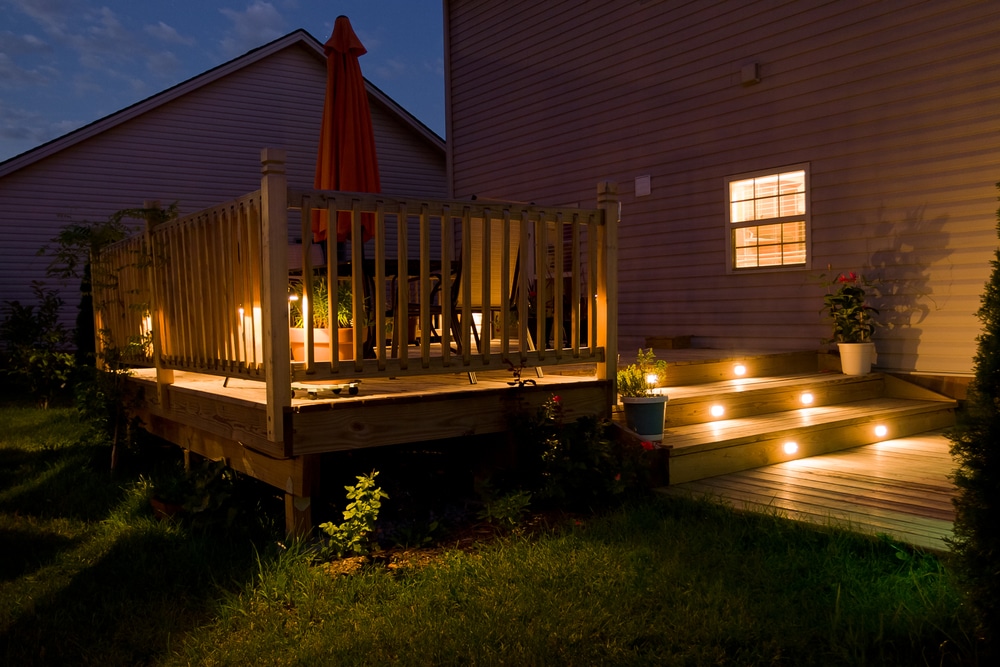 If you've got decking in your garden, make sure you can use it at night by illuminating it with outdoor lighting. You could add spotlights in the deck, as shown here with the steps, or, for a less permanent solution, add lanterns. You could also wrap fairy lights around the railing.
14. Flex those branches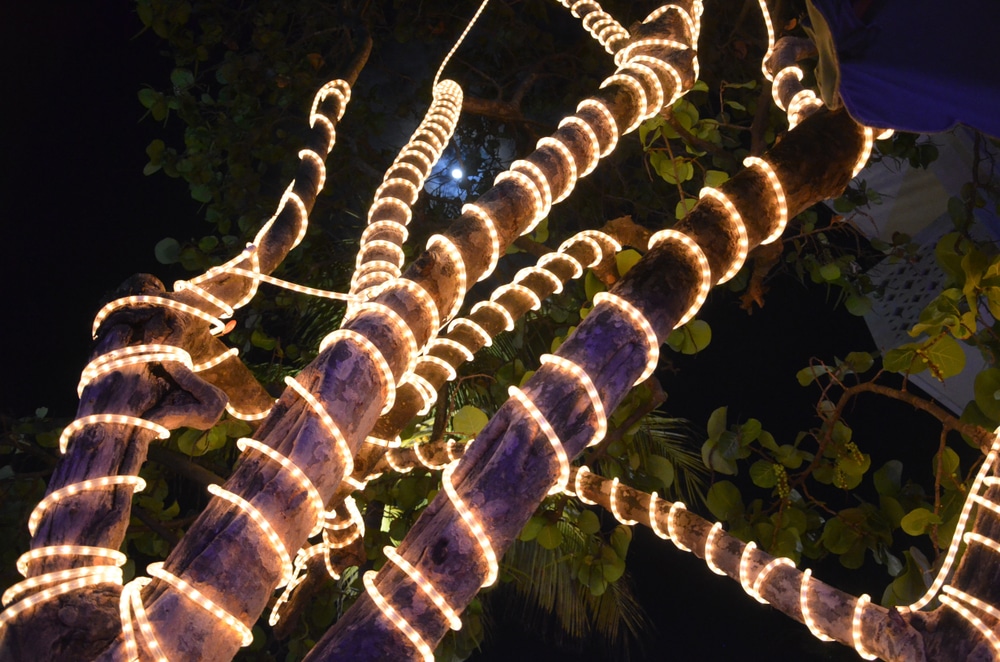 These LED strip flex lights are a welcome break from the fairy and festoon lights that dominate garden lighting. They look fantastic wrapped around tree branches and create a more modern look than fairy lights.
15. Colour carnival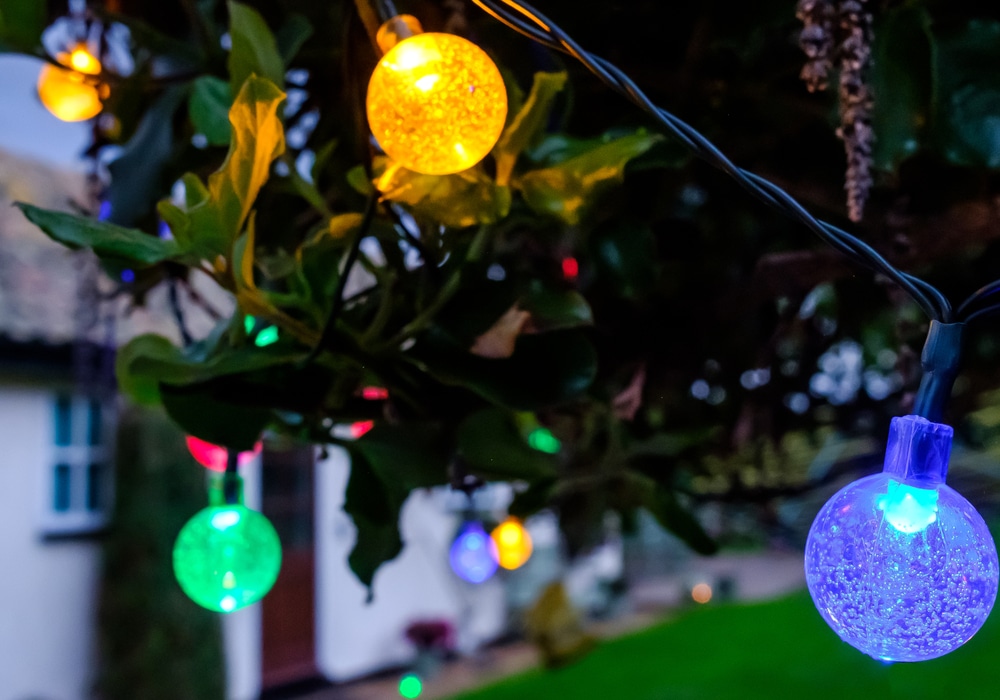 Don't be afraid of using coloured outdoor lighting in your garden. Many people think this will look Christmassy, but a limited amount of tasteful coloured lights can look classy year-round.
If you're worried about it feeling too festive, avoid fairy lights – instead, choose multi-coloured festoon lights and paper lanterns, to bring fun, summer carnival vibes to your garden.
16. Grow and glow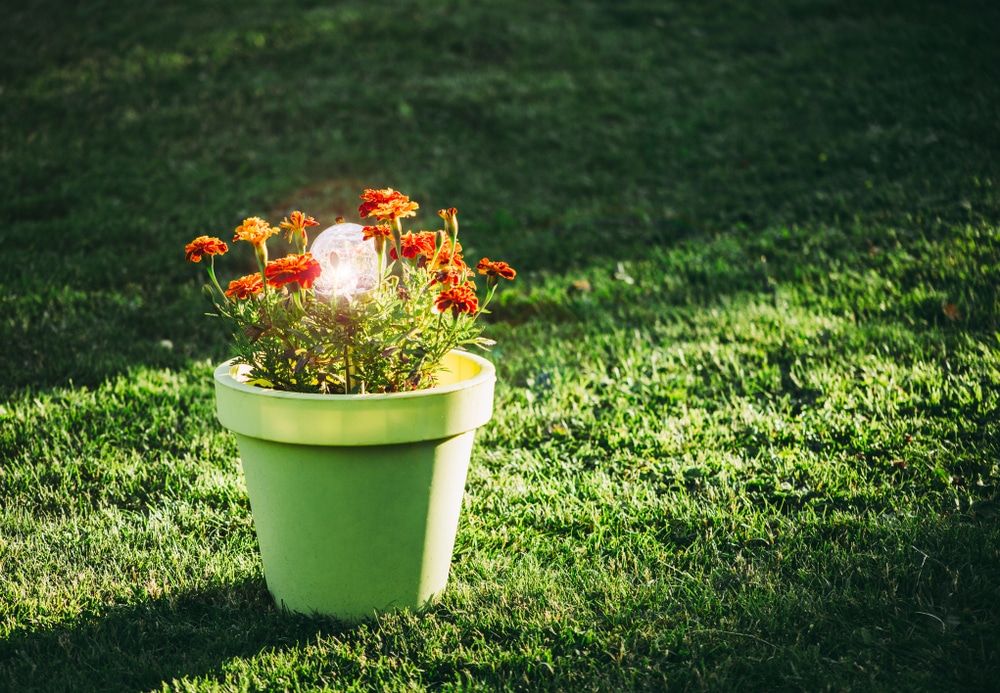 If you're limited on space or want to add lighting to your garden in a subtler way, try placing a light in the same pot as a flower or potted plant – this will have the added benefit of showing off your gardening skills, even after dark. Solar or battery-powered lights work well for this one.
17. Shipshape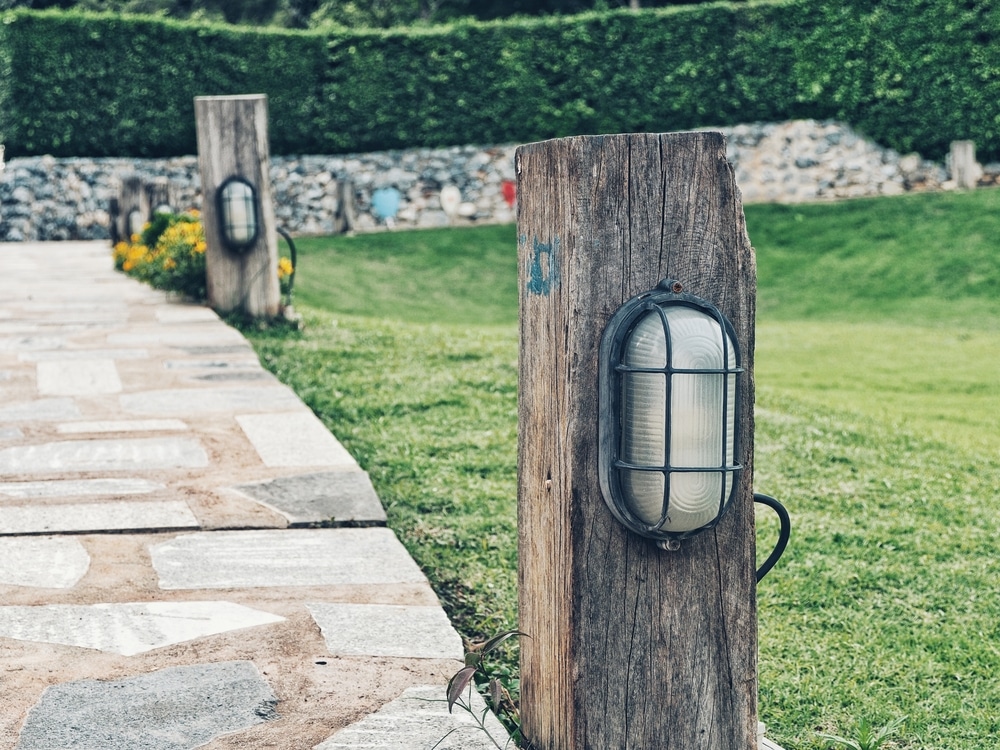 These vintage-style, oval-shaped lights are similar to those you might find on old naval ships. They look great on wooden posts, to create a rustic look, and are an attractive method of lighting your pathways. These lights are wired and will need to be connected to your mains electricity for power.
18. Wall-mounted whimsy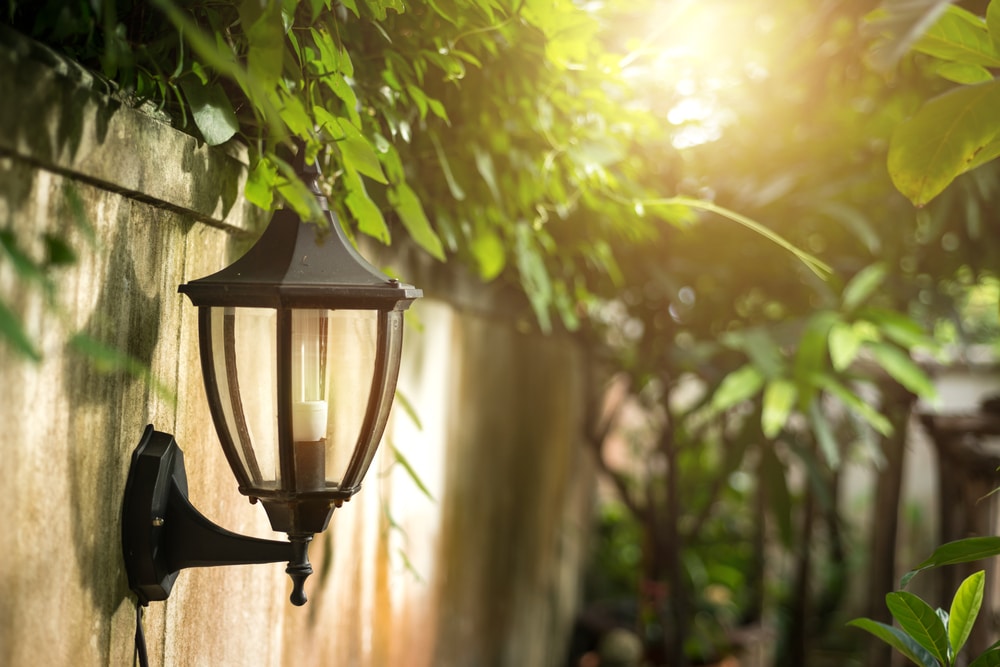 If you don't have posts on which to mount your old-school lamps, choose wall lights instead, and install them on your garden fence or exterior walls. This wall lantern is powered by a candle, so it's perfect for adding a more traditional feel to your garden.
19. Tea party tea lights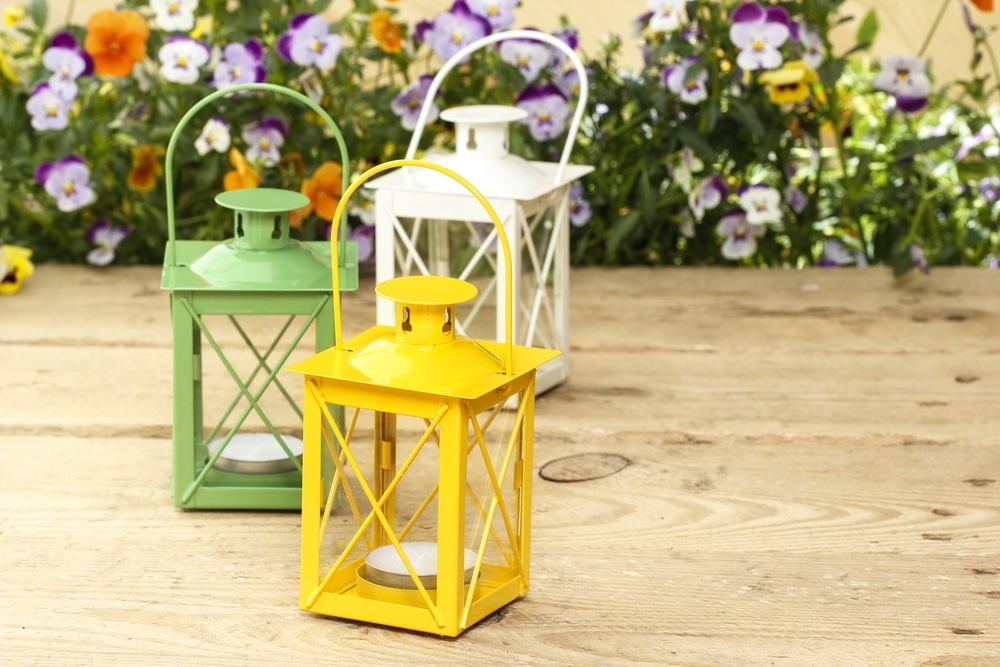 These colourful tea light lanterns are a cheap and easy introduction to garden lighting and perfect if you don't want to install anything more permanent. Position them on your outdoor dining or coffee table, or on the ground – they look stylish unlit during the day as well.
20. Oriental appeal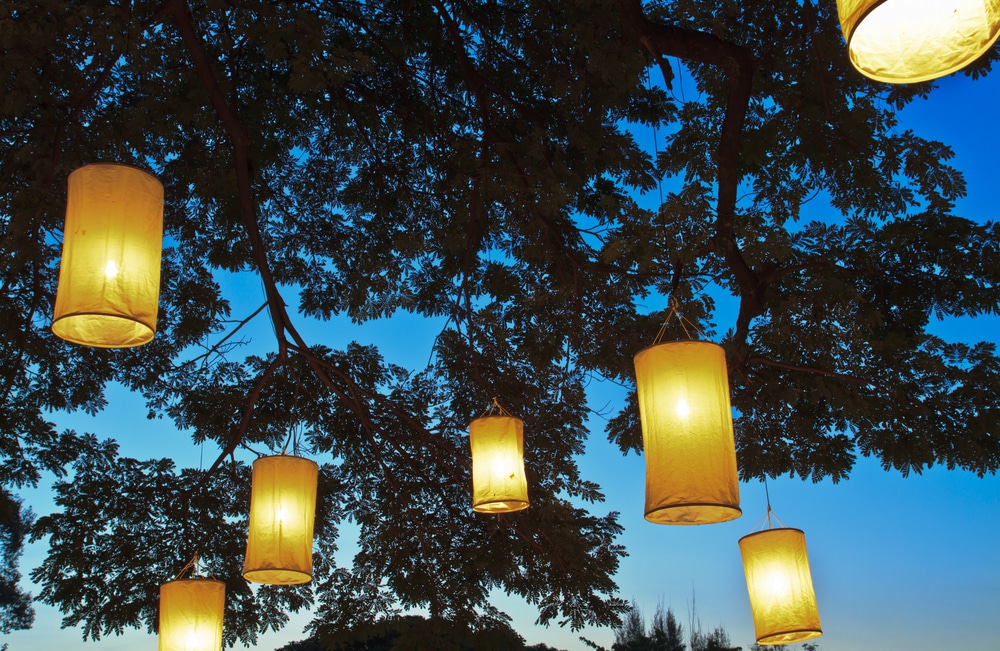 Add an oriental feel to your garden with elongated paper lanterns. Suspend them from overhanging tree branches or a pergola above your garden seating, and enjoy sitting outside at night, lantern-gazing.
21. Inside out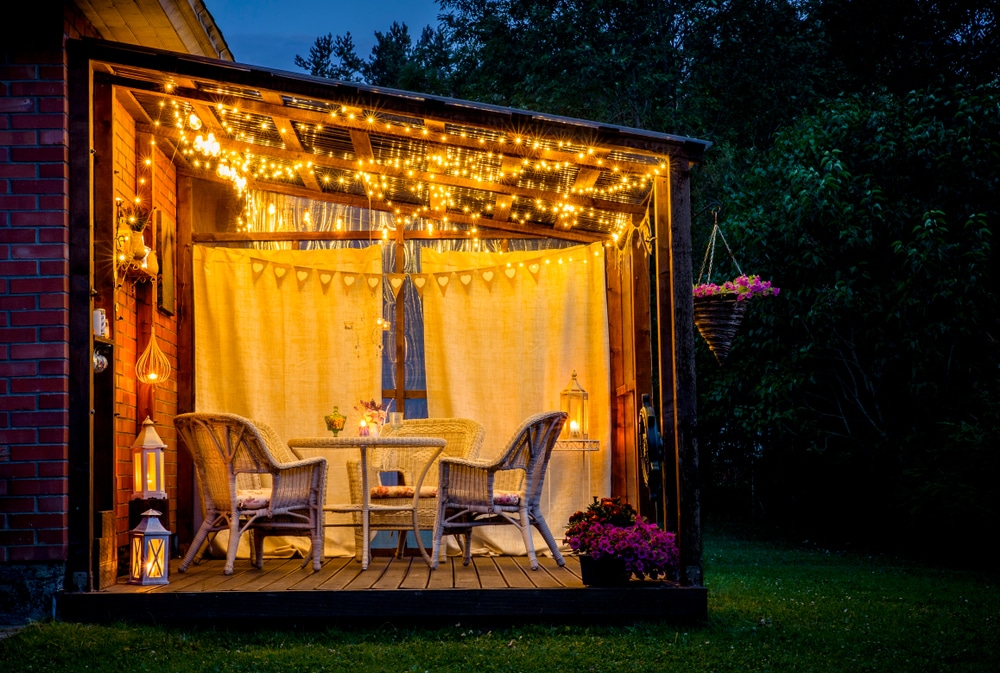 A pergola that has the option of being covered or uncovered is the perfect all-weather solution for enjoying your garden lighting. String multiple rows of fairy lights above your seating area to create a cosy outdoor room, that will feel like it's illuminated by stars, even on the cloudiest of nights.
22. Away with the fairies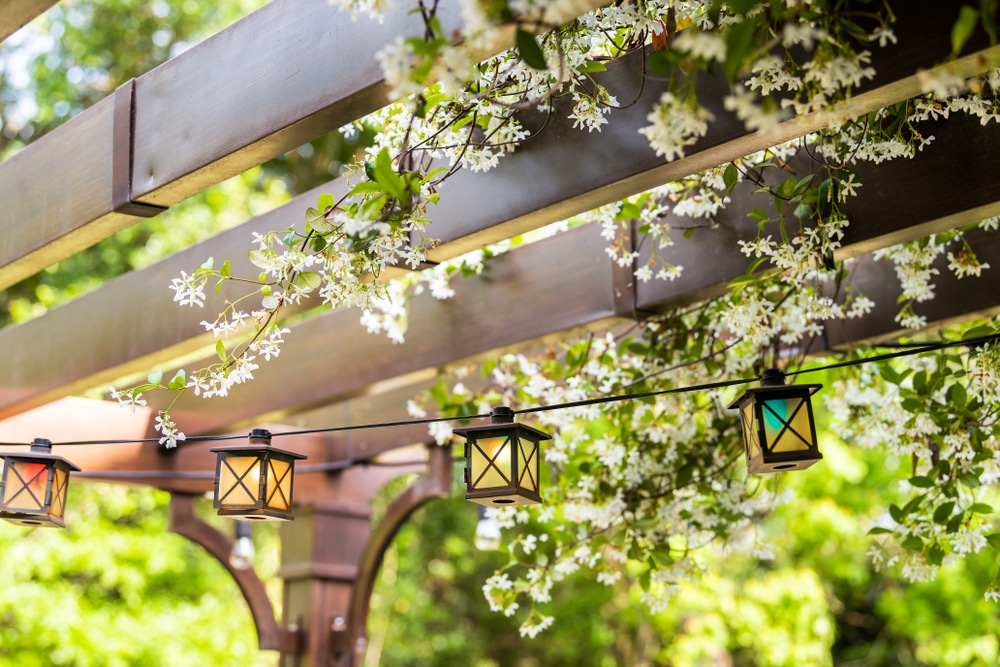 Breakaway from standard fairy lights with some string lights in other shapes. These ones feature tiny traditional-style lanterns and are another great way to decorate the roof of a pergola. They have the added advantage of looking stylish in the day too.
23. We're jammin'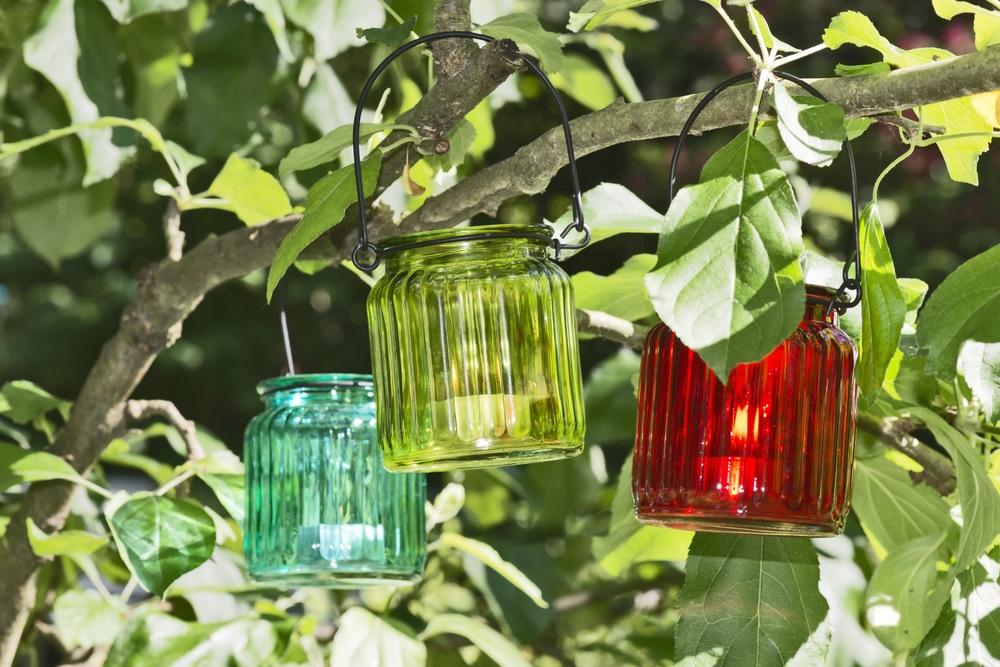 If you're not a fan of string lights, glass jar lanterns make for simple but cute outdoor lighting and can add a kitsch vintage feel to your garden. You can make a recycled version of these yourself, by placing tea lights in washed out jam jars.
24. Modern metallic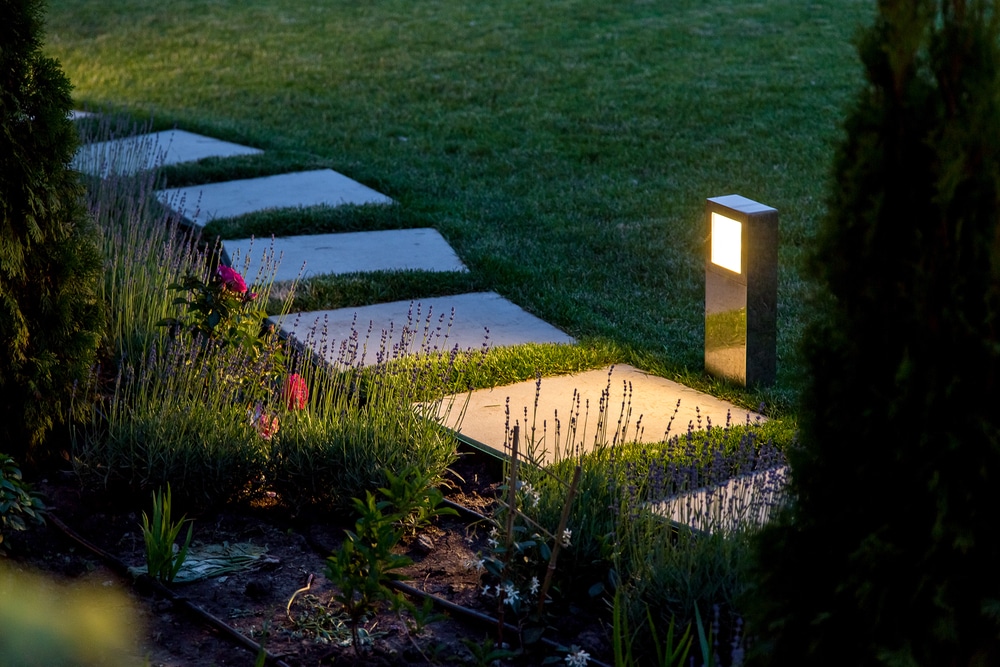 Garden lighting doesn't have to be rustic; metal spotlights such as these are ideal for illuminating a path in a modern garden. Choose ones that are solar-powered for eco-friendly and cost-effective lighting.
25. Spotlight stairway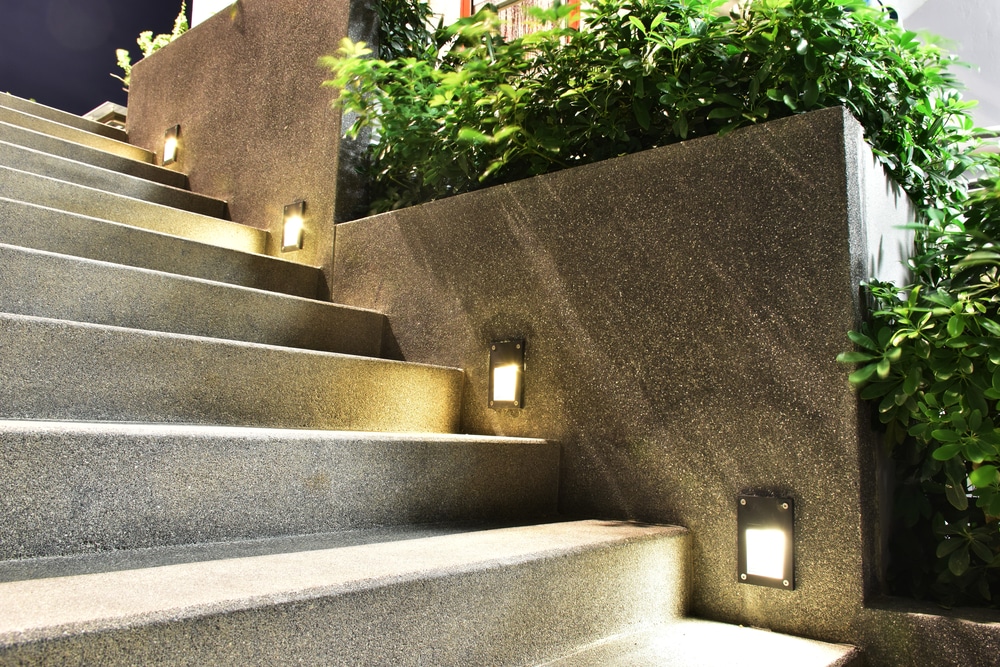 If you're worried about children or animals tripping over spotlights in the grass, or them getting damaged by rain or snow, setting lights into a concrete wall, as seen here, can be a great alternative.
This is particularly useful on steps, but can also look effective on boundary walls, or on those surrounding a pond or garden feature.
26. From day to night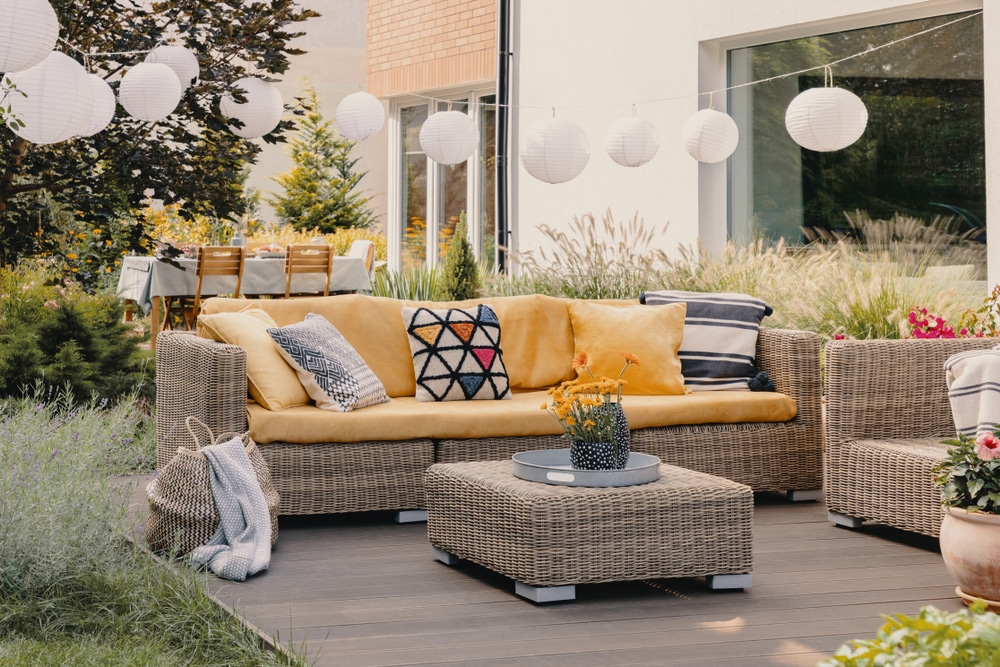 One problem with garden lighting is how to make it look good in daylight. Festoon lights may look fantastic lit up in the dark, but they don't look quite as good in the light when the cables become much more obvious. One way to avoid this is to choose lights that stand as decorations on their own.
Lanterns are a particularly good way to achieve this. These white paper lanterns look just as pretty strung over this garden in daylight, as they will at night.
27. Festive feeling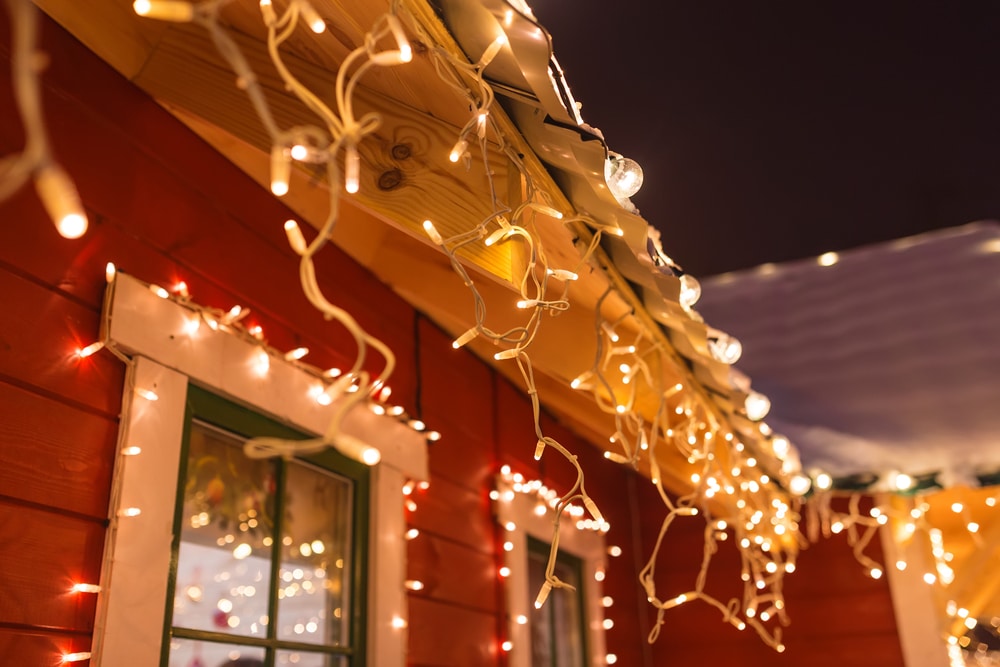 This kind of icicle-like fairy lighting suspended from the edge of buildings is usually reserved for the festive season – but it doesn't have to be. Providing you haven't got a 6-foot Santa on your roof, there's no reason why tasteful 'Christmas' lighting can't be left up year-round.
To recreate this look, wrap outdoor fairy lights around your window frames, and attach more hanging strings along your roof edge. This can also be an ideal solution if you haven't got a garden, but still want to light up the exterior of your home.
28. Sparkling water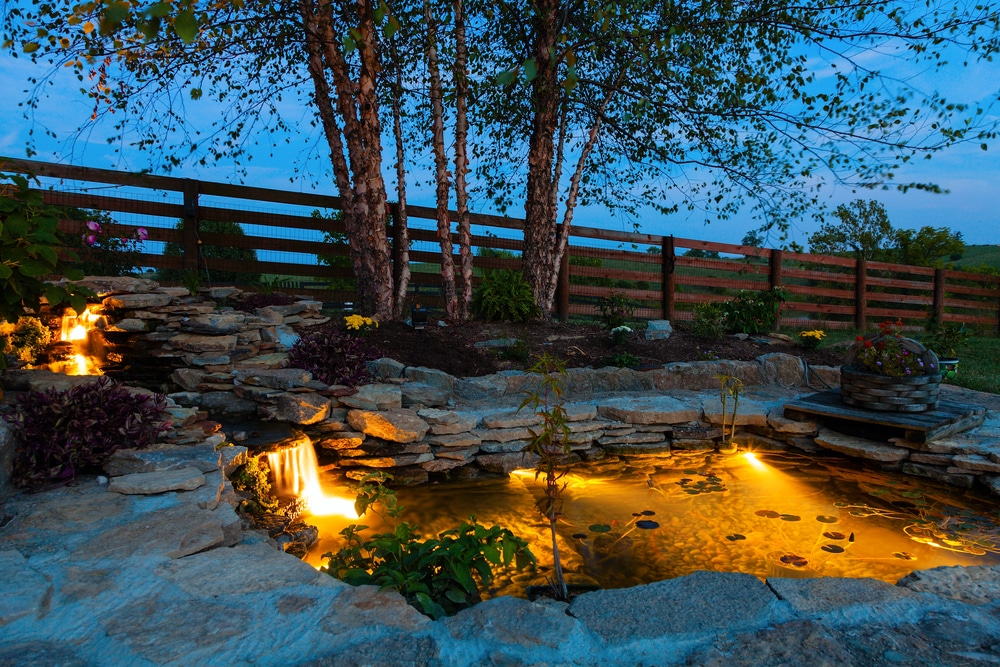 If you have a pond in your garden, consider how you can use that in your outdoor lighting scheme, and get creative. Adding waterproof lights in the base of the pond will light up the water, creating an ethereal glow.
You can also use lights to illuminate a fountain or water feature or place floating lights on the water's surface. All of these options will work to make the pond a focal point in your garden, even after dark.
29. Dazzling dining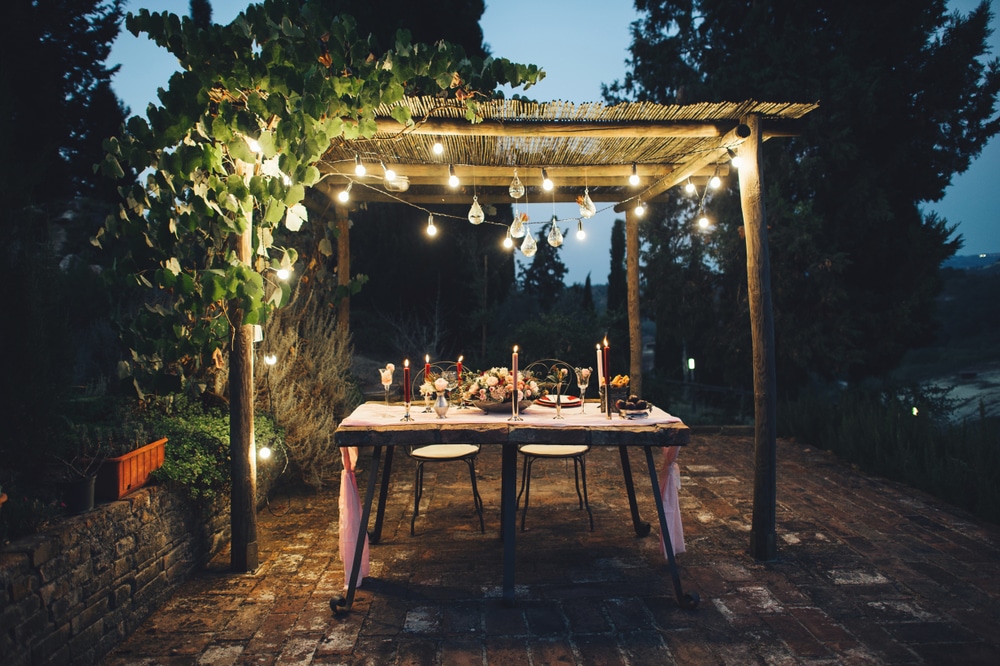 Finally, pergolas don't have to be attached to your house in order to create a cosy dining space. If you have a gazebo or any other kind of structure in your garden, make the most of it by suspending festoon or other string lights across the roof.
This will look even better if you have climbing plants weaving their way up the side. Position an outdoor table and chairs underneath, and you have the perfect romantic outdoor dining space or place to hold dinner parties.
FAQs
What are festoon lights?
Festoon lights are retro-style, bulb-shaped lights, suspended from a cable in the same way as fairy lights. They are traditionally made from glass, but most modern ones are LED lights with plastic casing. They can be white or multi-coloured and are often seen strung across a garden or pergola, or suspended from tree branches. This type of light is extremely popular in garden design.
How many festoon lights do I need?
To determine how many festoon lights you need, you should properly measure the area you want to cover – it can be surprising how long a string of lights you'll need to cover the roof of a pergola or zig-zag across your garden. Bear in mind that this type of light is heavier than fairy lights, and you will need to support the string every 8 – 10 metres.
Are solar lights any good in winter?
The problem with solar lights is that they are dependent on sunlight for power, and in the UK we can sometimes be lacking in that area! However, good quality solar lights will still charge in cloudy weather, as long as there is daylight – they just won't charge as quickly as in direct sun.
This means your solar lights should still work in winter, but they will probably not be as bright or long-lasting. You can help your solar lights to charge by keeping them out of the shade and angling them towards the sun (which will be lower in the sky during winter). Motion-activated solar lights will ensure the light isn't wasted when there's no one there.
How long do solar batteries last in garden lights?
Depending on the type of battery, batteries in solar lights should last for at least 2 years. When buying solar-powered garden lights, look for ones that have a removable battery, so you can replace it when needed.
Can I leave my garden lights outside all year?
Depending on the type of garden lights you have, you'll probably want to bring them inside during winter or extreme weather. Glass lights, for example, can be damaged by heavy rain and snow.
What is the brightest outdoor lighting?
If you're looking for the brightest light to illuminate a large area, perhaps for security reasons, an LED floodlight is probably the best choice. This type of light can have a beam spread of up to 120° and uses a high-wattage bulb and 700 – 1300 lumens.
Should I leave my outside lights on overnight?
Some people recommend leaving outside lights on overnight for security reasons, to deter burglars. However, there is little to evidence to support that this works, especially if you live in a rural area and your garden is not overlooked.
Leaving lights on also wastes energy, is less environmentally-friendly, and costs you more. For these reasons, we don't recommend leaving outdoor lights on overnight – turn them off when you go to bed and enjoy a dark night's sleep instead!
April Foot
April is a freelance writer who specialises in writing about home and garden design and the environment. She is an avid wildlife-enthusiast and adventure-seeker, and feels happiest when in the Great Outdoors.