Discovering the best greenhouse fumigators for repelling pests and keeping your plants healthy year-round.
Greenhouses are, by design, built as secure fortresses for healthy plant growth. Giving some serious climate control (which is ideal considering our unpredictable weather) and protecting plants and vegetables from the cold winter months, greenhouses are warm and sometimes humid environments.
While optimal for plant growth, this environment also makes for the perfect home for common bugs, pests and fungal growth that may affect or even kill the plants that you've worked so hard on to grow!
Although fumigating might bring about mental images of white forensic outfits, masks and a hose spraying out green fluids, fumigating your greenhouse is actually a very simple and safe process which can take anywhere from two to twenty-four hours to complete in full.
While many avid gardeners use a fumigator to clear pests out from their greenhouses in the winter months, they have come a long way in recent years and can now be used at any time of year, with many new all-natural products meaning that plants don't need to be cleared from the greenhouse for effective fumigation.
With a wide range of options from smoke 'bombs' to sulphur candles and insecticides, we explore some of the options for your next greenhouse fumigator, covering ease of use, safety, ingredients and which pests can be targeted by each.
Last update on 2021-04-22 / All Pricing & Imagery from Amazon Product Advertising API
Remember that almost all of these fumigators are only suitable to be used by responsible adults, and to follow the unique instructions on each fumigator for the best and safest results, as these can vary considerably.
A sulphur candle with a large range that does what it says on the tin.
Cost: £8.98
Our best pick for greenhouse fumigators, the Battles Greenhouse Sulphur Candle, is created with effective fumigation in mind. Not only does it get rid of flying and crawling insects, but it also targets spores within the greenhouse too.
With dimensions of 21.3 x 11.2 x 9.2cm, the tin comes in at a weight of 225g. This is a fumigator that (as with many others) needs to be lit in the greenhouse and then left well alone, as the gas that the candle creates will fumigate everywhere it reaches – covering a stretch of 14 cubic meters or 14m³.
One huge caveat of this fumigator though is that plants, vegetables and anything else will need to be removed before lighting the sulphur candle, otherwise, you might find lots of dead plants the next morning. The good thing is that sulphur is universally acknowledged as an effective pesticide, but it's not safe for use on plant life.
Pros
An effective fumigator against flying insects, crawling insects, bugs and spores
A cost-effective option with a wide range, covering many common greenhouse sizes
Creates a visible gas effect.
Cons
The wick is more of a piece of rolled-up paper rather than a traditional wick, so can be tricky to light initially
You need to remove all plant life ahead of lighting and return it all once the treatment is done and the gas has cleared.
---
A purpose-built greenhouse smoke fumigator with a large range.
Cost: £5.99
Built with flying and crawling insects in mind, the Deadfast Greenhouse Smoke Fumigator is our value option for speedy insect clearance. Coming in at the small size of 7.6 x 7.6 x 7.6cm, it packs a punch with the smoke covering a 12m³ area for flying insects, and 7.5m² for crawling insects.
Ideal for a greenhouse at 3 x 2m, Deadfast report no smell or visible deposits after use. Following the instructions on the pack, you can place this fumigator on a (non-flammable) slab or brick with all windows and doors closed (once you've lit it and left). Reports say it gets very hot, so use gloves to light the wick and step out of the greenhouse as soon as you can.
However, the can size is a little deceiving – within the tin itself there is a smaller pot with the wick inside, and although it doesn't seem to burn for very long, try and leave it in there overnight to let the smoke work its magic.
Pros
Takes care of crawling and flying insects
Can be used in sheds or other confined areas to control insects
No smell or deposit after use
Treats an average 3m x 2m greenhouse.
Cons
The inner pot is very small, and the wick doesn't burn for very long
Doesn't always fill the greenhouse with visible smoke as you'd imagine
Doesn't treat fungal spores or other common pests.
---
A small twin set of 'smoke bombs' with a short exclusion time.
Cost: £12.79
The Xtermin8 greenhouse fumigator is a great pick for anyone that wants to kill all biting, flying and crawling insects. It kills common greenhouse pests such as the mealybug, whitefly and thrips, and is incredibly easy to use.
For smaller to average-sized greenhouses, you'll only need to use one at a time, leaving you another for use a few months later, if needs be. Similar to all the other fumigators on this list, the instructions are printed on the product, so be sure to follow these to keep yourself and your plants safe.
With a 4 hour exclusion time, the instructions say 'remove plants to treatment if required'. Realistically, this is a case of checking the ingredients and making a decision on whether or not your plants will be safe for the duration of the treatment.
Pros
Very easy to use, with instructions printed on the pack
Effective against flying and crawling insects
Comes in a set of two – giving you the option to treat a bigger space or treat more than once.
Cons
You may need to remove and replace plants before and after treating
Very small, and not effective in larger greenhouses due to the short burn time.
---
A 3.5g fumigator with a well-renowned insecticide at its core.
Cost: £6.92
The Vitax Greenhouse Fumigator creates an effective insecticide smoke for greenhouses. With flying and crawling insects the target, the Vitax treats a standard-sized greenhouse for pests.
The second on our list to boast no lingering smells or nasty visible deposits, this small 3.5g weighs just 80 grams. With 13.25% permethrin – an effective insecticide – it works well on fumigating greenhouses but is indiscriminately toxic with product notes reporting that it's extremely toxic to aquatic life, harmful if inhaled or swallowed by humans and so it's safe to assume that this one could be an instant plant-killer. Be sure to follow the safety instructions on this one extremely carefully, and keep all living beings (other than the pests in your greenhouse) well away from the area when used.
However, one perk of this is that customers say they also leave some of their tools and pots in the greenhouse too, to fumigate these and get rid of any insects dwelling within them.
Again, this is another one on our list with a mixed bag of customer experiences and feedback, with some reports of it diminishing in under a minute and not producing much smoke. However, we'd encourage customers to allow the gases to work their magic and to stay well away until it's safe – even if the flame goes out quickly.
Pros
Lightweight fumigator using well-known and purpose-built insecticides
Small, but works in small to average-sized greenhouses
Suitable for treatment of flying and crawling insects.
Cons
Reports of low burning time
You will need to remove all of your plants before fumigating, due to the highly toxic nature of permethrin.
---
The all-natural option with a short, yet effective, treatment time.
Cost: Price not available
As the only option on the list with all-natural ingredients, the Pest-Stop Biofume Natural Fumigator is perfect for gardeners who are happy to gently disperse, rather than kill their greenhouse pests.
A highly effective candle, the Pest-Stop fumigator uses the candles fumes to fill the greenhouse and drive out pests. Their ingredients list mean that the fumigator won't be harmful to your plants, and it comes with the shortest treatment time of the fumigators on this list at just two hours.
With a recommended treatment area of 20 square meters, this fumigator can be used regularly, and contains garlic which is a known natural insect repellant.
However, this does come with the caveat that your greenhouse and garden may smell of garlic for a little while after treatment, as this has been reported to last for as long as a few days.
Pros
An all-natural and non-toxic ingredients list including garlic – an effective insect repellant
Fast treatment time at just two hours, after burning the candle for around 30 seconds
Your plants can stay in the greenhouse during treatment.
Cons
Comes with a very garlicky smell that may linger for several days
Not suitable (as one treatment) for a greenhouse over 20 square meters in size.
---
How To Fumigate A Greenhouse
Greenhouse fumigators are often used in the winter, as it's the time where your greenhouse is at its quietest. To fumigate your greenhouse in the winter, it's best to work through the following steps:
To facilitate the best seasonal clear-out and fumigation possible, start by removing your pots, current plants and any plant or soil debris from the greenhouse. The next step is to brush the floor or vacuum if you have a small carpet, not only to clear the plant waste but also to get any dust or mites out from the floor.
While you can use domestic cleaning products in your greenhouse (as long as there aren't any plants in there at the time), consider using a tailor-made garden disinfectant or greenhouse cleaner. Disinfect the inside, and give the glass a good wash and clean on both sides of the pane, clearing out any trapped dirt as you go.
Your winter 'spring clean' is also the perfect time to give your pots and tools a scrub – get rid of any that are broken or breaking, clean out the inside of your pots (and inner pots!) and disinfect your tools, getting rid of any fungus or hidden silent plant killers that might be lurking.
Once this is done, you'll have the perfect environment to fumigate your greenhouse. Read the instructions on the pack and let the fumigator work its magic for between two to twenty-four hours.
Although, of course, you can also pick some of the items on this list and quickly fumigate without going through all of the other steps above!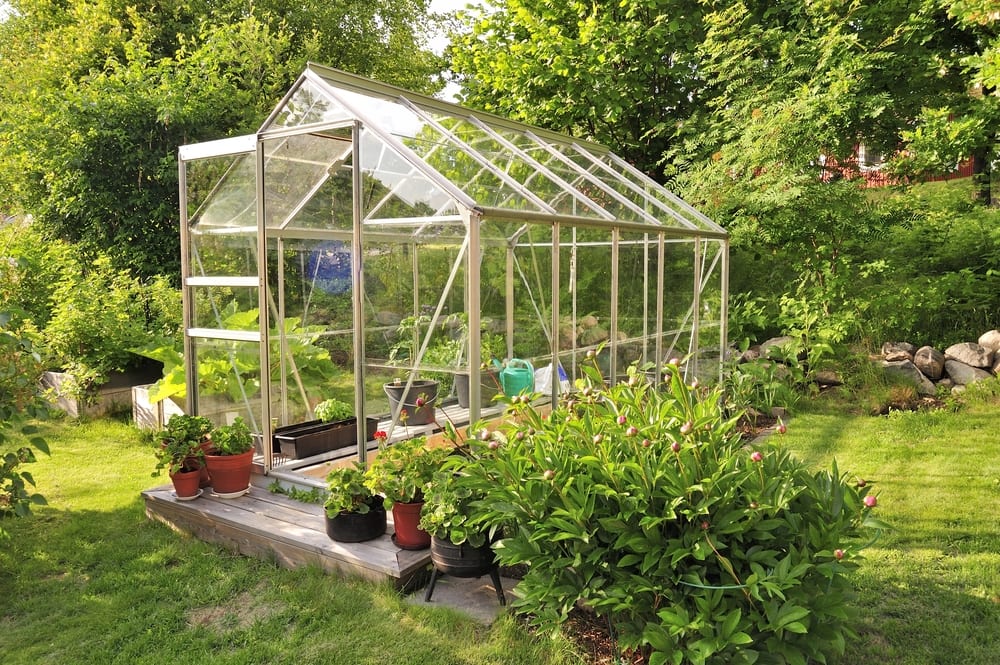 For some speedy greenhouse fumigation – again, making sure to check the ingredients and instructions on each pack – you can simply place the fumigator on to a non-flammable surface such as a brick or on the floor, ensure that all doors, windows and ventilation points are closed, light the fumigator and leave quickly, shutting the door behind you to trap in the smoke, gas or fumes.
Some fumigators aren't safe for your plants while others are, so put your plants in a safe place in the meantime if needs be. For cold months, cover them in fleece and return them to the greenhouse as soon as it's safe to do so.
Happy fumigating!

Sophie Lorford
Sophie is a freelance writer who loves the great outdoors, travel and learning new things. Juggling motherhood with a passion for writing, Sophie loves to give guidance and help others with her work.