Britain, sadly, is not blessed with the most reliable weather.
We can have frost in summer and heatwaves in October, but there is one thing that is reliable here in the UK.
(In fact, not only is it reliable: It's more or less set in stone.)
The second we have a warm and sunny afternoon (or even just a hot half-hour), without a moment's hesitation, the entire nation will be wheeling out and stoking up their BBQs. Across the entire country, almost instantaneously, the smell of sausages and burgers will be wafting out from within every single garden.
Needless to say, because of our kingdom's passion for barbecuing, installing a brick BBQ into one's garden has become an increasingly popular proposition over the years.
BBQs can be very expensive to buy, but what if you could make your own one in a day?
We have put together a simple and affordable guide to building your very own brick BBQ so that, any time the weather breaks out into glorious sunshine, you will be ready to toss a proverbial shrimp on the barbie and get cooking!
Why build a brick BBQ?
Not all of us have the space for a full-sized shop-bought BBQ, but when building your own from bricks you can make it as big or small as you want.
Another frustratingly common problem is that, thanks to our country's fluctuating weather, metal BBQs are susceptible to rust which means replacing parts often and eventually having to replace the entire thing.
With a brick BBQ however, you're set for life. It will be a permanent structure in your garden or on your patio. It will not rust. It will be durable and, with a bit of creativity, your sizzling barbie will be the envy of all your neighbours and a real talking point among guests.
So let's get started…
Your ten-step guide to building a brick BBQ
For this guide we are going to show you how to make a basic brick BBQ with a built-in brick preparation area joined at the side. This is a simple design that anyone can follow and is something you can easily complete in a day.
That said, if you are gifted with an artistic flair you can go above and beyond this basic design and let your imagination run wild.
Later we will share with you some ideas and inspiration for creating a more complex and aesthetically exciting structure but for now, we will start with the basics.
What you will need to build a barbecue:
Bricks
BBQ grill set
Sand
Cement
Trowel
Spirit level
Metal brick ties
Length of hose pipe
Step 1 – Choose where to build your BBQ
This is the first and one of the most important steps. Your new BBQ is not going to be portable, it will be where you build it permanently so make sure you choose a spot for it that you will be happy with for years to come.
You will also need the spot that you pick to be quite flat, sheltered from the wind and, needless to say, situated somewhere accessible.
Step 2 – Measure out the size of your BBQ
Using the grill set as a guide for the minimum width and length your BBQ will need to be, place the first line of bricks on the floor so you have a clear idea of how the bottom of your BBQ is going to look.
Step 3 – Lay the first layer of mortar
Make your mortar using five parts sand, one part cement, and enough water to ensure you get the stiff consistency required.
Move the bricks out the way and, after checking the level of the ground with the spirit level, use your trowel to begin putting down the first layer of mortar along the same line where the bricks were.
If any part of the ground is less level, just add extra mortar to balance it out.
Step 4 – Lay the first layer of bricks
Place something straight like the spirit level into the mortar to provide you with a straight line to lay your first layer of bricks on.
Take your time with this step, frequently checking that everything is level and that the corner bricks are all at right angles with one another.
Step 5 – Insert metal brick ties
Metal brick ties (sometimes called wall ties) play a vital role in ensuring the stability of your structure.
You will need to insert the ties into the mortar and join the inner wall (the wall connecting the BBQ structure to the preparation table structure) to the longer wall allowing the two walls to walls to become a homogeneous unit.
Step 6 – Build up your walls
Now you will need to start adding the next layers of bricks, course by course.
We recommend that in each course you stagger the joints by half a brick. Not only will this make the BBQ's structure stronger but it will also have the traditional style of brickwork making it more aesthetically pleasing.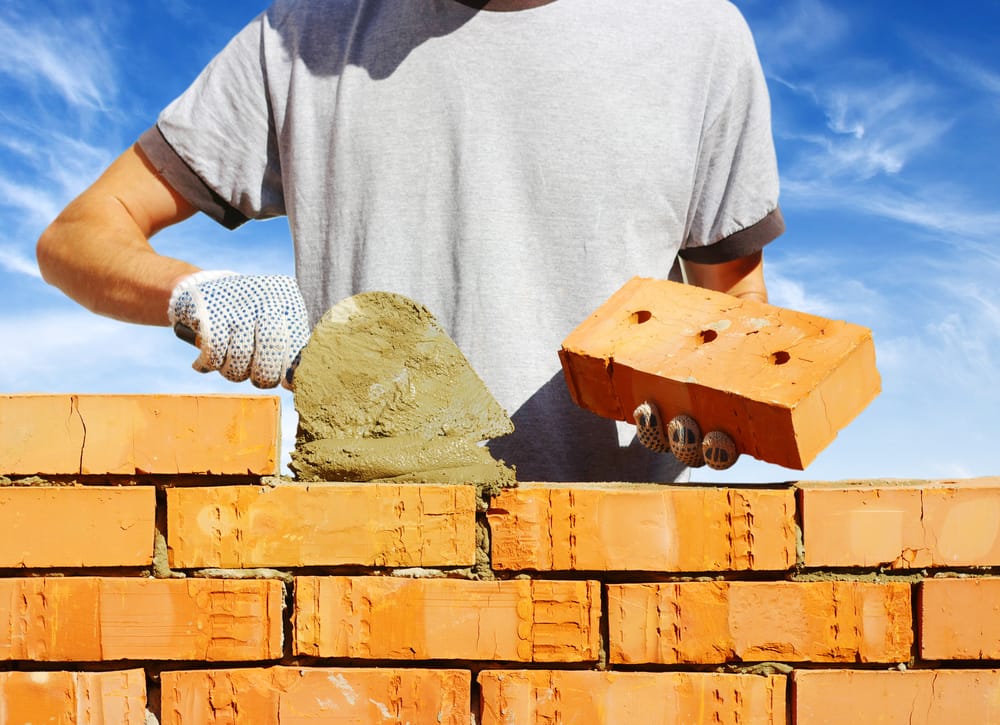 Once again, take your time and make sure you continue to use your spirit level to ensure that everything is straight and balanced. The corners of your structure should be vertically straight and the corners should be square.
Step 7 – Neaten and build
You can now continue to build your BBQ up to your desired height, course by course.
As you go be sure to stop and neaten things up every few courses, tidying up any excess mortar and making sure the bricks are in line.
Step 8 – Create ledges
When you are laying your seventh course of bricks, turn the left hand, middle, and right-hand wall bricks side on to create a ledge for the charcoal tray and the preparation surface.
Continue for another three courses and then do the same again on the left hand and middle wall to make a ledge for the grill tray.
Use half a brick to complete the ends of the walls if you find you have space left.
Step 9 – The finishing touches
To give your BBQ the finishing touches, run a length along each of the joints, clearing away excess mortar and neatening the mortar between each course of bricks.
You can then add one last course of bricks to give it a neat, polished, professional look. On the left-hand side you can use mortar to attach a slab of cement which will be your preparation table.
Step 10 – Voila!
Now all you have to do is put in the grill set with the charcoal tray going on the lower ledge and the grill tray on the higher and, voila! You now have your very own, homemade, ready to use BBQ!
All that's left to do is to wait for a sudden window of warmth and sunshine and get out there and start cooking!
Get inspired!
So, now you know how to build a basic brick BBQ, what happens if you want to go all out?
If you have an artistic and creative flair and are feeling ambitious then we've put together some inspiration so you can see just how far you can really go…
Old fashioned brick BBQ
If you are interested in a more rustic look for your brick BBQ then trying out a more old fashioned style is the way to go.
With an old fashioned style brick BBQ, you don't have to necessarily be so strict with keeping things neat and level.
Older designs tend to be a bit less regimented and tend to look almost like they just grew out of the ground.
Including a chimney in the design and not being so strict when it comes to laying the bricks will help you achieve a beautiful BBQ that looks like it's been in your garden for decades.
Don't be afraid of using different sized and shaped bricks as this will only add to the charm and old-world look.
The modern brick BBQ
Unlike the old fashioned BBQ, for a modern look you are going to want to be as regimented and neat as possible to capture that stylish aesthetic.
Instead of using standard bricks, you might want to consider using bricks with a more shiny, polished look to give it that brand new, flashy, edgy look.
Experimenting with colour and using higher quality materials for the grill itself will make your BBQ into a real show stopper.
If money is no object then use this theme to choose garden furniture and decor to set off this style, making your guests feel like they could be dining al fresco in a beautiful restaurant somewhere in Italy.
The brick BBQ with pizza oven
If you are going to take the time to build a brick BBQ then why not go a little further and also include a pizza oven?
Pizza ovens have become hugely popular DIY projects over the last few years and are easily installed next to or under your brick BBQ.
This is the perfect addition if you fancy yourself a bit of chef, and want to impress your friends and family with your culinary delights.
Pizza ovens are no harder to make than a brick BBQ and will be the perfect way to show off your skills to all your foodie friends.
The mini brick BBQ
If space really isn't on your side and you are worried you are going to miss out, fear not!
Even for the most modest-sized garden or patio you can still enjoy your own brick BBQ.
Simply scale back the size as much as you need. All you need room for is the grill set, so you could make yours with just a few courses of bricks.
Find a grill set that will fit in a smaller space and just build your BBQ around that.
The fire pit BBQ
BBQs sure are great for the warmer weather, but during the colder seasons it may end up sitting there, unused for months at a time.
Why not double up its functions and make it into a fire pit as well?
You can make a simple fire pit out of bricks, fill it with coal, and use a barbeque basket to cook your food.
This is a wonderful way to make the most of your structure all year round and means you will be able to sit and enjoy your garden comfortably even on the colder evenings.
A stone BBQ/firepit is a wonderful centrepiece for your patio and perfect for roasting marshmallows and telling fireside stories late into the night,
So toss another shrimp on the barbie!
Now you know exactly how to build your very own brick BBQ. Though simple in design, this structure will last you for years and years to come.
And, as you've seen, if you want to try your hand at a more complex style then the sky really is your limit.
So whether you go all out, or stick to our basic brick BBQ design, you can look forward to slinging those burgers, sausages, and shrimp onto the grill the second the sun rears its glorious head.
So get out there and get building, the sun could be out any minute!