Although they have been around for centuries, wooden planters have become especially popular in recent years.
And while you can buy them online or in garden centres, many people are choosing to roll up their sleeves and make one from scratch.
Now, if you are a bit of a whizz with woodwork then, of course, you can be as extravagant as you like with the design. But if DIY isn't your forte, fear not!
We have put together a simple step by step guide that anyone – no matter their skillset – can follow.
So if you are keen to create your very own wooden planter then this guide is for you!
What is a planter?
A planter is a pot or container used to grow, cultivate, and display plants. Both historically and today planters were made out of materials like terracotta, but nowadays many other materials are used like plastic, metal and, of course, wood.
Most planters will have holes in the bottom for drainage to prevent root rot, and they vary wildly in size and shape.
They are a perfect solution for people with modest-sized gardens and are a great way to brighten up any patio, decking, balcony, or other outdoor space.
What can be grown in a wooden planter?
One of the most popular uses for a wooden planter is to cultivate a little herb garden. Herbs thrive in planters, and being able to use your homegrown crop for your cooking is a joy.
But there are thousands of plants that will do well in a wooden planter including many vegetables, berries, annual flowers, and even miniature trees.
Wooden planters are a charming addition to anyone's garden and can be used and enjoyed year after year.
What wood is best for a planter?
When it comes to choosing the right wood for planters, the most important thing to keep in mind is finding a wood that has rot-resistant qualities. For this reason, redwood and cedar are popular choices.
You should avoid woods like pine, for example, as this is a much less durable material and prone to rotting quickly.
Cedar wood
A popular material used in woodwork, cedar is weather-resistant, relatively inexpensive and can be purchased online or at garden shops like B&Q.
Cedar is also insect resistant, and despite the UK's changeable weather, it is not prone to splitting or splintering.
Not only is it hardy enough to live outside come rain or shine, cedar is also aesthetically pleasing, and can be stained or painted in any colour if you want to give it that personal touch.
Redwood
Redwood is an ideal material for outdoor use and it's deep red tone makes it a favourite among gardeners.
It's also very easy to work with making it a good choice to those of us with less woodwork experience.
It can be a little more expensive than cedar however it's durability means it can last for several years making it good value for money.
Redwood is an extremely strong material, so if you are opting to make a larger planter this might be the better option for you.
Up-cycled wood
If you don't want to purchase wood you could also repurpose left-over pieces of decking, remains of a privacy fence or an old wooden crate.
All of these materials will usually already be strong and weather resistant either naturally or because they have been treated to be so.
As an added bonus they may already be close to the shape that you are trying to achieve so may require less work on your part.
Simple step by step guide for making a wooden planter
Now that you've decided which material you are going to use for your planter it's finally time to start building!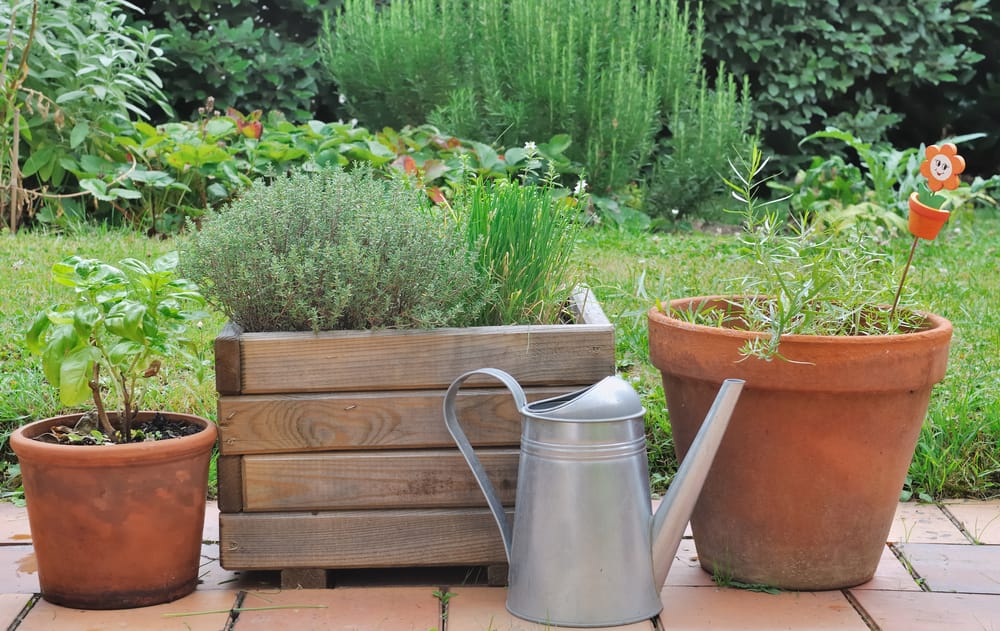 For this step by step guide, we are going to show you how to build a simple, rectangle, wooden planter. However the measurements can be adjusted and with the knowledge provided, you will be able to adapt the size and shape to build more creative designs.
What you will need:
The wood of your choosing (our example will be 4ft by 2ft)
Saw
Measuring tape
Pen or pencil
Drill and drill bit
Galvanised screws
Vinyl or nylon screen
Hammer
Nails
Sander or sandpaper
Gravel
Compost or potting soil
Paint/wood stainer (optional)
Plastic sheet with holes (optional)
Step 1
Decide on the size and shape of your planter, keep in mind which plants you will be planting in it to help you determine this.
Step 2
In this example, we will need to cut four 4ft by 2ft pieces.
Using a measuring tape mark the places where you will need to cut with a pen or pencil. Then with a saw cut the wood accordingly.
Step 3
On the smaller two lengths of wood you will need to drill pilot holes. These prevent the wood from splitting when you are inserting the screws.
Make three pilot holes, two 0.75 inch (roughly 19mm) from the edge of each board and one in the centre. These holes must align to where you will be attaching the other pieces of wood.
Step 4
Next fasten the boards with galvanised screws. This type of screw is best for outdoor use as it is less prone to rust.
Using the drill and drill bit, line the boards up and carefully drill the screw into the adjoining boards.
You could use a screwdriver for this part if you find that easier.
Step 5
With the measuring tape, measure the length and width of the planter in order to obtain the measurements for the bottom piece of wood.
Cut the bottom piece using the same technique as in step 2 and attach the bottom using the drill and galvanised screws.
Step 6
Now you have your planter assembled, turn it upside down and drill your drainage holes.
For this planter, four holes should suffice but the number you will require will of course depend on the size and shape of your planter.
Do not miss this vital step or, without proper drainage your plants will be prone to root rot and will be unable to thrive.
Step 7
Keeping your planter upside down, cut a piece of vinyl or nylon screen to fit the bottom of your planter. Fix this to the bottom using nails and a hammer.
This screen will give the bottom of the planter extra protection.
Step 8
Now, using either a sander or sandpaper, sand down any rough edges or splintered areas.
This will give your planter that perfect, professional look.
Step 9 (optional)
Although optional, this is the step when you can personalise your planter and really make it your own!
Whether you want paint, prime or stain, you can really go to town on making your planter as pretty as possible.
If you are opting to paint then pick out a colour that will complement the rest of your garden's decor.
If you would prefer to bring out and emphasise the woods natural colour then staining is the best way to go.
You can of course leave the wood as it is. If you do choose to pimp your planter, then do not treat the inside as this could contaminate the soil and compromise your plants.
You can line the inside with a piece of plastic or compost bags, just make sure you include holes for drainage.
Step 10
Now add a fine layer of gravel, which will help the drainage of your planters, and then add your compost or potting soil.
The choice of compost or soil you use will be dependent on the plants you wish to grow.
Step 11
Now, the exciting part – you can finally start planting!
Carefully add your seeds, bulbs, flowers, or whatever plants you are planning to grow and water them when necessary!
Step 12
Enjoy your very own, homemade, handcrafted planter!
Maintaining the plants in your planter
Now that you have your lovely, brand spanking new planter, you are going to want to take care of its precious cargo – your plants.
When you have planted your seeds and water for the first time make sure you do so until you see the water come out of the drainage holes.
Because of their design planters do have a habit of drying out quite quickly so will usually need watering at least once a day and, in the summer months, they may require it twice a day.
Depending on the plants you are growing you may also want to use liquid fertiliser. If you do opt to fertilise then we recommend doing so once every couple of weeks, using the amount that the bottle advises.
Repotting Planters
We recommend repotting your planter every season. Over time the soil's nutrients will become depleted and, as the plants grow, their roots can become bound and will begin to die off.
The plants that have grown too large for the planter can be repotted into a bigger container.
You can then empty the planter, rinse it out with antibacterial soap and then refill with fresh compost or potting soil.
You may also wish to replace the plastic liner – if so don't forget those drainage holes. Try to re-pot in between flowering cycles for optimum plant health. By repotting when necessary you will be rewarded with plants that will flourish and thrive.
Passionate about planters
We hope that this blog on how to make a wooden planter has aroused a passion within you to give it a go.
It might seem a daunting task to begin with, but if you follow our simple step by step guide you will be a professional planter builder before you know it!
If woodwork is one of your strengths then remember your designs can be as elaborate as you like. You can dream big, using different levels and different shapes and sizes.
So what's keeping you? Get out there and start planning your dream planter today!