Gardening has been a favourite hobby during the COVID-19 pandemic.
As much of the nation has had extra time on its hands due to furlough, working from home, and lack of social engagements, the Great British public has been turning its hand to DIY garden projects.
As such, online gardening resource Upgardener.co.uk has surveyed five of the best lockdown garden DIYers to find out what they've done and how they've done it.
1. Jean Hatchet, 53, Writer from Yorkshire
Jean's stunning garden transformation, of which she carried out all of the work herself, cost just £770. The main changes were the removal of the old shed, as well as the creation of a raised patio area and a feature rocker.
The key to this transformation though is the brightening effect of fresh paint on the walls, path, masonry, and the new shed. Jean only plans to add path lighting and a few more pots and plants now that garden centres are back open to add the finishing touches to her amazing garden transformation.
Before
After
2. Jake Tugwell, 27, Marketing Manager from Cardiff
Jake's DIY garden transformation cost £2,500 and he has carried out all the work himself, including laying artificial turf, building a raised decking area and making beds from raised sleepers. Lockdown afforded Jack the time to manage this project with just members of his own household, creating a professionally landscaped look for a fraction of the usual cost. Jake only plans to add some fencing to finalise the project, leaving him with a wonderful outdoor space to enjoy the rest of the summer.
Before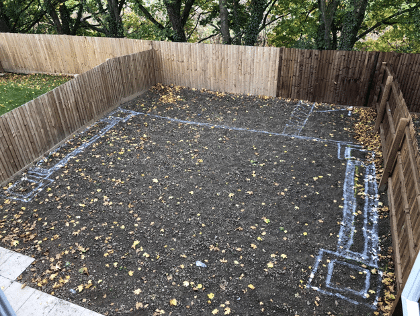 After
3. Delia May West, 48, a Home Cook in a care home from Tiverton, Devon
Delia's DIY garden transformation cost just £200, due to being able to use recycled materials to build the new features. The cottage garden was created in its entirety during lockdown, with the area previously used to graze sheep.
Delia rotovated the space and used the rocks removed from the patch to rebuild the dry stone wall. Delia also dismantled an old summer house, the timber and screws of which were used to make the new shed and log store.
A decking area and flower beds have been added to create a tranquil outdoor sitting area. This is an extremely impressive effort to create an outdoor space during lockdown on a very small budget from absolutely nothing!
Before
After
4. Louisa McNally and James Allcorn-Austen, Marketing and Sales Managers from Tunbridge Wells, Kent
Louisa and James' whole property is a renovation project but indoor jobs had to be put on hold due to lack of suppliers during lockdown. This has afforded the couple the time to complete a DIY garden project.
A new patio has been created, including digging out the area, creating an edging with sleepers, and filling the area with type 1 gravel. The couple has also tidied up overgrown areas and created a new border with recycled sleepers from the front-drive.
They now have a peaceful area to relax now that work is returning to normal, costing just £400 in total to create.
Before
After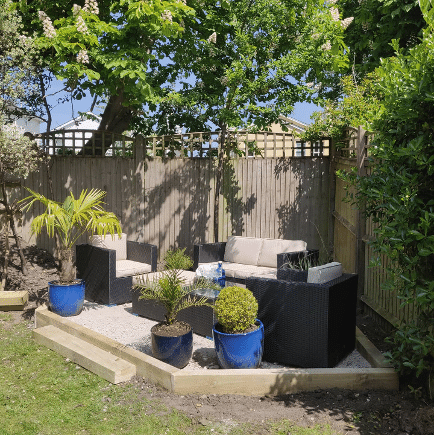 5. Lydia Dyson, 32, a stay at home Mum in Loughborough, Leicestershire
Lydia's DIY garden transformation during lockdown included extending her existing patio, reshaping garden borders, and adding plenty of new plants and lighting.
The stunning results cost £2,500 in total but it looks as if it has been professionally executed.
Lydia does not plan on adding any more to the garden in the near future and is looking forward to enjoying the space with her family throughout the rest of the summer.
Before
After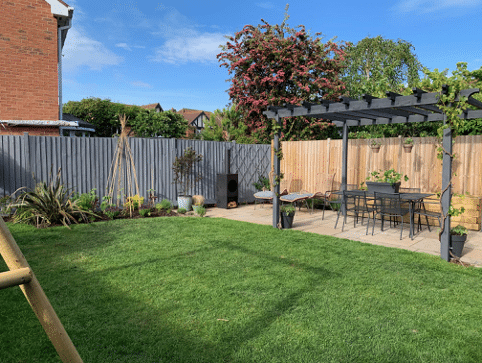 Dean Wilson
I'm an avid gardener and home DIY enthusiast from Yorkshire in the North of England. I'm passionate about helping our readers get out into their gardens - by making the most of the outdoors and ensuring they get the best possible deals on their gardening equipment. I also believe strongly in the preservation of our beautiful garden wildlife.