Most gardeners dream of creating a tranquil haven where they can potter around and use their green fingers to impress guests and particularly nosy neighbours.
But the reality is that with our hectic lifestyles our gardens can often find themselves neglected, and it doesn't take long for them to become completely unruly.
If this situation sounds familiar, fear not! 
Whether you're short on time, space, or money, the tips in this article are sure to help you get the most out of the space. So let's get you back in control of your garden, rather than the other way around.
Here's what we'll cover:
Low maintenance landscaping.
The best low maintenance plants.
Low maintenance gardening on a budget.
Let's get started!
Low Maintenance Landscaping
We love creating the perfect interiors to our homes, crafting them to reflect our personal style and identity. But why stop there? Shouldn't this design pride continue when you walk out into your garden?
These tips are just a few ways to bring your garden in line with the aesthetics you love, whilst keeping things low stress and low maintenance.
Create an Outdoor Living Space
Us Brits love sitting out in our gardens in the summer months. Not only does an outdoor living space provide an extended area to entertain guests on those balmy evenings, but they also create less work for you. The larger the outdoor living space, the less grass to maintain.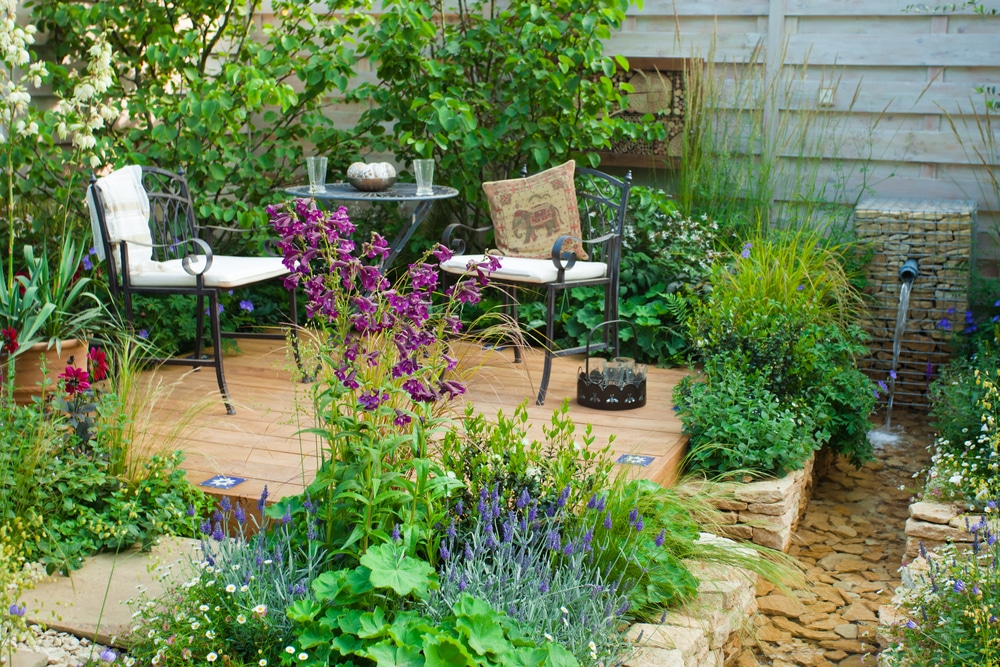 Whether you pick a stone patio or wooden decking, the further you extend it into your garden the more space for your BBQ, chiminea, garden chairs and tables, and even an awning to protect you from a sudden downpour.
Just think of all that grass you will no longer have to mow.
Switch Out Grass For Magical Mulch
You may recall another of our articles which detailed everything you need to know about mulch. Well, this could be one of the safest investments you make when pursuing your low maintenance garden.
Not only does mulch require zero mowing or watering, but it's also an inexpensive way to fertilise and protect your plants while preventing weeds. And, if that wasn't enough, mulch also provides a pleasant aroma in your garden – phew!
Potted Plants
Though a seemingly simple idea, incorporating potted plants when landscaping your low maintenance garden has heaps of benefits.
You can easily craft a more versatile garden by choosing different plants for each of your pots, quickly creating bursts of colour without needing a vast amount of space. Why not try coordinating your flowers by season too?
Perhaps most importantly though, if you are having a party on your patio, pots can easily be moved to one side to create space for a table or perhaps even an outdoor dance floor!
Strategic Flower Planting
Choosing different plants that bloom in each season will keep your garden vibrant all year round, and help to create a space that feels like it's endlessly bursting with life.
Be mindful of the type of soil you have as well as how much sun or shade penetrates your garden when choosing your plants.
Perennial plants are fantastic for the low maintenance gardener, which leads us seamlessly onto our next section…
The Best Low Maintenance Perennial Plants
Nothing says low maintenance like perennials. Simply plant them once, then enjoy the pleasure of watching them return and thrive year after year.
You can make your life even easier by choosing plants with long bloom cycles, ensuring your garden is flourishing for much of the year.
Here are a few of our favourite low maintenance perennials.
Shasta Daisy
This classic perennial is not only super easy to grow, but they also have a long blooming period, often staying in bloom until early autumn.
These daisies also come in different varieties so you can pick different heights: choose the shorter ones for adorable borders, and the taller ones to create a dynamic background.
Catmint
Catmint produces gorgeous clusters of blue flowers all the way from April through to October.
Plant in sunny to partly shady parts of your garden and once established this plant will attract birds, butterflies, and as the name suggests, cats – who find it to be quite the aphrodisiac!
Hardy Hibiscus
Hardy by name, hardy by nature, this robust perennial delivers glorious colour to your garden, boasting huge flowers in shades of red, pink, and white.
After it dies back in winter this plant has a rather long dormancy, which often leads people to mistakenly believe it is dead. But don't despair: be patient, and we promise you will be rewarded with marvellous colour year after year.
Hosta
Hostas are a wonderfully forgiving perennial. Though they much prefer the shade they will tolerate full sunlight exceptionally well, making them perfect for a casual gardener.
These stunning, low maintenance plants come in hundreds of varieties with leaves ranging from colours of light green to blue. Hostas are sure to bring a new depth to your garden with their luscious, leafy bloom.
Ferns
The humble fern should never be overlooked when planting your low maintenance garden.
Relatively easy to grow and perfect in a garden with lots of shade, ferns will reward you with lush green fronds and create beautiful textures to be enjoyed all year round.
Lavender 
Lavender really is the Queen of perennial plants.
From it's relaxing aroma to its gorgeous bursts of colour, it is an absolute must in your low maintenance garden.
As the UK treats us to regular rain, this perfumed plant will only require watering in the drier months and even then it will only need a couple of drinks a week.
Plant it close to your patio or decking because this Queen also happens to be an excellent insect repellent!
Low Maintenance Gardens on a Budget
Let's face it. For most of us, when we're feeling the pinch our gardens aren't our first priority when deciding how to spend our hard-earned cash.
Thankfully there are some great little gardening hacks for the more budget-conscious gardeners among us to help brighten up your garden without breaking the bank.
If words like repurpose and upcycle float your boat, this is the section for you.
Repurpose your old pots and pans
Dig out those rusty pots and pans cluttering up the backs of your cupboards, and put them to work as planters instead. Plant pots can be surprisingly expensive in gardening shops, so this is a great way to save a bit of money.
Don't forget to punch some holes in the bottom for drainage, and you're good to go!
Upcycle an old set of drawers
Another great way to create a low budget planter is to upcycle an old chest of drawers.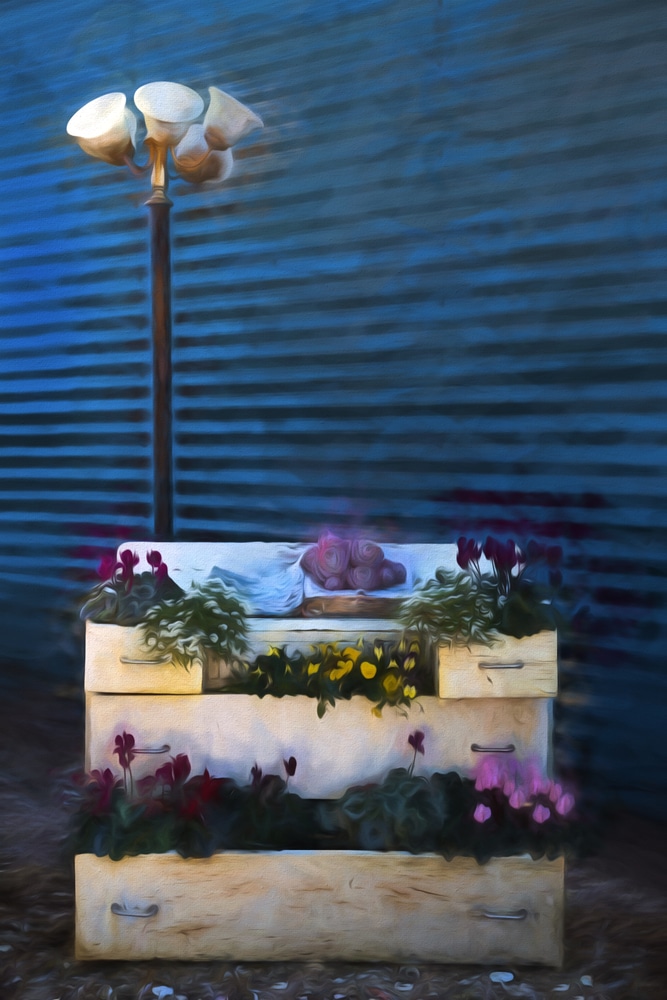 You can stagger the drawers in tiers and fill them with colourful blooms to brighten up your garden and add a quirky, fashionable flair that is sure to turn heads.
Try a mini vegetable garden
Not only does a mini veg garden keep the budget down, but it's also ideal for those of us with smaller gardens. Not to mention that this gives your garden a lovely element of sustainability.
A neat little vegetable trug is a popular low budget solution. Trugs are essentially baskets made of wood and are ideal for filling with your favourite veggies.
Solar-Powered Lighting
Following the sustainability theme, this simple (and adorable) option creates gentle ambient light in the evenings without adding a penny to your electricity bill.
Whether you place fairy lights in jars or hang them over the decking, their gentle twinkling is sure to add a touch of magic in the evenings.
Create a DIY Bird Feeder
Sometimes it's the simplest of things that can make or break a garden.
Not only can a home crafted bird feeder be an attractive accessory in any garden but it also creates a relaxing atmosphere where you can sit and listen to the birds sing.
Whether you use a Mason jar, a teacup on a string, or an old – and more importantly, empty – wine bottle, you are sure to love the extra life it brings without costing you a fortune. In fact, it's downright "cheep"!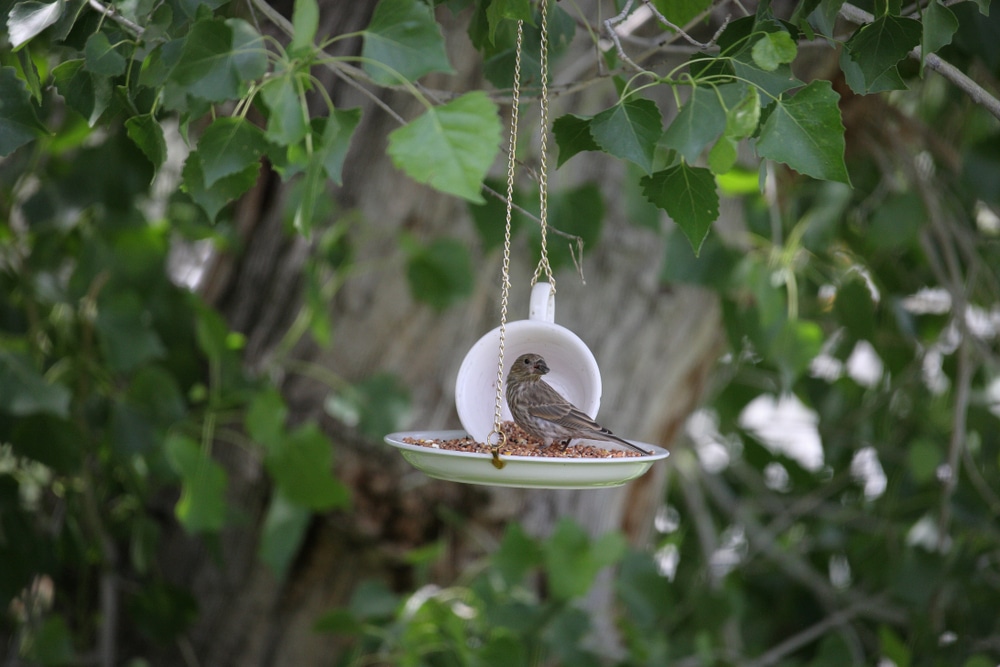 (Just remember that if you choose to get crafty and make one of these decorative feeders you might want to avoid planting catmint! Frisky cats and birds don't mix well.)
And there you have it…
Hopefully you're now itching to get outside and make your low maintenance garden a reality. We've given you everything you need to get started, so now it's up to you to get out there and get creative.
Remember that sometimes less is more: simplicity can be beautiful, and by incorporating these ideas you can be the proud owner of a garden which virtually takes care of itself!
At last your garden will stop feeling like a chore, and will instead be a chance for you to unleash your artistic nature to turn it into an effortless, low maintenance dream.