What do you want from a planter?
When we're planning ours, we look for bold and bright colours, appealing shapes, and consistent, predictable flowering.
The visual interest provided by a planter can make or break an outdoor space, so it's essential to choose the right plants for the job.
In this guide, we'll run through twelve of the best plants for planters in UK gardens. We'll give you a bit of information about what each plant looks like, how you can expect it to behave, and how to take the best care for it.
After reading, you should be confident enough to design your very first planters or suitably inspired to rejuvenate your existing ones.
Let's get cracking.
1. Impatiens walleriana Super Elfin Series
You probably know this plant as 'Busy Lizzy', and while its bold pink flowers are immediately recognisable, you can expect to see a spectrum of exciting colours in their palette.
This plant will reach its maximum spread of about half a metre squared in 1-2 years, making it an excellent choice for planters both in terms of size and timeframe.
It's evergreen, but will only flower in late spring and summer. For best results grow in full or partial shade, facing anywhere but north. If you water regularly and allow the soil to drain, Buzy Lizzies will reward you with bright and beautiful blooms.
2. Lysimachia nummularia 'Aurea'
Here's another plant whose common name precedes its scientific designation. You probably know Lysimachia nummularia as 'golden creeping Jenny.'
And Jenny is worthy of introduction to any garden.
This plant flows effortlessly over planter edges, making it a popular choice for edges. Combine this aesthetic interest with engaging green-yellow foliage, and you've got a plant that pulls its weight in all sorts of contexts.
Jenny is hardy enough to survive harsh winters and has received the RHS 'Plants for Pollinators' award, meaning it'll attract bees and other flying friends into your garden.
Plant it in full sun or partial shade, facing anywhere but north. This plant really isn't fussy in terms of soil type or moisture level.
3. Clematis
There are a lot of clematis varieties, but in recent years, compact cultivars have been developed that are ideal for planters. As a starting point, Gardener's World recommends Clematis 'Countess of Wessex', Clematis 'Cezanne', Clematis 'Blue Dwarf', Clematis 'Fujimusume', Clematis 'Burma Star', among others.
Because we've given so many potential Clematis cultivars, we won't give full growing and care tips for each. What we will say is that this flower is renowned for being generally easy to grow and take care of and that with proper research, it's possible to choose Clematis varieties that, between them, will flower year-round.
4. Pieris Japonica
There are a few varieties of Pieris Japonica to choose from, but all feature incredible bursts of white flowers that will cascade over planter edges. They're a great way to decorate container boundaries, and they can add a new colour to the lower part of your design.
This plant likes full sun or partial shade, so take care if you're incorporating it into a planter with shade-loving friends.
With a hardiness rating of 5, this plant will survive even the harshest British winter. It likes a well-drained soil, east or west-facing aspect, and shelter from the wind.
5. Euonymus Fortunei 'Emerald n Gold'
This hardy and non-fussy evergreen is a fine addition to any planter. Partly because it requires minimal effort to establish and look after, and partly because the yellow and green it contributes visually will make themselves at home in almost any colour palette.
The band of yellow skirting each leaf is a subtle yet striking visual element, and one that will work nicely with other plants boasting white. Pieris Japonica comes to mind, but there are many others.
That's one of the things we love about planter designs: Choosing plants that are not only lovely by themselves, but which combine visually with those around them. Get this mixture right, and your planters will be the envy of everyone who lays eyes upon them.
6. Cornus Alba 'Elegantissima'
You may see this striking little guy called Red-barked Dogwood, a not-particularly-cryptic nod at its incredible red bark.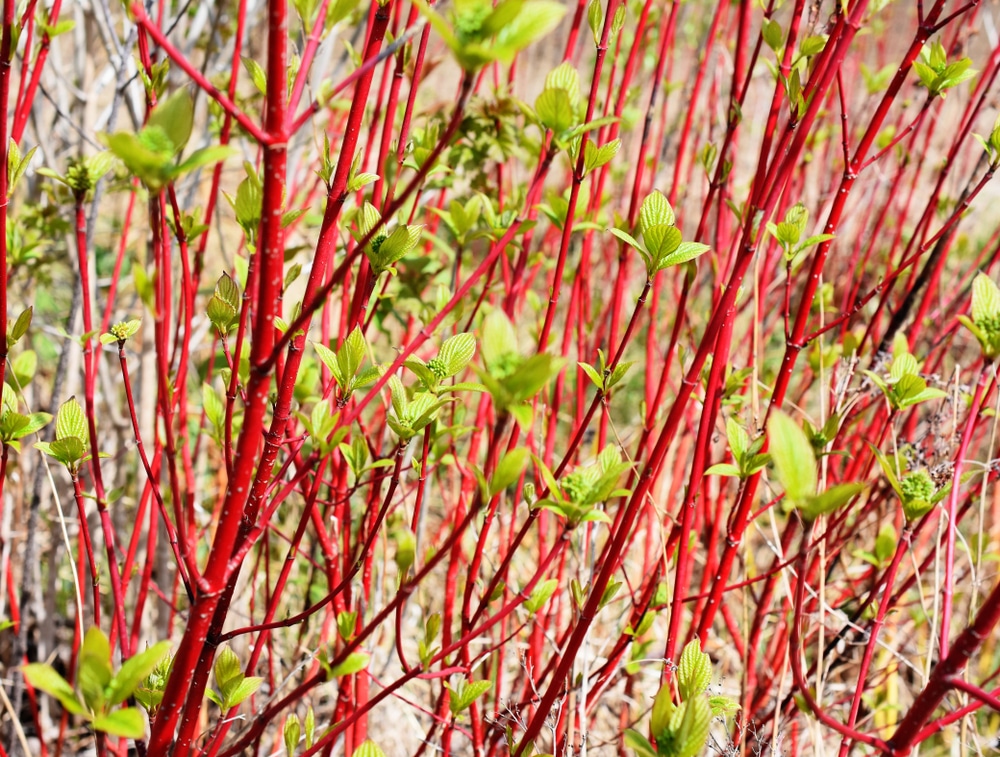 If you're looking for something to catch the eye and throw in a splash of bold, captivating colour, we can't think of many things better than a dogwood shrub. Red will play off of pretty much any other colour in your container's palette, either as a small cluster or a big backdrop.
This plant is incredibly hardy, holding its own down to at least -20 degrees Celsius. It likes full sun or partial shade, and can tolerate any aspect.
7. Skimmia Japonica
This Japonica variety is another of our red favourites. We've included it in our list because it holds colour over summer, autumn, and winter, making it a great visual offset to plants that flower only in spring.
Whereas Pieris Japonica, number 4 in this list, has white flowers, Skimmia is unashamedly red. Clusters of bright berries catch the eye, and the plant gives forth a gentle floral fragrance.
Overall, this is a great choice for a planter.
It'll appreciate full or partial shade and isn't fussy when it comes to aspect. It'll take a few years to hit full size, and if left to grow, that'll be somewhere around 1.5 x 2.5 metres. Of course, if you're growing Skimmia in a container, you'll probably trim it back to keep things a bit more manageable.
8, 9, 10, 11, and 12 – Rosemary, thyme, sage, oregano, and mint
When designing a planter, you're not restricted to just the pretty faces – you can incorporate edible plants as well. This section will be of extra interest to the chefs and gourmands amongst our readers.
Planters are the perfect format for growing a few herbs alongside each other. They're small enough to allow for thematic consistency but big enough for the plants to have space to thrive. We've bunched these five herbs together because they're the most common and popular herbs that are hardy enough to survive the British winter once established.
Here's a little bit about each –
Rosemary
This herb works a treat with chicken and lamb, and is commonplace in warming winter dishes like soups and stews.
For best results, grow rosemary from a ready-grown plant. Trying to grow from seed is tricky, and they're so readily available that you may as well skip the hassle.
Ensure well-drained soil and a lot of sun: Rosemary doesn't do well when its roots are allowed to get soggy.
Over summer you'll want to water often, and during winter you'll want to raise your container to improve drainage. If you're expecting frost, consider covering the soil around your rosemary with horticultural fleece to protect it.
To ensure optimal growth, cut it back after the floral blooms start to die off.
Thyme
We've got plenty of thyme for this herb (sorry…)
If you're cooking lamb or anything involving winter vegetables, a sprig of thyme will work wonders.
Thyme is a bit less fussy than rosemary and can be more readily grown from seed. You'll want to propagate them first, then move to individual pots until they're big enough to introduce to your planter.
Well-drained soil and a lot of sun is good for thyme, too; just ensure they don't get burned in hot summer sunlight.
Try to keep your thyme out of the rain as much as possible during winter, as this is the biggest threat to its continued survival.
Sage
This herb brings out the best in fatty meats like beef, pork, and duck. Its unmistakable flavour is a fine addition to any chef's arsenal.
You can grow sage from seed, cutting, or pre-bought plant. The difficulty involved in growing it follows the same order.
Water regularly, but avoid over-watering. Trim back growth to keep it neat, tidy, and flowering.
Sage is prone to a few pests, so browse the leaves every once in a while and make sure to pick off any unwelcome visitors.
Oregano
This herb is right at home in Italian cuisine, and we love it in any recipe featuring tomatoes.
It's easy to grow from seed: Start between February and May, and let propagate. Then move outdoors when plants are strong enough to hold their own against the elements.
Care instructions are the same as the herbs above. You want to water regularly, but not too much that you dampen the roots. Take extra care not to over-water during winter – raising your planter onto feet helps with this.
Oregano is prone to aphids: Be vigilant, and crush any you find with your fingers. Harsh but effective.
Mint
This summery flavour goes well with everything from courgettes to strawberries to Pimms. We definitely recommend the latter – a sprig of homegrown mint in a glass of Pimms is a surefire way to impress guests.
You'll find mint easiest to grow from pre-bought plants, and it works best in planters because it spreads voraciously in the ground.
Water regularly, and make sure to trim back after flowering. This will give you the best chance of healthy growth next season.
What to think about when designing a planter
In this section, we'll quickly cover off some of the key things to keep in mind when designing your planter. These pointers will help prevent common mistakes, and will hopefully give you a bit more inspiration.
You're not restricted to one plant per planter! Far from it – some of the most exciting and rewarding planter designs arise from having lots of plants working together to create something beautiful.
It's not just about colour. The planter palette is one of the primary visual elements, but think about height and depth as well. Make use of tall plants for height, and consider plants that cascade over edges as a way to mix things up a little bit.
Make sure you choose happy bedfellows. Realistically you'll only have one type of soil in your planter, and unless it's really big, the whole thing will probably have similar light and exposure conditions. This means that plants with wildly different requirements probably won't grow so well alongside each other.
Think year-round: lots of plants flower in spring, and generate most of their visual interest at this time. By selecting plants that flower year-round, you can keep things visually interesting for much longer.
The possibilities are endless. We included twelve plants above, but there are literally thousands to choose from. We've seen tiny planters full of rich, colourful succulents draw just as much interest as large, carefully cultivated planters replete with flowers. Don't be afraid to try something different.
Go with the flow. You can change up your planter whenever you like. Plants can be added, removed, or rearranged as you see fit. So if your initial design doesn't tickle your fancy in quite the way you expected, try something new.
The plants to plan a planter
Hopefully, this list proves just how much choice you have when designing a planter for your garden. The twelve plants in the list above are versatile in terms of colour, shape, scent, and overall aesthetic. And whatever plant – or combination of plants – you go for, you're guaranteed a visually interesting element in your garden.
A planter can be a quick solution to add interest to one area, or an ongoing project at the centre of your gardening pursuits. That's why we love them: Flexible, versatile, beautiful, and rewarding.
We wish you all the best in your planter plans. Happy gardening!