Just because your garden is a little modest in size, it doesn't mean it can't match – or even outdo – it's larger competitors. As the saying goes: "nice things come in small packages."
In this article, we will show you how to get the most out of your compact outdoor space. Whether you want to utilise unused surfaces or to create the illusion that your space is larger than it is, we have lots of helpful tips and tricks to help you create your perfect miniature haven.
Let's get started.
Plant Vertically
When space is limited, instead of planting out, plant up. Even in the smallest garden, there are plenty of vertical options that can help you get the most out of the space.
1. Living Wall
If you find yourself with a bare stretch of wall or fence, then you are in luck. A living wall is made up of panels of plants that can be easily attached to such surfaces.
Some living wall designs can also work freestanding making them extremely versatile. Not only do they create a luscious backdrop to your garden, but they've also been proven to help filter out harmful pollutants in urban areas.
2. Climbing Plants
An alternative use for your walls or fences is to choose climbing plants and wall shrubs. Jasminum Nudiflorum, for instance, produces heavenly, yellow, star-shaped flowers on bright green stems that will add an instant burst of colour to your garden without taking up valuable space.
3. Upcycle!
When you're planting up, why not upcycle too? Repurposing an old ladder into shelving for plant pots is a great way to open up different heights and levels in your garden.
Likewise you could fish out old kitchen pans and coffee mugs and turn them into rustic hanging pots, you could even paint them to give your garden that extra wow factor.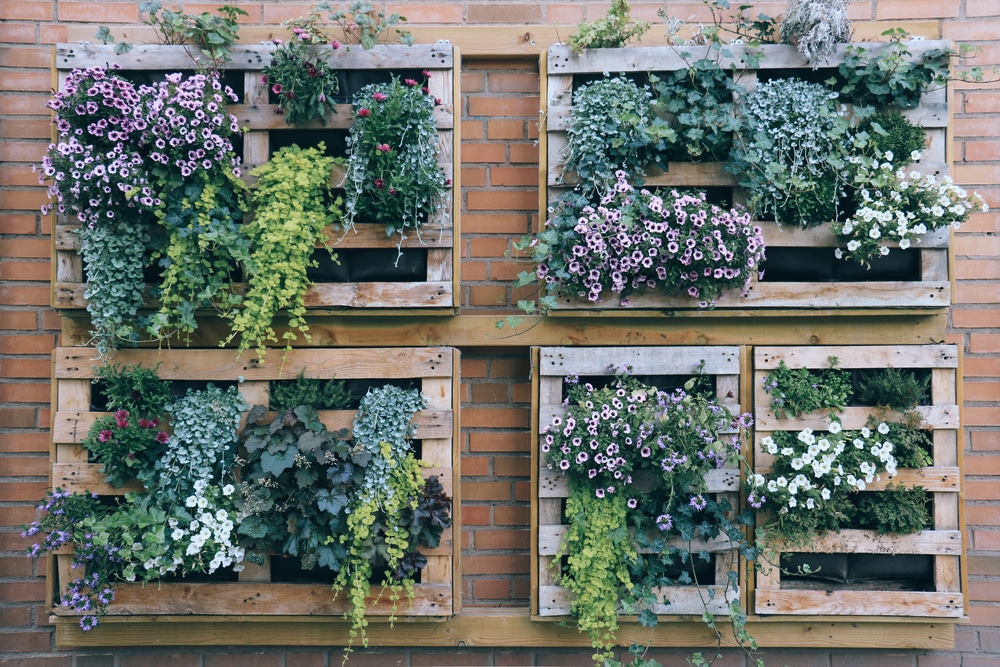 See our guide to vertical planting for more ideas on this front!
Design Tips to Create an Illusion of Space
Things don't always have to be what they seem, and there are a wealth of tricks to make a small space appear twice the size. Used well, you can give visitors the impression that your garden stretches far beyond it's true limits.
4. Mirrors
There's a reason magicians use smoke and mirrors, but in a garden, the smoke probably isn't necessary (unless you are firing up the BBQ of course!)
Mirrors, however, can be magical for small outdoor spaces. Placing your mirror is key: set it in a dark corner and it will instantly create the illusion of an entrance into a secret garden. It will also reflect sunlight beautifully, just take care to ensure the light isn't too intense for your shade plants.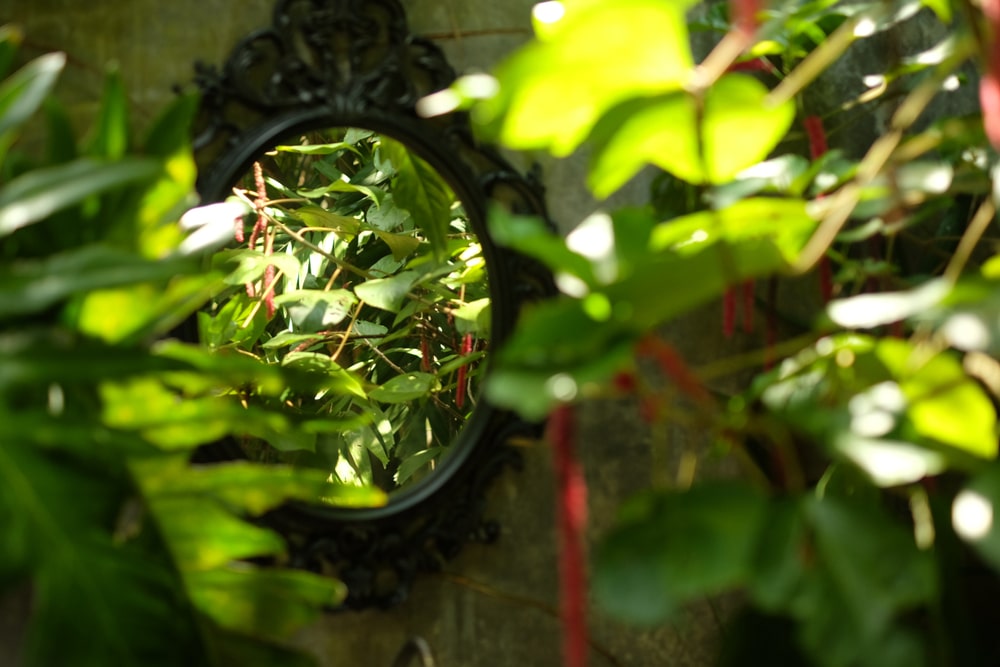 5. Beg, borrow and steal
Don't panic, we aren't really encouraging criminal behaviour! But, if your neighbour's gardens are next to yours, why not plant next to your fence and blend your plants together?
Beg: Check with your neighbours that they don't mind you doing this and take care that your plants don't encroach on their garden.
Borrow: When your neighbours have consented, embed similar or complementary plants and grow them until the line between yours and theirs seem like one.
Steal: Steal the view! With yours and your neighbours' gardens seamlessly merging together, it will give the impression that you are looking out over a much vaster piece of land.
6. Divide up the space
Whether you are adding a border to your lawn or creating a path through your garden, breaking things up will instantly make it seem bigger. Consider combining different materials. For example, a small wooden decking and a stone path that divides up your lawn and plants will create an elegant open area.
7. Choose plants carefully
A visually engaging garden will feel less small, and a great way to achieve this is by ensuring at least one plant is in bloom at all times. As soon as one plant's flowering season is over, another should be beginning.
Buddleia is a great example of a plant that blooms in August: a month that can be quite quiet otherwise. By planting things that bloom year-round, your small garden will always be a pleasure to look at.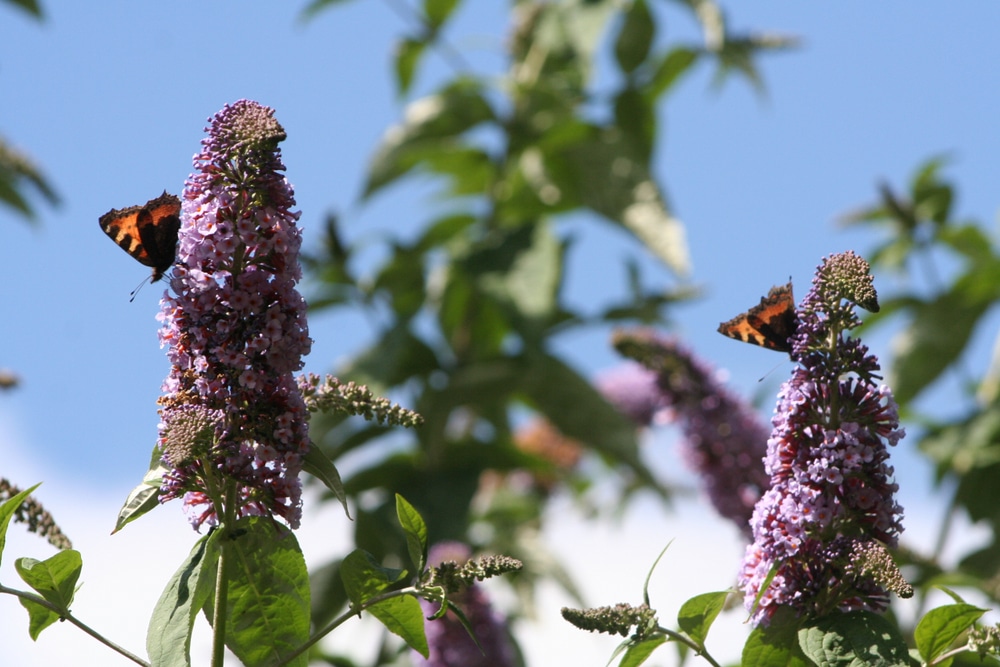 Aesthetics
Choosing the right furniture, decorations, and colours is vital when you want to make the most out of your small garden. When space is limited, "less is more" becomes more pertinent than ever. Everything you choose has to make a real statement.
8. Furniture
Whether it's to keep in style with a chosen theme, or just to give you somewhere to sit and enjoy the space you've created, choosing the right furniture is very important.
For the most modestly sized gardens it's worth considering folding chairs which will allow you to keep the garden feeling uncluttered, while also giving you the opportunity to entertain. Allowing space to have two functions is a great way to get around limitations.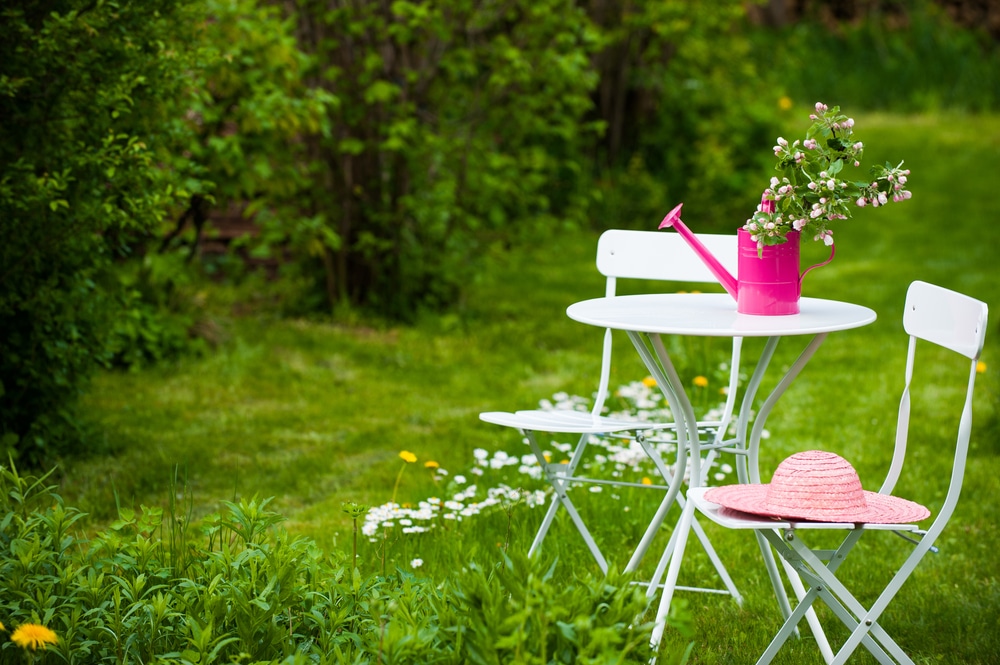 Alternatively, you could liven things up with a modern touch by choosing some mismatched wooden furniture and painting them in bright colours to really make your garden pop.
9. And speaking of painting…
Whilst on the topic of painting there is lots you can do to both brighten up your garden and give it a larger than life feel.
Painting your fence to complement the plants you have chosen can have a huge impact on how your garden looks. Likewise, choosing white paint for walls gives a bright, clean, fresh feel that will create the feeling of space.
10. Decorative Pots
Whether you buy them or have an artistic flair and make them yourself, well-placed decorative pots can really spice up your garden. These are a perfect place to put your plants that will flower at different times throughout the year.
11. Lighting
Though your garden may be small there is no reason why it should lack ambience while you relax in the evening. Fairy lights are a quick, cheap, and easy way to add sparkle to your space.
Candles are also a wonderful way to make your garden glow. Strategically place them around the garden and the light and the shadows will make it seem like it goes on forever. Just make sure not to set your fence alight!
And there you have it…
Small is beautiful, and don't let anyone tell you otherwise. Just because your garden is more compact doesn't mean you have to compromise on style.
By making the right design decisions you can create a wonderfully relaxing haven. So get out there and get creative and make your little corner of the world as perfect as it can be.