Ready for some outdoor growing? We've uncovered the best in stone planters for contemporary, modern and Victorian-style gardens alike.
Think of any stately home that you've seen on the TV or in a film recently. The odds are, there would've been stone planters featured! Whether in the garden, along the entrance steps or urns placed delicately on stair rails, it's undeniable that stone planters are the epitome of success and luxury.
Luckily, stone planters are very easily obtained and are much more pocket-friendly than they used to be, and they now come in a wide range of colour options and styles to suit contemporary and traditional gardens alike.
Rattan, ceramic, clay, stone, wood and metal. The range of options for outdoor and indoor planters can be endless, not to mention the range of sizes, shapes, colour schemes and sub-materials to navigate to suit your plants and decor.
In this guide, we'll take a look at a broad range of options for stone planters. From self-watering indoor pots to Victorian-era gothic troughs, we'll take a look at the dimensions, plant suitability and dimensions of each to help you find the best stone planter for your garden or home.
Last update on 2021-09-16 / All Pricing & Imagery from Amazon Product Advertising API
Here's more on our favourite models:
A self-watering stone planter with a very modern feel
Cost: £45.20
Our best pick for stone planters, the Lechuza Balconera Self-Watering Planter is ideal for some low-effort growing. Made of graphite, this planter is perfect for balconies and comes with super-simple instructions to keep your plants growing and safe outdoors.
The Lechuza comes in a range of modern colour choices such as graphite black, sand beige and stone grey, and two sizes: 19cm x 50cm x 19cm and 19cm x 79cm x 19cm if you need something a little lengthier.
Suitable for indoor and outdoor use, this stone planter comes with a removable liner, water level indicator and plant substrate. The planter itself and the inner liner are different heights, which is how the small area for water storage is created – and built-in drainage holes in the inner pot help the water to flow freely, without making a mess on your floor.
This stone planter choice is also frost and UV-resistant, making it ideal for the UK's unpredictable and often chilly weather. Finally, you can water once and wait up to 12 weeks until watering again – and the water level indicator will let you know when more water is required – making this choice the ultimate for low-maintenance plant growth.
Pros
Comes in two sizes and three colour options, with a very modern style
Weather-resistant to frost and UV rays
Comes with built-in drainage holes and removable inner pots
Water indicator and plant substrate included to help aid self-watering
As the brackets aren't included, it's easy to use inside or to lay flat on a surface.
Cons
If you want to hang it on a balcony, you'll need to buy the appropriate brackets separately.
---
The perfect value pick with modern colour options and an expensive look.
Cost: £22.99
Our pick for budget-conscious gardeners, the La Jolie Muse Stone Flowerpots are a beautiful choice. With a grey marbled pattern, the La Jolie planters come in either Large or Small, at 22cm depth and 17cm height, and 19cm height and 14.5cm depth respectively.
Perfect for the outdoors, or interior porches, balconies and rooms, these stone planters are suitable for some of the best indoor plants – ferns, pothos and spider plants – due to their breathability and four in-built drainage holes. However, the plugs aren't included for the drainage holes which can cause problems with watering and leakage – particularly if you want to use these indoors – so be mindful that you will need to purchase these separately if you need them.
These stone planter choices are lightweight yet sturdy, with their recyclable plastic and natural stone powders mix. They are also weather-resistant – free from frost, crack or peel damage.
Finally, they come in a very modern array of colour schemes including: marble pattern grey, matte white, speckled black, speckled white and weathered grey, which means you can find an option to suit you and your interior or exterior decor.
Pros
A good range of colour options
Perfect for small, indoor plants
Come with a stone look, but are more lightweight and portable than a stone planter otherwise would be
A great value pick that looks more expensive than it costs!
Cons
They don't come with drainage plugs, making it more difficult for those who want to use these inside the home.
The plugs aren't included for the drainage holes which can cause problems with watering and leakage – particularly if you want to use these indoors.
---
A medium planter pot that does exactly what it says on the tin.
Cost: £55.99
If you're looking for a medium stone planter with detailed decor and a Victorian-esque feel, then the Idealist Medium Planter Pot might be perfect for you. One of the nicest qualities of this particular option is that all of them are made individually by potters, which means that you'll have a truly one-off piece!
Made from durable a fibre-stone and fibre-clay mix, the Idealist has a luxury feel to it coming in at a weight of 6kg, making it durable enough for outdoor use. Built with drainage holes to prevent rotting and over-watering, its medium size (37cm, 38cm, 37cm) also has two specific and separate layers for drainage and soil as well as a built-in drainage hole.
This piece doesn't require assembly, so once it's delivered it's ready for planting and placing! While it only comes in one colour option of grey, there are several other size options available at lengths of 22cm, 30cm and 45cm if you need something a little more spacious for your plant.
Pros
Hand-crafted with a unique lattice design
Built using recycled materials including a stone and clay mix
Uses a soil layer and drainage layer to support your plant growth.
Cons
Only available in one colour option, which can appear a little blue-grey when placed outdoors.
---
A modern, self-watering, stone-style planter perfect for indoor growing
Cost: £19.99
The second product on our list from Lechuza, we have another option for gardeners and growers who need a little help remembering to water their plants! The Cubeto Stone Planter is another self-watering option, and comes in a very modern oval shape.
With the same colour options as the previous Lechuza – graphite black, sand beige and stone grey – this stone planter comes in two size options: 30cm depth and 13cm height, or 40cm depth and 18cm height. However, it does require some initial assembly to get started – although this shouldn't be a problem if you align it with your planting schedule.
A planter that's perfect for indoor growing such as succulents and trailing plants, the Cubeto's design truly complements the plant: letting it take centre stage. Its self-watering design makes it perfect for 'lazy' growing, and the included water level gives gardeners a nudge when the plant needs a top-up. It also has a drainage hole at the bottom and a plug included which can be turned with a coin, keeping your interior floors free of water and soil!
Made with shockproof poly-resin and a stone effect surface, this planter has many of the benefits of a stone planter without the heavy feel and lack of portability. This option also includes plant substrate, helping your plants to get the right level of nutrients, keeping the soil pH stable and inhibits mould growth and pests.
Pros
A self-watering planter, giving you the flexibility to stay away from the home for a short while
A very modern, sleek and clean planter
Suitable for indoor and outdoor use with a drainage hole and plug
Comes with a water level indicator, plant substrate and inner pot to support effective plant growth.
Cons
Could be too small for effective outdoor use
Its size and shape wouldn't work as well for taller plants.
---
An affordable and traditional gothic trough with stone effect
Cost: Price not available
If your garden has more of a classical feel to it, the Gothic Trough Planter from Stewart is the ideal addition. Perfect for low hedging, shrubs and garden classics such as roses, the trough shape of this planter is ideal for outdoor plant growth.
With a white stone look to it, this planter is designed with 'Renaissance Europe' in mind, and the colour is ideal for the most colourful plants in your garden, helping to show them off at their best.
Built with top-quality plastic, this stone effect planter has all the perks of a traditional stone planter, but with the added benefits of being lightweight, versatile and durable – without the heaviness. Another ideal option for UK gardeners, the Stewart is frost-proof, shock-proof and UV resistant which is ideal for our temperamental British weather!
If you want a twin-set or smaller version in the same style, there's also the option to buy the 39cm hexagonal piece which comes in the same colour and design as the larger 32cm x 90cm x 28cm trough.
Pros
A 47-litre soil capacity
Suitable for bigger outdoor plants such as shrubs and colourful plants
Comes in a light stone effect and gothic styling
Available in a trough style or smaller hexagonal pot
Has drainage holes, perfect for outdoor use.
Cons
Likely unsuitable for indoor use due to drainage holes and general style
The colour may vary and be lighter or whiter than it seems in pictures.
---
A small, stone planter with flexible options for size, colours and planting
Cost: £25.99
Designed with 'modern and Victorian houses and gardens' in mind, the Idealist Black Boxed Planter is a lightweight, durable and stylish addition to the garden.
The Black Boxed Planter is available in 5 sizes, with lengths between 25-75cm, widths of 25-75cm and heights between 25.5-75cm, you're sure to be able to find the right planter for your garden. Some customers even suggest buying a few different sizes in the same colour, to create a cohesive style throughout the garden as opposed to a one-off piece in the corner. The range of sizes available also gives you more flexibility on planting, with the bigger sizes suitable for small trees.
Weighing around 3kg, Idealist gives you several colour options to choose from: black, dark grey, grey, grey marble and white. As one of the smaller stone planters on the list, it's ideal for planting potted plants, flowers and succulents, and each design is handmade and potted from stone.
For smaller gardens, this option is ideal as it can sit snug in a corner on a patio or decking, and the lightweight feel makes it a super-portable choice. However, one of the only drawbacks of this planter is a lack of inner pot, meaning you'll likely need more soil or compost than anticipated to facilitate your growing.
Pros
Lightweight, durable and weather-resistant
Comes with a drainage hole to keep plants healthy
Available in a range of sizes and colours
Hand-potted to order, making every piece unique.
Cons
No inner pot to fill, meaning you'll need additional compost and soil when planting.
---
Why Choose A Stone Planter?
Whether your planter is made of stone or uses a stone effect, stone planters are generally very durable and created with weather resistance in mind. While very often they'll take pride of place in the outdoors, their colour options generally make them suitable for most gardens, without taking away from the beauty of your plants.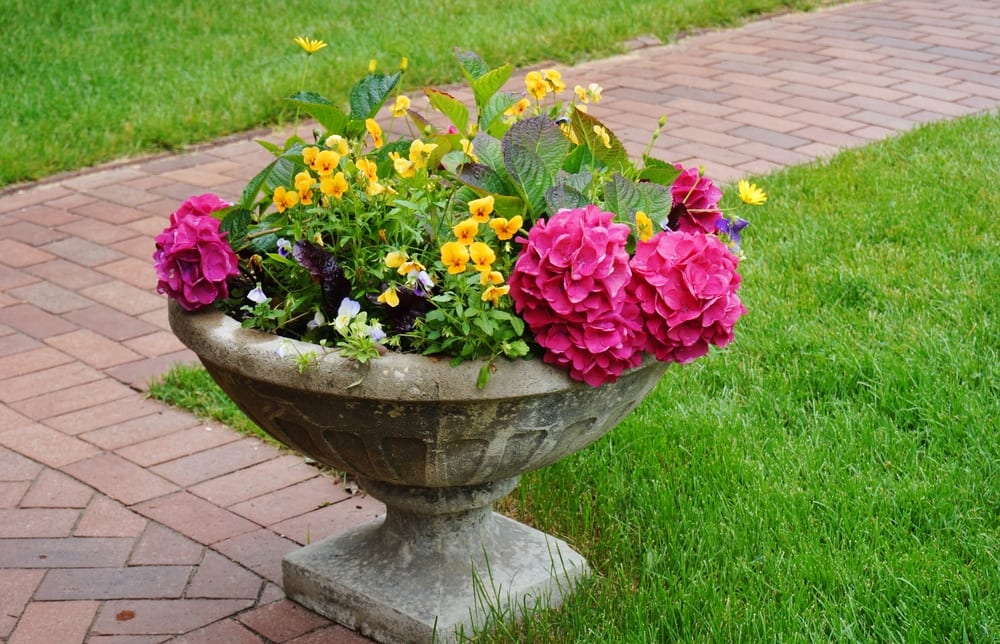 Happy planting!