Do you consider yourself to be a bit quirky? Do you like to go against the grain, and express yourself in ways that other people might describe as flamboyant, or maybe even a bit fruity? Then this guide to unusual, creative and quirky garden ideas is for you.
We've rounded up some of the jazziest, most striking garden inspiration ideas we could find. Everything from crazy ornaments to insect hotels, to hammocks and beehives makes an appearance, and we're sure you'll find some inspiration to make your garden that little bit more exciting.
Our hope with this guide is that we'll inspire you to do something magical in your garden. We've trawled the internet for ideas around arts and crafts, interior design, garden construction, foraging, rewilding, befriending nature, and tons more. We want you to come away from this feeling like your garden is a canvas for your creativity to spill out onto.
So, let's dive right in.
1. Junk models!
You may not have heard these two words together since nursery school, but that's no problem. This idea combines arts and crafts with recycling to create eye-catching garden ornaments that align with the type of environmental responsibility that's always in vogue.
All you need to do is rummage through your recycling bin, see what captures your interest, and let your creativity do the rest. For added fun, invite kids to get involved. Their imaginations are prone to run far freer than our adult ones, jaded by the world.
2. Make an outdoor indoors!
Doesn't that look cosy? Just because your garden is outdoors doesn't mean you can't benefit from all the trappings of a snug indoor space. The picture above shows how ambient lighting, wood decking, and the inspired decision to use an outside wall to hang indoor ornaments from can bring the indoors outdoors.
If you don't have decking or a lean-to structure like in the picture above, then your creativity has another chance to shine. You could use fabrics, tarps, bits of wood, or whatever else you can find to build your little snug.
Once the area is ready, bring in blankets, ornaments, fairy lights, anything cosy you have laying around the house that will make the space more inviting.
3. Hide some surprises!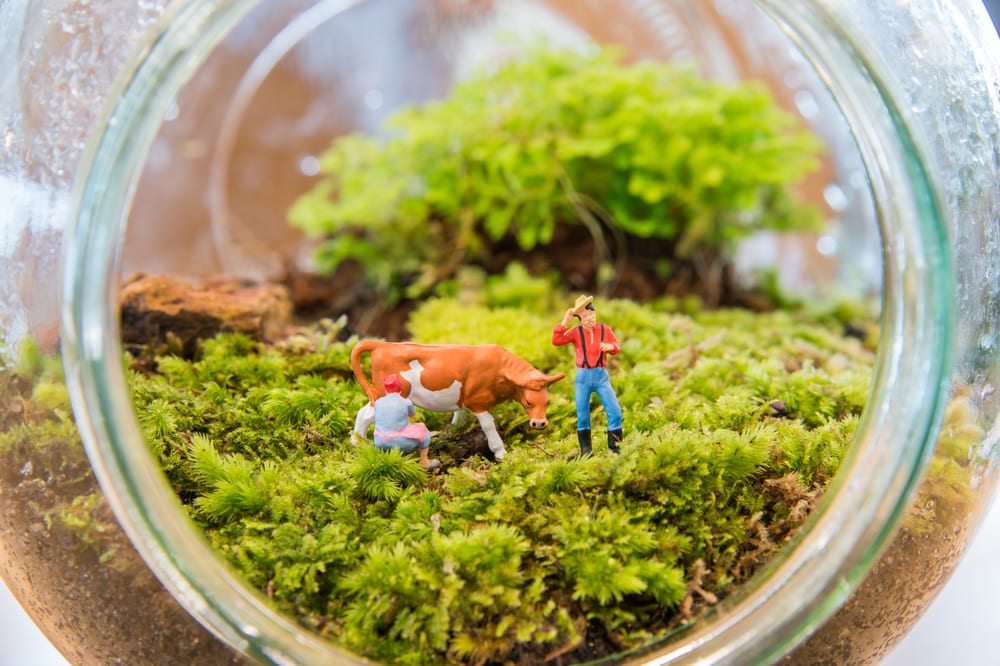 In video game lingo, an easter egg is a treat hidden somewhere in the game that rewards people for exploring. And guess what? You can bring this same concept to your garden!
All you need to do is hide some quirky things about the place. A parachuting Action Man stuck up a tree, perhaps. Or maybe some tiny figurines going about their daily business in your undergrowth. Whatever it is, just make sure it's hidden enough to not be obvious, but not so well hidden that no one will ever find it.
Hint: Lego men work perfectly for this. You can build little Lego dioramas for them to hang out in, bringing a whole new layer of depth.
4. Upcycle!
Stilettos in gardens are a rare combo, whether as footwear or ornamentation. However, they're just one of many household items that can be repurposed as kooky flowerpots.
Saving items from the charity shop pile or, worse, the bin, is a great feeling. And it's even better when they can enhance your garden. As well as shoes you could use kettles, bike baskets, or even bathtubs!
Just find a spot for your upcycled goods, fill them with soil, and pop in a flower or two. The exact flower(s) you use will depend on the size of your new makeshift pot, how much soil it can hold, and how likely it is to tip over!
5. Get the paints out!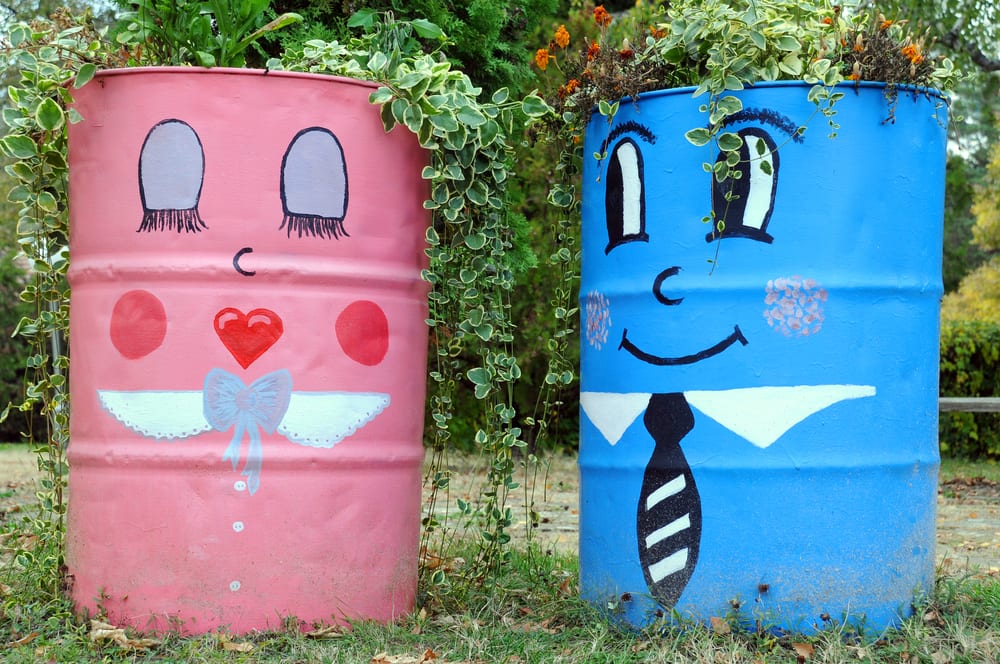 A lot of garden gear comes in pretty dull colours, let's be honest. Green compost bins, brown sheds, grey boxes for garden tools.
But guess what? They don't have to stay that way.
Bringing your paints into the garden and letting loose on garden furniture is a guaranteed way to put your creativity on display. The picture above shows how transformative a couple of painted faces can be, but the sky is literally the limit.
6. Tired and tested!
Technically this is upcycling as well, but these tires were so fabulous that we just had to include them. If you have any spare tires laying around, whatever the size, consider repurposing them as planters. And if you don't have any tires laying around, keep your eyes peeled when out and about. You'll often see them abandoned in various places, meaning that your search for materials could rectify somebody else's littering habit.
One tire by itself will catch the eye, but a vertical arrangement will definitely be a talking point. You can even combine this with step 5 to bring a colourful painted flourish to your tire pile.
7. Befriend the bugs!
If you're somebody who finds creepy crawlies creepy and, well, crawly, then this idea may not be for you.
But if you're willing to accept that insects can be fascinating, then you should definitely incorporate a bug hotel into your garden design. You can buy these ready-made or, if you're feeling creative, you can build one yourself.
Either way, after a while you'll attract all sorts of whacky critters, giving you something to look at, and giving you a warm fuzzy glow of knowing you're supporting precious ecosystems. With bees and other pollinators increasingly at risk from great urbanisation, you may be making more of a difference than your realise.
8. Hang lanterns!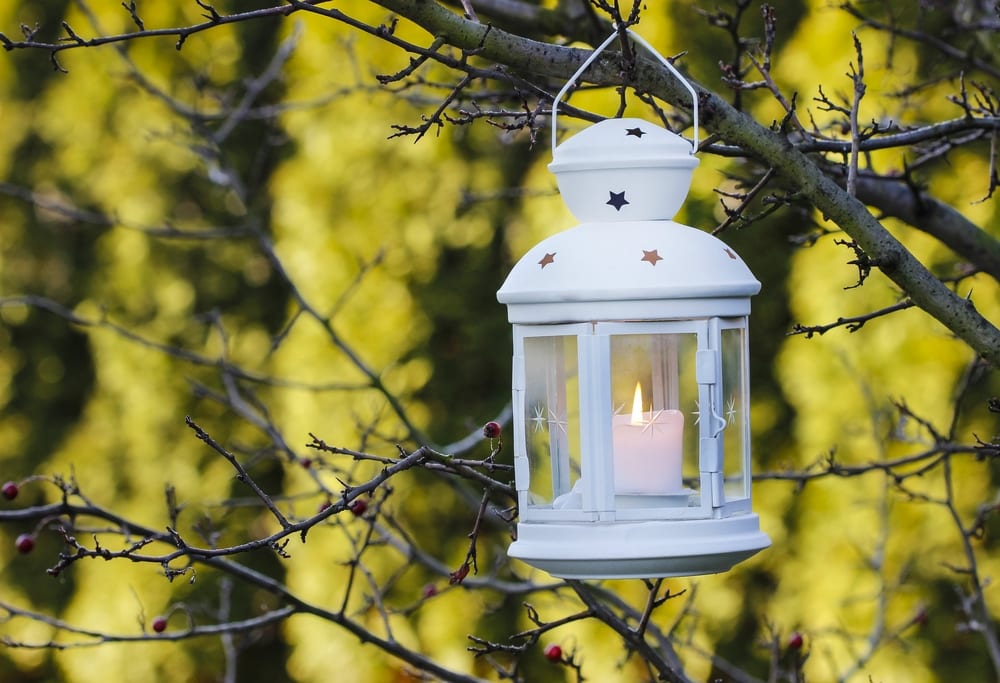 Now, obviously, you need to exercise caution when using candles in your garden. Naked flame + plant matter could very well equal fire.
However, tactical deployment of lanterns around your garden is an undeniable way to bring a little magic to the space. Candlelight helps your body to prepare for sleep in a way that lightbulbs can't, making this a great way to make your garden a super-relaxing place to be.
The act of walking around your garden to light and put out the candles each night acts as a great bookend for your time outside, too. It's a way to reconnect with the space, and remind yourself of what it looks and feels like from all angles.
9. Make wine!
If you're fortunate enough to have elderberries, blackberries, apples, or any other fruit growing in your garden, then why not turn it into wine?
This is a fantastic way to put your garden to work, and to impress friends and family who come to visit. What better way to relax in your garden, than with a glass of something delicious that the garden itself produced.
It's less child-friendly than the other ideas in this list, sure, but why not enjoy yourself? And if you want to keep the kids involved, opt to make a cordial instead. Or a crumble, a pie, or one of myriad other delicious treats.
10. Get a hammock!
There is nothing – we repeat, nothing – more comfortable than a hammock. Who'd have known a piece of fabric suspended between two trees could be so inviting?
If you have two trees in your garden (or one tree and a willingness to drill a hole in a wall to mount a hook), then you too could be the proud owner of a hammock.
And if you're not convinced it's worthwhile: someone we know planted two trees as soon as they moved into their first house, as a way to ensure that they'd be able to have a hammock in twenty years time. They never regretted the decision, or the wait.
Say goodbye to boring old garden chairs, and enjoy basking in something a little more quirky.
11. Sleep out there!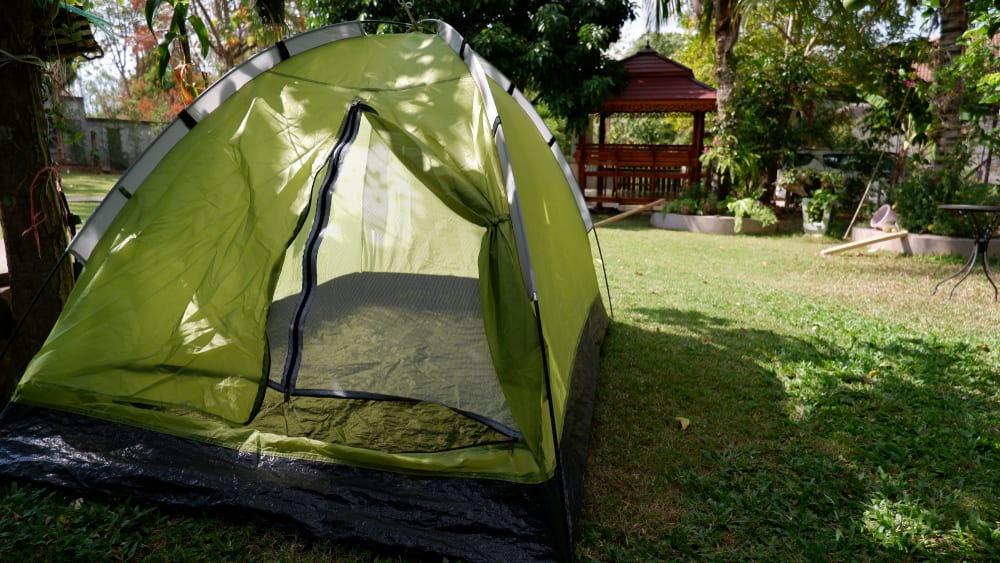 Have you ever slept in your garden? For most people, the answer to that question is a resounding "no."
And to them we ask, "why the heck not?"
You don't need to drive into the British countryside to experience the joys of camping. If you've got an outdoor space big enough to pitch a tent, you can get them right in your own backyard. Literally.
Mix things up a bit on a nice warm night by sleeping outdoors. Stargaze, toast marshmallows on a fire, and enjoy waking up to the fresh air. Trust us.
12. Stop gardening!
Hear us out here. We're not suggesting you let the weeds take over and destroy your years of hard work. Rather, why not give over a small patch of your garden to nature, and let it run its course?
Many wildflowers are beautiful, and the aesthetic of a patch of completely unkempt garden is strangely captivating. What's more, you'll attract a lot more bugs – great if you followed step 7! This is another way to support bees and pollinators who struggle to thrive in urban environments, too. You'll definitely be rewarded for turning over a small patch back to nature.
13. Create art installations!
This is somewhere between ideas number 3 and 4, in that you're creating visual interest while using household items in unexpected ways. However, unlike idea 3, you're not hiding anything. You're creating bold art pieces in plain sight.
Your garden isn't just a place for plants to grow. It's a canvas for you to express your artistic flair. So channel your inner Art Attack, and create some eye-catching pieces that reflect your inner creative.
14. Get a beehive!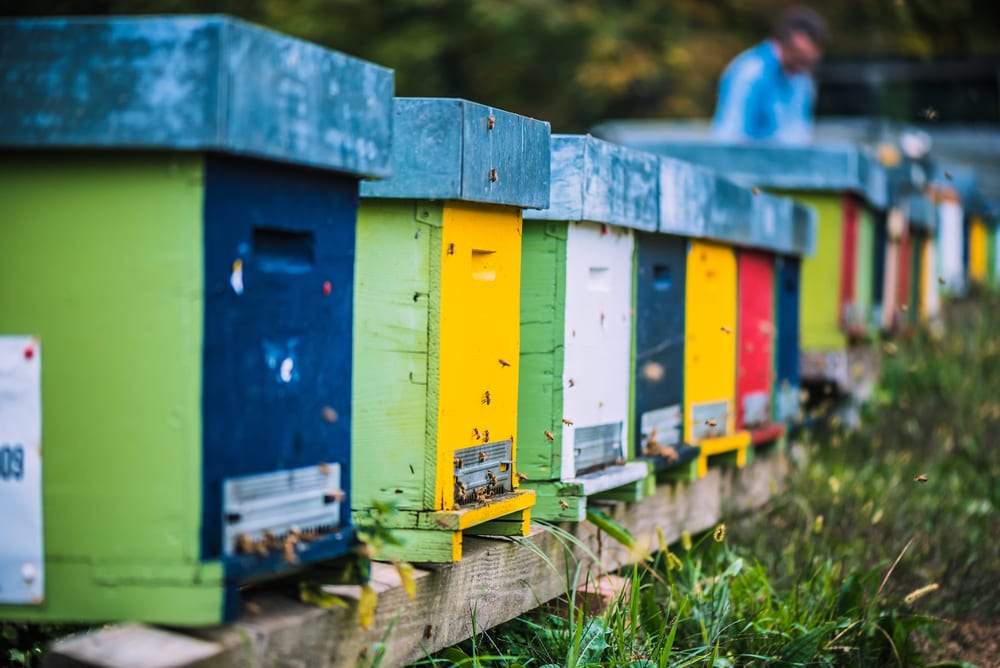 First, a disclaimer. This idea isn't one to take lightly. After all: bees are for life, not just for Christmas.
If you're looking for something that's unusual and quirky as well as being a new hobby, then beekeeping could be for you. Despite what you may think, it's easier to get set up with than people realise.
A small hive should be fairly manageable for one person, especially if you attend a beekeeping course first. Then, you'll have something exciting and individual to show off to guests, as well as a source of delicious honey. Win-win.
15. Reimagine statues!
Statues have been used to bring visual interest to gardens for centuries. Walk around the gardens of any stately home and you'll see what we mean.
But why not integrate these stone figures a little more with the natural element of your garden? After all, what's more unusual than a statue head flowerpot?
We'll be honest: we're not really sure where you get statue heads from, or how to turn them into flowerpots, but if you're in pursuit of something truly quirky for your garden, we'll sure you'll figure it out!
16. Set up a weather station!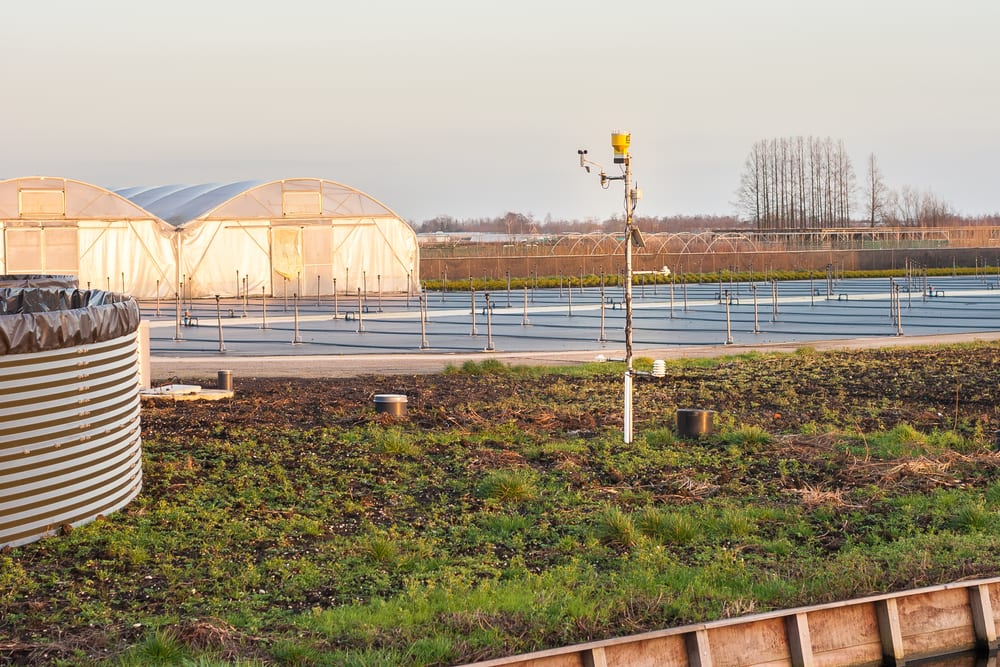 Do you want to know how hot it is, whether it's raining, how fast the wind is going, and what the atmospheric pressure is like, without having to go to the hassle of looking at a newspaper, television, or mobile phone?
Or perhaps, more realistically, you're looking for a fun project to do with the kids.
Either way: a homemade weather station could be exactly what you're looking for. There are tons of tutorials online for building such a station, and they don't have to be anywhere near as elaborate in the one shown above.
17. Build a treehouse!
To be honest, we're kind of disappointed that treehouses probably qualify as 'unusual' for most people. Imagine what a better world it would be if everybody had one of these bad boys in their garden.
Until we reach this playful utopia, however, it'll just be a select few quirky folk who build such a structure in their garden.
Not only will your treehouse be the venue for all sorts of games and japes, but building it will be a rewarding and engaging process for you and the kids. And this is very much a situation where the sky is the limit. Whilst doing our research we found small treehouses like the one above, right through to multi-storey cottages somehow safely suspended amongst the branches.
So go crazy, but make sure you're careful and safe while doing so.
18. Line your paths with glass bottles!
Because, why not? This is definitely an unusual thing to do, but like many of the suggestions here, it brings an unquestionably intriguing element to your garden.
This is especially useful if you find your flowerbeds mingling a little too much with your paths: the glass bottles, as well as looking great, keep plants and path distinctly separated.
And what's more, you're saving even more stuff from the recycling bin.
19. Take up topiary!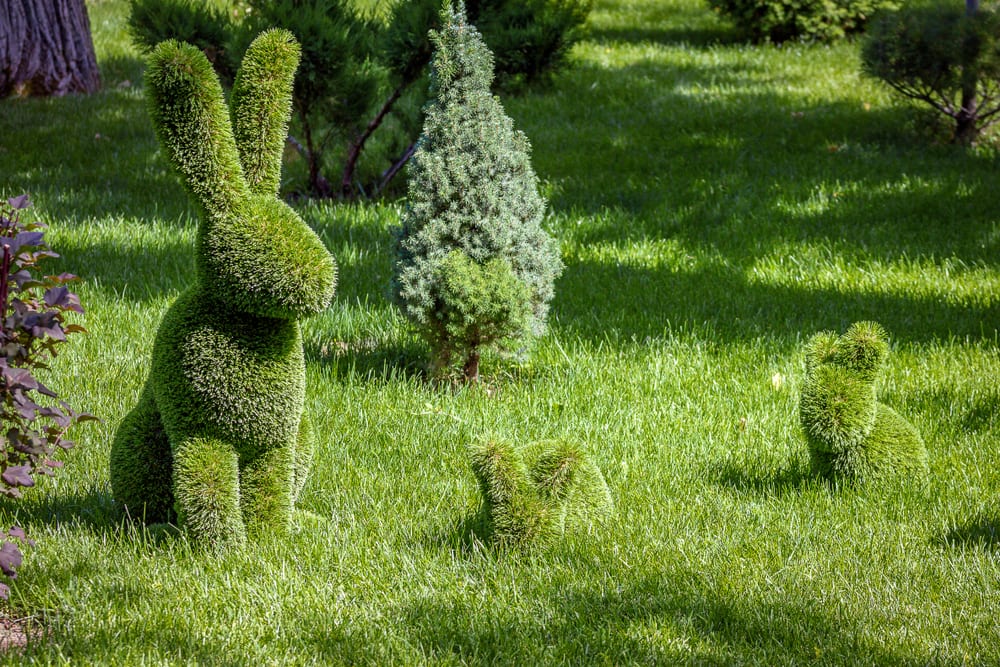 Another long-term favourite in stately homes, topiary is the source of literally endless entertainment. Whether you've got a hedge already or you want to plant one to open up this option to you a few years from now, topiary is a fantastic way to express your creativity.
The picture above shows how quaint and lovely a rabbit topiary looks with a couple of topiary bunnies, but you're not limited to animals. You could make a topiary spaceship, topiary chess pieces (heck, why not even a whole board?), topiary houses, or even topiary sculptures of your friends and family. Go wild.
20. Make sweet, sweet music!
Wind chimes are the perennial favourite of that one slightly-hippy auntie everyone has. They're also a great way to bring a little music into your garden which, let's face it, is something most gardens are sorely lacking in these days.
Whether you go for one set of chimes to provide the occasional, subtle note, or something closer to a full orchestra, made up of hundreds of different chime sets scattered around your garden, we're sure your neighbours will love it.
You can buy chimes premade or, if you want to be even more creative, you can make them yourself.
Let your creativity flow
If there's anything we want this guide to communicate, it's that your garden is your opportunity to shine. Treat this small patch of space as an extension of your brain, and let your ideas spill unrelentingly into it. Make art, reimagine the way you spend time out there, connect with nature in a different way – whatever you need to do to satisfy your quirky inner creativity.
This list is by no means exhaustive, either. We're not the arbiters of creativity, after all. We fully expect the suggestions here to act as seeds for roots and vivid flowers of your own ideas. And if you come up with something particularly exciting, let us know! Maybe we'll add it to the list and enshrine your creativity for the world to see.