Wheelie bins are a necessity of modern life, but they can really look an eyesore in your garden or on your driveway. This is especially true if you've put a lot of work into the appearance of the outside of your home, only for it to be spoilt by the bright plastic bins you find across the UK.
We know they are unsightly and from experience, we've found the best way to deal with this is simply to introduce an elegant storage solution.
Below you'll find some our favourite wheelie bin storage ideas, including some of the best available. We consider quality, cost, capacity and above all – style, to bring you our best picks.
Last update on 2021-04-22 / All Pricing & Imagery from Amazon Product Advertising API
You'll learn how to hide wheelie bins in your garden, with the help of some of our best-rated products. So let's get started.
Cost: Price not available
Keter are a specialist in outdoor garden storage with a reputation for high quality materials. Their Premier XL unit is no different, with a weather resistant reinforced exterior to match whatever the British climate can throw at it.
Premier XL is made from hardy plastic which can be easily cleaned with minimal effort. There is enough space for two standard wheelie bins, with a built-in floor panel that keeps the contents of the storage unit clean and dry.
Everything about this product screams premium, with a number of 'upgraded' features that we love. The unit is lockable for added security should you wish to store any valuable gardening products. The lid is easy opening, using hydraulic pistons to support the user. And there's even a bin opening kit (essentially two chains that hooks on to the roof of the unit) so that when you open the lid, your bins open too.
The floor of the storage unit is sloped, to allow your bins to be removed easily. We actually really like the modern grey colour which fits stylishly into most outdoor garden environments.
This unit is sized specifically to house two standard 240L wheelie bins with enough room to spare. However, we recommend that you measure your wheelie bin against the dimensions of this product before buying.
All in all, there's very little to dislike about this product, except that it is on the pricier side. But if you want quality, you usually have to pay for it. For this reason this is definitely our favourite wheelie bin storage solution, but probably best-suited if you're looking for a premium option.
Pros
Reinforced walls that are incredibly strong and made from durable plastic. This storage box should last 20+ years with minimal maintenance.
Hydraulic pistons to support the opening of the lid; attachable opening chains that will simultaneously open your bin lids.
Raised (but sloped) floor to keep any contents dry and allow easy bin removal.
Unit can also be used to store gardening equipment, BBQ's, tools etc. that need to be kept clean and dry.
Looks very stylish; well-suited to modern garden spaces.
Breathable side-panels to aerate the space and release bad odours.
Cons
Grey plastic exterior might not blend too well with 'green' gardens
Takes a long time to assemble from flat-pack.
---
Cost: Price not available
Definitely the simplest solution on our list but also usually the cheapest, the Selections Willow Wheelie Bin Screen is better suited to those looking for a natural storage solution. Instead of grey plastic, the wood exterior masks unsightly wheelie bins and integrates seamlessly with lush, green garden spaces.
The unit will arrive flat-packed with 4 separate panels that join together using metal hinges. These may need reinforcing with zip ties if you live in area with particularly strong winds. There's enough room to hide two 240L standard size wheelie bins, with a simple latch that can be unhooked whenever you need to enter the space to use or empty your bins.
Given it's made from natural timber materials, this solution won't last as long as the heavy-duty plastic units, but you should get a good number of years use before it needs replacing. We'd recommend treating the exterior with a preserving oil to help extend the product's lifespan.
Overall, a concealed, non-obtrusive solution and not bad for the price!
Pros
While they are a bit more of a 'rough and ready' solution than a storage box, the dark brown wood used in the screens does blend well into most garden environments.
Very easy to assemble, with enough room to conceal two normal sized wheelie bins.
Easy access on bin day for removal.
Cons
Slightly flimsy and likely to de-stabilise or fall over in bad weather.
Longevity is a slight issue. These screens are not as enduring as other more premium solutions – will need replacing after a few years.
Panels cannot be bought separately, so you'll need to buy two if you have three or more bins.
---
Cost: £298.00
Another product from Keter and again definitely one you should consider – this has been their most popular outdoor storage solution for a number of years.
The standard product has a 1,200L capacity, with ample room for two 240L standard size wheelie bins. It also comes in the smaller 'MIDI' and larger 'ULTRA' ranges, which have different levels of storage capacity. The 'ULTRA' model has enough room for three 180L wheelie bins, making it an ideal solution for those with three wheelie bins to contend with.
While the exterior is made from plastic, the colours are better-suited aesthetically than their Premier XL product, with a wood-effect employed that includes a wood-grain texture with knots.
Because the product is made from plastic, it will last a significant number of years with little wear-and-tear and little maintenance required. There is shelf support on the interior, but frustratingly the shelves themselves are not included with this product.
The sloped threshold allows bins to be easily rolled into the unit, and should you wish to store valuable items in there, there's the optional use of a padlock and secondary lock at the foot of the unit. This is amongst the most secure models we've reviewed.
Pros
It has a secondary 'step on' lock, that secures the bottom half of the doors. The lid is fixed using a padlock (not included). This is pretty secure but it should still be placed out of sight from potential intruders.
Stunning colours and texture that almost look natural.
Solid plastic frame that is easy to maintain and wipe clean. A sturdy unit that should last a number of years, even in the harshest of climates.
Cons
Shelves are not included, despite the unit offering shelf support.
The 'MIDI' version is not piston-assisted.
Some users have experienced issues with assembly, and with the lid of the box warping.
---
Cost: Price not available
This model from Rowlinson is built especially for those homeowners with three wheelie bins that they need to house. It is also available in a 1 bin and 2 bin version.
Unlike the storage box in our top pick, this unit is built specifically for housing wheelie bins. For this reason, it doesn't protect from the weather or offer any security benefits, because it doesn't need to.
One of the main benefits of this product is that because it uses natural timber, it can be fully customised in a colour that suits our garden. Using exterior wood paints or oils, the surface can be amended to any colour you like. We'd also recommend doing this if you do buy this unit, as treatment with an oil or stain will help to repel moisture and mould, helping it last longer.
Note that some users have reported difficulty in assembling this item, as well as varying qualities of timber used in its production. Definitely worth considering if you aren't the most experienced at flatpack DIY installation.
This unit also needs to be installed against a wall, as it doesn't have any slats at the back. This adds limitations in terms of where it can be positioned in the garden.
Pros
Can be painted any colour that suits your garden using exterior wood paint. The wood is also pre-treated against moisture and rot.
The wooden frame is tailored specifically to house wheelie bins.
Easy to access when using and emptying your bins.
Available in 1, 2, 3 bin variants to suit the needs of any household.
Cons
We've noticed instances where users have struggled to assemble the product due to poor quality materials.
No protection for the interiors from rain; no safety features or special features like our top pick.
---
Cost: Price not available
The Fesjoy single rattan dustbin cover is probably the most basic of all the options we've reviewed in this guide. But it's different, so we felt we should include it for those who have very specific needs.
Like the Selections Willow product, this is a cover – which means structurally it's not very sturdy. It can be easily blown over in windy conditions and is missing a back panel, meaning it needs to be rested with the back flush against a wall.
The screen is made from rattan, which is a common material for garden furniture. The exterior is a dark brown colour that should fit into most garden environments.
It's fairly high in cost for what it is, and for this reason we'd probably only recommend you go with this option if you have very specific needs. Otherwise, go with something sturdier.
Pros
The product is very simple and therefore easy to install.
It's one of the lowest cost options available, though does seem a little overpriced still.
Rattan material is waterproof and resistant to rot, meaning the materials should last a fair few years.
Cons
The powder-coated frame is susceptible to rust over time.
We don't feel that rattan blends with the garden landscape as well as wood, but this is a matter of personal preference more than anything else.
It is quite pricey for what you're getting.
---
How To Hide Wheelie Bins In Your Garden
Wheelie bins are a real eye-sore, especially in a garden where you've worked hard on the design aesthetics. But there are ways to cover them up and hide them from plain-sight.
Use a screen
The easiest solution is to buy a flat-pack screen that can be easily erected in the garden with minimal effort. These are usually made from rattan or timber materials which blend with your garden's natural landscape.
Bear in mind that just because this option is easy, it might not be the right option for you. Often these screens only work as short-term solutions and can soon break down in bad weather conditions.
House them in a storage unit
Whilst similar to using a screen, a storage unit will offer a sturdier, long-term solution that is better secured. These products are often made from plastics and can last more than 20 years, even in varying conditions.
Wooden units can be used to blend in with fencing, but these generally won't last as long. Many can be secured with a padlock, offering a space that also doubles up as storage for garden equipment.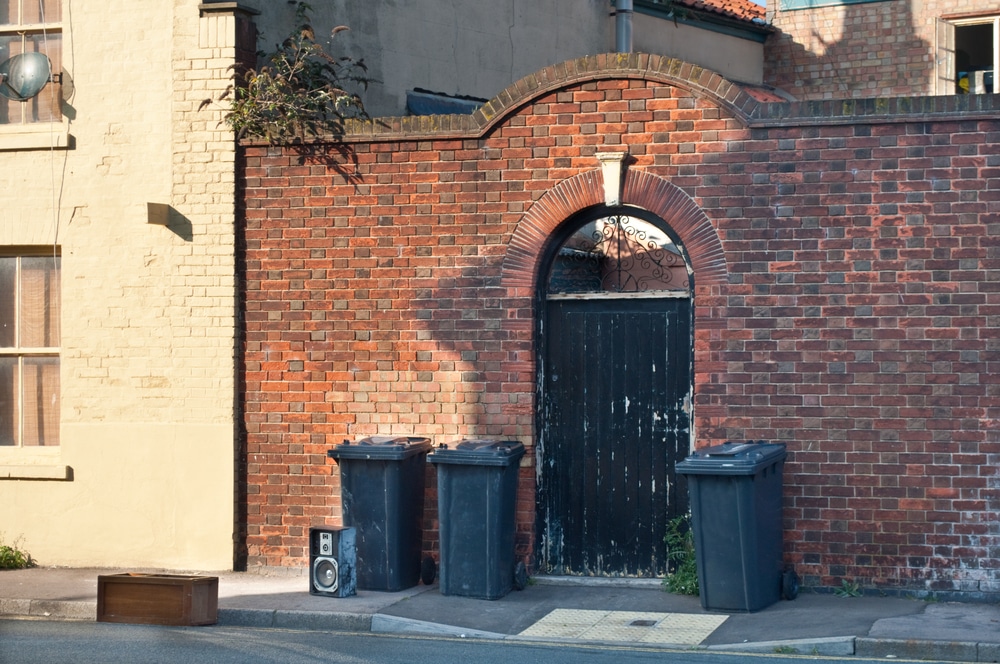 Utilise an outbuilding or shed
Larger outbuildings such as sheds or log cabins can be used to hide your bins, but this will always be a preferred solution. They will often get in the way and remember bins do smell – so it is always preferable to keep them in a place that is properly ventilated. An outbuilding generally won't fit the bill.
Create a mini enclosure or fenced-off area
Probably the most difficult of all options but the one that allows for the most customisation and refinement. You can use pressure-treated timber (available from your local timber merchants) to create your own enclosed area in the back garden. The benefit of this being that the enclosure can be custom built to fit the exact parameters of your outdoor space and wheelie bin dimensions.