Overview
| | |
| --- | --- |
| Official Plant Name | Alstroemeria |
| Common Name(s) | Peruvian Lily, Herb Lily, Lily of the Incas |
| Plant Type | Perennial Flower |
| Native Area | South America |
| Hardiness Rating | H5 |
| Foliage | Herbaceous, thin lance-like leaves |
| Flowers | Showy trumpet flowers in various vibrant colours |
| When To Sow | April, May, June |
| Flowering Months | June, July, August |
| When To Prune | September |
Sunlight
Preferred
Full Sun / Partial Shade
Exposure
Exposed or Sheltered
Size
Height
0.5 – 1M
Spread
0.1 – 0.5M
Bloom Time
June – August
Soil
Preferred
Most Soil Types
Moisture
Moist but well drained
pH
Any
One of the most ubiquitous flowers found in bouquets in the western world, Alstroemeria (also referred to as Peruvian Lily, Herb Lily or Lily of the Incas) is a much-loved bloom.
The reason is not just the fact that it comes in a variety of beautiful colours and delightfully creative designs, but that it is also easy to grow by amateur gardeners and professionals alike.
Native to South America, particularly Chile and Brazil, the flowers of the Alstroemeria plant don't actually have a scent. However, their looks and durability pretty much make up for that. The plants will easily last until the end of summer when in the soil in the garden and for several weeks as cut flowers.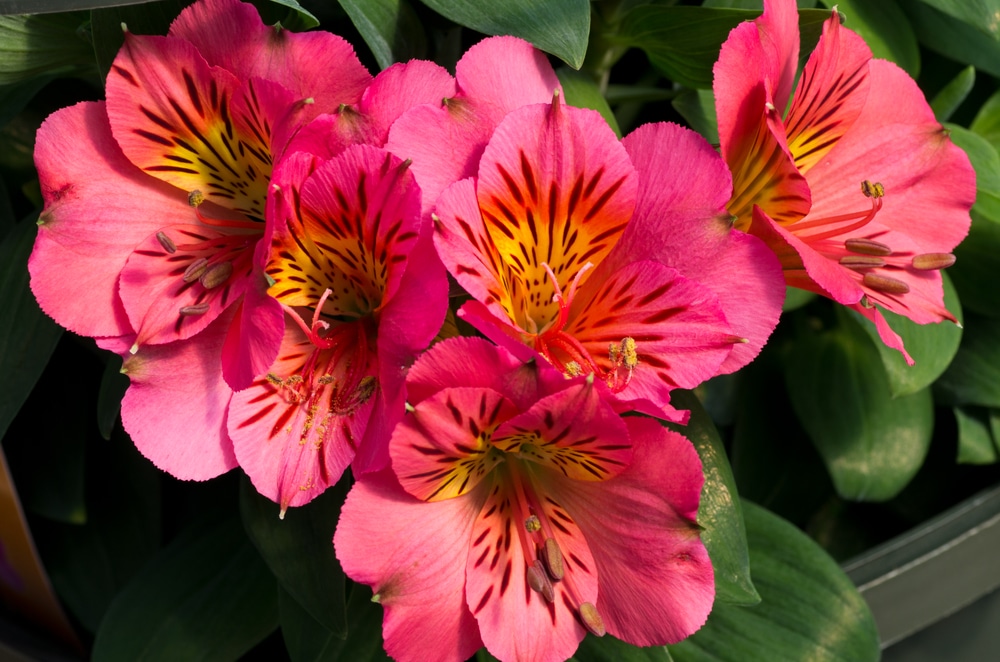 Dog and cat lovers will be pleased to hear that Alstroemeria and its different varieties are pet-friendly – unlike the deadly Lily – unless your pet ingests a lot of the plant and then he or she can expect a little tummy upset.
The colours that the Alstroemeria can brighten up your garden, or indoors with, are rainbow-like and include yellow, red, pink, purple, white, lavender, peach, orange and even blue or green. The leaves of this plant are long and slenderly shaped like a horseman's lance, adding to its attractiveness. The patterns are fascinating too; it's possible to choose from stripes and freckles and even two-toned petals. Alstroemeria can be grown directly in the garden soil (they make excellent border blooms) or nurtured in containers.
Varieties
Popular Varieties of Alstroemeria that you'll find blooming around the homes and gardens of the UK are:
Alstroemeria pelegrina: beautiful vivid pink and mauve petals with white and yellow. Often darkly flecked.
Alstroemeria aurantiaca: these are yellow to red flowers with a dark red streak.
Alstroemeria ligtu: lovely pastel pink, lilac or white flowers.
Alstroemeria hookeri: pink and apricot flowers marked with yellow and brown shades.
The flower is named after the Swedish botanist Clas Alströmer, who introduced the seeds to Europe after visiting South America and becoming enchanted with the beautiful varieties produced by the seeds. Interestingly, it's the flower you would choose to give to a mate to celebrate your friendship.
This is because its upside down and twisted leaves are representative of the ups and downs of friendships and the different routes that life can potentially take you down.
This article outlines how to plant and care for Alstroemeria. It also explains how to prune them back and protect them from garden predators. And then there are the vagaries of the British weather the plants have to cope with at various times of the year…
Feeding, Care & Growing Tips
Alstroemeria prefers sunny spots in which to flourish, but they are hardy enough to cope with partly-shaded areas too. They will even flourish at the bottom of a sunny facing wall. They prefer the soil to be light and deep; preferably filled with quality compost and mulch – at least for the first couple of years while the roots develop. And talking of the roots, these are brittle so take the utmost care if you plan on transplanting any of your Alstroemeria to other areas of the garden or into pots.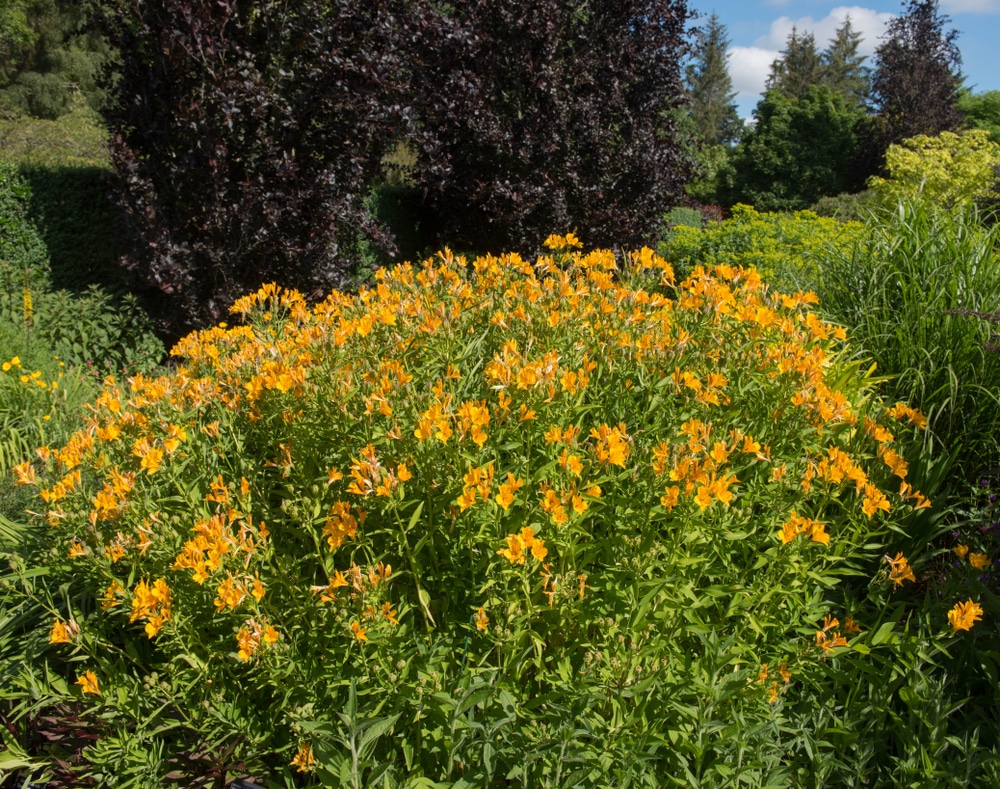 It's best to plant the roots down as far as eight inches if possible. Mulch them with bark for the first two years to give them extra protection. Make sure too that the soil is free draining and slightly acidic to give the plants the best chances of growing. Give the plants extra attention if you're going from tubers. And, as the plants grow, they make need to be supported with stakes or pea sticks. It's common for the plants to grow to around six inches, while they will spread across the garden in an area measuring from 18 to 30 inches (and which is why it's excellent for flower borders).
In terms of the soil, preferably it shouldn't only be light, deep and exposed to the sun, but also organic. Chalk, clay, sand or loam are usually fine. However, if the soil is too sandy them compost should help with water retention issues and the plants can be watered regularly. If the soil is heavy with clay then the Alstroemeria simply won't grow and will die off. Medium-heavy soils can work if gravel or mature manure is mixed in with it to help with drainage and nourishment.
Pruning Alstroemeria
You can expect to get around six to eight blooms per stem from your Alstroemeria – well, if you prune it regularly, that is. That's because it won't remain flowering unless dead petals are removed. Doing so allows the fresh stems to flourish. The way to prune these plants correctly is to gently pull the stem of the dead flower from the base of the plant (rather than cutting with shears). Cutting the flowers causes damages to the meristems under the soil and they will die.
Having said that, if you want to use the flowers for a bouquet then cut the stalks during their first year. After that simply pull them out from their base as you would the dead flowers.
Watering Alstroemeria
It's a good idea to keep watering your Alstroemeria when first planted in order to ensure the soil remains moist. Once they begin to appear through the soil you can cut back but they do need to be watched for their first two years. Just be careful not to overwater so that the soil becomes soaking wet, since this can lead to fungus and root rot and which will definitely signal the end of your beautiful blooms.
When to Plant Alstroemeria
Sow Alstroemeria seed in the spring or summer months, using a good seed compost. It is best to germinate undercover in a propagator or at least somewhere warm such as a heated or sunny spot in the greenhouse, a southern facing window ledge or conservatory.
Certainly, the plants should only be planted outside once there is no further risk of frost on the ground (as this will kill young seedlings). This will obviously vary depending on where in the UK – or even abroad – you live. Young – and seasoned – container plants should be kept indoors after September when the frost could start appearing outdoors.
Overall, in the garden, the flowers should appear from June until November (if it's a mild winter).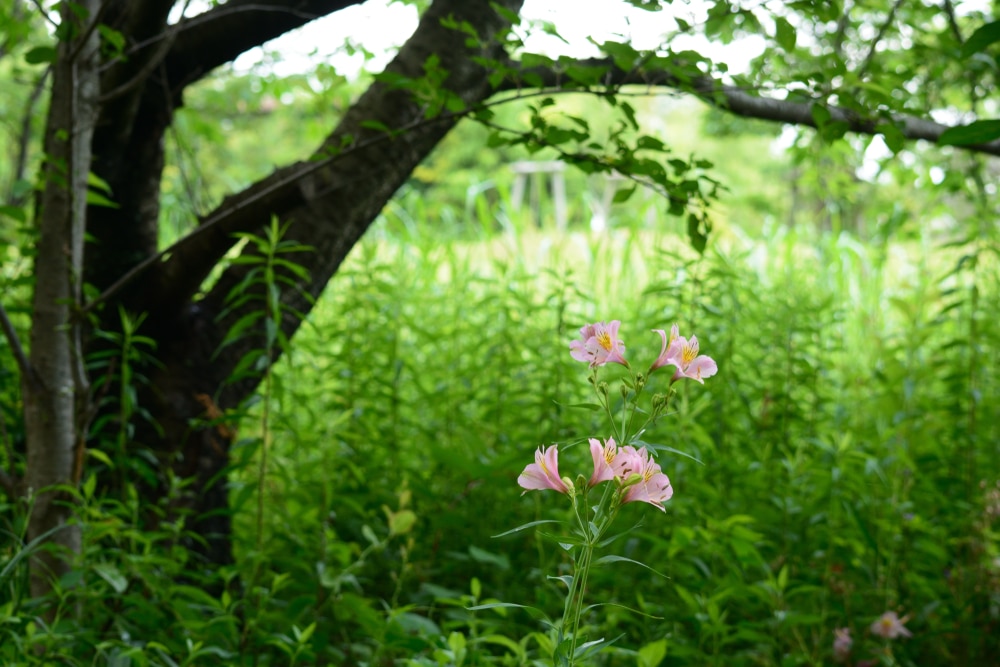 Where to Buy Alstroemeria
Alstroemeria can be purchased easily from garden centres and nurseries around the UK. Such is the popularity of the plants that they are always in demand so sellers tend to be well-stocked. Florists, in particular, buy the grown flowers in batches. For those who want to grow the plants in their own garden buying locally is always best since the sellers will be familiar with the surrounding soil conditions and able to advise on whether or not you may need to add particular compost variations.
You can buy them in containers or as bare root tubers. Most gardeners swear by the former since they are easier to grow and tend to be propagated from quality plants.
Common Diseases & Problems
Unfortunately, Alstroemeria have a bit of a problem with slugs and snails – especially the young shoots grown outdoors in the soil. They can prove far too easy for these pests to reach unless you protect the plants with netting, plastic or similar.
Soil viruses can also cause the plants to die off, as can root rot caused by too much water. Another difficulty is too much shade and not enough of the sun's warming and nourishing rays. And, finally, their root systems don't appreciate being transplanted.
Another issue that can lead to root rot is ironically the mulch that you use to protect the plant. That is, if you push it too far down so that it's in contact with the roots. For this reason, it's recommended that you leave at least a space of two inches between the mulch and the plant roots.
Frequently Asked Questions
Are Alstroemeria edible?
Because they're so pretty to look at, Alstroemeria flowers are often used to decorate plates of gourmet food in restaurants. But it's as well to leave the flowers at the side of your plate. That's because eating them can lead to stomach upsets in many individuals.
Are Alstroemeria annual or perennial?
Alstroemeria are tuberous perennials with deep and thick roots (once established). This means that they will grow back on an annual basis and even grow in size each time.
They are able to do this because although the stems die over winter, the roots remain healthy, allowing the plant to regenerate the following year.
How can I grow alstroemeria from seed?
Simply purchase seeds from your local garden centre or collect them yourself from existing Alstroemeria plants in your garden. Plant them in seed starting trays (having pre-soaked them overnight) and grow them sheltered in the greenhouse until you're ready to transplant some of the seedlings into soil or containers outdoors in the summer, and laid out around 12 inches apart.
In terms of growing time, it should take around six weeks for the seedlings to develop. They should be protected with mulch as they grow and covered with straw in the winter for the first two years until the roots are firmly and deeply established in the soil.
Are Alstroemeria hardy plants?
Alstroemeria ranks under the category of 'hardy perennials,' with the flowers capable of surviving intense frosts – even up to minus 50 centigrade – provided their root systems are established and deep enough (usually after around two years of planting).
How can I grow Alstroemeria in pots?
For starters, make sure your pot is at least 40 cm diameter to allow for the roots to flourish and spread. Next, fill the container with a good quality compost and a handful of gardening grit. Water the plants regularly and feed weekly with potash after the first buds appear; even then it doesn't do any harm to potash every now and again to keep them in tip-top condition.
Place the pots outdoors in summer and keep in a greenhouse during winter to protect the tubers from the potentially damaging effects of frost.
It is always necessary to thin out the flowers as the plant grows.
Choose weak and thin stems or those that grow more than one metre high without already having produced any flowers.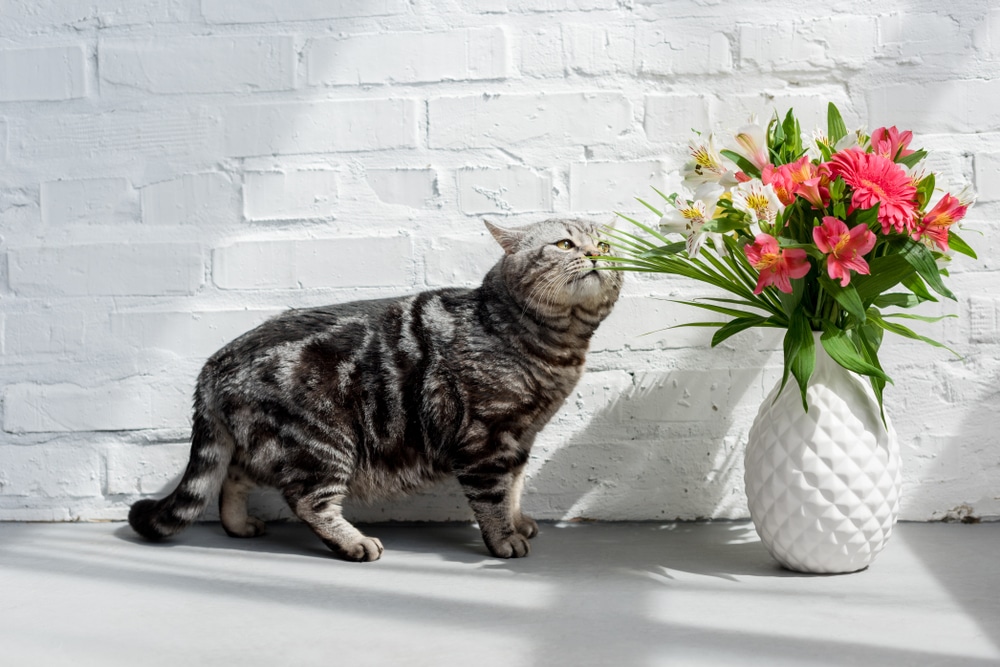 How can I make the most of Alstroemeria in my garden and as cut flowers?
Use the plants to liven up and really add colour to the borders of your garden. As cut flowers, they can boost the colour and height of a bouquet. Taller varieties of the plant, such as Orange Glory and Apollo, for instance, can add stature to a vase of flowers.
The colours of the different types of Alstroemeria are so vibrant that they can be used to clash with other flowers, or add interest when mixed in with paler and less interesting blooms.
A number of professional florists advise adding a drop of bleach into a vase of Alstroemeria and them religiously replenishing the water every four days or so. When choosing flowers for an arrangement, always go for those which are just beginning to open up so that the arrangement will last longer.
Dean Wilson
I'm an avid gardener and home DIY enthusiast from Yorkshire in the North of England. I'm passionate about helping our readers get out into their gardens - by making the most of the outdoors and ensuring they get the best possible deals on their gardening equipment. I also believe strongly in the preservation of our beautiful garden wildlife.