Overview
| | |
| --- | --- |
| Official Plant Name | Dahlia |
| Plant Type | Perennial |
| Native Area | Mexico & Central America |
| Hardiness Rating | Various |
| Toxicity | Edible Petals & Tubers |
| Foliage | Herbaceous |
| Flowers | Varied |
| When To Sow | April, May, June |
| Flowering Months | June, July, August, September |
Sunlight
Preferred Sunlight
Full Sun
Exposure
Sheltered
Size
Height
30cm – 1.5M+
Spread
0.1 – 0.5M
Bloom Time
July – September
Soil
Preferred Soil Type
Most Soil Types (Except Heavy Clay)
Moisture
Moist but well drained
pH
Any
Dahlias are varied flowering plants that are favourites for many gardeners.
They come in a huge range of shapes, sizes, growth habits and hues. So no matter what you are looking for when it comes to your garden design, you may well find a dahlia that suits.
In this article, we'll find out more about Dahlias, discuss why you might want to grow some in your garden, then look at where to plant them, how to plant them, and how to care for them over time.
By the end of this guide, you should have a much better idea about whether dahlias are a suitable flowering plant for your garden – and how to go about tending them if they are.
What are Dahlias?
Dahlias are a genus of herbaceous perennials that are native to Mexico and Central America. They are related to sunflowers, daisies, chrysanthemums and zinnia, being members of the Asteraceae family. There are 42 species of Dahlia, and many hybrids are also commonly grown as garden plants. Their flowers and forms can vary considerably. Dahlias can range in height from just 30cm or so to more than 6ft.
Most Dahlias are not highly scented, but usually attract pollinators through their bright colours. They can be found in most shades – excepting blue. The flowers are composite, with central disc florets surrounded by ray florets. Though some describe the florets as 'petals', each is actually a flower in its own right.
Dahlias naturally grow in climates that do not experience frosts. (The tubers are hardy to USDA zone 8.) So these are not plants that can withstand sub-zero temperatures. However, their tuberous nature means that they can survive periods of dormancy. This means that gardeners in temperate climate zones with frosts can grow these flowers successfully, as long as the tubers are lifted during the winter months and stored somewhere cool yet frost free.
Why Grow Dahlias?
Dahlias are prized for their attractive, showy flowers. But the reasons to grow them vary depending on which cultivar or cultivars you choose to grow. Single flowers are best for pollinators (bees and beetles are the main pollinating species for this genus). More complex or double blooms are less wildlife friendly, but can often create impressive visual effects.
Large and showy, taller dahlias can often be stand-outs and key features in a planting scheme. While shorter cultivars can be great for container growing or for the front edge of beds or borders.
But there is another, more interesting and unusual reason why you might want to grow dahlias in your garden. You may be surprised to learn that dahlias are actually not only an ornamental but also an edible crop!
As mentioned above, dahlias are a relative of the sunflower. They are also related to the Jerusalem artichoke. The petals of the flowers are edible, and you can also eat dahlia tubers. This was common knowledge to the native peoples of southern Mexico, who cultivated this plant as a crop.
The tubers vary in taste depending on the cultivar or variety, and the soil in which they were grown. Heirloom varieties (such as Dahlia pinnata 'Yellow Gem' for example) tend to be more flavoursome than more modern hybrids bred for huge, fluffy blooms. Some can be quite bland. But others taste somewhat like chestnuts or yacon, some like spicy apple, celery root or even carrot.
So dahlias can be a great plant choice for companion planting in a vegetable garden. Not just because they can attract pollinators and other beneficial insects, but also because they can be an edible crop in their own right.
Note: take care if you plan on eating dahlia tubers. These plants will store any chemicals you use on your garden in their tubers. So if you use any synthetic fertilizers, pesticides etc. in your garden then eating these could expose you to these toxins. Of course, we recommend that you always garden organically and never use these harmful products in your garden, so this should not be an issue.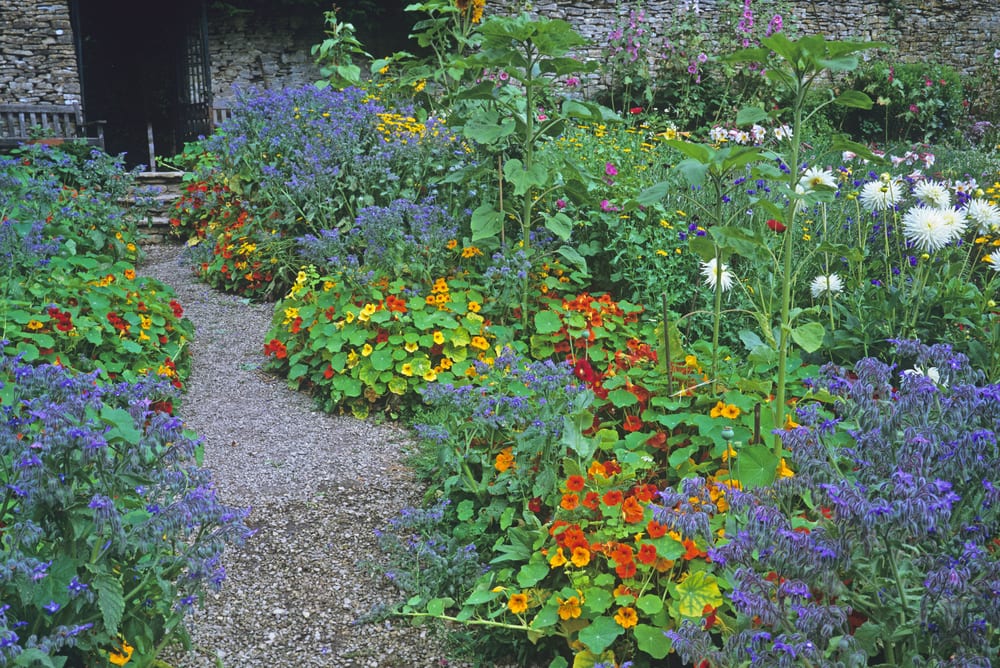 Choosing Dahlias
When choosing dahlias, you should of course consider whether you are growing them purely for their ornamental value. If you want to eat them, and would like them to attract pollinators and be beneficial for wildlife in your garden, you will need to take those things into account when choosing a cultivar or cultivars to grow.
When talking about their appearance, dahlias are divided into 14 classification groups by the National Dahlia Society:
Anemone flowered dahlias.
Ball dahlias.
Cactus dahlias.
Collerette dahlias.
Double orchid dahlias.
Fimbriated dahlias.
Formal decorative dahlias.
Miscellaneous dahlias.
Paeony dahlias.
Pompom dahlias.
Semi-cactus dahlias.
Single flowered dahlias.
Star dahlias.
Waterlily dahlias.
Thinking about the different flower choices available can help you to decide which one may be right for your particular garden plans.
Of course, you will also need to consider the height to which the cultivar you are considering will grow. This will determine where best to place the plants in reference to the environment and other planting around about.
But largely speaking, which dahlias you choose to grow will be a matter of personal aesthetic preference.
Where to Grow Dahlias
All dahlias like a sunny site, ideally with space between them and neighbouring plants. Dahlias like a relatively fertile soil that is rich in organic matter. Moist yet relatively free-draining soils are ideal.
Where the climate allows tubers to remain in the ground over the winter, it is best to plant them in lighter, more free-draining soils. Though dahlias can grow in heavier clay, the tubers can suffer in the colder and soggier conditions. If you do have a heavier soil, or live in a colder area, you will likely need to lift the tubers in autumn.
Planting Dahlias
Mulch well with organic matter to improve the soil when planting your dahlias. You can plant tubers with shoots, or root cuttings grown in pots.
Start tubers indoors or under cover in February in a seed flat or tray of potting media. When the shoots are around 3cm in height, divide the tubers, making sure each section has both shoots and roots. Pot up each section and grow them on in frost-free conditions before planting out in late May/early June.
Alternatively, dormant tubers can be directly planted where they are to grow in April. (Though these will be some way behind tubers started indoors.)
Tubers with shoots should be spaced around 60cm apart, and 10-15cm deep.
Softwood cuttings can also be planted out at around the same time.
Rooted cuttings should also be spaced at 50-60cm apart, with the top of the compost in their pots just a little below the soil level.
Bedding dahlias can also be grown from seed, sown indoors. Sow in trays, then prick out the seedlings into individual pots. Feed every couple of weeks with an organic liquid feed. Then harden off and plant out in late May or June. After they flower, you can select tubers from your favourites to plant next year.
Caring For Dahlias
Dahlias need to be watered well in hot and dry weather. It is best to water deeply once a week rather than watering little and often, as the latter can encourage shallower root formation and less resilient plants. Make sure you water the soil at the base of your plants and try to avoid getting water on the leaves or flowers.
Dahlias have fairly high nutrient requirements and like other flowering plants, require plenty of potassium to bloom well. As well as mulching well with organic matter (replenishing this every year) you should also feed once a fortnight with a potassium-rich organic liquid plant feed. A feed suited to tomatoes such as a comfrey liquid feed will also suit dahlias well. (Feed once a week if growing in containers.)
Remember, taller dahlias will need staking or some other form of support. Often, you will not need to buy supports but can make your own using long branches or canes from your garden, or reclaimed materials that might otherwise be thrown away.
Deadhead weekly to encourage plants to produce more flowers. Cut back the stems to a leaf node. Of course, you may also wish to harvest dahlias for cut flowers through the summer season.
As autumn wears on, dahlias will typically start looking more and more tatty. Flowering will slow down as the temperatures fall. At the end of the season, you will, if you live in warmer regions with free-draining soil, be able to leave tubers in place. But mulch well with a dense layer of bark chip, straw or compost to protect the tubers from the cold.
In all other situations, cut down the stems and dig up the tubers. Shake off as much soil as you can and remove any damaged sections. Cut the stems back to around 5cm or so. Store the tubers in a crate or box filled with dry potting compost or sand – using just enough to cover the crowns. Place this container into a cool, dark spot that will remain frost-free, like a root cellar, shed, or garage. And provide extra insulation on particularly chilly nights.
Take care of the tubers and you can enjoy your dahlias year after year.

Elizabeth Waddington
A permaculture garden designer, sustainability consultant and freelance writer, Elizabeth works as an advocate for positive change. She aims to inspire others to reconnect with nature and live in a more eco-friendly way. She also tries to practice what she preaches as she tends her own forest garden, polyculture beds and polytunnel. See her personal website here.