Overview
| | |
| --- | --- |
| Official Plant Name | Geums |
| Common Name(s) | Avens |
| Plant Type | Perennial Flower |
| Native Area | Europe, Asia, Americas, Africa, N. Zealand |
| Hardiness Rating | H7 |
| Toxicity | None |
| Foliage | Herbaceous |
| Flowers | Various bright colours; usually red, orange or yellow |
| When To Sow | January, February, March, April, September, October, November, December |
| Flowering Months | April, May, June, July, August, September |
| When To Prune | January, February, March, October, November, December |
Sunlight
Preferred
Full Sun / Partial Shade
Exposure
Exposed or Sheltered
Size
Height
Roughly 50cm
Spread
0.1 – 0.5M
Bloom Time
April – September
Soil
Preferred
Most Soil Types (Except Very Dry)
Moisture
Moist But Well Drained
pH
Any
Commonly known as avens, geums provide splendid colour, making them a firm favourite at the RHS Chelsea Flower Show.
Growing to around 18 inches in height, this pretty plant forms spreading mounds of evergreen foliage which can add much-needed texture and structure to your garden.
From May to July their leafy, branching stems hold solitary, intensely coloured flowers, or little clusters of smaller, colourful flowers, usually of orange, yellow and red.
Another benefit of geums is that bees find them extremely attractive, leading them to seed and hybridise freely. When two species of geum hybridise, either guided by the gardener or spontaneously, their offspring is usually sterile, meaning they'll produce flowers for longer. Some hybrids can bloom for months rather than weeks and won't produce seeds.
What are geums
Geums are a genus of around 50 species of rhizomatous perennial herbaceous plants. They're part of the rose family and the subfamily of Rosoideae. These plants are hardy and slug resistant, and their foliage works wonderfully for suppressing weeds.
In general, geums prefer moist well-drained soil so incorporating organic matter when planting will help them to retain the moisture they need to support their growth. Their foliage can scorch in the sun, so we recommend planting in partial shade.
Where colour is concerned, the flowers can come in an exquisite range of hues, from rich dark reds to pale pastel yellow.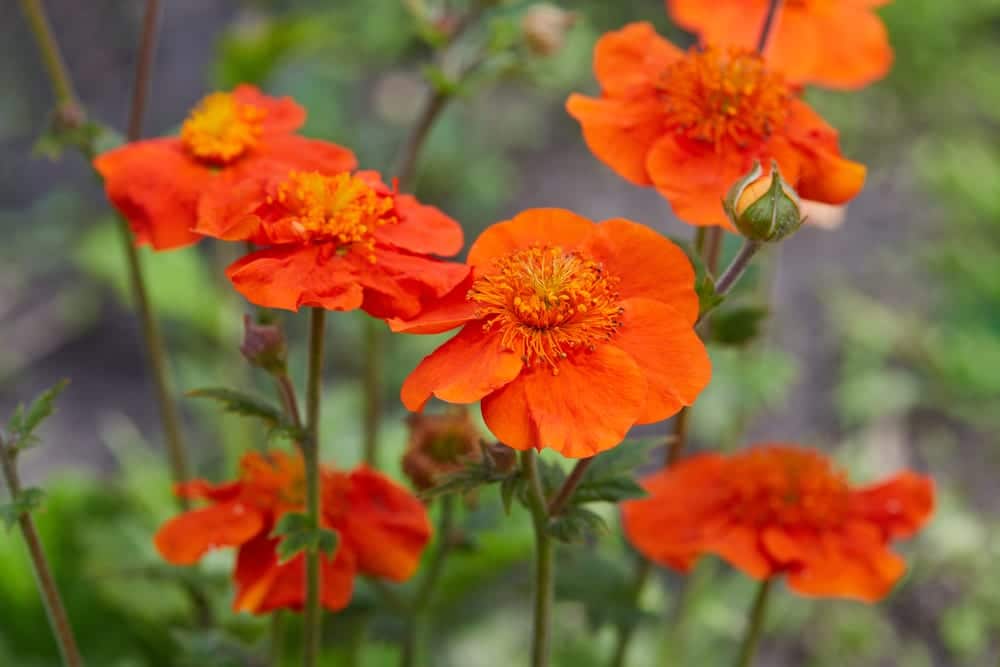 Geums are said to be a symbol of purity; the scientific name is derived from the Greek word "geno" meaning "to give off a pleasant fragrance", which is likely because of the clove-like aroma the roots exude. The common name "aven" possibly comes from the Latin word "avencia" which means "a kind of clover".
Geums are extremely easy to grow and provide such a tremendous burst of colour, that they have long been exceptionally popular among gardeners.
Types of geums
As previously mentioned, there are around 50 species of geums, all with their own unique look so, naturally, it can be hard to pick which one would best suit your garden.
That's why we have done the hard work for you and picked out a few of our favourites types of geums to help you get started.
Fireball
Topping our list is the fireball geum, with its gorgeous orange blooms with red edges, this variety is a firm favourite and blossoms gloriously from late spring to early summer. Similar to a few other species, this plucky little plant also produces pretty fluffy seedheads which are extremely attractive to the eye.
This species prefers shade, but it can still perform well in the sun as long as it is planted where it can get some respite in the afternoon. Fireball geums have coarse, evergreen foliage that can provide texture and interest to your garden. They are also well-loved by butterflies and other helpful pollinators.
Alabama slammer
Slamming into our list is the showy Alabama slammer. Growing to a height of 10 to 14 inches and a spread of 12 to 14 inches, this prolific little plant has the ability to produce 155 flowers or more.
This species sports golden flowers with ruffled edges and has speckles of red and orange. Alabama slammers are generally very disease resistant and grow vigorously, requiring very little maintenance.
This variety will thrive in full sun but can tolerate partial shade and prefers average to medium moisture and well-drained soil.
Mai tai
Mai tais geums get their name thanks to the similar colours they share with the famous cocktail. Their delicate-looking flowers gradually fade from a soft peach colour to pale pink and bloom from late spring to early summer.
This species can produce as many as 135 flowers per plant, and their burgundy-coloured stems combine with the colour of their blossoms make them extremely aesthetically pleasing.
Mat tai geums do well in both full sun and partial shade and are actually very unfussy when it comes to soil types. Their unique colour and easy-going nature mean they are perfect for adding much-needed interest to any area of your garden.
Wet kiss
This clump-forming geum sports either single or semi-double ruffled flowers which, as the plant matures, fades into a gorgeous orange, peachy colour that is sure to turn heads.
Growing to around 14 inches in both height and width, the wet kiss geum prefers moist and fertile soil in partial shade or full sun. That said it can still do well in average soils.
Their lush, green foliage and burgundy stems can add much-needed structure and definition to your garden, so if you want to amp up a dull landscape, then the wet kiss geum is just what the doctor ordered. Pow! Right in the kisser!
Rogers rebellion
While we don't know who Roger is, we have to take our hats off to him for creating such an intriguing and attractive geum. If you want to spice up your garden a bit, then this variety is for you.
Rogers rebellion geums have handsome, unusual, dark red stems and buds which then open to dainty, nodding, raspberry coloured flowers with sweet cream undertones.
These hardy plants will thrive in both full sun or partial shade and are ideal for borders as well as making gorgeous cut flowers.
How to grow geums
Now that you've brushed up your knowledge on geums, you are no doubt even keener to introduce them to your garden. Different varieties will have different needs but generally speaking, you will want to plant them in full sun to partial shade and in moisture retentive soil.
Geums thrive in both acidic and alkaline soil, but they will not cope well at all with sodden, saturated soil in the winter months. You can improve the quality of the earth by introducing organic matter before planting. You can then firm the plants in and water regularly, taking extra care in the hotter summer months.
Propagating geums is also extremely easy, side shoots can be dug up with little trouble and can then be replanted elsewhere in the garden. They can also be divided in spring and will set seed.
Caring for geums
Happily, geums are really low maintenance, the main thing you need to remember is to deadhead them after flowering. We also highly recommend dividing the plants every three years or so, this will help maintain their strength and encourage more flowering. If you don't divide your geums, you run the risk of them becoming woody which may result in them dying off.
Preventing problematic pests
Geums are remarkably trouble-free plants, slugs, snails and deer have very little interest in them.
The one creature you want to look out for is vine weevils which are, thankfully, very easy to detect. Vine weevils make their presence known by chomping out notches of the foliage and will do so generally between spring and late summer.
Vine weevil grubs also enjoy to dine out on the roots of geums, and this can be a killer for the plant. Badly infected plants should be burned to prevent further spread.
You can combat weevils with chemical pesticides, but you want to be careful as many of these products are indiscriminate and will not only kill the weevils but can potentially kill off bees, butterflies and other essential pollinators.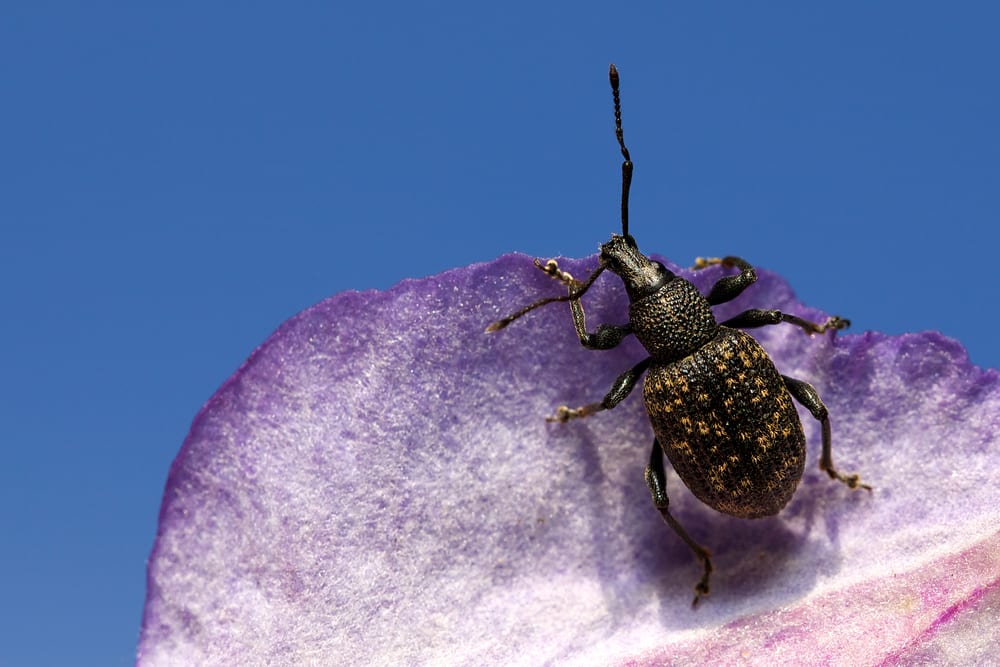 If you are battling vine weevils, then we recommend finding products that won't harm other wildlife, there are plenty to choose from, and many are extremely effective.
Enjoy the generosity of geums
Geums are generous plants. With minimal effort from the gardener, they can provide a contagious contrast of colour and fabulous foliage that can add drama and depth to your garden.
These cheerful chaps can make a real statement and can help to brighten up dark corners and liven up beds and borders. With so many varieties it is easy to find one that will suit your garden, whether its countryside or urban, formal or informal, there will undoubtedly be a geum for you.
If you want to make your gardener chums jealous and fill your garden with jubilation, then the joyous geums are the only way to go.