Overview
| | |
| --- | --- |
| Official Plant Name | Salvia |
| Common Name(s) | Sage |
| Plant Type | Perennials / Annuals |
| Native Area | Mediterranean, Africa |
| Hardiness Rating | H5 |
| Toxicity | None |
| Foliage | Various |
| Flowers | Many colours |
| When To Sow | May, August, September |
| Flowering Months | June, July, August, September, October |
| When To Prune | March, April, September, October, November |
Sunlight
Preferred
Full Sun / Light Shade
Exposure
Sheltered
Size
Height
0.5 – 1M
Spread
0.5 – 1M
Bloom Time
June – October
Soil
Preferred
Clay, Loam
Moisture
Moist but well drained
pH
Any
Whether you are cultivating an edible landscape, or a purely ornamental one, Salvias can be good choices for many gardens.
From well known culinary sage, to pretty flowering salvias in a range of colours, this genus provides many options for UK gardeners. This is such a broad-ranging genus that there is no way to cover them all in just one guide.
But to help you get started with choosing Salvias, we've put together this exploration of some of the different types of Salvia you might like to grow, along with some care and growing tips to help you cultivate them successfully. Read on to find out more about a very useful, interesting and beautiful range of plants.
What is Salvia?
Salvia is the largest plant genus in the Lamiaceae, or mint family. Almost 1,000 shrub, herbaceous perennial and annual plant species belong within this genus. Commonly referred to as 'sage', this is one of a number of genera referred to in this way. It includes the common culinary herb sage, as well as a range of other edible and ornamental types.
One of the interesting things about Salvia as a genus is the pollination mechanism common to the plants within it. Pollinators enter a flower looking for nectar, which causes a lever within the plant to move, leading the stamens to place pollen onto the pollinator. When the pollinator then leaves, the natural lever returns the stamens to their original position. This feature is not specific for particular pollinators. This fascinating feature is believed to be an important factor in the diversity of this large genus.
In this guide, we will talk about a number of different types – beginning by talking about those with culinary applications before going on to talk about a number of Salvias that make great choices for an ornamental (or wildlife-friendly) garden.
Types of Salvia To Grow in the UK
First of all, let's talk about sages – the name commonly applied to those members of the Salvia family that are used in cooking. Sages with culinary applications include:
Salvia officinalis (Sage) – the familiar culinary herb that pairs well with onions. 
Salvia officinalis 'Purpurascens' (Purple sage) – a purple leaved varietal of the above.
Salvia fruticosa (Greek sage) – also used as a culinary herb. 
Salvia rosmarinus (a synonym for Rosmarinus officinale – Rosemary) – rosemary is another common culinary herb, also useful in a range of other ways. 
Though a number of other Salvias also have more limited culinary applications. But most are usually used for their ornamental appeal, or for other uses. Here are some other Salvias, or sages, that might be of interest to UK gardeners.
Salvia apiana (White sage) – sacred to a number of N. American tribes, this N. American native plant is used for smudging.
Salvia sclarea (Clary sage) – clary is a short lived perennial with mauve/pink flowers.
Salvia elegans (Pineapple sage) – shrub with red flowers and pineapple scented leaves.
Salvia nemarosa (Woodland sage) – perennial with many ornamental cultivars.
Salvia patens (Gentian gage) – herbaceous perennial with blue flowers.
Salvia yangii (Russian sage)
In addition, there are a number of hybrid Salvias that are commonly cultivated as ornamental plants. Here are some of the attractive options to consider:
Salvia 'Amistad' – a bushy and upright perennial with deep blue/purple flowers.
Salvia 'Love and Wishes' – rich red-purple flowers, burgundy stems.
S. 'Serenade' – bright violet flowers and deep purple stems.
Salvia 'Flower Child' – compact form, bright pink flowers.
S. 'Dyson's Joy' – a small bushy perennial with pink/red bicolour flowers.
S. 'Silas Dyson' – striking crimson flowers that open from port-coloured buds.
S. 'Jezebel' – a bushy evergreen perennial with red flowers.
S. 'Royal Bumble' – an evergreen shrub with red blooms.
Salvia x sylvestris 'Rose Queen' – neat and compact, pink flowers.
Salvia x sylvestris 'Viola Klose' – deep violet flower spires on fresh, green foliage.
Salvia. × sylvestris 'Tänzerin' – perennial with purple blooms.
Salvia x sylvestris 'Mainacht' – compact perennial plant with deep violet flowers.
Salvia x jamensis 'Javier' – bushy perennial plant with purple flowers.
Salvia x jamensis 'Raspberry Royale' – small evergreen shrub, berry pink blooms.
Salvia x superba 'Rubin' – clumping perennial with delicate pink flowers.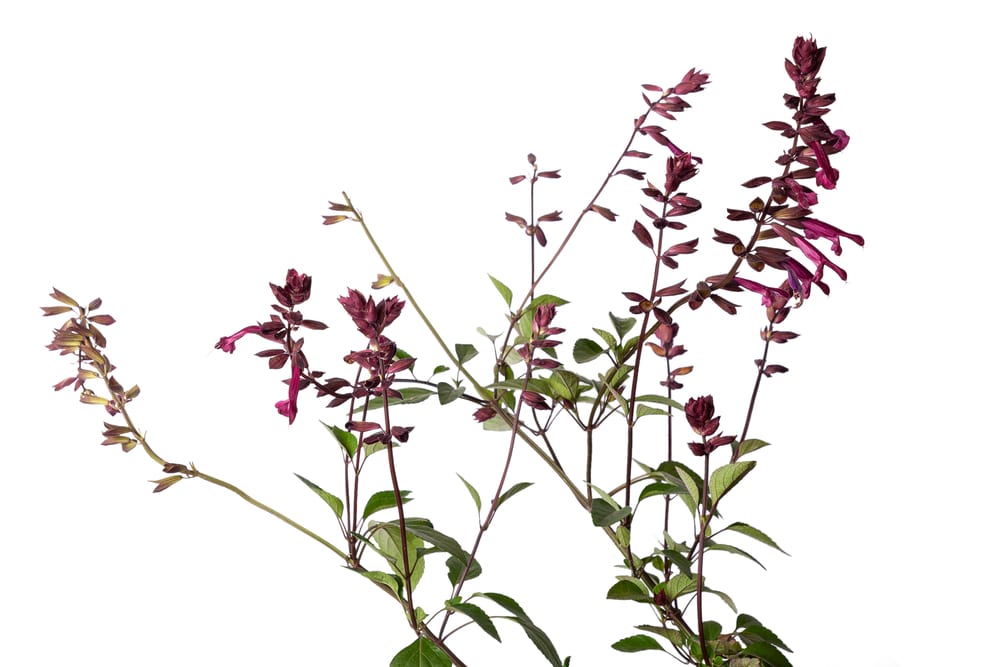 Why Grow Salvias?
Salvias might provide an edible yield. And choosing those which do provide something of value to you can help you make the most of the space available to you to grow your own and live in a more sustainable way.
But whether or not they have use to human gardeners – all salvias can be beneficial for wildlife with which you share your space. Salvias have beautiful blooms that are beloved of a range of key pollinators like bees, lepidoptera and other beneficial insects. They often also bloom over a relatively long period.
Of course, since they attract pollinators and boost biodiversity, bringing wildlife also brings value for you, as a gardener. Greater biodiversity brings greater stability, making your garden more resilient. This makes it easier to garden in an organic, eco-friendly way. And of course ensuring there are plenty of pollinators around can ensure good yields of fruits etc. that you cultivate in your garden.
There is of course a lot of variety, though most Salvia will bloom between June and October. Choosing several different varieties could mean that there is plenty of nectar around for insects to enjoy in your garden throughout the summer and, with certain varieties, well into the autumn too.
The bloom blooming period of salvias also means they add visual appeal in a garden over a long period.
Salvias are relatively easy to grow, and are usually seldom bothered by problems with pests or diseases. This can make them good choices (especially hardy varietals) for a low maintenance garden that won't take much work.
Where to Grow Salvias
All Salvia will tend to do well in full sun, and will thrive with a south-facing aspect. But there are also several types that can cope with dappled or partial shade.
In terms of soil type, there are Salvia suited to a range of conditions. Though they will do best in free-draining conditions and most will struggle in areas with heavy clay. In fact, they can cope with drought, so can be part of xeriscaping plans, and will cope quite well in free-draining soils even when they are poor and relatively low in nutrients.
Salvias can be useful plants not only in poor soils and dry areas. They can also be useful in coastal gardens, and other situations that can be tricky for many other plants.
In terms of aesthetics, Salvia can work well in many garden schemes, from the sunny fringes of a naturalistic woodland or forest garden, to a kitchen or herb garden, to gardens with an exotic, or tropical, feel. They can also look good in amongst wildflowers and ornamental grasses in a sunny border.
However, though some hardy varieties can remain in the garden over the winter months, it is important to recognise that tender types are best grown in containers. Growing tender Salvias in pots means that you will easily be able to move them under cover before the first frosts in your area.
Companion Plants for Salvias
If you are growing common sage or other Salvias in a herb garden or kitchen garden, it will grow well alongside rosemary. Sage can also be a beneficial companion plant for:
Brassicas (because it is said to help in repelling common pests like cabbage moths, cabbage loopers, cabbage worms and black flea beetles.)
Carrots (because sage is said to repel carrot rust flies.)
Tomatoes (because sage repels flea beetles and attracts beneficial pollinators.)
Strawberries (because sage is said to deter pests and anecdotally, is even said to improve strawberry flavour.)
Due to the pollination benefits, sage and other Salvias can also be beneficial for many other edible and non-edible plants in your garden. You might want to plant culinary sage (or even ornamental varieties) on the edges of a kitchen garden or vegetable bed.
One thing to note, however, is that it is not recommended to grow sage close to cucumbers, as sage and certain other aromatic herbs may stunt their growth. Keep rue and fennel away from sage too, as these may stunt its growth.
Companion planting is an inexact concept, and many claims are anecdotal. But it is a good idea to combine plants that can work together and aid one another in different ways to get as much as possible from your garden.
If you are looking for companion plants for an ornamental bed or border, Salvias can work well planted alongside, for example:
Stipa tenuissima and Eryngium
Heuchera
Verbena bonariensis
Ox eye daisies
Petunias
Lavender
Lavandula
Sedums
Of course, these are just a few examples. There are plenty of perennials and other plants that will look great when grown with and alongside Salvias in your garden.
Planting Salvias
Usually, gardeners will choose to grow salvias purchased as pot grown specimens. These should be planted out in the garden to the same depth as they were in their pots, either in their positions in your garden beds, or in their new containers, raised beds or planters. If you feel that your soil is a little too heavy for these plants, you can improve conditions by adding some horticultural grit to the planting holes to aid drainage.
Salvias can also be grown from cuttings. Cuttings are taken in April, or August-September. Non flowering stems around 8cm long are cut from the plants. Lower leaves are removed. And each cutting is trimmed just below a node.
These cuttings are placed into pots filled with moist compost. A clear plastic bag or cloche is placed over the cuttings so it does not touch the foliage. Cuttings are then placed in a cool greenhouse or another similar spot. They should have rooted and be ready for potting on in around 3 weeks.
Caring for Salvias
How much care your Salvia will require and exactly what care they will need depends on which type and varietal or varietals you have chosen to grow. Generally speaking, these are relatively low maintenance and hassle free plants.
Under-watering is usually less of a problem with Salvias than over-watering, especially where drainage is less than optional. So less is usually more.
Salvias grown in the ground will typically not require any feeding at all. However, if you grow them in containers, it could be a good idea to feed a potash-rich 'tomato feed' type organic liquid fertilizer in the summer months.
If you are growing annual varietals, at the end of the season you will lift them and put them on your compost heap prior to the first frost.
If you are growing hardy perennial salvias, these are typically cut back hard either in autumn or in spring. Half-hardy types are typically cut back in autumn, but must then be lifted or their containers moved to a frost free location for the winter. Shrubby types are best pruned in spring because otherwise they can form new growth that will be struck by frosts when winter arrives. If you are in doubt about what type of Salvia you are growing then it is generally best to prune in spring, as this is likely to offer them a bit more protection during the coldest part of the year.
Elizabeth Waddington
A permaculture garden designer, sustainability consultant and freelance writer, Elizabeth works as an advocate for positive change. She aims to inspire others to reconnect with nature and live in a more eco-friendly way. She also tries to practice what she preaches as she tends her own forest garden, polyculture beds and polytunnel. See her personal website here.