Overview
| | |
| --- | --- |
| Official Plant Name | Zinnia |
| Plant Type | Annual Flower |
| Native Area | Americas |
| Hardiness Rating | H2 |
| Toxicity | None |
| Foliage | Opposite leaves |
| Flowers | Solitary flower heads, multiple hues |
| When To Sow | March, April, May, June |
| Flowering Months | July, August, September, October |
| When To Prune | August, September, October |
Sunlight
Preferred
Full Sun
Exposure
Sheltered
Size
Height
0.1 – 0.5M
Spread
0.1 – 0.5M
Bloom Time
July – October
Soil
Preferred
Most Soil Types
Moisture
Moist but well drained
pH
Any
Zinnias have been a firm favourite among gardeners for decades; they bring an absolute explosion of colour, are easy to grow, and are adored by essential pollinators like bees and butterflies.
Thanks to their low maintenance nature, zinnias are a perfect candidate for new gardeners and, coming in such a wide range of colours, shapes, and sizes, they are easily one of the most popular plants in the UK.
If you are keen to join thousands of other gardeners in planting zinnias but aren't sure where to start, this article is for you.
What are zinnias?
Part of the sunflower tribe within the daisy family, zinnias are easy to grow annuals. This means they'll grow for one season and, though they produce seeds, once they've died back the original plant will not grow again.
Zinnias are recognisable by their long solitary stems and daisy-like flowers. They are often used as symbols of endurance because they bloom from mid-summer all the way until frost.
Why we love zinnias
Zinnias really have so much to offer, and there are many reasons why gardeners choose to include them in their gardens year after year:
They're super easy to grow from seed.
They're also easy to care for and maintain, making them perfect for gardeners at any level.
They spoil you with bold and vibrant colours.
They add interest to your garden with their many shapes and sizes.
Zinnias are ideal for growing in containers, making them a superb way to brighten up your patio or decking.
They also thrive in hanging baskets as well as borders and beds.
They are beloved by bees and butterflies and other essential pollinators.
Thanks to their gorgeous colours, they are also beloved by children and are a great starter plant to introduce kids to gardening.
They make stunning cut flowers and will fill any room with their cheerful vibes.
Types of zinnias
There are hundreds of species of zinnias which can be broken down into four main categories, determined by how many rows of petals they have:
Single flowered – these zinnias have a single row of petals, and the centre of the flower is exposed.
Semi-double flowered – these zinnias have several rows of petals, and the centre of the flower is visible.
Double flowered – these zinnias have several rows of petals, but the centre is hidden by petals and not visible.
Cactus flowered – these zinnias have long petals which roll towards the underside and, as a result, the entire petal twists forming a pretty and quite unique flower.
Within these categories, zinnias are also defined by their size and spread; there are compact miniature types as well as tall, long cutting types. Some zinnias are tall with large flowers, whilst others tend to spread and have small flowers. There are also combinations of the two.
As you can see, there are a lot of options when it comes to zany zinnias, and you might be unsure where to start when picking the right ones for your garden. That's why we have picked out some of our favourite types to help you get started.
Purple prince
As the name would suggest, these zinnias sport striking purple, double flowers and but also have a snazzy, lime-green centre. This characterful variety is perfect for informal settings and pair beautifully with plants that have long grassy foliage.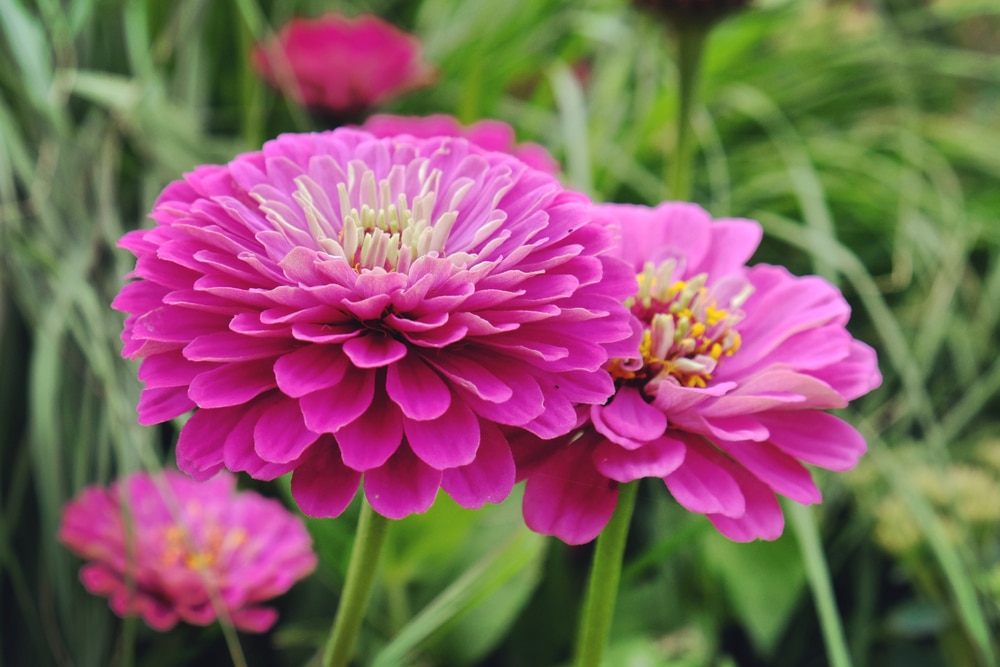 Growing to a height of 90cm and with a spread of up to 20cm, these are an ideal option for the front and middle of sunny borders.
Purple prince zinnias will best grow in full sun in well-drained light or sandy soil and will flower from June through to the end of October.
Swizzle
This cheerful zinnia comes in a range of colours, including bi-coloured petals in shades of red and yellow. Growing to a height of 30cm and a spread of 20cm, this variety is perfect for borders, but also make wonderful container plants. Great for even the most modest-sized gardens.
Swizzle zinnias will thrive in full sun exposure and well-drained soil. They are rich in nectar, making them a firm favourite among bees and other pollinators.
Pop art
If you want your garden to pop then pop art zinnias are certainly the way to go. These spunky plants have tall stems and glorious, golden, red-speckled blooms. They make excellent cut flowers and last exceptionally well in water.
Pop art zinnias grow to a height of around 60cm and have a spread of 20cm and, as with the other zinnias on this list they require full sun and well-drained soil to thrive.
Queen red lime
Adding another member of royalty to our list, the queen red lime zinnia is quite the show stopper. This variety is splendidly unique, growing in a well-branched, upright habit, it's fully doubled red petals are tipped with lime green, and the centre is deep maroon in colour.
This elegant zinnia makes for a splendid border plant but also grows happily in containers. Choosing a rustic or upcycled pot to grow them in can really give your garden a certain je ne sais quoi. Just give them a sunny, well-drained position, and they will reward you with their impactful blooms from July to October.
Red spider
This delicate zinnia has long, spidery, scalloped petals in a luxurious shade of red. They are neat and compact and grow to a height of around 60cm, making them perfect for the front of borders.
As expected, they love full sun and well-drained soil and are also perfect candidates for containers, providing pretty displays for patios and decking.
Care and growing tips
Zinnias are a simple joy to grow, and by sowing seeds early in the year you can enjoy a cacophony of colour as they bloom from midsummer to the first frost. We have put together a fool-proof guide to help you grow and care for these marvellous plants.
How to sow zinnia seeds
We recommend growing zinnias from seed either indoors from the beginning of the year up until April, or outside between May and June. However, growing indoors is the easiest and most successful way to go.
Start by filling small seed trays with seed compost and follow with a gentle watering. You can then place the seeds on the moist compost. Make sure you allow for only eight seeds per 9cm pot.
Using an empty pot, you should then gently firm the seeds in place and then cover them with another thin layer of seed compost, or use horticultural sand or vermiculite.
Next water the seeds, allowing water to drain before transferring the pots to a heated propagator (at a temperature of 20-25 degrees celsius), or a sunny windowsill.
Once the seedlings have formed two pairs of leaves, it's time to put them each in their own pots. When the risk of frost is over, you can then harden them off and plant 30cm apart in beds or containers.
Pruning
Thanks to their easy-going dispositions, pruning zinnias is remarkably easy. Allow the plant to grow to a height of around 5cm and ensure they also have at least a couple of sets of leaves. You can then cut the tops off, and this will encourage thicker growth.
Deadheading frequently throughout their blooming season will also help them to thrive and continue to bloom at a steady rate.
Diseases
Properly watered zinnias grown in well-draining soil will face few problems. That said, you will want to keep an eye out for powdery mildew, Alternaria leaf spot, bacterial leaf spot, as well as stem and root rot.
Even if you do find yourself dealing with any of the above, a little research online will give you all the information you need to nip these problems in the bud.
Don't think linear – think zinnia!
If you want to add a little extravagance, elegance and fun to your garden then planting many a zinnia is undoubtedly the way to go. There is a reason these plants have been so popular for so long, with their low maintenance attitudes, glorious blooms and exquisite colours, they are an absolute must-have, adding interest and excitement to your garden month after month. These plants are unique and dramatic. So if you want to spice up your garden, don't think linear, think zinnia.