Not everyone has the time or disposable income to invest in expensive furniture and landscape design for their garden – but that doesn't mean you can't create a beautiful and inviting outdoor space, that functions for you and your household.
Whether it's through using recycled materials (did someone say pallets?), repurposing household items, or painting your existing garden accessories to give them a new lease of life, there are lots of DIY and inexpensive ways to turn your garden from 'drab' to 'fab'.
If you're looking to transform your garden on a budget, check out this collection of 16 cheap and simple garden ideas, to inspire you to make some changes, and create the outdoor oasis you've always wanted.
1. Build pallet furniture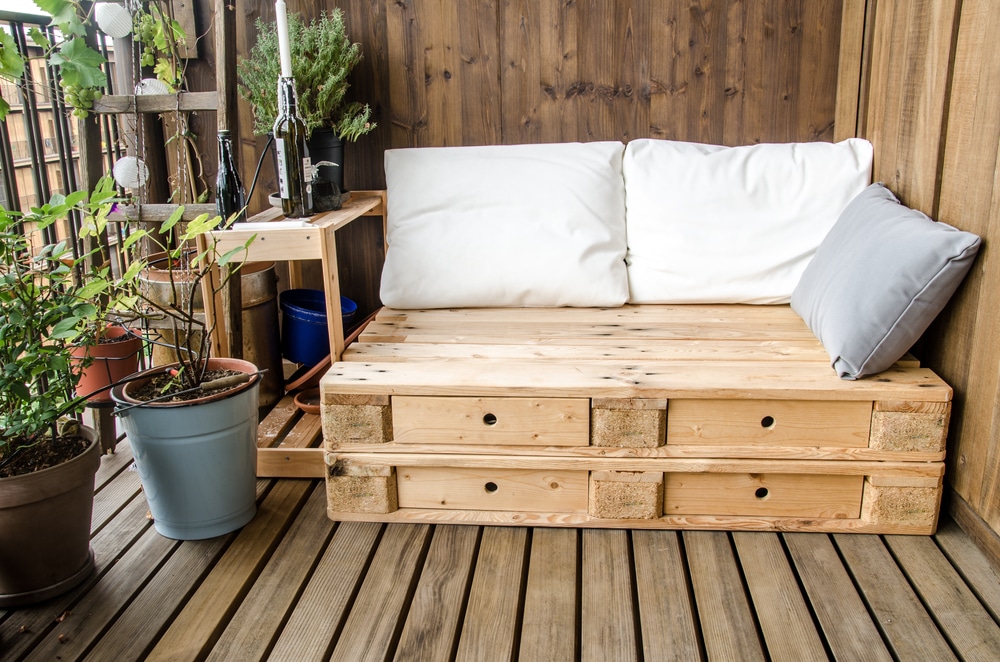 Wooden pallets are one of the most popular materials for affordable DIY garden furniture. You can often source pallets for free or very cheaply from local businesses that receive a lot of deliveries – look on marketplaces such as eBay or Gumtree to find some in your area.
Making a garden sofa out of pallets can be as simple as stacking pallets horizontally in a row or L-shape, with more pallets placed vertically behind to form a backrest. You may wish to sand them down and treat with a wood stain first. Once you've built your pallet furniture, make it cosy with outdoor cushions and blankets – you could even add drawers for storage.
2. Make a DIY fire pit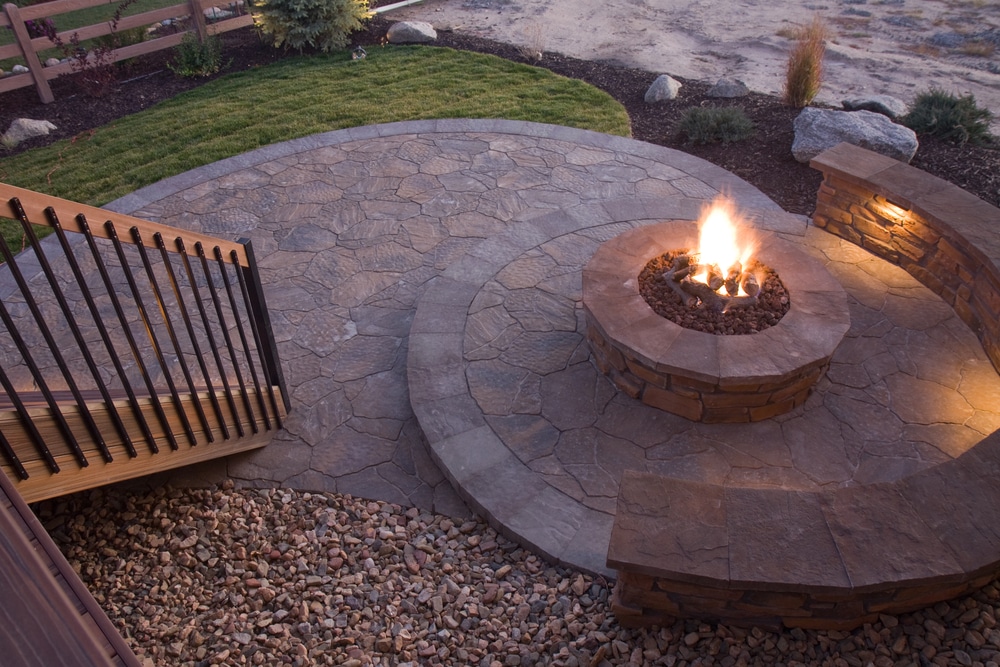 A fire pit can provide a central feature in your garden and is perfect for gathering around to extend your summer evenings. You can purchase one from a garden centre, or save money by building your own.
There are several ways you could do this, but one of the easiest is probably to build a surround for your fire pit using bricks or concrete blocks, leaving a couple of gaps for oxygen flow. Lay paving stones or sand in the centre, as a base for your fire.
3. Decorate your plant pots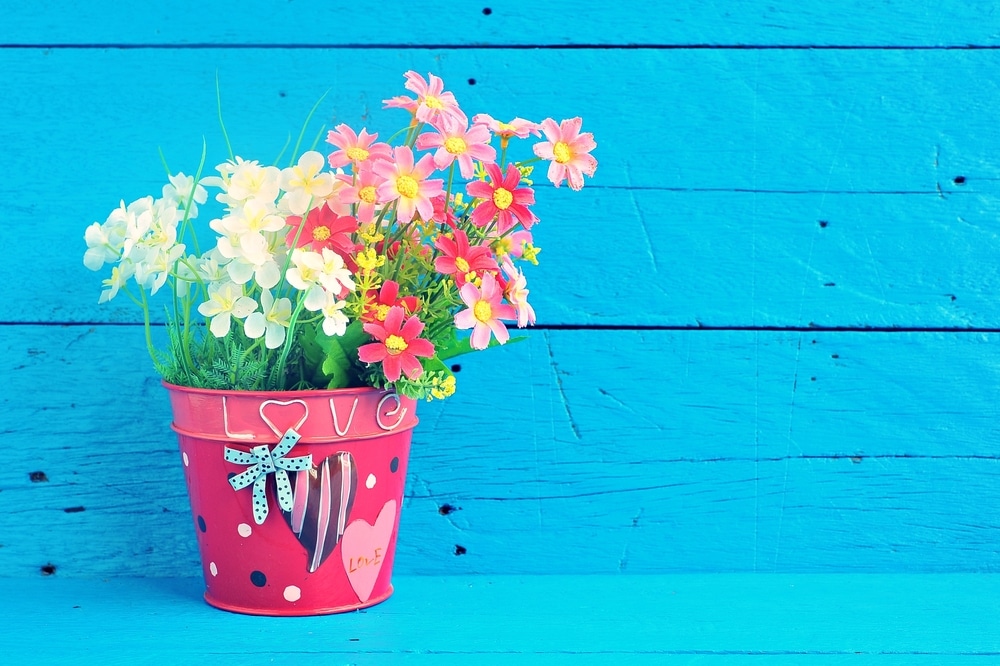 You may already have some plastic or terracotta plant pots lying around, but perhaps you aren't impressed with their dull green or brown appearance. If this is the case, spray a primer onto your clean, dry pots, and use acrylic or outdoor paint to give them a new lease of life.
Look online for inspiration and get creative with your designs, colours and patterns, to create unique plant pots that are personal to you. This can also make a great crafting activity to do with children.
4. Recycle plastic bottles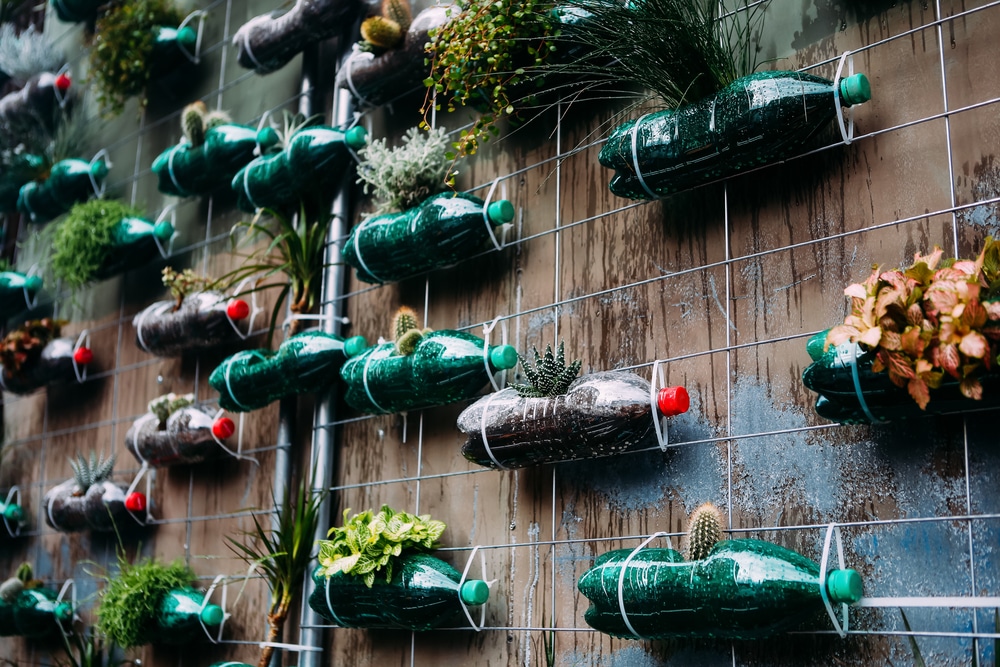 In a world where stopping single-use plastics from polluting our land and oceans is of the utmost importance, repurposing used plastic bottles as planters is both a cheap and eco-friendly garden design idea.
To make a plastic bottle into a planter, cut a large hole in one side, and puncture a couple of small holes in the other side, for drainage. Fill with potting soil, and your chosen seeds or seedlings. Hang multiple bottles on a wall or wire fence to create the effect shown.
5. Repurpose old furniture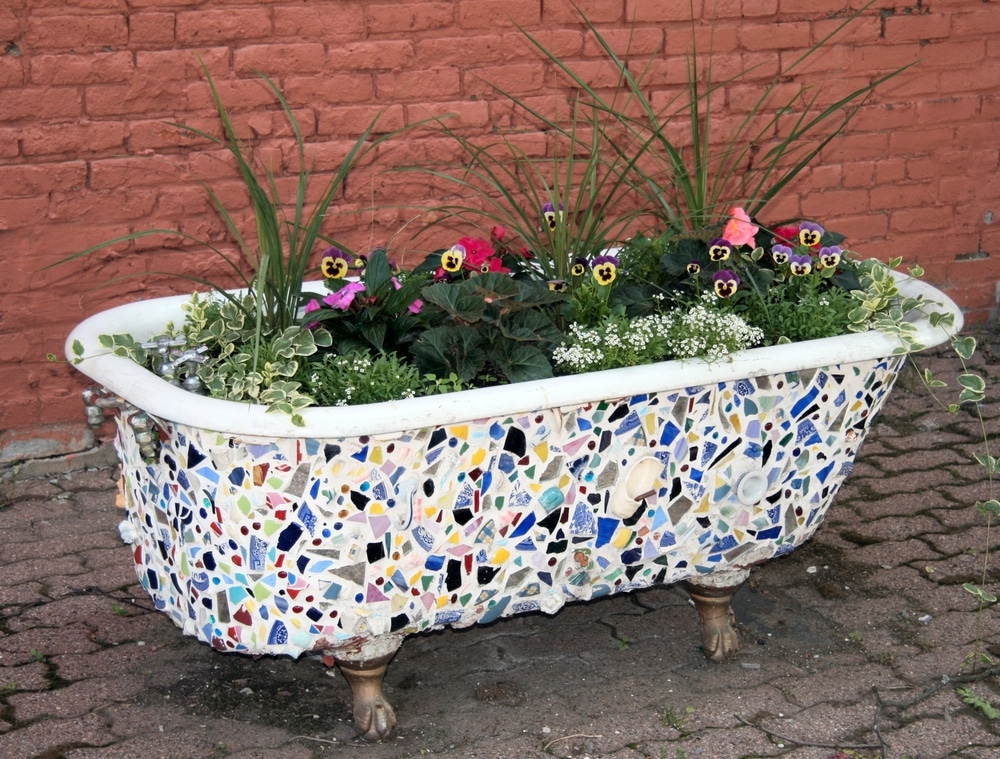 Consider whether you have any old furniture at home which might look better in your garden. An old desk can make an excellent potting table, whilst a chest of drawers can be used as a unique plant stand, and a disused dining or coffee table makes a great garden table.
Paint the furniture a bright colour or pattern for a funky look. For the truly daring, an old toilet or bathtub can make a quirky planter, and is sure to get the neighbours talking!
6. Paint your fence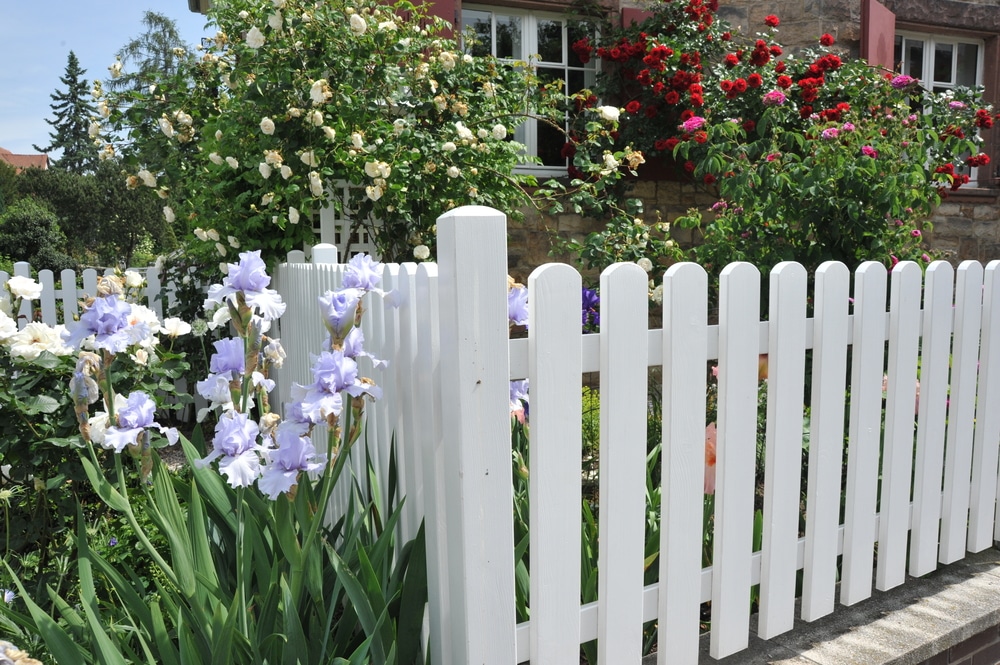 Perhaps one of the simplest and most effective ways to cheaply transform the look of your garden is to paint your fence or walls (if it's a boundary wall, make sure to be considerate of your neighbours, and only ever paint your own property).
Select a weatherproof exterior paint for this task, and choose your colour wisely. Painting your walls white will reflect the sun and make your garden appear bigger and brighter, a bold blue or orange can create Mediterranean or Moroccan vibes, and dark, moody grey is right on-trend.
7. Add affordable lighting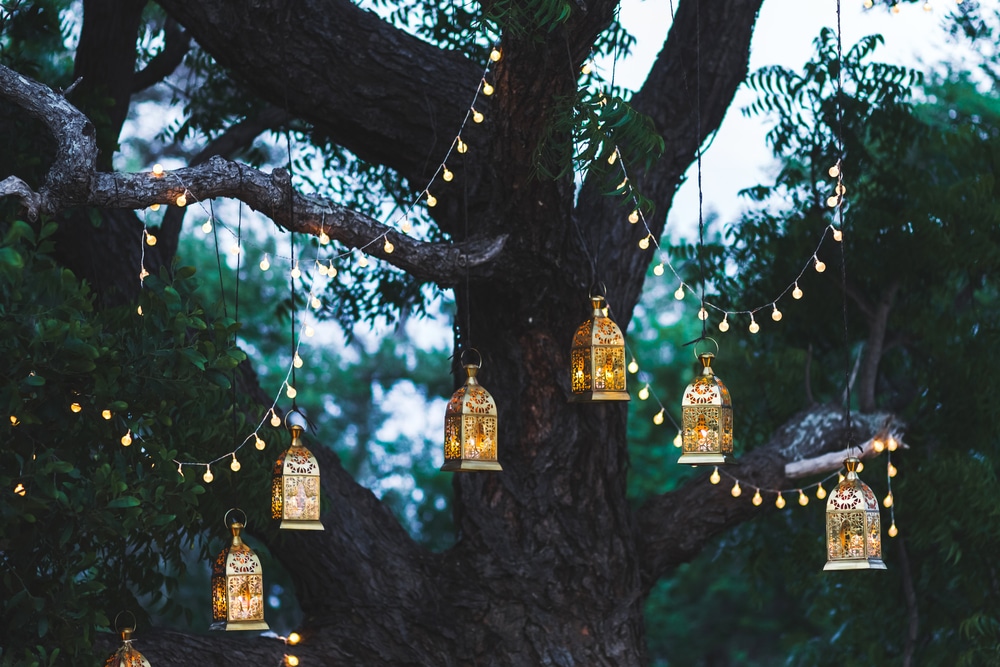 Outdoor lighting is one of the easiest and most effective ways to transform your garden. Strings of fairy or festoon lights hung from a tree or across your garden will give your garden a cosy glow, and also help to extend your summer evenings.
The best options are LED lights, which use little electricity, or solar lights, which are powered by the sun, and therefore free to run after the initial cost – although their output will be affected by the amount of sunlight available.
8. Plant in teacups and jugs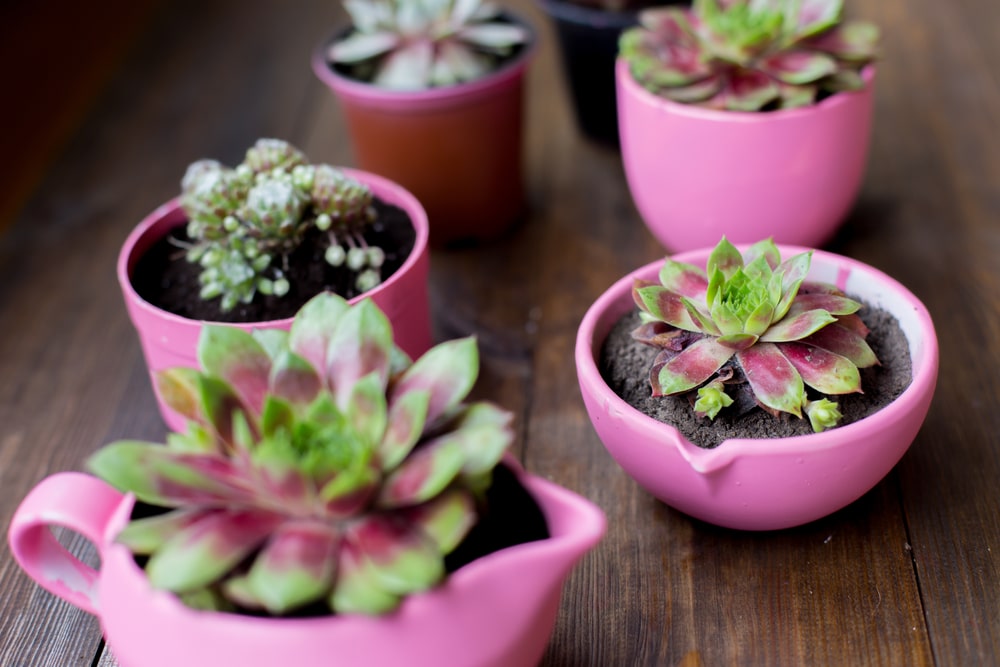 If you have any old chinaware that you don't use anymore – perhaps it's got a chip in it, you don't like the design – instead of throwing it out, repurpose it as quirky plant pots.
The small size of teacups and mugs makes them perfect for herbs and succulents – paint mismatched pots in a unifying colour, as above, to create the look of a matching set.
9. Create a gravel path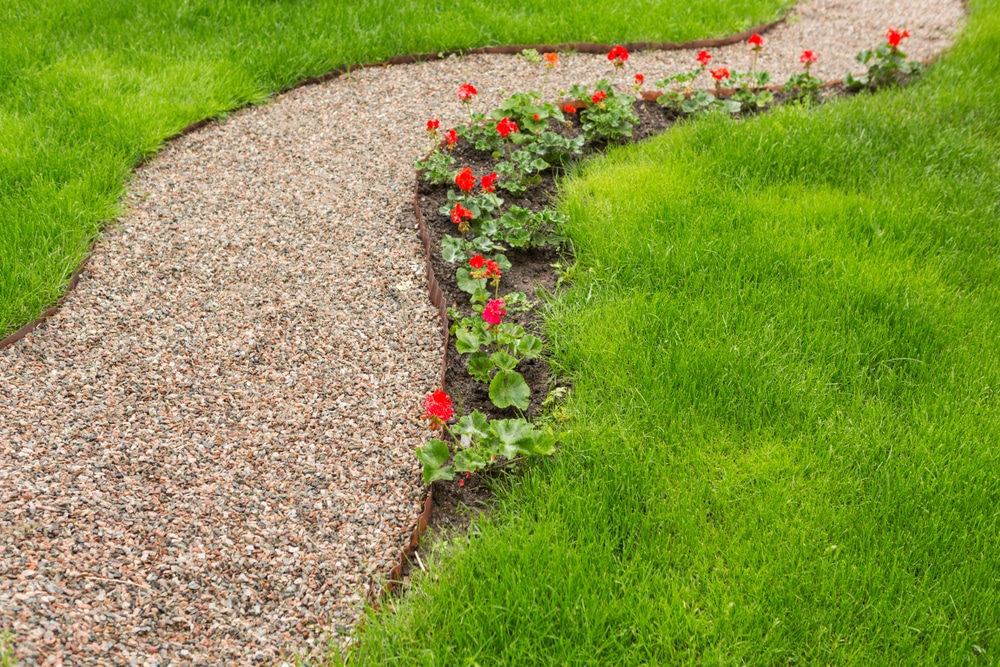 If your garden is a boring square or rectangle of grass, consider making a gravel path to break it up, and add depth and interest. Perhaps your path could lead to a seating area or a vegetable garden at the bottom of your garden.
You can purchase gravel from garden centres, builders' merchants or DIY stores. Creating a path is as simple as marking it out with stones, digging up the turf, and filling it in with gravel.
10. Add borders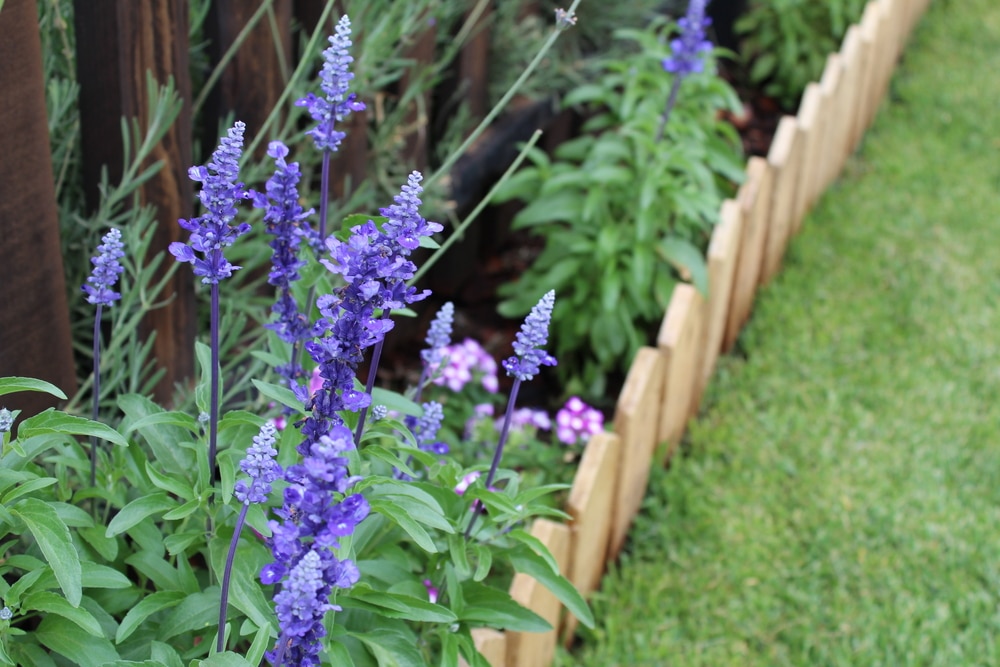 Borders are a great way to create a professional, landscaped look in your garden. Use them to separate your lawn from a path, or to divide flower beds and veggie gardens. Borders can have the added benefit of stopping plants spreading to unwanted areas.
You can buy cheap wooden or plastic borders from DIY stores, which you can drive into the soil between your flower beds and lawn. Alternatively, make your own borders using rocks and stones.
11. Plant pretty, affordable flowers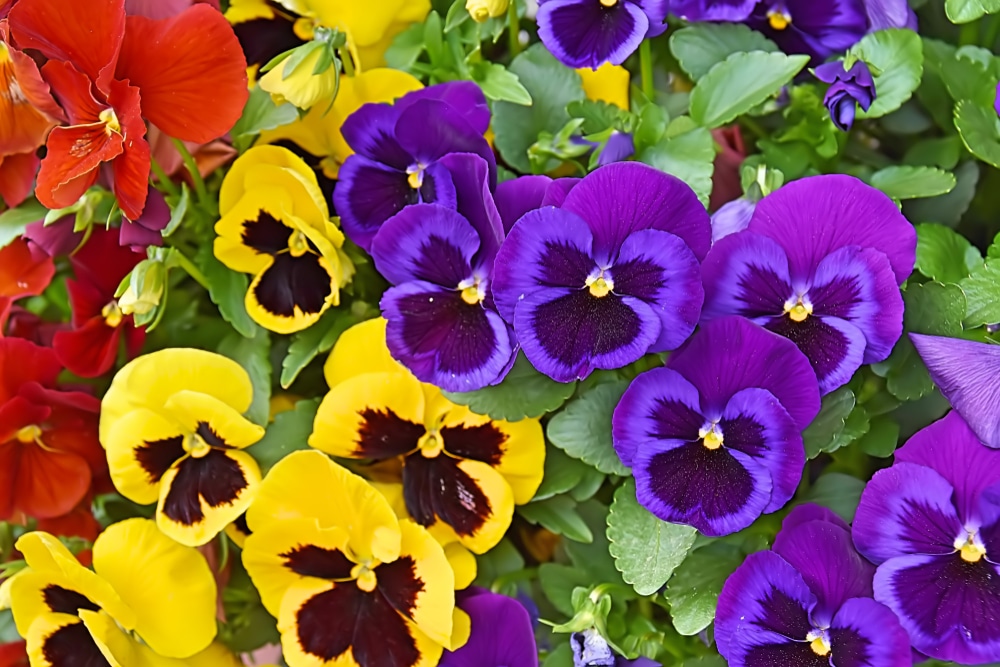 An easy way to improve the appearance of your garden is to plant flowers, which will fill your space with colourful blooms during their flowering season. You can plant them in a container, so you can move them around and indoors during winter, or choose varieties that are hardy to the UK climate and plant them in the ground.
Some good varieties to consider for this include violets, pansies and periwinkle. These ground-covering perennials come with the advantage that they smother weeds, meaning you can save yourself the time and money of having to spray and remove them.
12. Grow herbs and veggies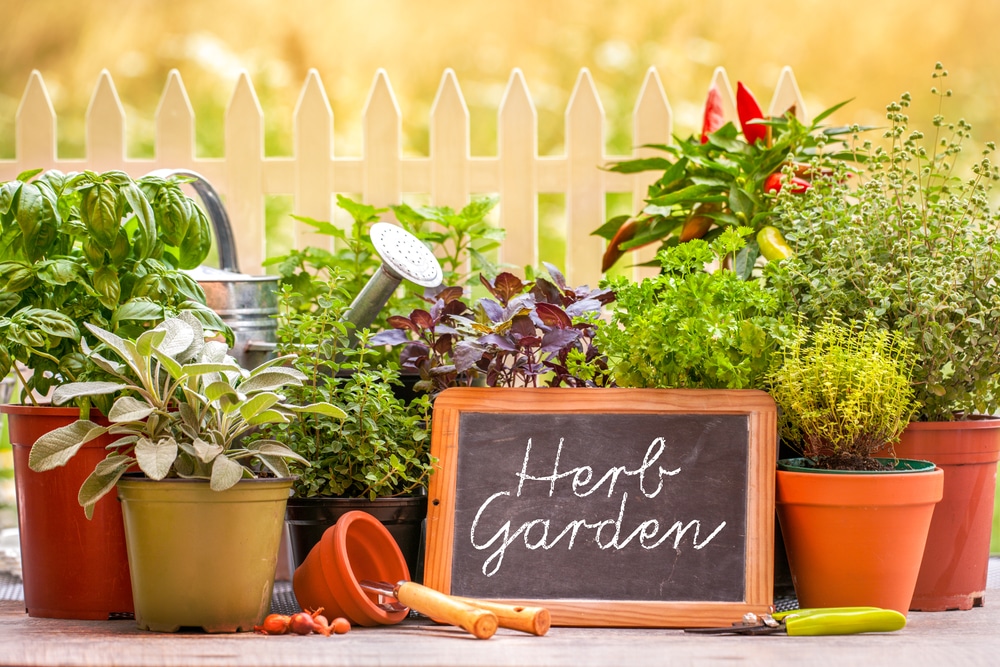 Growing your own herbs and vegetables in your garden is not only highly rewarding and adds to the look of your garden, but it can also save you money on your food shopping during the summer months. Veggies can be grown in containers, or in the ground.
There are a wide variety of vegetables which grow well in the UK, including peas, potatoes, onions, salad greens and runner beans – or if you're short on space, why not create an herb garden, to provide basil for your pasta, chives for your homemade potato salad, or mint for your Mojitos!
13. Paint tin cans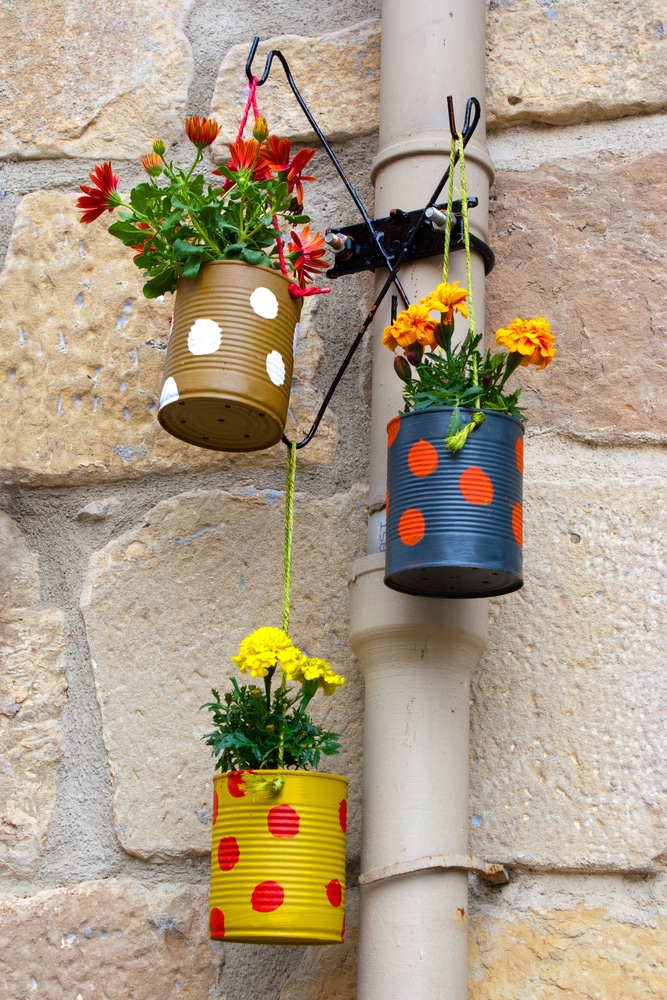 There's really no need to spend money on plant pots – recycled tin cans, such as those used for fizzy drinks and baked beans, can also make excellent plant holders for small flowers and herbs.
Paint them bright colours to create an attractive look, and punch holes in the sides for a string, which you can use to hang your new plant pots from a fence post or bracket – perfect for small spaces.
14. Plant a tree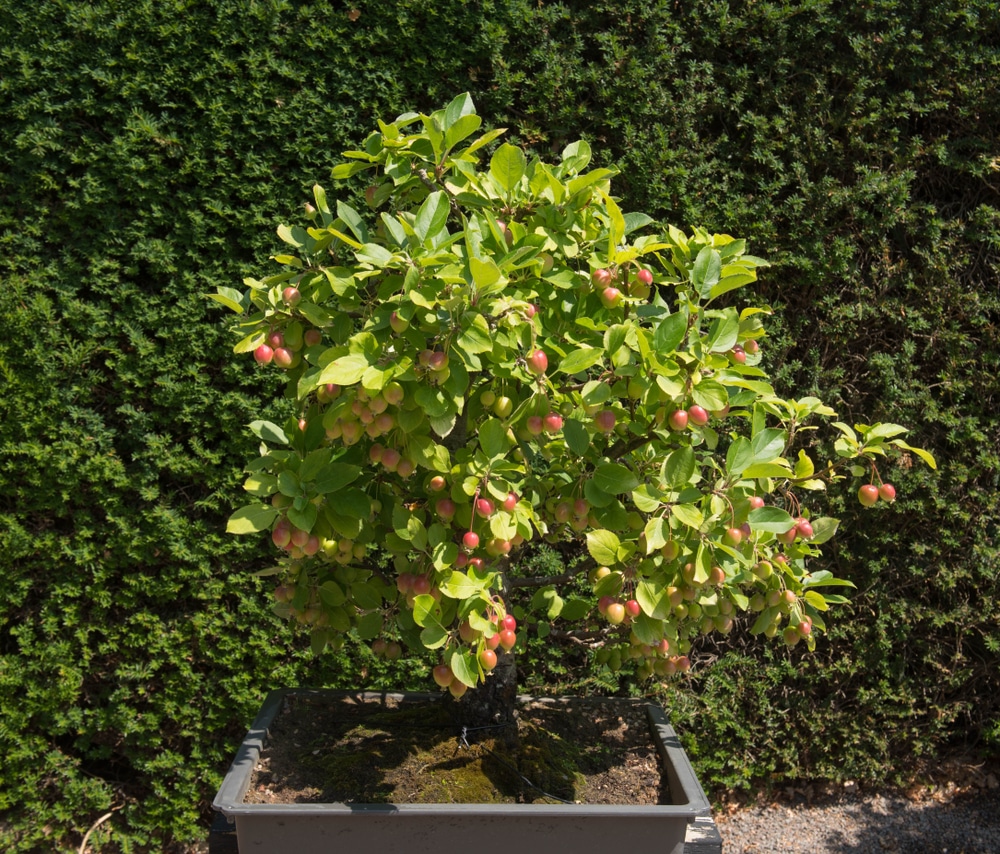 Planting a tree in your garden and watching it grow can be an incredibly rewarding experience – not to mention it will help purify your air, provide a home for wildlife, and offer shade in the summer.
You can purchase a sapling from a garden centre for a small cost. Some good types of native trees to grow in the UK include Ash, Hazel, Hawthorn and Silver Birch. For smaller gardens, there are varieties suited to container growth, such as the Malus sylvestris (crab apple bonsai tree) pictured.
15. Create a ladder garden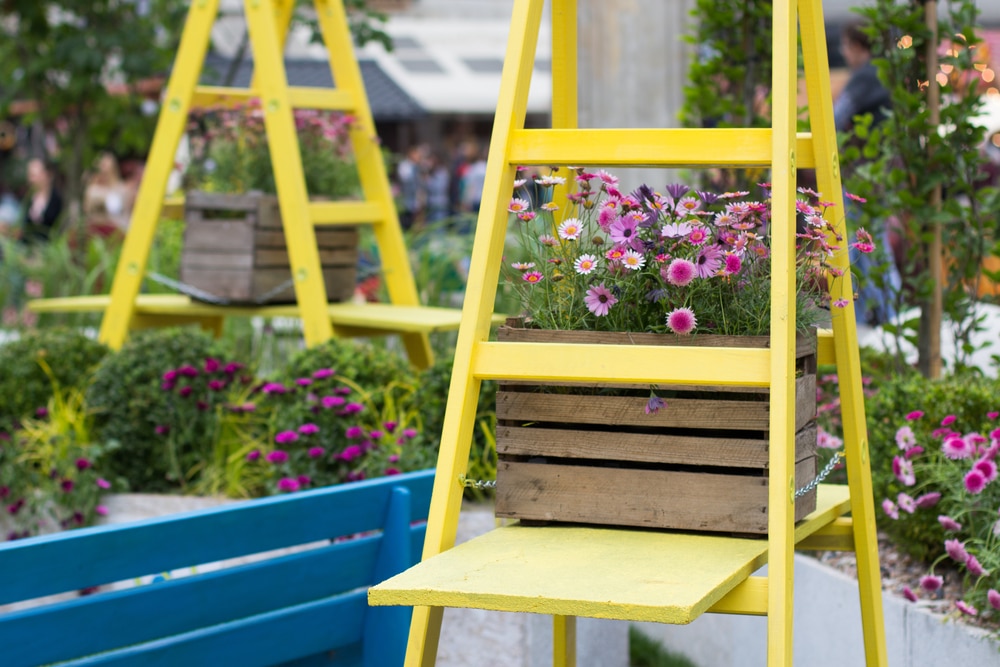 A step ladder can make a unique and stylish plant stand and add a focal point to your garden. If you haven't got an unused one lying around, have a look online for people selling one in your area, or pick up a cheap one from a DIY store.
To really make your ladder an attractive feature, paint it a bright colour using weatherproof exterior paint. Place a wooden plank between the corresponding rungs to create a shelf and add a plant pot or container filled with trailing flowers.
16. Make tyre planters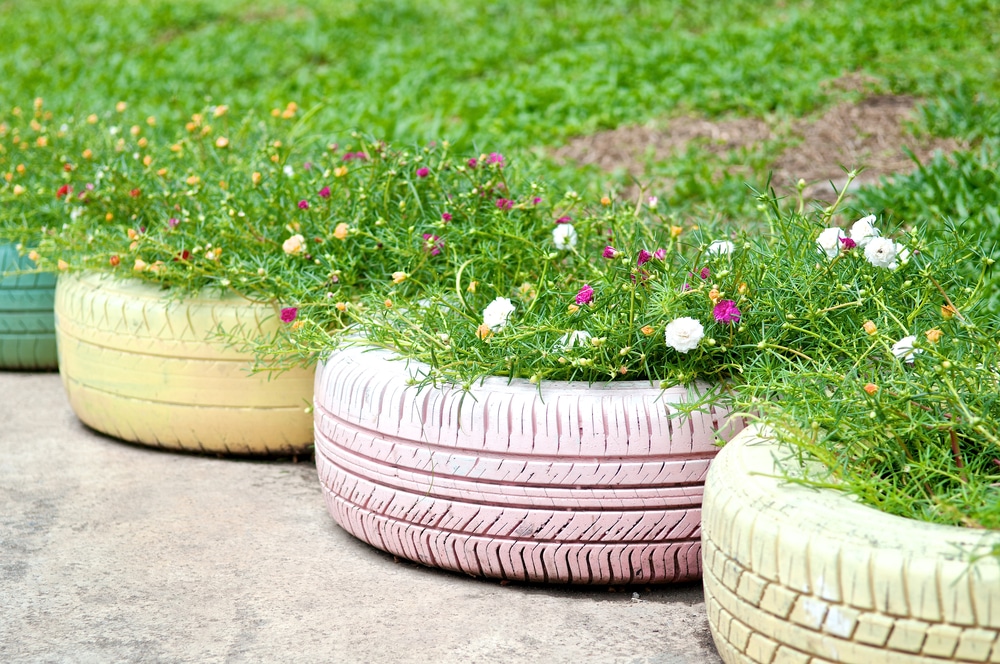 Used tyres are another widely available and cheap (or free) resource that can be recycled into funky garden planters. Try spray painting them in bright or pastel colours, for a stylish look. Fill the centre with potting soil and plant your favourite shrub or flowering plant.
FAQs
How do I change my garden on a budget?
There are lots of ways to change your garden on a budget. Here are some of our top tips:
Repaint old furniture with weatherproof exterior paint and use it outside.
Make your own plant pots from recycled plastic bottles or tin cans.
Source free or cheap wood pallets, to create garden seating or plant stands.
Build your own fire pit from old bricks and paving slabs.
Look for second-hand garden furniture in charity shops, and on online marketplaces, such as eBay, Gumtree and Facebook Marketplace.
Shop around to find the best prices before purchasing plants and compost – check your local garden centre, and online.
Choose a few small accessories, such as outdoor cushions or an outdoor rug, to easily and affordably transform your space.
How do I make a small garden look bigger?
There are several things you can try to make a small garden look bigger. Firstly, as when trying to make a room in your house look bigger, less is more. Refrain from overstuffing your garden with bulky furniture that will make it feel cluttered; instead, choose items with slim frames, such as a wire or metal bistro set, to give your garden a more minimalist look.
The same goes for plants – instead of planting lots of different varieties which can make your small garden feel overgrown, choose a few statement species that will become a focal point in your garden. Planting them in containers will allow you to move the plants around, creating more space in certain areas when it is needed.
With a small garden, it's essential to plan your layout. If you can, separate the different areas of your garden – eg. entertaining space, children's play area, vegetable patch – using borders, paving or a gravel path. This will give your garden depth, and the sense of it being well-thought-out, rather than haphazardly thrown together.
In a small patio or terrace, consider adding a vertical garden, to make full use of the available space. For example, you could attach planters to your fence or exterior walls, plant climbing vines, or suspend hanging flower baskets and plant pots from fence posts or overhead beams.
How much money can you save by growing your own vegetables?
Growing your own vegetables will undoubtedly save yous money – exactly how much will depend on a number of factors, including what vegetables you're growing, cost of compost, how many seeds you plant, and how good a harvest you enjoy.
To give you an example, it is possible to buy a packet of 5 potato seeds for around £1 and expect them to yield up to 45 potatoes. The same quantity of potatoes in a supermarket can cost upwards of £10 – so there are significant savings to be made.
April Foot
April is a freelance writer who specialises in writing about home and garden design and the environment. She is an avid wildlife-enthusiast and adventure-seeker, and feels happiest when in the Great Outdoors.