There are few things more idyllic than a British cottage garden.
The idea instantly conjures up images of colourful, sprawling plants and flowers and the sweet scent of roses and blossoms being carried gently by a light afternoon breeze.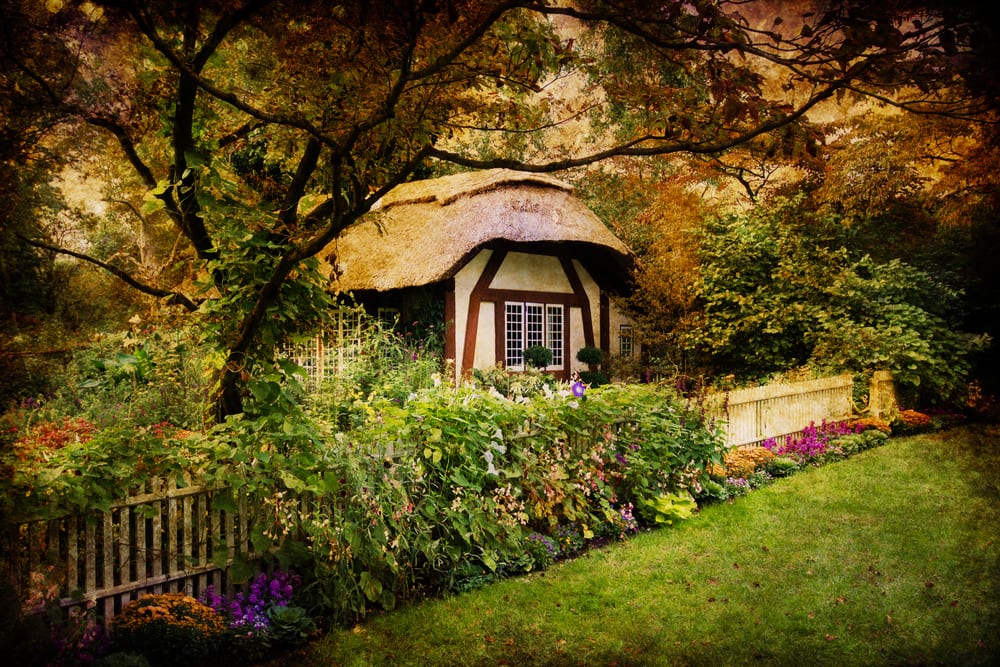 Interestingly, cottage gardens emerged in the Elizabethan period. The cottages were owned by labourers who had no particular interest in flowers. They held minimal land, and their gardens were filled with fruit and veg to provide food for their families, and with herbs to ward off illness. Flowers were generally an afterthought, planted to protect their harvest from insects.
It's thought that in the 19th century, the more wealthy members of society began to design their gardens purely for aesthetic reasons. This is when the cottage garden style that we know today began.
Despite the name, cottage gardens aren't limited to those of us who own a cottage. Even if you own the most modern of houses in the busiest of towns or cities, you can still create the cottage garden of your dreams.
What is a cottage garden?
Before we get into plants, the first thing you need to understand is what defines a cottage garden.
English in origin, a cottage garden is recognisable by its informal design, dense planting, a mix and match of ornamental and edible plants and the use of natural materials.
Cottage gardens rely on charm and romance rather than extravagance and grandeur. That said, although these gardens have no formal structure, it does not mean, if you are starting your garden from scratch, that you should do so without any pre-planning or design.
Choosing the right plants is vital, but knowing where to start can be tricky. That's why we've put together a list of the perfect plants to help you achieve the cottage garden of your dreams.
Best cottage garden plant ideas
Now that you have your heart set on a cottage garden, it's time to get to grips with the plants that you might want to include. There are hundreds of plants that will help accentuate this style, but we've drawn together our five top players to help you capture the look quickly and easily.
So let's jump right in.
Roses
Topping our list, roses are the quintessential cottage garden plants. Romantic, timeless, effortlessly beautiful and don't get us started on their gorgeous scent!
When it comes to roses, you do need to do your research. Some types are less hardy than others, and some are very challenging to care for.
In a cottage garden, you are going to have a lot going on plant wise so when it comes to roses we do recommend choosing a variety that is easier to maintain.
We recommend Knock Out roses which are known for their easy care, extended and repeated flowering season and their resistance to disease.
Like most roses, these beauties require full sun so plant them somewhere where they will receive plenty of sunlight, and they will soon begin to thrive.
Lupins
Lupins have been a firm favourite in British gardens for generations. These traditional summer bedding plants produce triumphant, flowering spears, blooming from May to July.
This striking stately plant has over six hundred varieties in varying tones of pink, purple, blue, yellow, brown, red and white and are therefore a great way to add a splash of colour to your garden.
Lupins enjoy full sun or dappled shade and moist well-drained soil and are extremely easy and rewarding to grow.
If you are keen to introduce lupins into your cottage garden then why not take a look at our article on how to grow lupins here.
Lavender
Lavender is loved for its rich and aromatic fragrance as well as its natural beauty. A cottage garden should not only be memorable because of it's visual aesthetic but also for the scents it produces, and lavender will not let you down in that department.
Easy to grow, this reliable shrub thrives in sunlight in free-draining soil or a container making it perfect for even the most modest-sized gardens.
Lavender is well known for its calming properties which help to promote wellness and reduce stress. Placing a few sprigs under your pillow can encourage peaceful slumber, and you can even add lavender to relaxing tea infusions!
What's more, bees love lavender and welcoming these vital pollinators into your cottage garden will help your plants produce more seeds and help your garden to flourish.
Wisteria
A vibrant and vigorous climbing shrub, wisteria exudes grace and charm. Driving through a village, you will undoubtedly see a cute country cottage almost entirely draped in this enchanting plant.
Wisteria can take a while to establish and may not bloom for five years or more so patience is key with this boastful beauty, but she is certainly worth the wait.
If you're not so keen to have wisteria climbing the walls of your home, then you could instead train one up a robust wooden structure such as a pergola or archway.
Wisterias benefit from good soil and full or partial sun, the vines themselves ideally need at least six hours of direct light.
If you think that the wonderful wisteria would complete your cottage garden then why not check out our wisteria growing and care guide here.
Hollyhocks
No cottage garden would be complete without Hollyhocks. With their tall spires and bell-shaped flowers, hollyhocks are certainly not humble but rather announce themselves joyously, blooming from summer to early autumn.
Although hollyhocks are short-lived perennials and tend only to thrive for a few years, they self-sow at a terrific rate so don't be surprised if you find them wandering throughout your entire garden!
Coming in a wide variety of colours and growing to up to seven feet in height, hollyhocks are perfect for the backs of borders; otherwise, they tend to upstage their fellow plants.
This old garden favourite is easy to grow and prefers a warm sunny spot that is sheltered from the wind.
An enchanted cottage garden
We hope this article has given you a solid starting point to help you jump right in and start designing the cottage garden of your dreams.
As you can imagine, there really are hundreds of plants that will fit effortlessly within this style, and there isn't one rule of thumb.
The main thing to keep in mind is keeping the style informal, don't be afraid to mix and match with both flowers and colours as this will help capture the carefree aesthetic.
Do take time to plan though, you want the flowers and plants to be bountiful, but you don't want them to overshadow each other or thwart one another's growth.
That said, a cottage garden is achievable for any garden, regardless of your ability or the limitations imposed by the size of your garden.
So get planning, get planting and before you know it you will have your very own cottage garden that will enchant both you and passersby alike for years to come.