Evergreen trees have so much to offer; they provide texture and structure, gorgeous foliage colour, as well as flowers and berries.
This type of tree can supply interest to our gardens all year round.
Sadly, not all of us are blessed with unlimited space in our gardens – especially those of us living in more urban settings – and it often feels like we're forced to miss out on the opportunity to include beautiful evergreens in our compact spaces.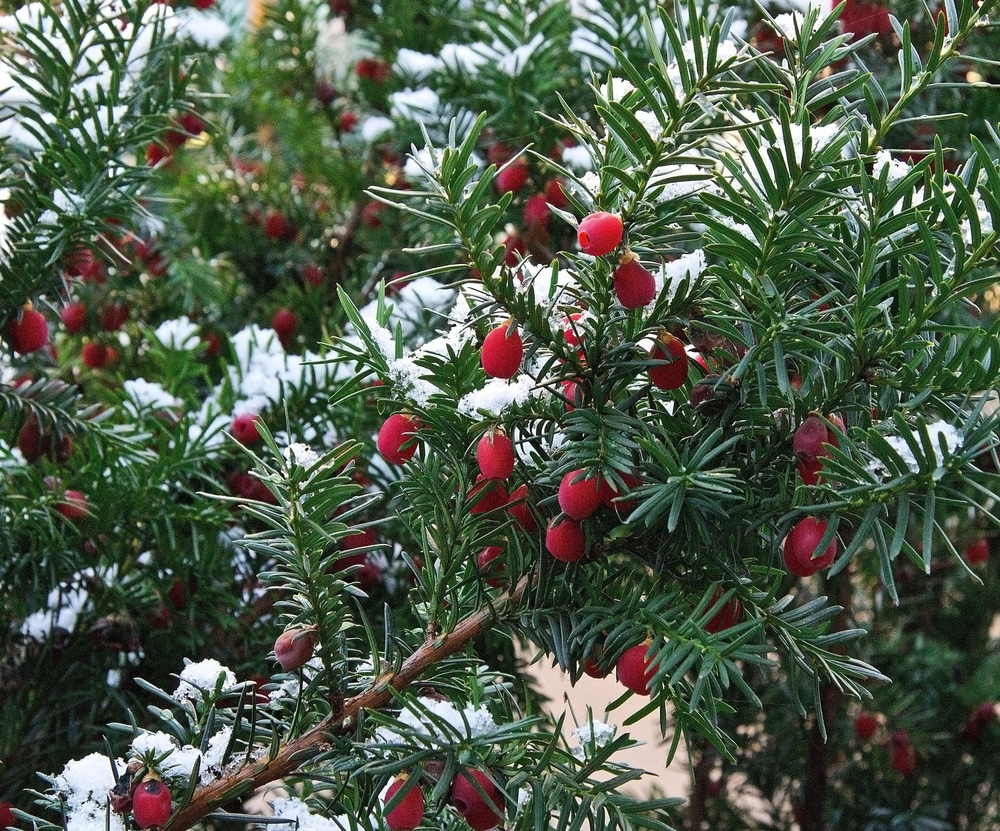 Thankfully, there are actually lots of lovely dwarf evergreen trees that will be right at home in any garden, no matter its size or style.
Why we love dwarf, evergreen trees
There are so many benefits of planting dwarf, evergreen trees far beyond their space-saving qualities. Here are our top reasons for loving these little beauties –
Dwarf evergreens are predominantly low maintenance. Thanks to their small stature, they require very little pruning, so not only do they save space, but they also save time.
With year-round foliage, they provide a safe habitat for birds and other wildlife during winter. As many dwarf evergreens also produce berries, they also provide food for your feathered friends.
Dwarf evergreens are perfect for privacy screens, especially for people with modest-sized gardens and those in urban areas. They are excellent at blocking out unsightly views without dominating your entire garden.
These little trees are easy to plant: you don't have to fight with long branches or oversized root balls, so they are quick and easy to place in your garden.
Their continuous colour keeps your garden vibrant and popping throughout the entire calendar.
Best dwarf evergreen trees for your garden
Now that we've got your heart set on dwarf, evergreen trees, you are probably wondering how on earth you are going to find the right ones for your garden.
Well, we have put together a list of our favourites to help you find exactly what you're looking for. Let's get started!
1. Dwarf Scots pine
This cute little, slow-growing evergreen has a compact, globe habit, reaching a maximum height of 3-6 metres. While it can grow up to 5 metres in width, because of its slow-growing nature, it's super easy to prune and maintain at the size of your choosing.
Being so easy to shape, this dwarf evergreen is ideal for a zen Japanese themed garden but will compliment many other formal and informal styles. With blue-green needles on cinnamon coloured branches, this is a genuinely handsome specimen. The dwarf Scots pine also provides added interest by producing clusters of sweet mini cones and red-brown flowers.
This little tree will tolerate most soils but prefers well-drained chalk, loam or sand. They are also extremely tolerant of wind, making them an excellent option for coastal regions as well as roof terraces.
2. Dwarf pencil point juniper
This uniquely shaped evergreen is dense, slow-growing and naturally columnar, and while it can reach a height of almost 2 metres, it grows no wider than just o.3 metres. And when we say "slow-growing", we mean slow-growing: this little guy can take up to 50 years to reach its full stature.
Dwarf pencil point junipers are great for adding architectural interest to your garden and can also be popped in containers to decorate patios and decking. Sporting blue-green needles, female plants may also produce blue coloured berries in autumn as well.
This slender tree loves full sun and well-drained soil. It's worth mentioning however that the foliage can cause skin irritation, so we do recommend wearing gloves when pruning.
3. Hinoki Cypress
This charming, mini, soft-needled evergreen tends to grow in a pyramidal form. It's glossy, dark green foliage grows in fan-shaped sprays, giving it an almost feathery appearance. This tree is an excellent choice if you want to add an extra layer of texture to your garden.
The hinoki cypress is another super-slow grower, also taking up to 50 years to reach its full height of 2.5 metres and a spread of 1.5 metres. Given its slow pace attitude to life, this tree is extremely low maintenance and will only require a little pruning once or twice a year at most.
This dwarf evergreen will do its best in well-drained, slightly acidic soil, although it will tolerate chalk. This sun-loving specimen can be planted in a fully exposed area, not requiring shelter to thrive.
4. Colorado spruce "hoopsii"
If you want to add a splash of vibrant colour to your garden, then the Colorado spruce is for you. This plucky little plant showcases chunky, vivid, silver-blue needles, which are particularly splendid when the tree is still young.
Growing into a dense, neat, conical shape, this evergreen is highly ornamental and was awarded the RHS Award of Garden Merit. It also produces lovely, leathery-scaled cones which appear at the end of the shoots.
When grown in well-drained, moist, acidic soil in a sheltered area, the happy "hoopsii" will reach a maximum height of 4 metres and a width of 1.5 metres.
5. Dwarf black pine
This engaging, petite pine is slow-growing and hardy with attractive, green, candle-like foliage. With its narrow growth habit, it is perfect for containers as well as small gardens.
The dwarf black pine grows just 6-10cm a year and, when mature, will reach no more than 1.2 metres in height with a spread of 1.5 metres. This small evergreen requires absolutely no pruning to maintain it's natural, round form. You need only remove dead or damaged branches as and when necessary.
This plant prefers well-drained soil and, once established, only requires occasional watering. We do recommend tying its branches up in winter if you are expecting heavy snowfall to prevent breakage and damage.
6. Upright Japanese plum yew
The upright Japanese plum yew is an attractive, broad-needled evergreen with beautiful blue-green foliage. Thanks to its slender, upright growth habit it lends an excellent and delicate texture to landscape composition.
Unlike most of the other trees on this list, this beauty will take more shade than almost any needled evergreen out there and will make a great hedge, providing excellent screening for privacy.
Maxing out at around 3 metres in height, this tree will thrive in well-drained soil and can be sheared annually to shape. It also has a high tolerance to pollution, making it a top choice for inner-city gardens.
7. Dwarf balsam fir
The dwarf balsam fir is extra eye-catching thanks to its squat stature and lush, dark green needles with white undersides. It gets the "balsam" part of its name thanks to the balsamic fragrance it exudes. Globose in shape it only reaches a maximum of around 60cm, making this a fantastic option for borders and beds as well as rockeries and containers.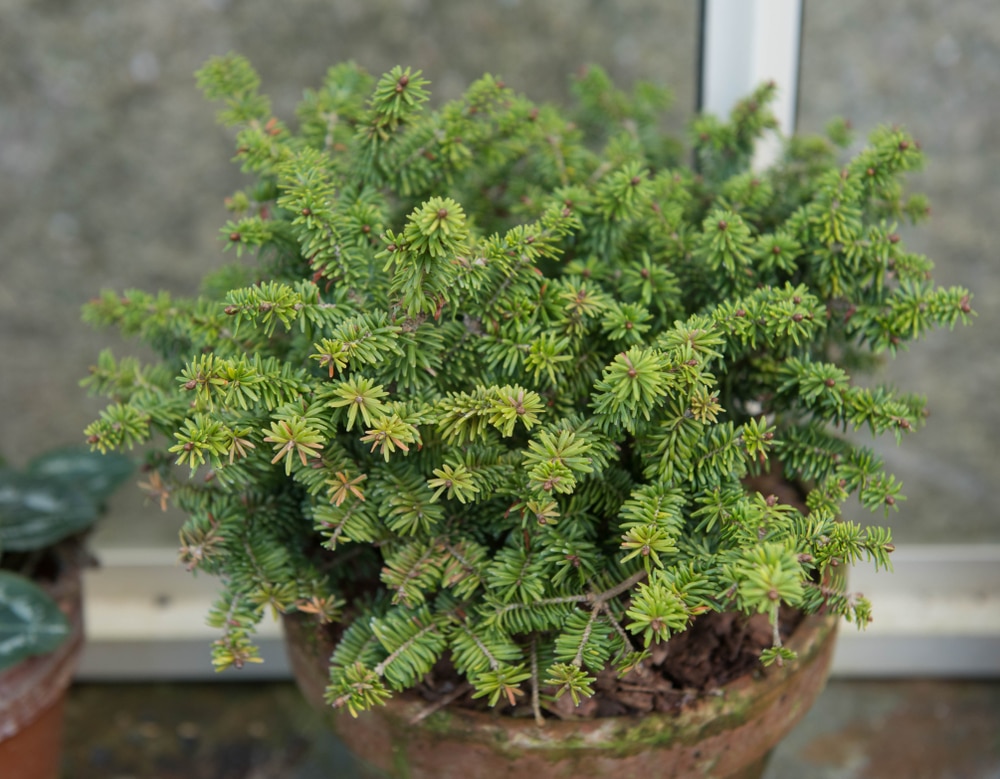 This impactful little fellow thrives in moist, well-drained soil in full sun or partial shade and is frost hardy and wind-resistant. Requiring little maintenance, aside from removing die back, the one recommendation we have is to add a layer of mulch in winter for protection if in a more exposed location.
These are superb little ornamental plants that tend to keep themselves tidy, making them perfect for gardeners with less time on their hands.
Choose dwarf evergreen trees for everlasting impact
Dwarf, evergreen trees may be small, but they can make a massive impact in any garden. Plus, with their long life span, they will keep your garden lush and green, every season, year after year.
We do recommend that you always research your chosen trees before planting, so you know exactly how much space they require and how best to maintain them. That said, most of these little plants require very little attention once planted and are quite happy to do their own thing.
Dwarf evergreens can play so many parts in your garden with their ornamental beauty, creating exciting and unusual landscape as well as providing privacy from the outside world. With so many to choose from, its easy to see how quickly you can take your garden from plain average to utterly extraordinary. So get planting those evergreens, and keep your garden everlastingly lovely.