Most of us aren't blessed with bountiful space in our gardens, nor are we always lucky to have the time we'd like to spend in them.
Choosing trees for small gardens can be a real challenge, and making the wrong choice can completely overcrowd the space and even damage the foundations of your house.
For these reasons, you may be quite wary of planting trees; by choosing the appropriate ones, however, you can give your garden much-needed structure and texture as well as providing yourself with privacy from neighbours and the outside world.
These days, especially in urban gardens, making use of vertical space as opposed to horizontal space is a great way to hack the space. It can give your garden an added dimension, and allows you the joy of growing a tree even in the most modest-sized outdoor area.
Why we love narrow trees
When you have a compact garden, you want to make the most of every inch available, and often this scares gardeners away for including trees. But, by opting for narrow trees, you can add interest to your garden year-round and enjoy delightful contrasts of colour throughout the seasons.
Many narrow trees also produce berries that will attract birds and other urban wildlife to your garden as well as flowers to attract essential pollinators.
Choosing columnal trees can truly pack a punch in your garden, bringing life and colour as well as providing a shield from bad weather for other plants in your garden.
When choosing a tree, you must do your research. You need to know how fast it grows, how tall it grows, and how wide it grows. A slow-growing tree could make a charming addition for your garden, but over time it could begin to take over the space and may require some pretty aggressive pruning or even need to be removed.
The best narrow trees for small gardens
Choosing the right tree can be tricky, so if you are struggling to decide what would work best in your garden, we have picked out some of our favourite narrow trees to help you get started.
1. Japanese Holly
This slow-growing, evergreen tree can grow to up to 8 metres in height, whilst spreading to no more than about 1.5 metres. This handsome fellow has glossy green leaves and produces small white flowers in summer, which are followed by pretty black fruits.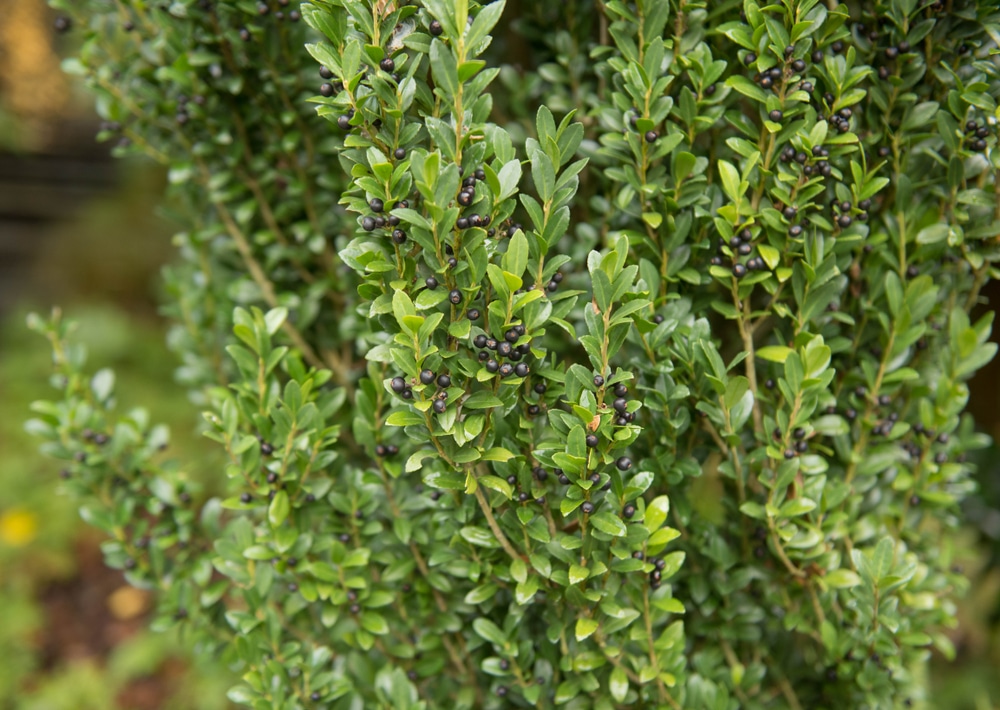 Japanese holly is easy to grow and is best suited to a sunny spot, or partial shade, in well-drained soil. These are an excellent option if you are keen to create a privacy screen or just to add shape to the edging of your garden.
Do keep in mind that it can take them between ten and twenty years to reach their ultimate height, so if you're eager to have a privacy screen quickly, this may not be the best option for you. That said, they are beautiful trees and well worth the wait.
2. Crimson Pointe
Crimson pointe is a gorgeous, purple-leaved, flowering blossom tree that is ideal for a smaller garden. Growing in a robust and columnar shape, it also produces dainty, fragrant, pink-white flowers in spring and, if you are lucky, may also reward you with a small crop of plums.
This deciduous tree has dense foliage and grows to around 6 metres in height, making it another superb option for a privacy screen. Crimson pointe trees are easy to grow and very cold-hardy. They prefer a spot in full sun and well-drained soil.
These trees are very low maintenance and will usually only require light pruning. They are also fast-growing, reaching their full height within ten years.
3. Prunus "Amanogawa"
Another narrow cherry tree worth considering is the amanogawa. This gorgeous, slender, Japanese variety is perfect if you want to add a splash of colour to your compact garden.
Amanogawa is a small, deciduous tree and, while it's foliage is not as dense as the crimson pointe trees, it does produce showy, pale pink blossoms in late spring. Then, come autumn, the leaves turn to dazzling shades of orange and red, providing your garden with year-round interest.
These trees can reach up to around 8 metres in height, although it can take them between twenty to fifty years to do so. Plant in full sun with moderately fertile soil.
4. Carpinus Betulus
Hornbeams are generally narrow growing trees anyway, but carpinus betulus is really on the money where slender trees are concerned. These slow growers can reach heights of about eight metres, although that can take all of fifty years or more to achieve!
Carpinus betulus is perfect for adding architectural interest to your garden. Plant in full sun or partial shade, in fertile, well-drained soil for best results. They require little to no pruning, but if you do want to prune then do so in early spring or late winter.
With attractive green foliage that turns into a lovely shade of yellow in autumn, and also producing clusters of hop-like fruit in late summer, this tree is the gift that keeps on giving.
5. Crimson Spire Oak
This stunning oak is very unique in that it grows up to fifteen metres in height but remains narrow (for an oak), spreading to a maximum of four metres. With its slim, columnar habit of growth and it's dark green foliage that changes to a stunning red in autumn, this tree is a bit of a showstopper.
Though crimson spire oak will tolerate both dry and moist soil, it really must be grown in full sunlight. It also tolerates urban pollution well, making it a perfect addition to an inner-city garden.
Crimson spire oaks also provide an excellent habitat for beneficial garden insects as well as for the songbirds that like to eat them, bringing life into your little garden. With the right conditions, this thin but mighty oak can live for one hundred years or more.
6. Topiary Bay Tree
Topiary bay trees are perfect for patio containers and can be cut or trained into many different shapes, such as lollipops, pyramids and balls. Bay can become very large if kept untrimmed, so this tree does require a little more care than some of the other trees on this list. That said, bay trees are slow-growing, so you have lots of time to train them into the shape of your choosing.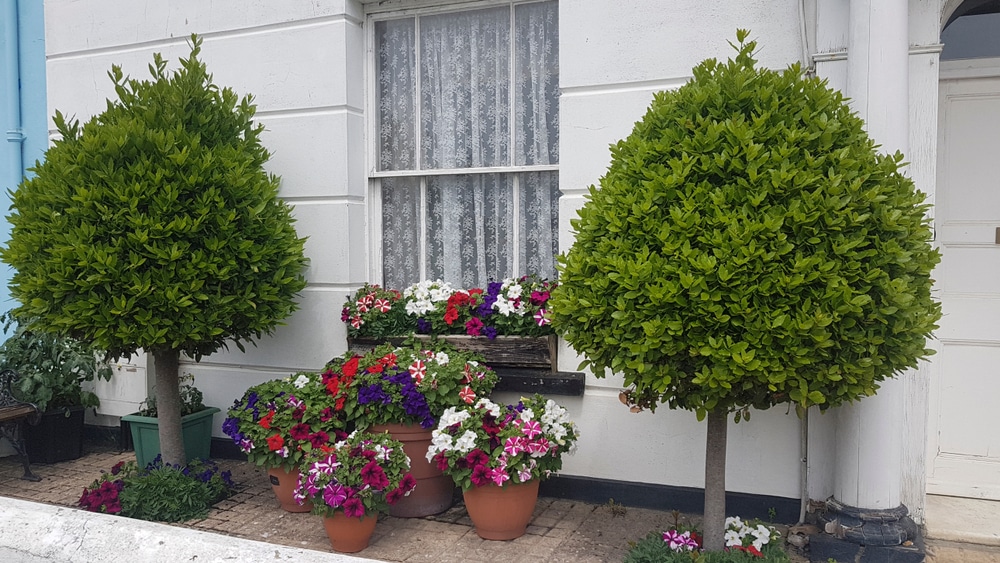 Topiary bay trees have attractive foliage and produce sweet-fragranced yellow flowers in spring. It is worth noting, however, that frequent pruning will reduce the number of flowers they produce. The leaves can also be used in cooking, offering a fragrant flavour to soups, curries, and many other dishes.
Topiary bay trees should be grown in full sun or partial shade, in well-drained soil and can be grown either in containers or just in the ground. Growing in containers will make it easier to limit their size, making them a lot easier to manage.
7. Japanese "Silhouette" Maple
A wonderfully versatile, narrow tree, the Japanese "silhouette" maple can be used to create a gorgeous, ornamental hedge or as a centrepiece for your garden.
Sporting handsome, lime-green foliage in spring and vibrant red foliage in autumn this is another tree that can add a lovely aesthetic to your garden all year round. Japanese "silhouette" maple trees take around ten to twenty years to reach their full height of up to 6 metres but have a slender spread of only 1.5 metres.
Best grown in moist, well-drained, acidic or neutral soil, these maples will tolerate full sun but will do best in partial shade. Ideally, they should be in a sheltered spot as they can fall victim to leaf scorch if they are exposed to excessive frost, wind and sun when the leaves are young.
Be a little narrow-minded
Hopefully, this article has inspired you and shown that by being a little narrow-minded and choosing some narrow trees for your garden, you can breathe new life into your small space.
Make sure you always do your research before planting to ensure you have space for both the spread and height of your trees. This will help you avoid having to do extreme pruning or, worse yet, organise a tree removal further down the line.
As you can see, there is an abundance of narrow trees to choose from, so you will be sure to find the perfect one for your compact garden.