Shrubs and bushes provide a simple framework for gardens, adding shape, texture and structure.
By choosing flowering varieties, you can create year-round visual interest.
Small flowering shrubs and bushes are generally easy to care for and maintain, and also provide excellent ground cover. With so many varieties to choose from, it's easy to find options for a wide range of sites and soil that will suit the style and size of your garden.
When it comes to choosing small flowering shrubs and bushes for your garden, it can be tricky to know where to start. That's why we have put together a list of our favourites to help you get started.
Why choose small flowering shrubs?
Small flowering shrubs and bushes will make themselves at home in any garden, but they're particularly helpful for suburban houses with more modest-sized gardens.
Larger shrubs and bushes can quickly dominate a garden, leaving it looking messy, untidy and overgrown. By selecting smaller varieties, you can stay on top of the design of your garden without spending all your time battling to cut back their larger contenders.
There are many benefits to opting for small flowering shrubs and bushes, with little effort you can fill your garden with gorgeous blooms. They are also, in general, much easier to plant than there bigger relatives and will quickly reward you with lush greens and joyous splashes of colour.
The top small flowering shrubs and bushes for your garden
We have selected an excellent variety of small flowering shrubs and bushes that will help provide colour, attract much-needed pollinators, and take your garden to the next level.
So let's get started!
1. Butterfly bush
A firm favourite among gardeners and butterflies alike, butterfly bush is a fabulous addition to any garden.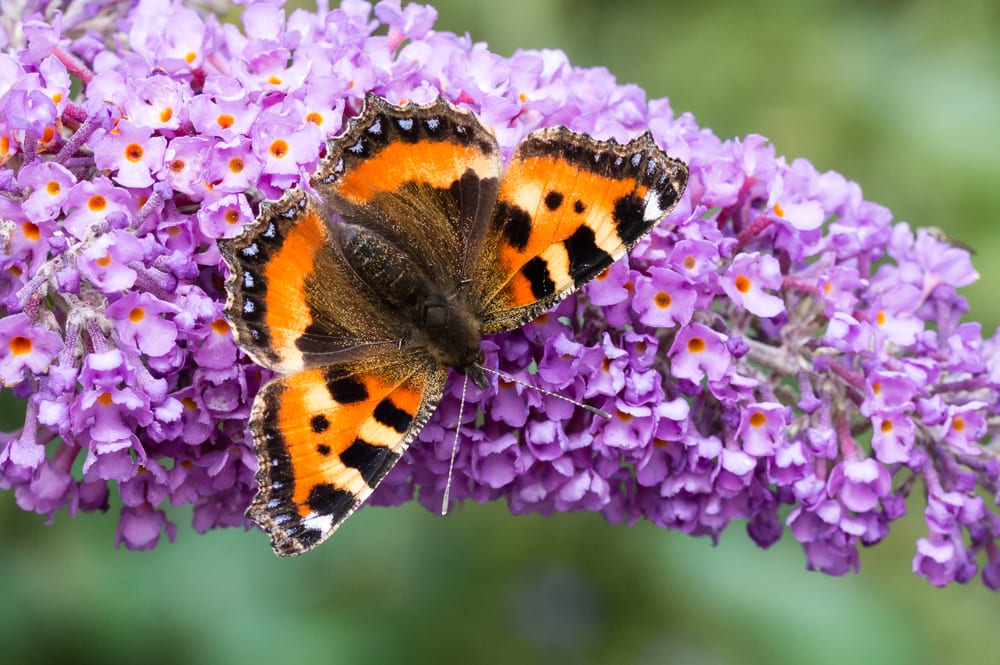 Also known as buddleja, this fast-growing, deciduous shrub produces masses of long-spiked trusses that bloom from summer to autumn.
There are now new dwarf varieties that ensure that this plucky plant won't take over your entire garden. These come in a range of exciting colours, although butterflies seem to be more attracted to the mauve blooms.
Butterfly bushes require full sun and fertile, well-drained soil. Plant in spring or autumn, before frost, and water thoroughly. There is no need to fertilise: While this can promote leaf growth, it will stunt flower production.
Even in their first-year butterfly bushes bloom abundantly, making them an extremely rewarding little plant to grow.
2. Rhododendron
This evergreen show-stopper sports shiny, deep green leaves that help to showcase its blooms, which come in gorgeous shades purple, pink, yellow and pure white.
You'll want to choose a shade-dappled spot that is well sheltered and avoid areas of deep shade below trees. Rhododendrons enjoy moist but well-drained soil that is rich with organic matter.
The small varieties work brilliantly in rock gardens as well as being perfect for containers in a nice shady patio area.
Plant in October or from March to April and, where possible, use rainwater rather than tap water when watering. Tap water can often be too hard and contains high levels of calcium, which can reduce the acidity around their roots.
3. Flare Hydrangea
Add a little flair to your garden with flare hydrangeas. This compact cutie quits growing when it reaches around three feet in height.
This variety of hydrangea is quite the show-off and works fabulously in the middle of a border, as well as being ideal for a decorative patio container.
Choose a spot in full sun or where it will get at least four to six hours of sunshine per day. Their white blooms age into the brightest pink-red you could find in any garden, making them one of most glamorous small flowering shrubs on the market.
Splendidly low maintenance, this shrub requires no pruning. All you need to do is sit back, relax, and admire them.
4. Checkerberry
Gaultheria procumbens, to give it its full name, is a lovely little evergreen with simple, leathery, and dainty, bell-shaped pink or white flowers. After their blooming period, they also produce longlasting berries in a range of colours.
This dwarf shrub maxes out at about 15cm in height and, with its leaves turning a reddish hue in winter, it truly makes it a great year-round shrub.
Checkerberry plants prefer moist soils in partial or full shade. They are perfect for garden beds, banks and slopes, rock gardens and patios, making them a very versatile option that will look right at home in both formal and informal gardens.
5. Flax Lily 'Duet'
This evergreen perennial grows into a clump of leathery, strap-shaped green leaves with creamy white margins, reaching a height of up to 30cm. In summer it produces tall panicles of small, yellow, tubular flowers.
Flax lily is best suited to fertile, moist, well-drained soil and will enjoy a spot in full sun. If planted in an area prone to frost then be sure to provide a deep layer of dry mulch over the winter months.
This plant is excellent for adding texture to your garden and is a perfect addition to flower borders and beds. A superb low maintenance option, it only requires a little deadheading in autumn and is easy to propagate by division in spring.
6. Bearberry Cotoneaster
This mini-masterpiece can be deciduous or evergreen and wears a simple yet striking attire of deep green leaves and clusters of small pink or white flowers that bloom in early summer. After flowering, it dons delightfully showy red, black or purple berries that make this little plant punch way above its weight.
Growing only up to a height of around 20cm, bearberry cotoneaster does its best in well-drained, reasonably dry conditions and prefers full sun or partial shade.
This bush is drought resistant and is ideal to use for groundcover of banks and slopes. Aphids do take a bit of a liking to it so be vigilant and treat accordingly.
7. Green Carpet
This Japanese spurge known as 'green carpet' is a mat-forming evergreen with creeping stems and coarse-toothed, leathery clusters of leaves. Growing no more than 20cm in height it produces cute little white flowers in summer.
This robust little plant grows well in nearly all soils in full or partial shade, and is another drought-resistant option.
Green carpet is great for ground covering under larger shrubs as well as roses and is another small flowering shrub that works well on banks and slopes.
8. Munstead Lavender
No list would be complete without luscious lavender. If planted in the garden, it does have a habit of spreading quite far, but in a container, it's the perfect small flowering shrub for a patio or on a front porch.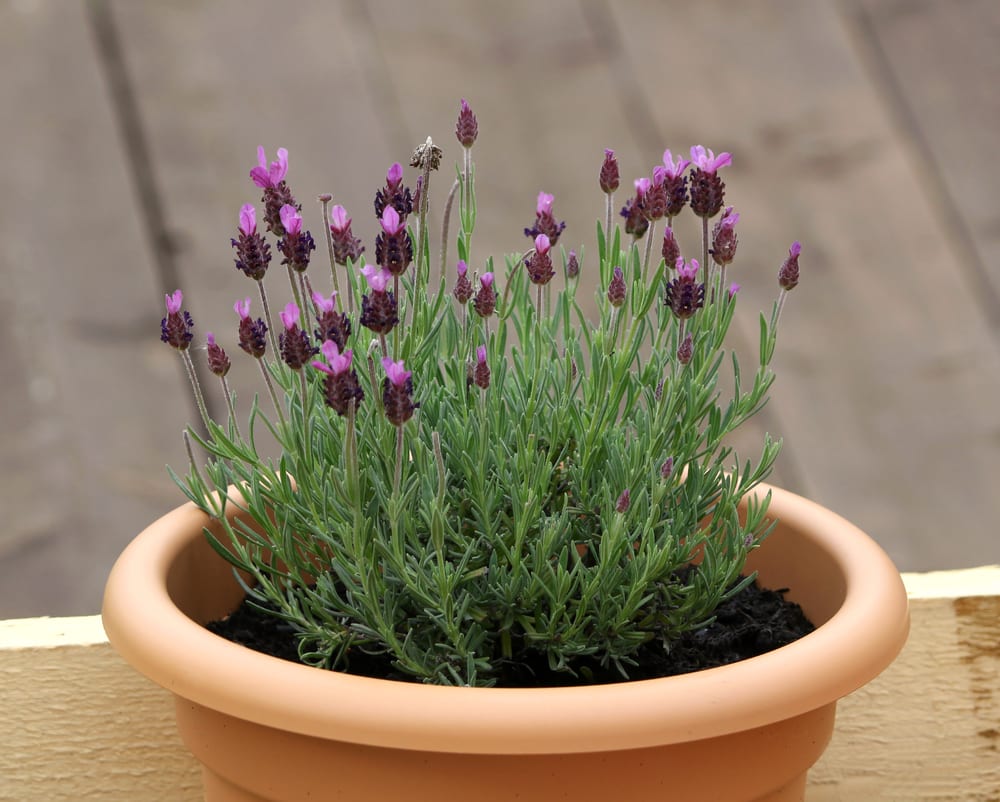 Munstead lavender is a small variety growing no taller than 45cm, with narrow, greyish green foliage and producing purple-blue flowers in mid to late summer.
Gorgeously aromatic and loved by basically all pollinators, lavender is supremely easy to grow and care for and is a firm favourite in all English gardens.
We recommend planting in well-drained, neutral to alkaline soil and adding potash to encourage flowering.
Once established, munstead lavender is the gift that keeps on giving. It's easy to propagate by taking cuttings in summer, too, so you can always share the love with friends and family.
Think small but mighty!
By now you should be brimming with inspiration about all the best small flowering shrubs and bushes for your garden.
With so many to choose from, it's easy to see how quickly you will be able to fill your garden with beautiful little plants with attractive blooms and luscious leaves.
Remember to take time to research the needs of each of your chosen shrubs and bushes to make sure you are giving them the best start in life. Do so, and they will reward you with a colourful and visually interesting throughout the year.
Whether you are limited on space or just want to create a more diverse look for your garden, it's clear to see that though these flowering shrubs and bushes are small, they are indeed mighty.
We wish you the best of luck with your small flowering shrubs and bushes!