Hedges are extremely popular in the UK and can be seen in countless gardens across the country. They come with many benefits, such as improving security, attracting wildlife and beautifying your property.
In this guide, we'll be looking at the different types of hedges available as well as providing you with hedge care & trimming guidelines and some great hedge ideas for your garden.
If you're worried that you don't have the expertise to create your own hedge, then don't be. Thanks to modern techniques and equipment, laying a hedge in your garden is a DIY project that you should be able to accomplish in a very reasonable amount of time, depending on the size of your garden.
By adding a hedge, or multiple hedges to your garden you can help to attract wildlife while also creating a uniquely beautiful appearance that's easy to maintain and will last for years.
This guide will cover:
Types of hedges (hedges with thorns and hedges with flowers)
The best types of hedges for gardens
The best hedge types for shade
Hedge care & trimming guidelines
Hedge ideas for your garden
Types of Hedges
Although there are certain hedge species that are more popular than others, there are actually a good number of hedge plants that each have their own unique properties.
Below we'll take a look at some of the different types of hedges out there, starting with hedges with thorns…
Hedges With Thorns
Hedge species that have thorns are very popular since they not only look great, but they also provide added protection to a property.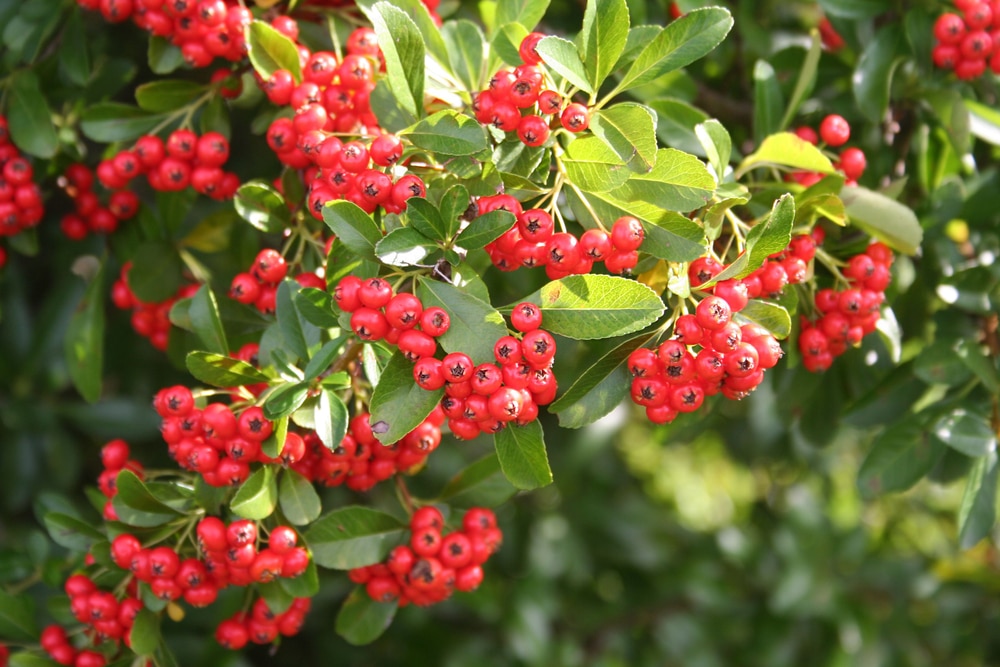 Some of the most popular hedges with thorns are –
Hawthorn
Hawthorn is a very popular hedging plant native to the UK. In spring it produces white, scented flowers that last though to the autumn when they are replaced by haws and the foliage drops to reveal the thorns.
Firethorn
Firethorn is another very popular hedging plant. Its prickly branches make it ideal as an intruder deterrent, but it also looks great thanks to the year-round foliage and the mix of red, yellow and orange berries that will help to attract birds to your garden.
Holly  
Although holly is often associated with Christmas, it makes for an excellent hedging plant throughout the year. Holly is an obvious choice for deterring intruders since its prickly leaves are immediately apparent. That's not the only thing that makes it an excellent choice of hedge though.
Its glossy leaves provide a unique look, it's attractive to wildlife and you can plant it pretty much anywhere and it will thrive.
Hedges With Flowers
If you want to add some colour to a hedge, then there are some fantastic hedge species with flowers that enable you to do this. These include –
Pink Ramanus Rose Hedging
During the summer, this thorny hedge plant produces striking rose-coloured flowers that become large rose hips during the autumn, making it a striking plant throughout the year.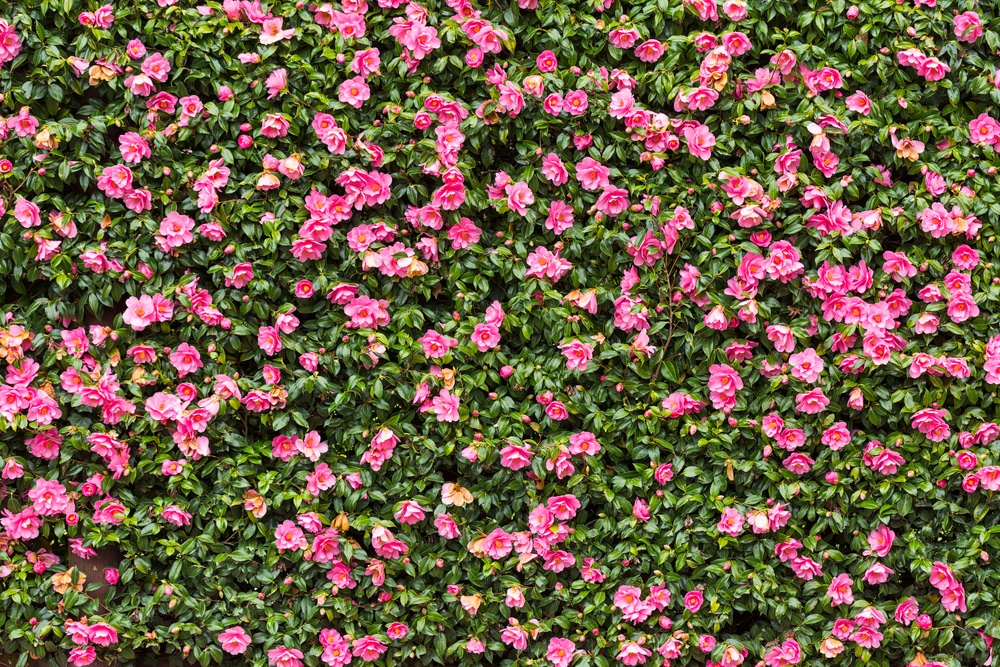 It grows at a rate of 20-40cm per year and can prosper in most conditions, whether in sun or shade.
If you prefer (depending on your colour preference) you can also get white Ramanus rose hedging.
English Lavender
Lavender is a very popular selling hedge species and is ideal for low hedging and creating pathways. The foliage of lavender is evergreen, and its distinctive purple flowers are most vibrant during the late spring/early summer.
Star Jasmine
Star Jasmine is another very popular plant used for hedging in the UK. It's extremely versatile and grows year-round making it an ideal choice for a hedging plant. During the summer, it blossoms small star-shaped flowers that have a very distinctive fragrance. It can grow up to 60cm tall and grows very quickly once established.
It would be ideal for bordering a lawn or as part of a feature in a garden.
What Are The Best Hedges For Gardens?
The most common reasons that people have for adding a hedge to their garden include privacy, attracting wildlife and creating an aesthetically pleasing landscape. There are some great hedge species that allow you to accomplish all of these things.
One of the main things you need to decide on when choosing a hedge for your garden is whether you want it to be deciduous or evergreen…
Deciduous or Evergreen?
As the name would suggest, evergreen hedges grow all year round, which makes them excellent if your primary reason for having them is privacy. Because they grow year-round, evergreen hedges do require more maintenance and you'll need to trim them at least once a year, ideally twice.
Deciduous hedges are also a great choice for hedging but because they lose their leaves during the autumn/winter, they're not ideal if privacy is your main concern.
A big advantage of a deciduous hedge over an evergreen is that they allow wind to filter through much more easily. Anyone who's lived in the UK for a while knows that high winds are not uncommon during the winter and can cause a lot of damage so having a hedge that can better withstand this is certainly a big bonus.
Deciduous hedges also require less pruning and can be renovated more easily if they're neglected for a while.
A couple of great evergreen species for your garden are –
Conifers
Conifers are a staple of gardens throughout the UK and come in a variety of sizes and shapes, making them ideal for use in multiple settings. You can get dwarf conifers as potted plants as well as many other species that can be used for hedging, architectural features and ground cover.
Portugal Laurel
Portugal Laurel is another popular evergreen choice of hedging. It has small white flowers during summer which give way to small fruits in autumn. It also has good foliage colour throughout the year.
Great choices for deciduous hedge plants include –
Field Maple
A compact and dense hedge species – Field Maple provides excellent coverage when planted close together. It also looks particularly impressive during the autumn as its distinctive leaves turn into beautiful shades of red and yellow.
Purple Beech
With its impressive deep purple leaves, Purple Beech is an excellent choice of hedging plant if you want to achieve a distinctive look for your garden.
What Are The Best Hedge Types For Shade?
If you want to plant hedges in a shaded area of your garden, then you might be worried that you'll be limited for choice. The good news is that this simply isn't the case.
There are many species of hedge plants that thrive in the shade. These include –
Cherry Laurel
Cherry Laurel is a superb choice of hedging plant for a shaded area. It has striking polished leaves that create excellent coverage and can be planted in either sun or shade – thriving under either condition.
Box
The box hedge plant is perfect for use in shaded areas and the fact that it's slow-growing (up to 10cm) per year makes it a low maintenance option while still looking good.
Viburnum Tinus
If you're looking for a hedging shrub that does well in the shade, then this is one of the very best. It looks great throughout the year and even sprouts an array of white flowers during winter. It also attracts an array of birds thanks to its coloured berries.
Dogwood
If you want an unusual look for your garden, then Dogwood hedging is a great choice. Its incredibly distinctive orange stems stand out in any setting and the fact that it grows very well in shade makes it ideal for gardens with little sunlight.
Hedge Care & Trimming Guidelines
Although hedges aren't particularly difficult to take care of, you'll still need to carry out proper maintenance if you want yours to thrive.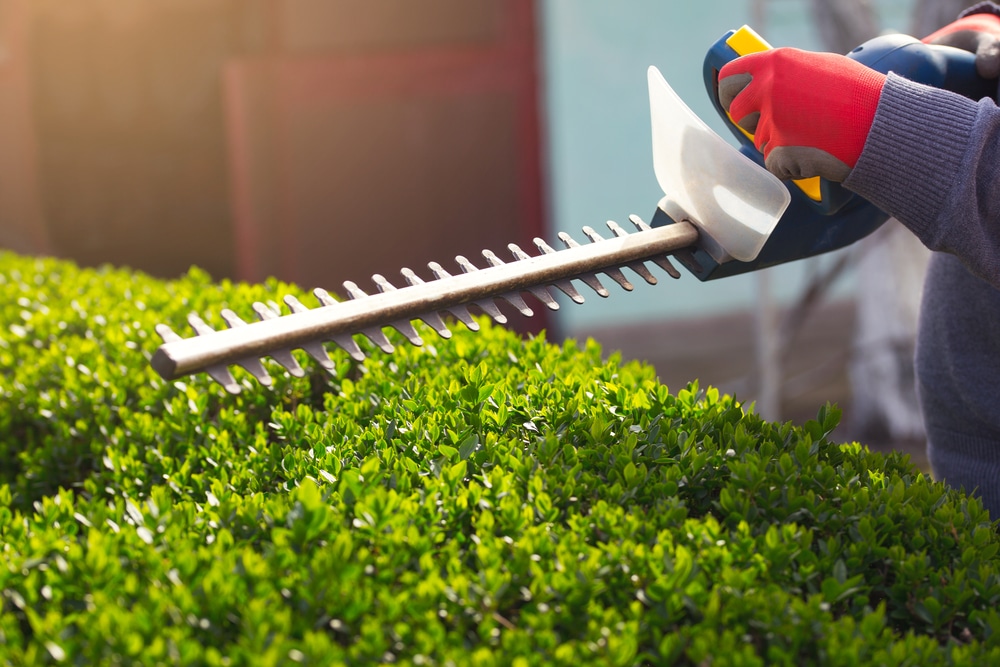 The main types of maintenance required with these plants are pruning and trimming. Let's start with pruning:
Pruning
The amount of pruning required for your hedge will depend on a few things. Firstly, how old it is. Newly planted hedges will require more pruning in the first couple of years compared to more established hedges.
Other factors that affect how much pruning will be required is the plant choice and growing conditions. Some hedge species grow all year round and when you factor in things like the amount of sunlight or rain that the soil gets, this will determine how fast it grows.
Hedges are sometimes referred to as either formal or informal. This basically just refers to how tightly clipped there, with formal hedges being more closely pruned and informal hedges allowed to grow more naturally.
The truth is that a lot of hedges, particularly those found in gardens, are somewhere in between the two. You want to keep your plants looking good of course, but it's usually necessary to prune them constantly to achieve this. Providing you prevent them from becoming overgrown, most hedge plants will still look good with moderate pruning.
Some good pruning tips are –
Think about what the natural shape of the plant is and only cut back where necessary
Prune methodically and constantly take a step back so you can check you're happy with the overall look as you go
Trimming
Trimming is incredibly important for hedge owners. In order to keep your hedges looking their best, you should trim them at least once a year – spring/summer usually being the best time.
Although you can use traditional garden shears for smaller hedges, if you have a large hedgerow then it's usually better to use an electrical or petrol-powered hedge trimmer.
When using an electrical hedge trimmer, it's extremely important to make safety a priority. Although modern hedge trimmers are designed to be as safe as possible you still need to take great care when using one.
In addition to wearing thick safety gloves, you should also have protective eyewear to protect you from the debris as you're cutting. Always make sure you keep your eyes on the trimmer at all times and never bring it towards your body: it's very easy to get a finger caught in the blades if you do this.
Some useful things to bear in mind when trimming include –
Ensure you carry out any shaping that's required while the hedges are still small
Make sure the shears or trimmer you're using are held parallel to the hedge to ensure a straight cut
It may be necessary to sheer new hedges after a burst of growth to allow them to flourish
Hedge Ideas
There are plenty of gardens in the UK that make incredibly creative use of hedges. This includes countless ways you can make use of hedges to help improve the look of your garden – adding colour and drawing attention to particular parts of it.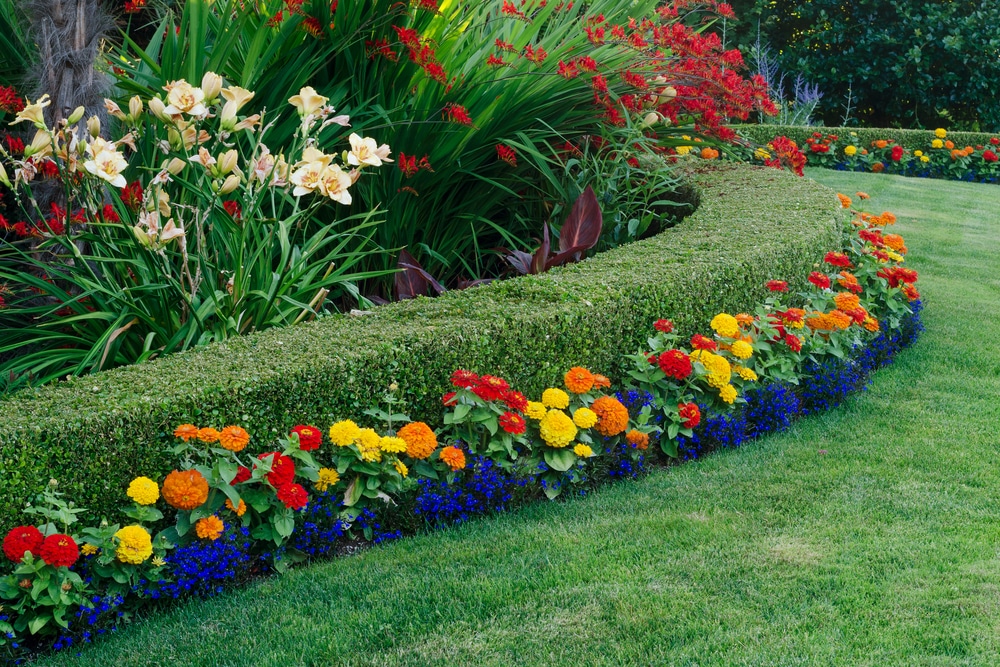 Here are some of the best hedge ideas for your garden:
Traditional flower hedges
By making use of flowering shrubs you can easily create some incredible displays in your garden that look great and are easy to maintain.
Vibrant hedgerows
If you have a larger garden, then a great way to make use of that extra space is by creating vibrantly colourful hedgerows. Hedgerows like this look particularly good when they're snaking. You can have them grouped together and overlapping to create an incredibly distinctive look for your garden.
Hedged circles
Hedged garden circles are a great way to add colour to your garden whilst also cutting down on the maintenance of your lawn by reducing its size. You can add hedged circles anywhere in your garden, but they usually work best when clustered together near the edges of the lawn near other large trees and bushes.
Hedged perimeter
Although it's not suitable for all garden types, a hedged perimeter can be a great way to add more privacy and shade to your garden while also making it look better. Hedge perimeters work well for rectangular shaped gardens and outdoor sitting areas where you'd like to have some privacy during the summer.