A vertical garden refers to a popular garden configuration which makes best use of the available space, by positioning plants, hanging pots and containers vertically, along a wall or free-standing structure.
This type of garden is a great alternative to a traditional horizontal garden for those lacking in space and can be the perfect solution for patios, balconies and urban terraces.
It also makes a fabulous way to cover an unsightly wall or fence and bring more greenery into any garden.
A study by researchers at Cairo University even found that growing vertical gardens in homes helped to have a restorative effect on gardeners, improving their overall quality of life. [source]
You can grow many of the same vegetables, herbs, flowers and ornamental plants in a vertical garden that you can in a regular garden – just make sure your chosen plants are small enough not to outgrow the space and are suited to container growth.
If a vertical garden sounds like the perfect solution for you, take a look at this collection of 18 of the most ingenious vertical garden ideas, to inspire you to fill your small garden space with plants, from the ground up.
1) Re-use plastic bottles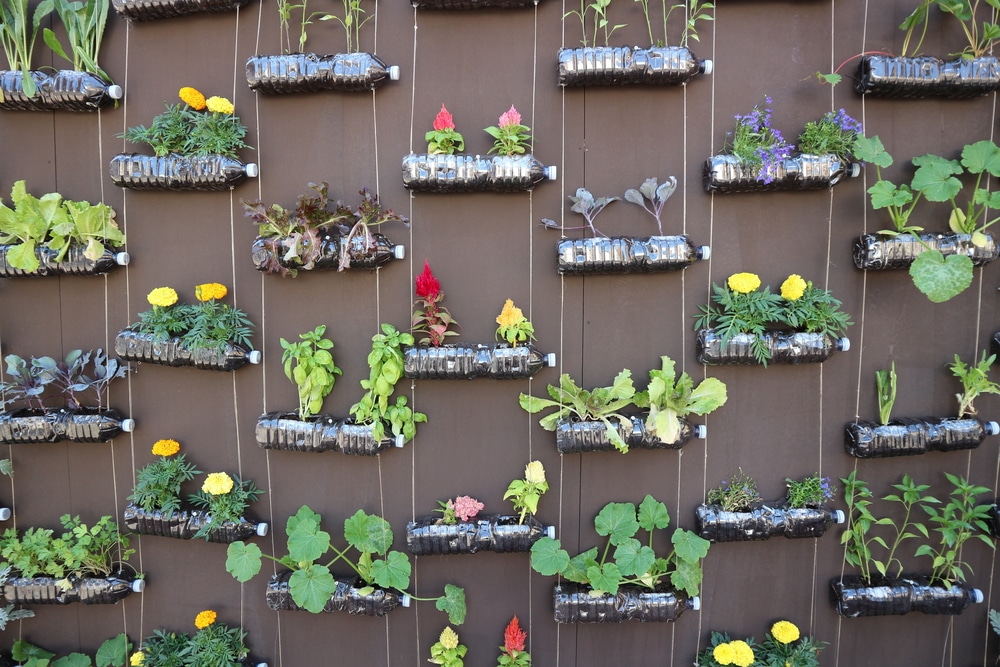 This eco-friendly vertical garden idea is a great way to re-cycle plastic bottles (just don't buy them especially for this purpose!)
To plant in a plastic bottle, you'll need to cut a section out of the side, where the plants will go.
Make two holes either side of this cut-out section, and pass lengths of garden twine through, tying large knots at the ends inside the bottle to stop them.
Make several small holes in the other side of the bottle for drainage.
With the bottle on its side, line the base with gravel, and then fill with your chosen soil or compost. Sow your seeds or re-pot seedlings into the soil.
Hang your bottles by the strings from any secure points – for example, from fence posts or nails in a wall.
You can also create a set up like the one shown, with multiple bottles tied periodically along the same lengths of twine.
2) Re-cycle wooden pallets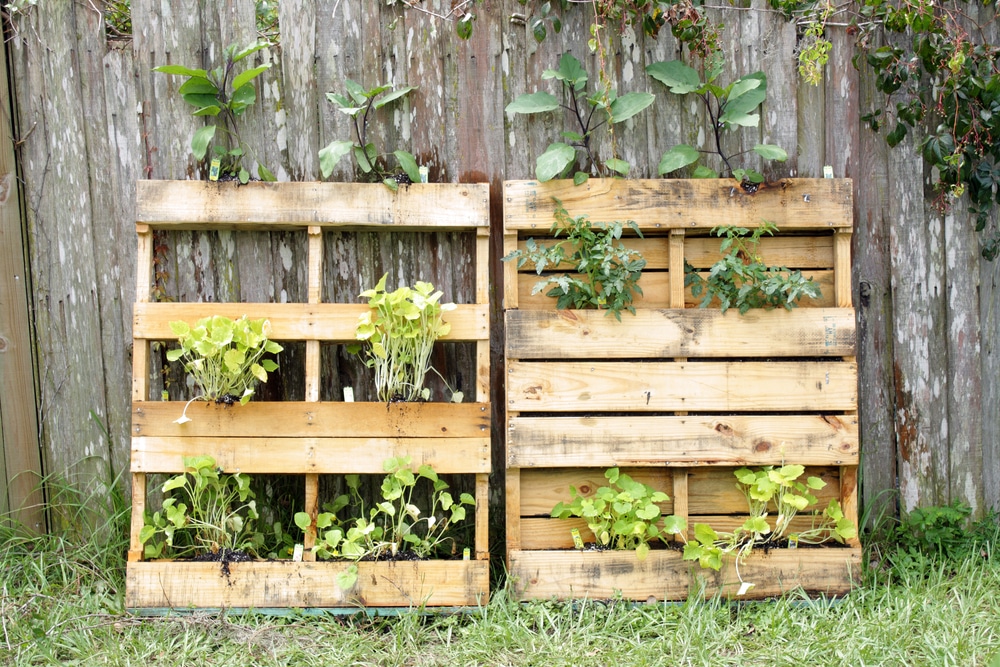 Wooden pallets, such as those used for deliveries, are one of the easiest and most effective bases for a vertical garden.
You can often source them for free, or very cheap, from local shops or businesses.
Alternatively, find some for sale locally on eBay or Gumtree.
Leaned up against a wall or fence, pallets can be an excellent option for renters, and others who don't want to start drilling holes into their exterior walls (although you may prefer to fix your pallet to something to secure it).
Fill your pallet with potted plants, or suspend hanger planters from the planks.
Leave the wood untreated for a natural look, use a dark stain for a more rustic feel, or cover with exterior paint to add colour to your garden.
3) Give it some welly!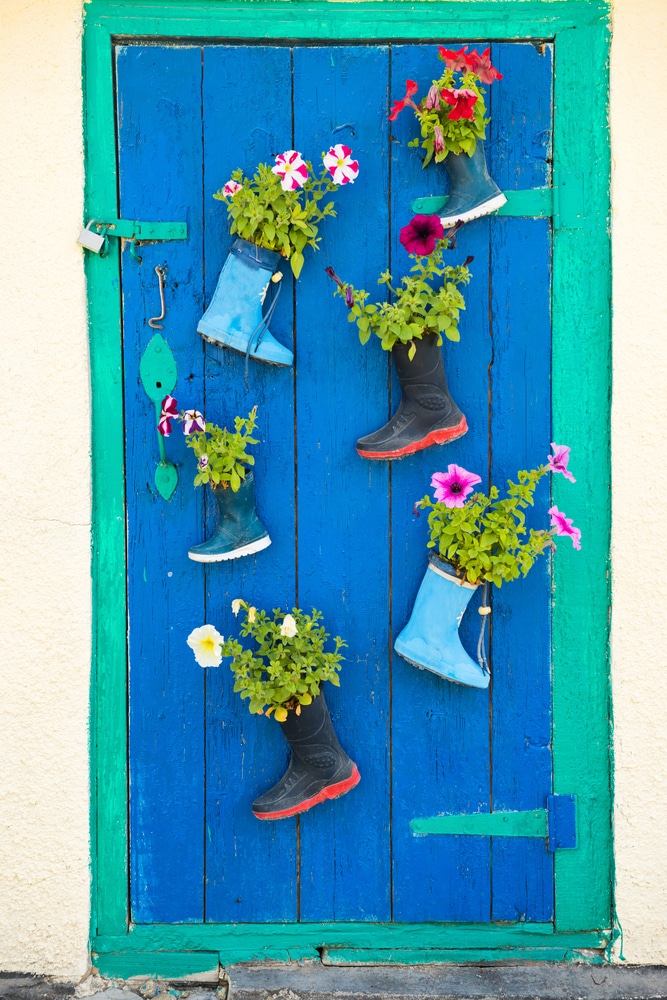 Old welly boots nailed to a shed door or fence can make for a fun and unique vertical garden idea.
Children's wellies in particular often come in funky colours and patterns – and are the perfect size to replace small pots.
If you don't happen to have any kids' wellies lying around, have a look on eBay or in second-hand shops.
Make sure to make some drainage holes in the bottom of the wellies, to stop your soil getting waterlogged.
4) Go freestanding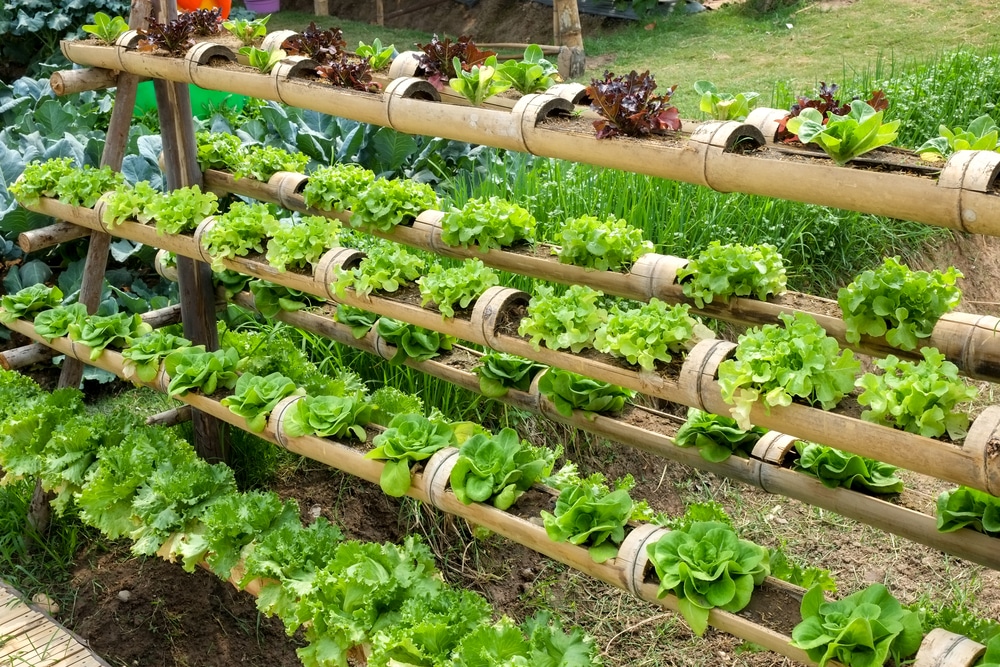 You don't need to have a free wall or fence in order to create a vertical garden.
If you've got the space, a freestanding structure such as a step ladder or plant stand can work just as well.
This structure is made from bamboo, with large holes removed from one side, to create space for the plants.
Bamboo is a great alternative to plastic piping, as it's natural and biodegradable, and will blend into your garden.
5) Indulge your creative side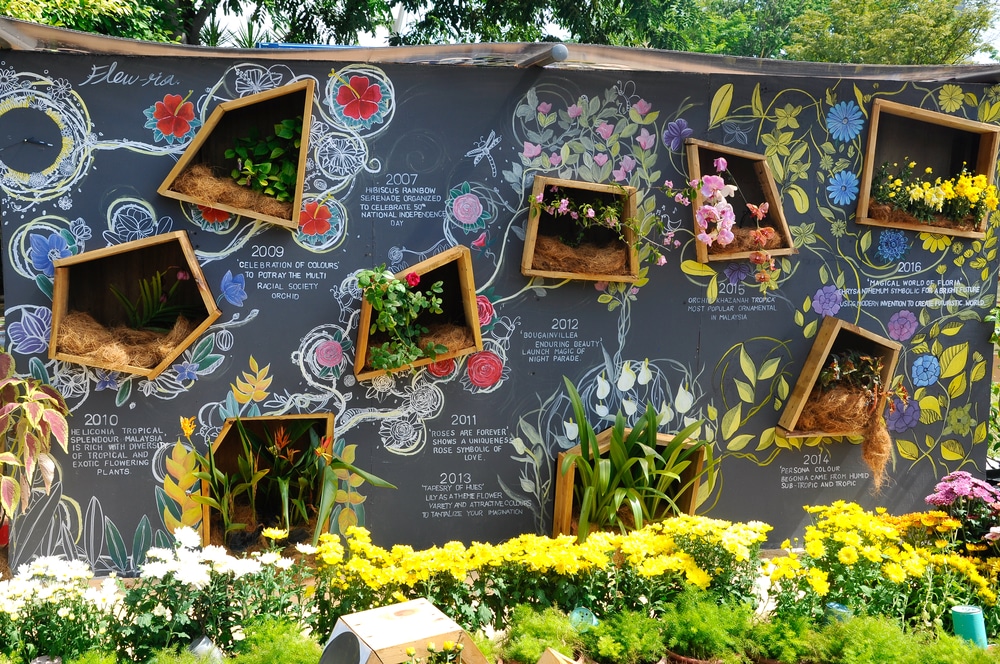 This quirky design provides inspiration on how to make a vertical garden into a feature wall.
Geometric wooden plant boxes have been nailed to a dark grey wall, which itself is decorated with pictures of colourful flowers.
To recreate the look, choose an ideally south-facing wall in your garden, and use exterior paint to first cover it with the background colour.
Then, paint your chosen designs on top in white and bright colours – you could draw flowers, insects, or even your favourite inspirational quote!
Make your plant shelves by screwing together pieces of wood from pallets, or 2×4 timber – no need to measure, as they don't need to be symmetrical!
Attach them to the wall, and fill with brightly coloured flowers.
6) Tie to a trellis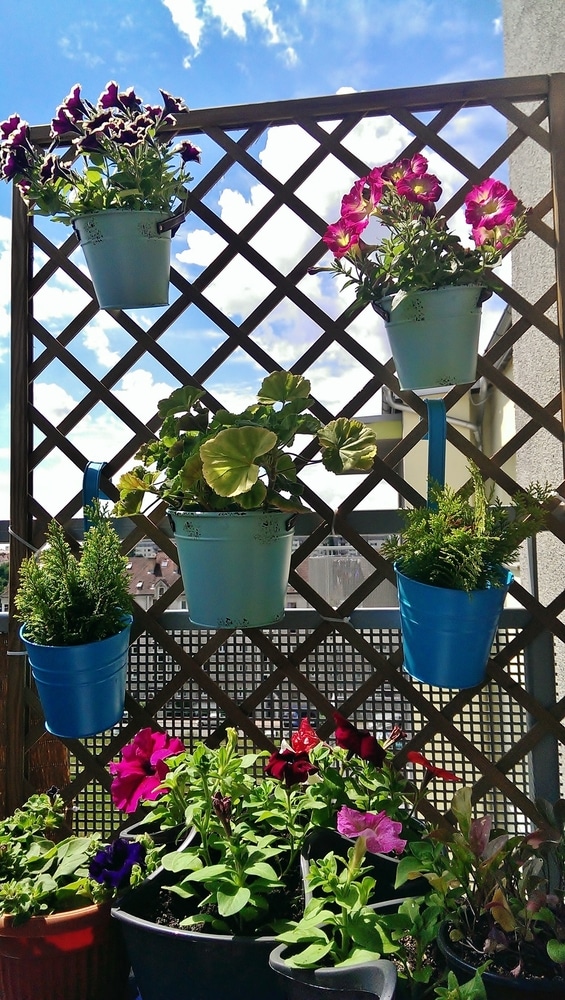 If you don't have a wall or fence on which to mount your vertical garden, a trellis is a great alternative.
Even if you do have a wall, you may prefer to use a trellis, to keep moisture away from it, and prevent mould.
Trellises have crisscrossed shapes which are perfect for supporting climbing plants, pots or hanging baskets.
To recreate this look, search out colourful plant buckets with handles from your local DIY or garden centre.
These pots are perfect for growing single flowering plants.
They can easily be hooked onto the trellis and moved around to follow the sun and create your ideal look.
7) Scale a ladder
Got an old ladder you never use lying around in the shed?
Give it a new lease of life by transforming it into a funky plant stand! Lean your ladder up against a wall or fence, and place potted plants on – or hanging from – each rung.
If the rungs of a normal ladder aren't deep enough for your pots, use a double-sided step ladder, and place planks of wood through the middle, creating shelves between the opposite rungs.
For the even more design-savvy gardener, try using an exterior paint to brighten up your ladder.
Turquoise or mustard will make a style statement, whilst white or grey provides a neutral base on which to make your plants stand out.
8) Grow your own veggies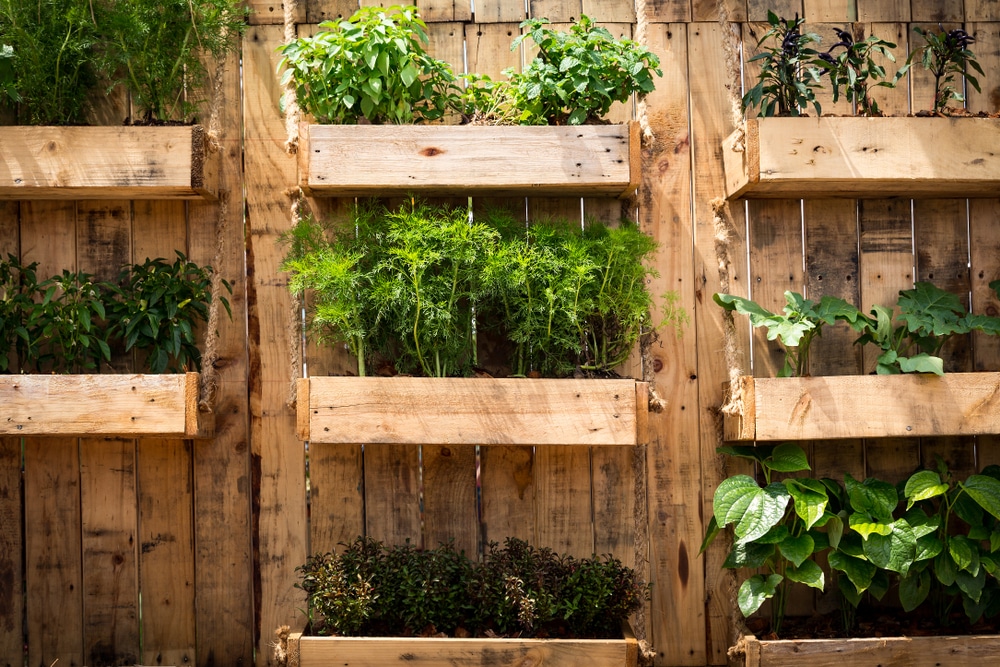 These natural wooden boxes blend in perfectly with the fence behind and are a stylish way to start your own veggie garden.
Use pallets or old planks of wood to make your own, or purchase pre-made timber veg planters from a garden centre.
Suspend the boxes from your fence with rope to complete the rustic look.
This solution is perfect for those who want something that blends in with the environment, and won't compromise the natural appearance of their garden.
9) Hang a flower garden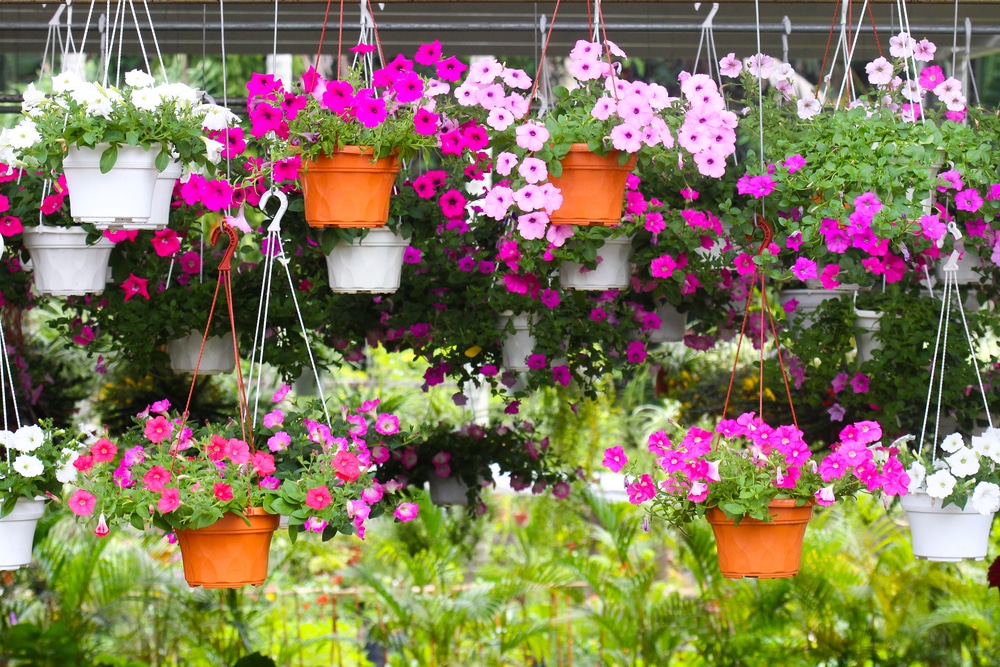 This has to be one of the prettiest vertical gardens we've seen, with multiple rows of hanging baskets and pots, filled with colourful flowers.
Recreate it by hanging pots from wall brackets or rails, and use wire or garden twine to position them at different heights.
Many types of flowers work well in hanging baskets, including fuchsias, petunias and geraniums.
Choose ones with coordinating colours for a well-styled look, or grow a variety of colours for a rainbow effect.
10) Re-purpose a chest of drawers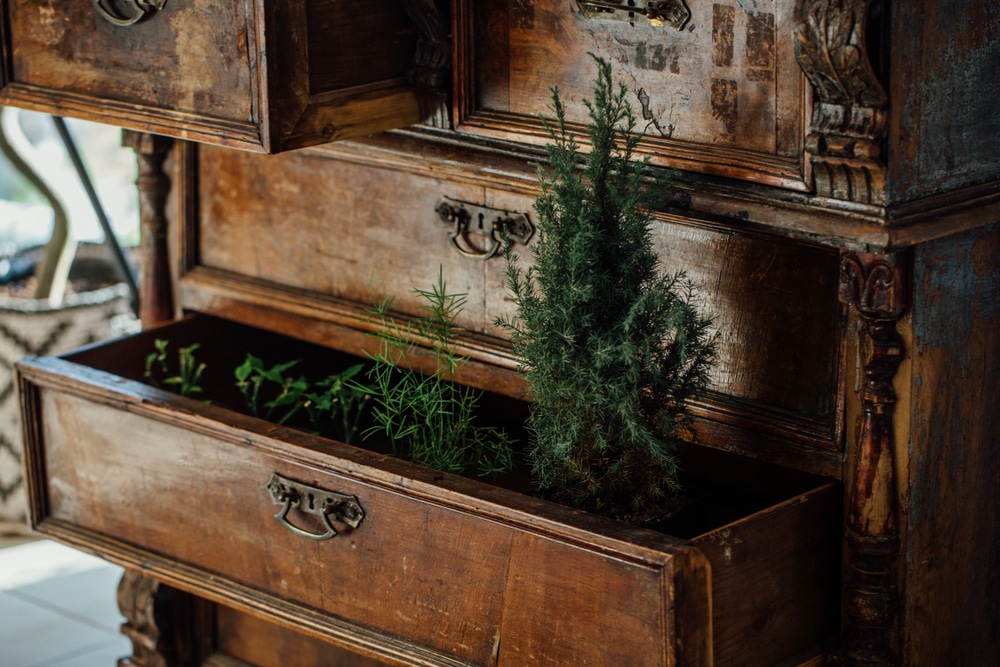 An old chest of drawers can make a fabulous garden plant stand.
If you haven't got one you're getting rid of, have a look on Gumtree or Facebook Marketplace for people selling one in your local area.
You'll probably need to treat the wood with exterior paint or stain first, to protect it from the elements.
Once it's in position, open the drawers to varying depths, and fill them with soil, or potted plants. Use ferns to copy this natural look.
11) Mount wall planters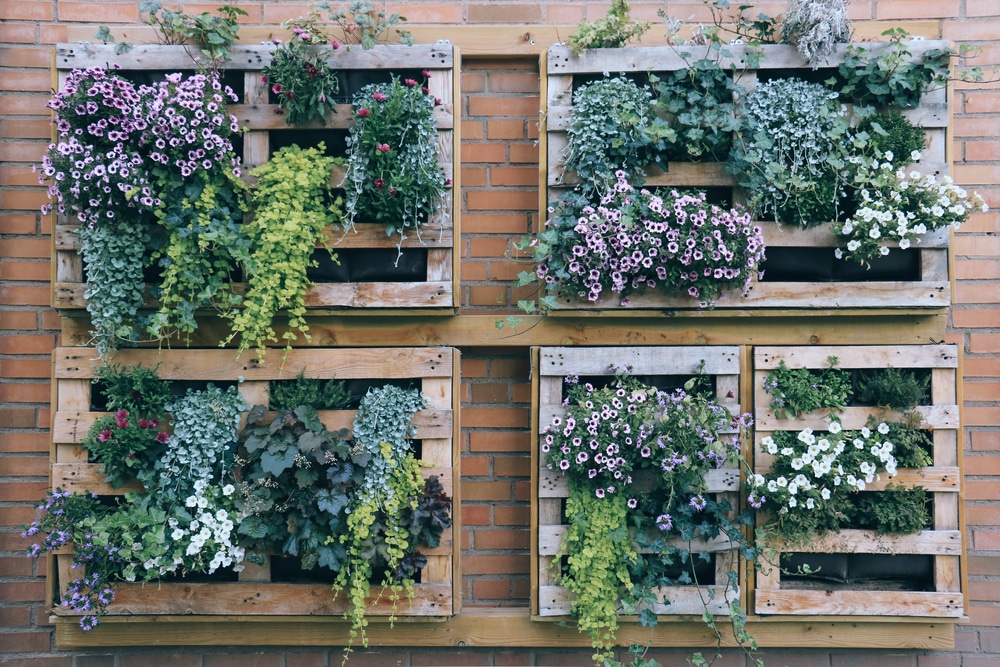 Much like pallets, planting crates offer plenty of space to hold a variety of plants, whilst also adding a rustic feel to your garden.
They can be fixed to your wall using metal brackets and screws.
The colour scheme shown here of green, white and purple, along with the combination of flowers and ferns, creates a dreamy look that's perfect for adding a whimsical touch to your garden.
12) Use modern mesh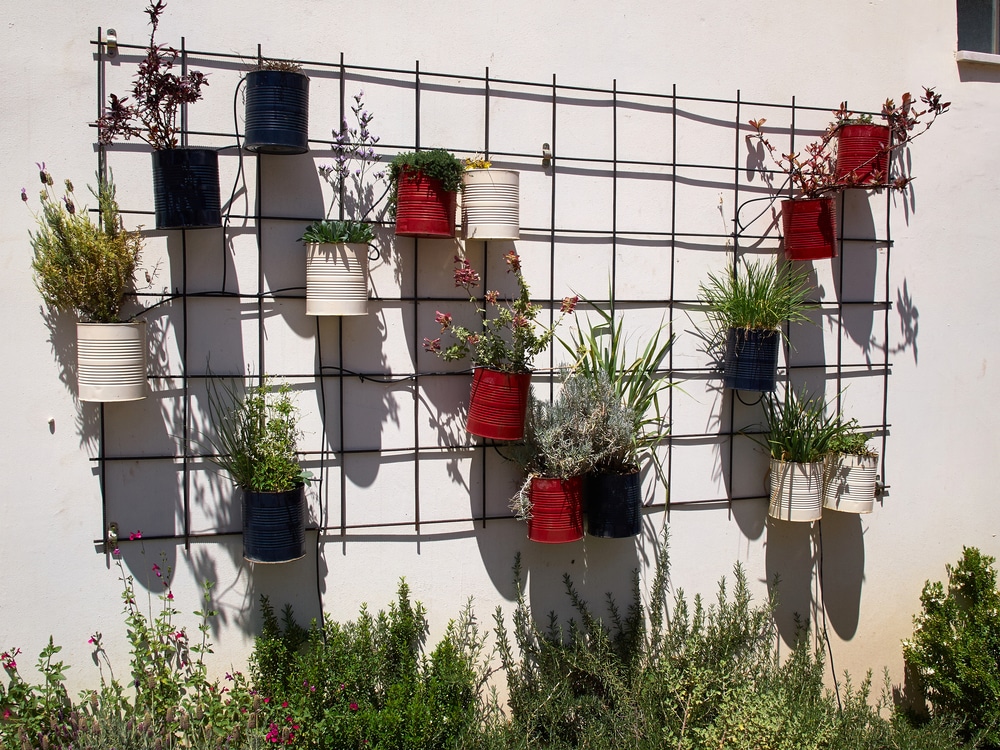 If wooden pallets and the rustic look isn't really your thing, try mounting a wire mesh or grid to create a more modern, minimalist look.
Tie climbing plants directly to the mesh, or affix pots using Velcro or clips.
In place of plant pots, painted metal tins like those shown will add a cool industrial edge.
Stick to monochrome shades with a splash of colour, for a really contemporary vertical garden.
13) Employ hydroponics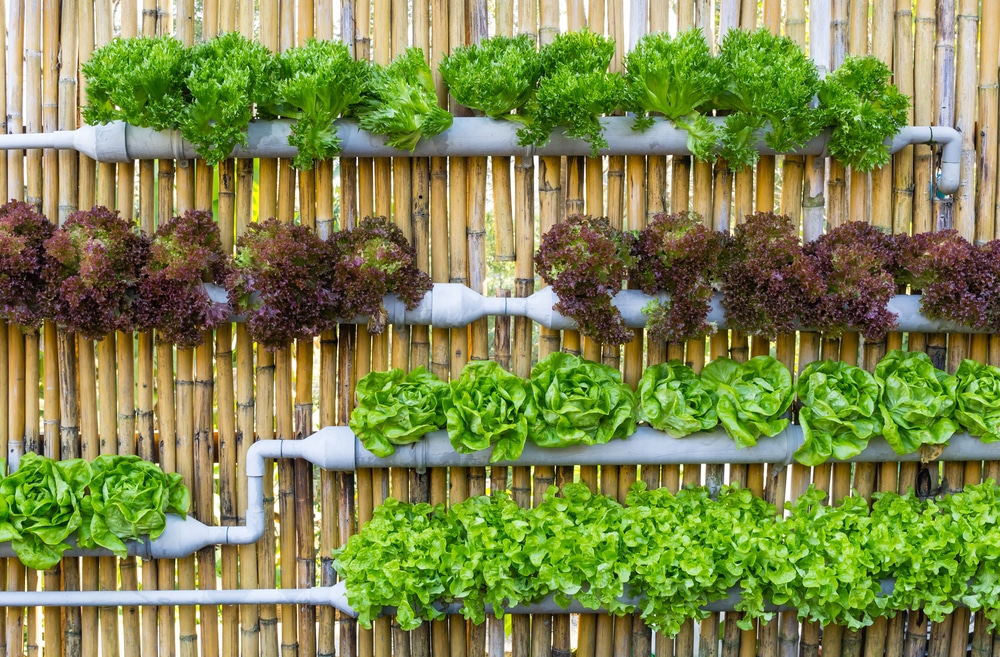 Hydroponics is a method of growing plants in water, without soil.
This eliminates the mess and weeds that accompany soil growth and allows you to use water more efficiently. It can even lead to bigger, healthier plants – a nutrient solution is added to the water to ensure your plants are getting everything they need.
To set up a simple hydroponic vertical garden, make holes along some PVC pipe, to place your plants in.
Connect and mount the pipes along your wall or fence, in a similar configuration as shown.
Then, place a submersible pump in a bucket of water with your nutrient solution, and connect it to the end of the highest pipe with a tube.
The pump will send water to the start of the vertical garden, and gravity will ensure it travels through the system, watering the plants as it goes.
Set up another tube at the end of the lowest pipe to channel any water not absorbed by the plants back into the bucket.
14) Style a garden #shelfie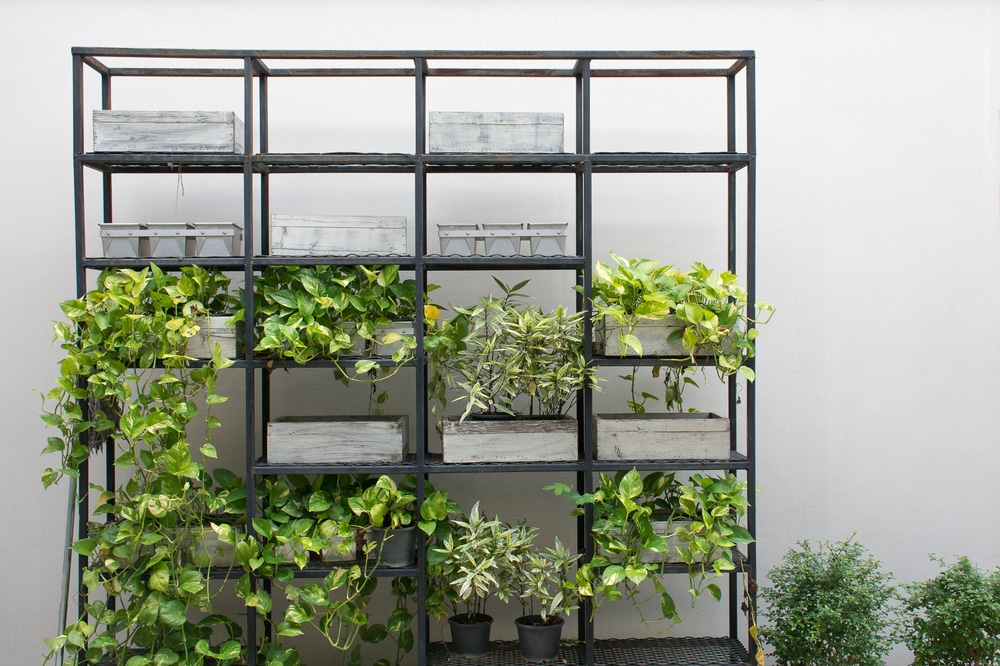 Move an old shelving unit or bookcase outside and fill its shelves with potted plants and containers.
A metal one like this is perfect, as you can also hang baskets from the rails.
Use a protective stain on wood units, or a corrosion-resistant finisher on metal shelves, to protect indoor furniture from moisture and adverse weather conditions.
15) Fix a fabric pocket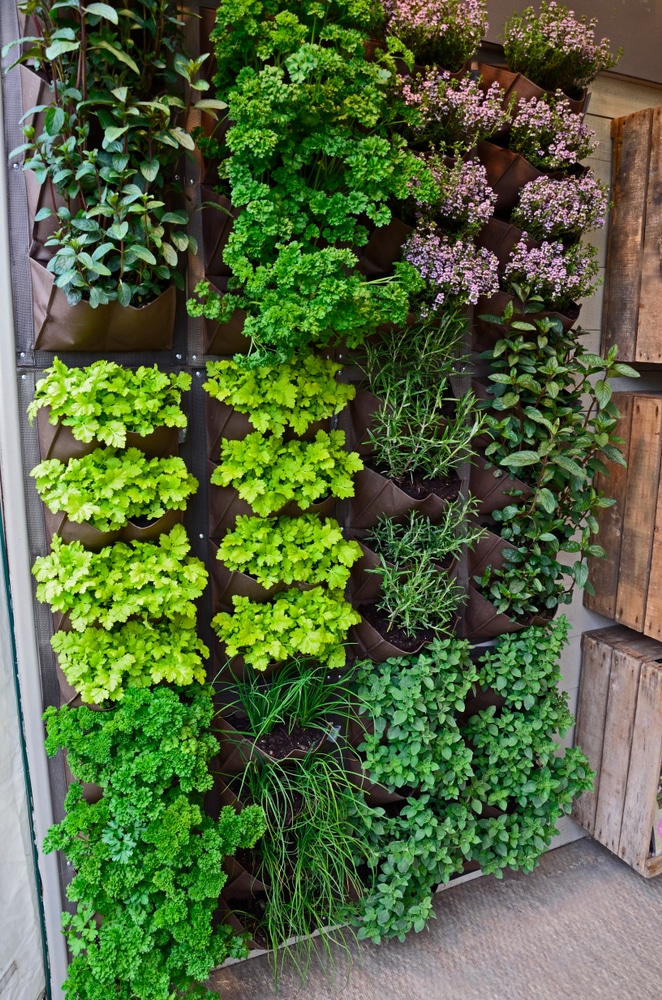 Fabric pockets, such as those sold for clothing or shoe storage in homeware stores, can make an easy and inexpensive base for covering a vertical space with plants.
You can also buy specialised plant pouches.
Secure them on your surface using screws, then line the pouches with gravel and add your chosen compost and plants.
Position plants with similar-coloured foliage alongside each other to create a cohesive look.
16) Green up gutters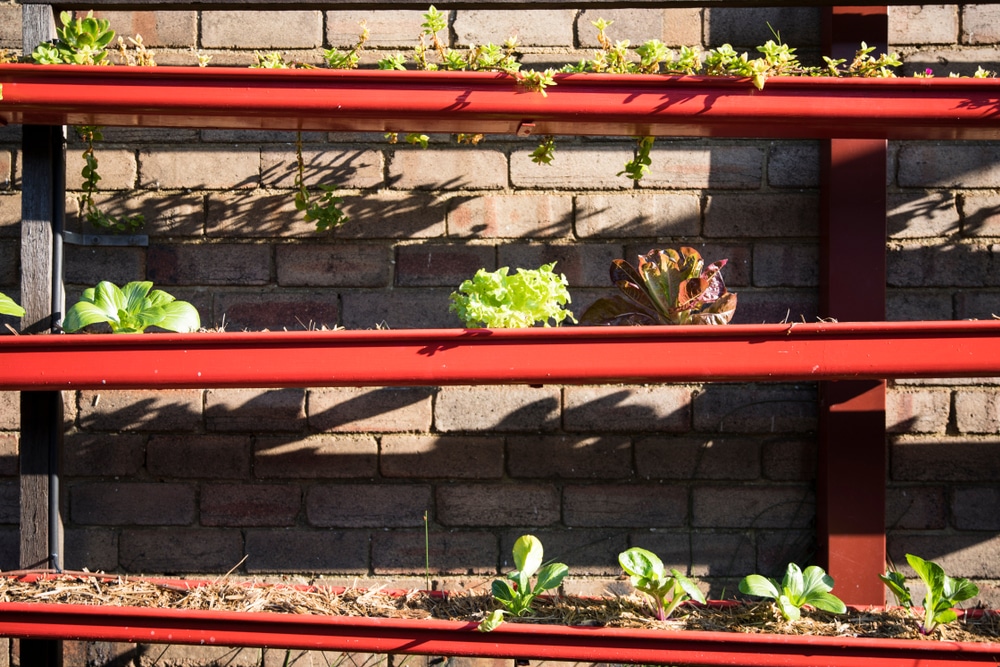 Another alternative to conventional plant pots is using old gutters (not the ones still attached to your house!)
Gutters can be fixed to a wall using guttering brackets, or placed on a freestanding unit, as long as they have solid supports.
Position them at a slight angle to increase irrigation through the garden, and make sure to punch drainage holes in the bottom of the gutters, so the lower rows receive plenty of water.
Attach end stops to the ends of the guttering.
Gutters can be used to hold potted plants, or rows of veggies, such as lettuces.
White gutters will reflect heat, and help prevent your crops overheating in the sun – but if you don't fancy more white gutters on your walls, you could also paint them using exterior paint.
17) Make a green wall using trailing plants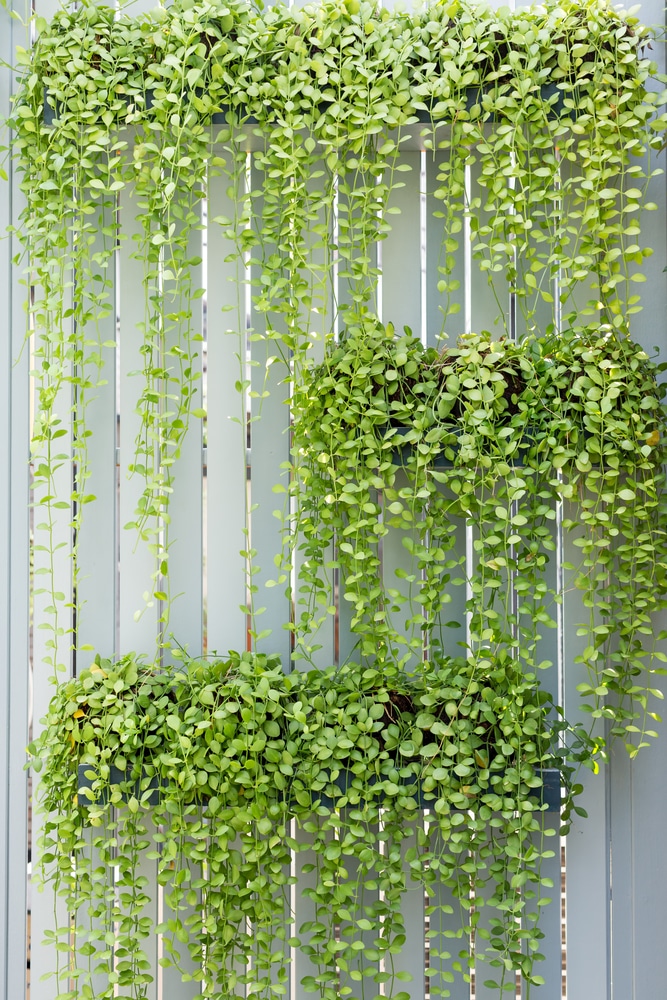 If you want more plant coverage than that afforded by sporadic pots of herbs, to cover an unsightly wall perhaps, then trailing plants make an excellent choice.
Plant trailing vines or evergreen perennials in containers fixed to the wall, or a trellis placed in front of it, and watch as their cascading foliage turns the wall lush and green.
18) Create an on-trend eclectic look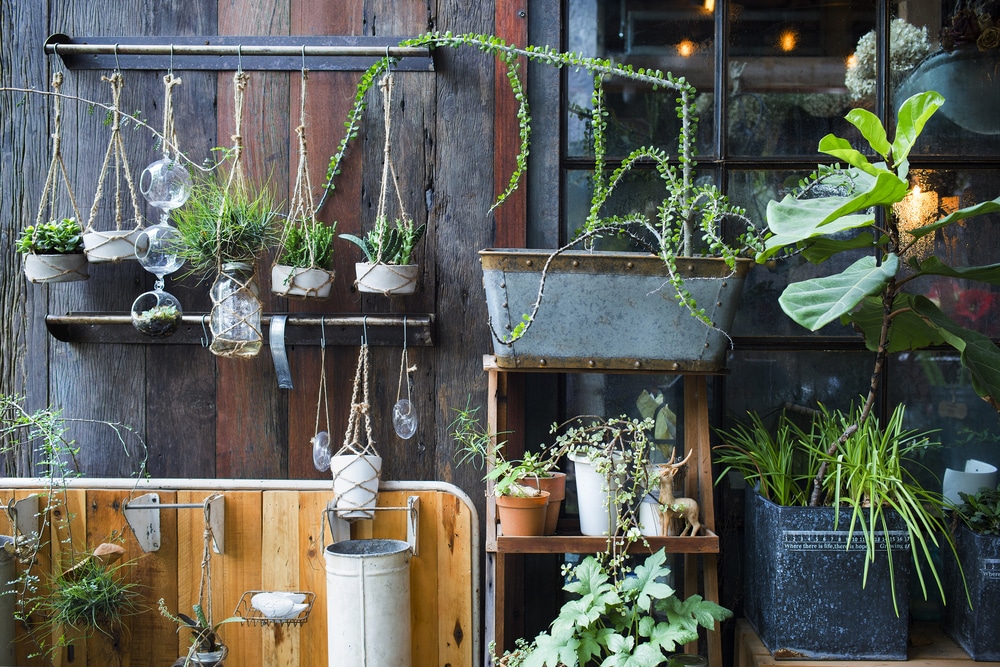 Finally, you can combine multiple looks in your vertical garden to create a designer feel in your outside space.
This vertical garden employs a variety of pot styles and materials to create an on-trend, eclectic look.
Hanging planters are hugely popular right now, and the use of metal containers gives it an industrial edge.
The key to re-creating this look is a mix of materials, shapes and structures.
Incorporate multiple contrasting display methods, such as a wooden plant ladder, metal buckets, macramé plant hangers, glass terrariums and terracotta pots.
If you can, position your plant holders in-front of a fence, brick wall or window, to add a further industrial element.
Grasses, herbs and succulents work best in this kind of vertical garden, as flowers will soften the aesthetic.
FAQs
How do vertical gardens work?
Most vertical gardens work in much the same way as growing plants in containers – the containers are just stacked vertically along a wall or freestanding structure.
Generally, a sunny wall is required, to ensure your plants receive enough light.
Some vertical gardens make use of hydroponics, or position rows of planters at an angle, to encourage irrigation throughout the garden.
Make sure you don't mount your vertical garden too high, so you can easily water and tend to it.
What plants can grow in a vertical garden?
A huge variety of plants can be grown successfully in a vertical garden, including annuals and perennials, vegetables, herbs and flowers.
Some examples of plants that are commonly grown in vertical gardens include:
What are the advantages of a vertical garden?
Vertical gardens can make a highly attractive addition to your garden; they add colour and foliage – and can cover unsightly walls or fences.
They also enable you to grow your own produce, even in small spaces. They're ideal for those with only a small patio or balcony at their disposal, such as many city dwellers.
By adding plants to your outside space, vertical gardens can also improve the air quality in your immediate vicinity. [source]
Plants filter out carbon dioxide and pollutants, and produce the oxygen we breathe – and the world needs more of them! [source]
What are the disadvantages?
One of the main disadvantages of a vertical garden is that, if mounted to a wall, the constant moisture caused by the regular watering of the plants can encourage mould to develop.
Hanging planters can also drip muddy water onto the ground below.
To eliminate these issues, mount planters on treated wooden fences or concrete walls, which are not susceptible to rot, or use a freestanding garden.
You could also choose to grow succulents, which require limited watering. Position potted plants on the ground to intercept drips from above.
How much does a vertical garden cost?
The answer to this depends on a variety of factors, including the scale of your garden, what structure you use, the type of plants, and your method of irrigation.
If you choose to purchase a pre-made vertical garden or set up an advanced hydroponic system, the initial cost will be higher.
However, by re-purposing and re-using existing structures and household items, such as many of the ideas shown here, it is possible to build an attractive and eco-friendly vertical garden for very little cost.
Plus, if you grow veggies and herbs in your vertical garden, it could actually end up saving you money on food shopping!
April Foot
April is a freelance writer who specialises in writing about home and garden design and the environment. She is an avid wildlife-enthusiast and adventure-seeker, and feels happiest when in the Great Outdoors.