Overview
| | |
| --- | --- |
| Official Plant Name | Musa / Ensete |
| Common Name(s) | Banana Plant |
| Plant Type | Fruit |
| Native Area | India, South-East Asia, Northern Australia |
| Hardiness Rating | H2 |
| Toxicity | Sometimes edible fruits |
| Foliage | Large, deep green leaves |
| When To Sow | May, June, July, August |
| Flowering Months | July, August |
Sunlight
Preferred
Full Sun
Exposure
Sheltered
Size
Height
1 – 4M
Spread
1 – 2.5M
Soil
Preferred
Chalk, Loam, Sand
Moisture
Well Drained
pH
Any
Banana plants can give any garden, polytunnel, greenhouse or conservatory a tropical feel.
When you think about gardening in the UK, banana plants are not likely to be one of the first things that springs to mind. You may be surprised to learn this. But there are several that can be grown successfully in our climate. And though they are tender plants, some can even be left outside all winter long.
Unfortunately, the banana plants that can be grown successfully in the UK won't usually yield an edible crop of fruits. Most will not fruit at all, and even when they do, those fruits are usually inedible. So don't expect to give up buying bananas for your household any time soon.
That said, it is sometimes possible to achieve a small yield of edible fruits with certain varieties, as long as you understand what they need and provide the right conditions.
And even when you don't get any bananas from your banana plants, they can still be very worthwhile additions to your garden. They can have great ornamental appeal, and give your garden or undercover growing areas an exotic look and feel.
What You Need To Know
When we talk about banana plants, we are referring to Musa and Ensete species. Below, we'll explore some types of these plants that can be successfully grown in the UK.
Banana plants in the UK are usually grown for their ornamental appeal. They have large, dramatic leaves that can make them stand-outs in a garden scheme. They can also look grand in the corner of a conservatory, or in a greenhouse or polytunnel.
Some types also have attractive flowers and will flower successfully in the right conditions once established. And a few even have the potential to produce fruits. (Though, as mentioned above, these are not usually edible there are a few exceptions that will potentially produce a few edible fruits).
Choosing Banana Plants
When choosing banana plants there are a number of important things to consider. First of all, you should think about what you would like from your banana plants. Are you interested in growing them purely for their ornamental foliage? Would you prefer a varietal that will flower and fruit? If fruits are produced, are you keen to try for an edible harvest?
Another important thing to consider are the conditions where you live. There is likely a banana plant that you can grow successfully where you live. But in more exposed and more northerly areas, it is likely that you will only be able to do so undercover or inside. Think about how sheltered a position you will be able to provide. And make sure you understand the climate and microclimatic conditions in your particular garden.
Types of Banana Plant For the UK
In order to make a decision about whether a banana plant is right for you, and where you might be able to grow one where you live, it will be helpful to take a look at some common varietals that you could consider. Here are some types of banana plant that can potentially be grown in the UK: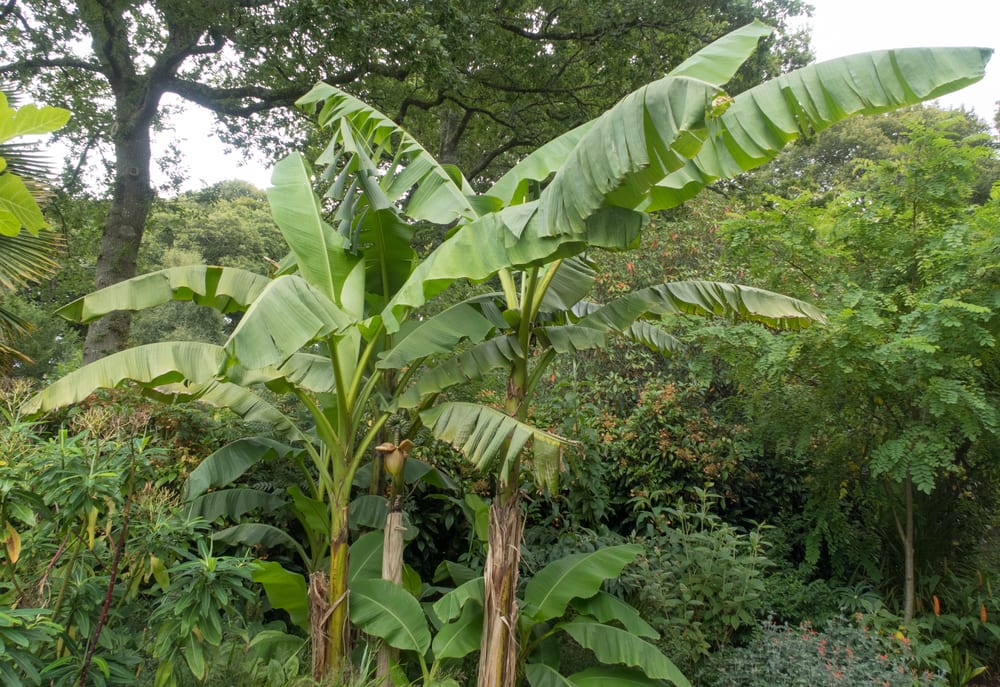 Musa x paradisiaca 'Rajapuri'
This varietal is relatively hardy and can cope with light winds. It will grow to an ultimate height of around 2.4m (8 ft) and if it is grown in optimal conditions, is one of the few varietals of banana plant that may produce edible fruits.
Musa x paradisiaca 'Orinoco'
The related cultivar 'Orinoco' is another banana plant that may produce edible fruits when grown undercover or indoors. It is somewhat taller however, and can reach a height of around 4m (13ft). While it will do best in a warmer environment, it is hardy down to as low as minus 1 degree C.
Musa basjoo
If you want to try to grow a banana plant outdoors, then this (Japanese banana) is often said to be the best option. It is commonly grown successfully outdoors in milder and more southerly parts of the UK, and has even been known to survive in sheltered gardens further north. It is an attractive and dramatic plant that can grow to an ultimate height of around 3-4.5m (10-14ft). Fruits may form, but these are inedible and usually less than 5cm or so long.
Musa Iasciocarpa
Known as 'Chinese yellow banana', this type of banana plant can also produce inedible fruits, though this is rare in the UK. It is more typical for flowers to form, but fruits rarely set. The plant can be very attractive, however, with lush green foliage. It will typically grow to around 1.5m (5ft) in height.
Musa acuminata 'Zebrina'
This is a medium height cultivar that is another good choice if you are growing in containers. But the main reason to choose this type is for its highly decorative leaves, which are striped with red.
Musa acuminata 'Dwarf Cavendish'
If you are growing indoors year-round, or only have a very small garden, this could be a good option. This cultivar grows to only 2m, and yet still gives good impact with its red-striped leaves.
Ensete ventricosum 'Maurelii'
One final option, of the Ensete variety, is the Abyssinian banana. Though sensitive and tender, this is increasing in popularity as a summer bedding plant. It is ideal for tropical garden schemes, with its huge paddle-like reddish bronze and green leaves, which emerge from its thick trunk. In autumn, after being left out in summer, these are cut down and taken indoors until late spring, when they can be re-bedded and should quickly re-grow.
Where To Place Them
As mentioned above, where you live and which varietal you choose will dictate where you can grow banana plants and where these should be placed.
If you are in a more southern and sheltered location, hardier banana species (such as Musa Basjoo, mentioned above) can find a permanent home in a suitable growing area in your garden. It is essential that the spot you choose is sheltered from strong winds that could shred the leaves. And it is also important to choose a site that does not become a frost pocket over the winter months.
The soil or growing medium into which the banana plant is planted should be free-draining and well-drained, with good quantities of organic matter.
When growing even the most hardy banana plants outdoors, it is usually essential to provide winter protection.
For most gardeners, however, and most types of banana plant, it is best to grow them in containers. Containers can be placed outdoors, in a polytunnel or greenhouse, or in a conservatory or another sunny and warm room inside your home. It is sometimes possible to place containers outside during the summer before bringing them indoors or under cover throughout the colder months.
Planting
Banana plants are best planted into containers or a suitable outside spot in late spring. Containers should be filled with a loam-based potting mix with extra grit to improve drainage (add around 30% grit by volume).
Usually, Musa species are propagated by offsets or suckers, which are detached from the parent and placed into their own individual pots. Though many gardeners will choose to purchase a larger banana plant for more immediate impact. The planting hole or container should be just large enough to take them.
Do not be tempted to give a banana plant a larger container than it needs. As this can create problems with waterlogging. Instead, pot up in spring every year or two, as the plant grows. Increase pot size by around 5cm at a time to begin with, then, once the plant is vigorous and well established, increase the container by around 10cm each time.
Caring For Banana Plants
Banana plants need plenty of warmth and sun, wherever and however they are grown. In order to thrive (and potentially produce fruit in the case of some cultivars), they will need temperatures above 15 degrees C. for 9-15 months. Ideal temperatures however, are around 25-29 degrees C. After this, a further 2-4 months will be needed for the fruit to ripen.
Of course, these conditions cannot be met outdoors in the UK. Though some cultivars can be grown outdoors, they will need some protection. It is best to wrap Musa basjoo or other hardy banana plants if you plan on keeping them outdoors over the winter. Tender banana plants should be brought indoors when temperatures drop below 14 degrees C.

Though banana plants need a free-draining soil or growing medium, they also need to be watered well over the spring and summer months. Watering should be reduced in autumn, and you should only water when containers dry out during the winter months.
Fertility should also be considered. Feed banana plants in the ground or containers with a general-purpose organic liquid plant feed every couple of weeks over the spring and summer. If you wish to get fruits, feed with a potassium-rich feed (such as comfrey tea, for example) when flowers and fruits begin to form.

Elizabeth Waddington
A permaculture garden designer, sustainability consultant and freelance writer, Elizabeth works as an advocate for positive change. She aims to inspire others to reconnect with nature and live in a more eco-friendly way. She also tries to practice what she preaches as she tends her own forest garden, polyculture beds and polytunnel. See her personal website here.