As gardeners, we spend a lot of our time investing ourselves in growing and caring for flowering plants.
We're also prone to forget that many other impactful plants deserve to be included in our gardens.
If you are looking to add structure and texture to your garden, or want to create a more tropical or jungle-like theme, then choosing large leaf foliage plants is just what the doctor ordered.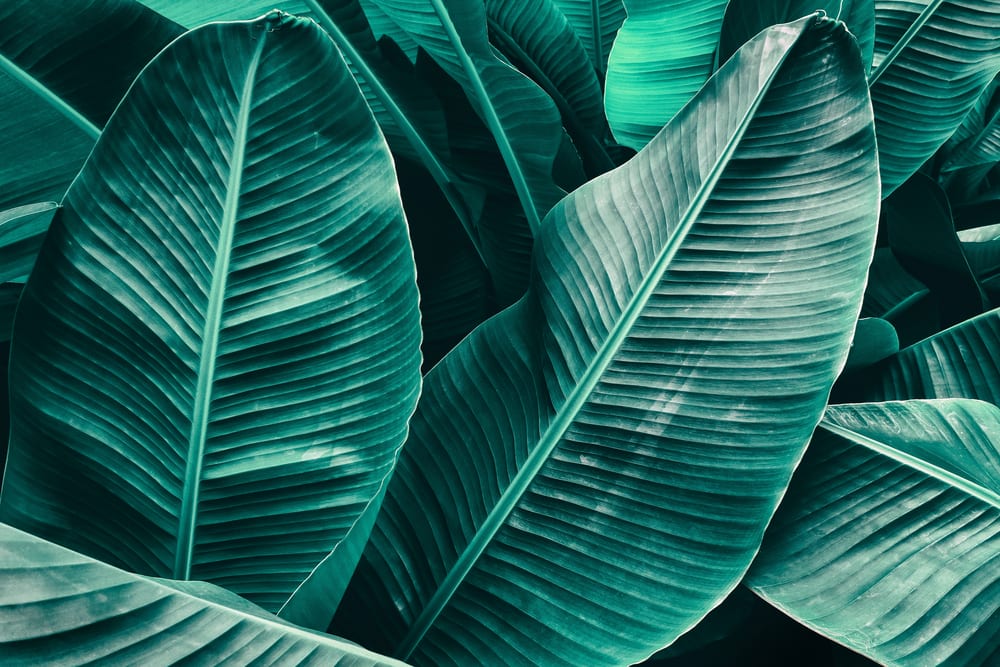 Foliage plants with large leaves are attention-grabbing and can really make a statement, bringing a luscious, exotic feel to your garden. If you have a small garden, don't feel like you are going to be left out, there are plenty of options that will make a significant impact in a more modest-sized garden and allow you to play around with scale.
Because these plants are so often overlooked, you may find it tricky to know which ones to choose for your garden, so we've put together a list of our favourites to help you narrow it down.
Large leaf foliage plants for gardens
Now that you've decided your garden needs the bold boost that large foliage plants provide, it's time to have a look at which ones would be right for your garden. Here is a list of our top five contenders to inspire you and help you get started.
1. Banana
With a majestic plant like this in your garden, guests could be forgiven for thinking they've just stepped right onto the set of A Jungle Book. This tropical treasure produces huge, elegant leaves and will occasionally reward you with bunches of bananas.
Best planted between spring and autumn, the banana plant can grow to up to 4m in height. Plant in well-drained soil in a sheltered spot that gets plenty of sunshine.
This jumbo, jungly plant should be pruned in spring and, once established, should be fed and watered generously to help it achieve the best foliage.
Though these are tender plants, some varieties can cope with being left outside over winter, especially if you live in a milder part of the UK.
2. Hosta
This popular and powerful plant is loved by gardeners and is typically grown for its fantastic foliage. There is a vast variety to choose from with the colours of leaves ranging from green to blue, to vibrant yellow. The size of their leaves also varies with some up to 40cm in length.
Lots of hostas also produce purple or white flowers in the summer months.
Hostas are super easy to grow and display gorgeous foliage from spring to autumn and with good care will last for many years. Best planted in spring or autumn in moist soil, hostas love the shade so find them a spot that it is out of the sun.
Hostas are very low maintenance but, once established, make sure their soil is always slightly damp and they may require additional watering in dry spells.
The main thing to be aware of is that slugs absolutely cannot resist hostas so be prepared to research ways to protect your plants and repel the invading slugs.
3. Elephant ear
This exotic beauty produces colossal, heart-shaped, deep green leaves and there are plenty of reasons to include them in your garden. They are brilliant to use as ground-cover or to provide an attractive, textured backdrop to other plants. They are also perfect to use as edging plants for ponds or surrounding your patio.
Elephant ear plants are easy to grow and once established, require very little attention. Plant the bulbs in rich, moist soil in partial sun. The tubers should be planted in the garden after the threat of frost has diminished.
During dry spells, we recommend that you water more regularly and you may also wish to use fertiliser. Elephant ear will not stand a chance against freezing temperatures so if you live in an area that experiences harsh winters, you should carefully dig the plant up and overwinter it indoors.
4. Chinese rice paper plant
If you want to introduce this gargantuan plant to your garden, this is the one. Its leaves alone can grow up to 60cm in length, with the plant growing up to 4m in height with a spread of up to 2.5m.
This humongous, hardy evergreen has gorgeous green leaves and produces cream coloured flowers in autumn.
The Chinese rice paper plant can be grown year-round and should be planted in sun or partial shade, in moist, well-drained soil and in a spot where it will be well protected from cold winds. We also recommend providing a deep layer of mulch during the winter months.
Once established these plants are super easy to care for, just keep them well watered and be sure to provide a well-balanced fertiliser throughout springtime.
As far as pruning goes just be sure to remove the leaves when they get scruffy and if you wish, you can cut back in late-winter to your desired size.
These are an absolutely ideal plant for an exotic styled garden and will provide texture and structure to your garden.
5. Angels trumpet
Also known as Brugmansia, this plant is a perfect addition to any jumbo jungle themed garden. Angels trumpet sports gorgeous foliage and create a tropical spectacle with their glorious, fragrant, trumpet-shaped flowers that bloom from summer to autumn.
Brugmansias should be planted in containers individually and placed in a warm, sheltered area in partial shade. These plants dislike dry conditions and should be watered and fed frequently during summer.
They really don't tolerate the cold well so we highly recommend that you move them inside during the winter months.
Angels trumpet is a head turner so make sure you place them in a focal point so everyone can enjoy their exquisite beauty and grace.
Create your own tropical paradise
Hopefully, you've enjoyed learning about our five favourite large leaf foliage plants. As you can imagine, there are thousands of plants to choose from, all with different attributes, so you've got plenty of options to bring your garden up to your exact specification.
These plants can help to showcase your flowers and will add a dynamic depth to your garden refuge. Be sure to research your plants before planting; some can grow to enormous scales so it's essential to confirm that you have adequate space for them to thrive.
Growing such large plants can be a bit daunting at first but they will help to boost your garden to boastful and splendid levels. Be bold, be brave, be extra, and give your garden that boastful, brilliant, exotic look that you've been dreaming of.
With so many plant options available, dare yourself to dream big. Get out there and start planting and create your very own tropical paradise of your dreams.