There are many reasons to plant a hedge. Thanks to their shape and potential size, hedges lend themselves well to providing privacy and shelter, marking boundaries, reducing wind, and much more.
With so many types of hedge, choosing the right one for your garden comes down to your needs and preferences. Many people want a fast-growing hedge that will quickly provide privacy or shelter. So, if you're wondering which hedge to choose and how long it will take to grow, you've come to the right place.
Here's what this guide will cover:
Types of hedge.
The definition of a fast-growing hedge.
The fastest-growing hedges for privacy.
How to plant and look after your hedge.
Let's get growing!
What types of hedge are there?
A hedge is not a specific type of plant. The term refers to a collection of bushes and shrubs lined up to provide a barrier.
Hedges can be evergreen or deciduous, or a combination, thanks to the possibility of combining plants in a hedge.
They can be formal or informal, with formal hedges being neatly arranged and well-trimmed. Informal hedges are often just a row of plants left to grow into a barrier: there will be less maintenance required, and the overall aesthetic will be more rustic.
Hedges are popular because of the myriad benefits they can bring to your garden. They can help to mark the outer boundaries of your garden, or to provide structure by marking areas within it. Their height can offer privacy and shade, and their density means they can block the wind as well. They are versatile and practical, as well as being interesting and attractive plants in their own right.
Many people choose hedges instead of fences, and there are various reasons. Sometimes the decision is purely aesthetic: a plant looks nicer than a wooden structure. Other times, ownership and boundary disputes play a role, for example, if a neighbour installs an ugly fence on their land that you can't tear down, a hedge is an effective way of covering it up!
Some enthusiastic gardeners also engage in topiary: the art of trimming shrubs into ornamental shapes. While this is more tricky with a hedge, it is still possible.

There are pros and cons to keep in mind when choosing the type of hedge you want in your garden. These will be covered in more detail later, but to give an idea:
The density of some hedge species means that as well as providing privacy, they can block noise and even pollution from entering your garden.
Evergreen hedges are in bloom all year round and can provide privacy and shelter the whole time, but will require more maintenance as a result.
Deciduous hedges, on the other hand, will lose their leaves in winter. As a result, less shelter is provided, but there is the benefit of wind filtered rather than blocked: in very strong winds this means the hedge is more sturdy.
Certain hedges are thorny, which can add a layer of security if you are concerned about privacy.
Choosing the right hedge therefore comes down to the purpose you want it to serve.
What defines a fast-growing hedge?
There's no strict definition of "fast growing", but to give a general idea, you can expect hedges to grow anywhere between ten and a hundred centimetres a year. When we speak about fast-growing hedges, we're usually referring to hedges that grow above forty centimetres a year.
Wondering how long it will take these hedges to grow?
What is the fastest-growing hedge for privacy?
If the last time you sat in your garden you thought to yourself "I need a fast-growing hedge for privacy!", you're not alone. Surprisingly, this is one of the main reasons people look to include a hedge in their garden landscaping.
Hedges are a great alternative to fencing and are perfect for when you aren't able to erect a fence.
Below we introduce a selection of fast-growing hedges that are good for garden privacy. Bear in mind that this list is not exhaustive!
Privet Hedge
First up, we have the privet hedge. If you're into gardening, this may very well be what pops into your head when you hear the word "hedge". This popular variety grows up to 60cm a year, with thick and dense coverage making it great for privacy.
Cherry Laurel
The Cherry Laurel – also called Common or English Laurel – is another popular choice that can grow around 60cm per year in average conditions, to an impressive maximum height of around eighteen feet! This is the fastest-growing non-conifer hedge, so bear that in mind if you have an aversion to conifers.
Hornbeam
Next up is Hornbeam, a type of plant native to the UK that can be used for hedging, whether alone or in combination with other plants. The latter option is a great way to create a more informal hedge, as opposed to the neatly trimmed aesthetic that many on the list will bring. Plants like blackthorn, hazel, and hawthorn make good partners for hornbeam.
As we noted earlier: native plants are likely to attract wildlife into your garden!
Bamboo
Bamboo is another option and represents something a bit more exotic. It is renowned for being fast-growing, but don't worry: most varieties won't come close to the world record holder for fastest growing plant! That species – one of thousands – has recorded growth of 91cm per day. The type of bamboo used for hedging will grow closer to 40cm per year.
Thuja Emerald
The Thuja Emerald is another popular choice for gardeners who want hedges with lower maintenance, thanks to its cone shape. This plant will grow around 30cm a year in good conditions, up to a maximum height of around eighteen feet.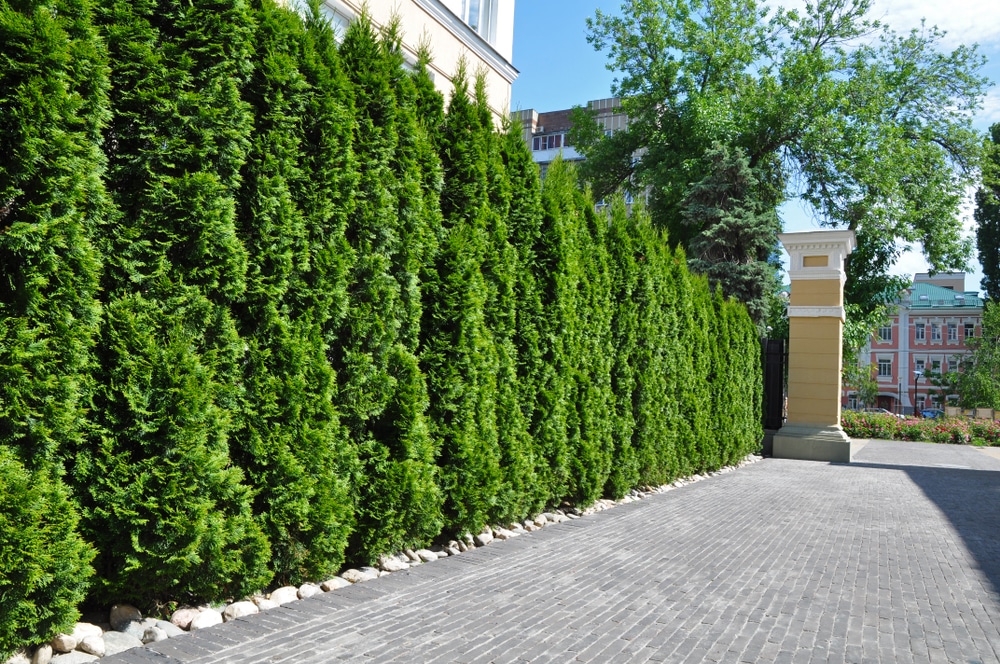 Leylandii
Another frequently used hedge type is the Leyland cypress – also called Leylandii or conifer hedging – which has a "reputation for causing friction between neighbours", according to the Royal Horticultural Society.
In fact, Sam Dunn, over at the Independent, says that high hedge complaints like those in the "leylandii wars" can trigger legal action. In these cases, a tall hedge is defined "as being a line of two or more evergreen (or semi-evergreen) trees or shrubs … at least 2m high and block[ing] light or access to a residential property."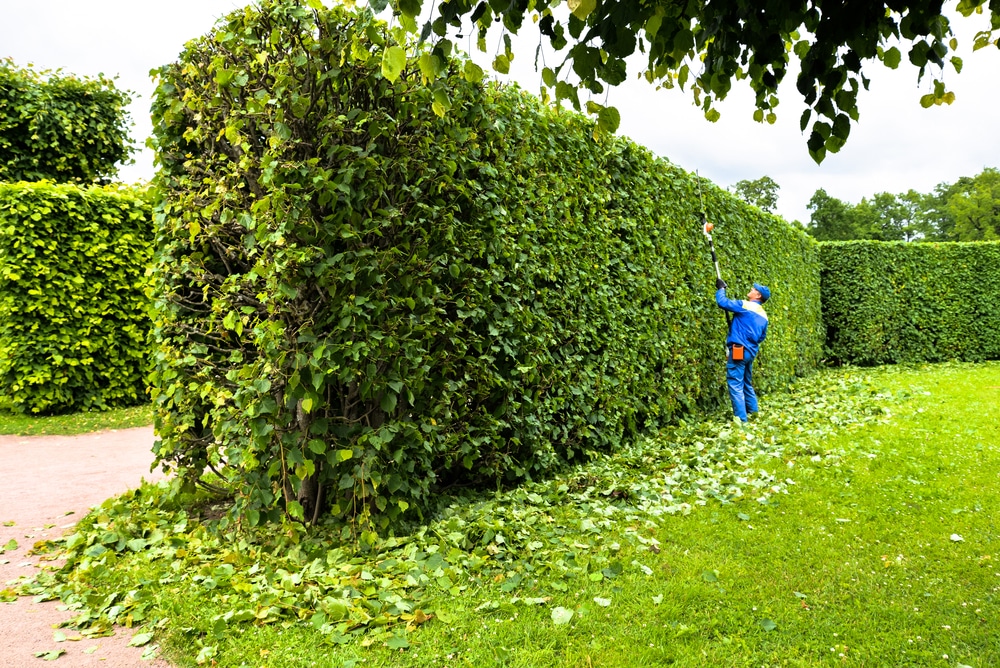 This plant can grow a whopping 90cm per year, making it probably the fastest growing hedge in our list. This makes it a popular – and cost-effective! – choice for gardeners.
If you are using a tall hedge for privacy purposes, be aware of these criteria. When it comes to your garden, it's probably not worth getting involved in legal disputes with the neighbours!
The best way to avoid this? Talk to your neighbour in advance! Letting them know that you're planning to grow a tall hedge, and asking their thoughts, is a great way to prevent conflict later on.
Looking after a fast-growing hedge
You'll first want to make sure that the hedge you choose is suitable for the growing conditions in your garden. Think about soil condition, light levels, and acidity levels.
Then you'll want to ensure that you plant at the right time of year. From autumn to early spring is best, offering the lowest likelihood of the hedge's roots drying out. Check there are no weeds in the weeks coming up to planting, in order to give the hedge the best chance of taking root.
Deciding the age of the hedge you plant is important too. Roots (also called whips) are younger and will take longer to get going, whereas planting out from a pot will set things in motion more quickly. It all depends on what your end goal is: if it's privacy, you'll probably want to choose the quicker option.
Also keep in mind that a faster-growing hedge will require more maintenance! Once your hedge is up to the desired height, you'll be trimming off new growth. More growth means more trimming, and more work!
That's all folks!
Whatever your reasons for wanting a fast-growing hedge – whether it be privacy, shade, shelter, or just aesthetic – you have plenty of options. From deciduous to evergreen, and from formal to informal, you will be able to find a hedge that perfectly matches your needs and preferences.
You can expect anywhere between forty and a hundred centimetres of growth from a fast-growing hedge each year. The maintenance required will depend on the type of hedge you choose.
Hopefully after reading this guide you're equipped with the knowledge you need to choose the right hedge for your garden!