Overview
| | |
| --- | --- |
| Official Plant Name | Thymus Officinalis |
| Common Name(s) | Thyme |
| Plant Type | Herb |
| Native Area | Mediterranean |
| Hardiness Rating | H5 |
| Toxicity | Edible, culinary herb |
| Foliage | Aromatic grey-green leaves |
| Flowers | Small white or pink flowers |
| When To Sow | March, April, May |
| Flowering Months | June, July |
Sunlight
Preferred Sunlight
Full Sun
Exposure
Exposed or Sheltered
Size
Height
0.1 – 0.5M
Spread
0.1 – 0.5M
Bloom Time
June – July
Soil
Preferred Soil Type
Chalk, loam, sand
Moisture
Well drained
pH
Neutral / Alkaline
Herb gardens have become increasingly popular over the last few years and no herb garden would be complete without thyme.
With its heavenly, aromatic aroma and attractive foliage, this herb adds an impactful flavour all kinds of dishes and provides interest, structure and texture to your garden all year round.
Thyme also produces tiny tubular flowers which come in shades of pink, purple and white.
These flowers are a magnet to wildlife and are particularly loved by bees and butterflies and other essential pollinators.
The best news is that thyme is exceptionally easy to grow and because it can be grown both in garden beds or in containers, it is a wonderful addition to any garden, no matter the size.
What is thyme?
Thyme is one of the most commonly used herbs in the world.
Thyme is a low-growing, woody perennial which thrives in warm, dry conditions.
It can be planted at almost any time of year and is ready for harvest after only a few months.
It will then grow back year after year, making it one rewarding little plant.
Why every gardener should grow thyme
Thyme has so many benefits but, if you are wavering on whether to grow it, let's dive little deeper into why it's one of the most popular plants and why you shouldn't miss out.
Low Maintenance
Not only is thyme easy to grow, but it's also super easy to care for. Harvesting it regularly keeps it naturally pruned and, at most, you can just cut the woody stem back by half in autumn.
Tastes Terrific
As mentioned, thyme is one of the most popular herbs for culinary use and is a vital ingredient for herbes de provence. It can be used in dishes containing, fish, chicken and vegetables and is a delicious addition to soup and stews.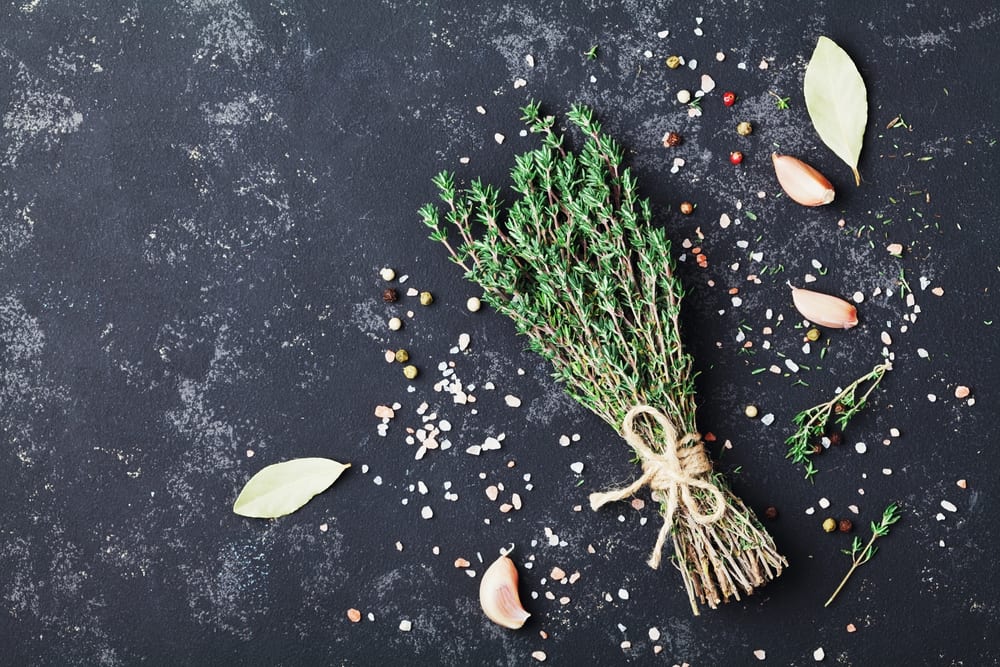 Thyme pairs exquisitely with lemon, lime garlic and basil and can be used fresh or dried to elevate dishes to their maximum potential. You can put sprigs of thyme in oils and vinegar to bring more depth to the favours, and if that hasn't got your mouthwatering we don't know what will!
Beneficial insects and pollinators adore thyme
It's not just bees and butterflies that adore thyme; this flowering herb is also extremely attractive to lacewings looking for a safe habitat to lay their eggs. Lacewing larvae are formidable predators to aphids, whiteflies, cabbage moth caterpillars and many other harmful critters.
Thyme repels pests!
Thymes punchy fragrance confuses pests who are trying to sniff out their favourite plants to devour and destroy. Planting thyme around the perimeter of herb gardens or below fruit trees can keep more vulnerable plants safe.
Plant Types
There are hundreds of species of thyme, all with their own unique flavour and fragrance. With so many varieties to choose from, it can be hard to know where to start so we have picked out some of our favourites to help you get started.
Common thyme
Unsurprisingly, this is the most commonly used species of thyme in cooking. It has a powerful, robust flavour and is a popular ingredient in Mediterranean dishes.
This aromatic, hardy perennial grows to around 0.5 metres in height and the same in spread, and provides excellent, evergreen ground cover. It also produces pretty, delicate white and lilac flowers in the summer months.
This variety of thyme grows best in moist, well-drained neutral and alkaline soils and prefers full sun. Common thyme is extremely low maintenance and just needs to be cut back in spring.
Lemon thyme
Lemon thyme grows in an erect, upright form and has gorgeous foliage with a distinct lemony scent. This is a low growing plant that forms excellent ground cover and will also thrive in rock gardens and containers.
Because of its spreading habit, this variety of thyme can require a little more care and may need to be cut back to keep it under control. Lemon thyme will tolerate most soils, thrives when pruned and can even be trimmed into miniature hedges.
Creeping thyme
Commonly known as "Mother-of-thyme", this mat-forming variety grows only to about 8cm in height, sprawls quickly and randomly and is perfect for filling empty spaces.
Creeping thyme has a more minty aroma and is not only deer resistant, but also kid resistant! It is small but mighty and can handle being trampled on by the children playing in the garden.
Creeping thyme produces dense sprays of pink, purple or white flowers which are irresistible to honey bees and will perform best in well-drained soil in full sun or light shade.
Woolly thyme
This gorgeous, hardy perennial produces a wonderfully soft carpet of woolly grey foliage and pale mauve flowers which appear in summer. Woolly thyme spreads quite slowly, but its dense, mat-forming habit makes it ideal for rock gardens and patios.
This variety of thyme does not have a noticeable scent and is not suitable for cooking; however, it's extremely attractive and can be a great alternative to a lawn and will also spill gracefully over stone walls.
Woolly thyme will thrive in a sunny, dry, well-drained spot and will grow no more than a few inches in height and has a spread of around 30cm.
How to grow
Now that you've realised that your garden will be incomplete until you plant thyme, it's time to get down to it.
Most varieties require well-drained soil and full sun to light shade. Many types work well in rock gardens, cracks in pavings, herb gardens whilst others prefer pots and containers and can be grown inside or outside.
While it is possible to grow thyme from seed, it can be really difficult to get the plant to establish itself. For this reason, we recommend buying young thyme plants from garden centres or supermarkets.
You'll want to plant the young thyme in free-draining soil or compost and water in. Thyme thrives in dry conditions, so once the plants have established, you won't need to continue watering them.
When it comes to soil, the poorer the conditions and the lesser the nutrients, the better. Because they require no watering, they will not grow well if combined with thirstier plants in a container.
Caring tips
Thyme doesn't need a lot of fussing over so is a great option for gardeners who are limited on time.
When your thyme plant has finished flowering, you can trim it back, and this will help to encourage new growth. You'll also enjoy more leaves to harvest when autumn next rolls around.
You can leave thyme to its own devices, but over time the plants will become woody, and you will end up needing to replace them at least every three years.
If you are growing thyme in pots or containers, you can give it a weekly feed of liquid seaweed from March through to May to boost the plant's growth.
How to harvest
Thyme is an evergreen perennial, so once established, you can harvest and enjoy the fruits of your labour year-round. That said, the best time to harvest thyme is during the early months of summer before flowering.
Simply snip a few sprigs off, and it's ready to go. Thyme stores really well and can be preserved in a mixture of butter with vinegar or oil.
There is no 'thyme' like the present
As you can see, thyme really is the gift that keeps on giving. It's so easy to grow and care for, and requires very little intervention in order to thrive. If anything, it does best when it's being neglected!
These days many of us are trying to be more self-sufficient and self-sustaining, and planting herbs like thyme are a great way to do this. Instead of having to nip to the shops when you're cooking, you can simply step into your garden and use a freshly harvested sprig of thyme to accentuate your cuisine.
There are so many varieties to choose from, each with their own unique charm and flavour that you will have no trouble finding the perfect thyme plant for you.
So get out there and get planting because there is simply no thyme like the present!