Shrubs may be one of the most versatile plants you can include in your garden. With thousands of varieties, they can emphasise structure and create texture and bursts of colour.
If you are on the hunt for fast-growing shrubs, then chances are you are looking to quickly plug a gap, wishing to create more privacy, or perhaps you are just feeling impatient.
Aside from the charming aesthetic they can bring to your garden, the humble shrub can indeed provide many valuable functions. From creating a windbreak or a screen, to providing you with a formal or informal hedge – they really are the unsung heroes of our gardens.
Some shrubs can take quite a while to establish, so if you have a need for speed, this guide is for you. We've put together a list of fast-growing shrubs as well as ways in which you can use them to your advantage.
Fast-growing shrubs for privacy
Tired of nosey neighbours peeking over the fence? Shrubs are the answer! Whether your garden is overlooked or you want to create a screen to hide an ugly view, there are plenty of fast-growing shrubs that are perfect for protecting your privacy.
These options are also perfect for providing a windbreaker, helping to make your garden all the more peaceful.
Green Giant Thuja
There are many types of Thuja, but when it comes to a fast-growing shrub, look no further than the Green Giant.
Growing best in rich, well-drained soil and with full sun exposure, this tall, strong evergreen will quickly create the perfect screen for privacy as well as being an excellent candidate for hedges.
Photinia
Growing up to five metres in height, this popular plant grows quickly, producing an excellent privacy screen for your garden.
Be aware that this shrub likes to spread but with regular pruning it is easily contained. If you do find yourself with an overgrown plant then it will respond to hard pruning.
Also known as 'Red Robin', this evergreen would also work very well for hedging and its new growth is a beautiful, bright red in springtime.
The Photinia is easy to grow and has no strong preferences when it comes to soil.
Fast-growing shrubs for colour
If it's a splash of colour you're after, without having to wait forever to enjoy it, then you've got hundreds of flowering shrubs to choose from.
These eye-catching plants also provide structure to your garden and can also be used as hedge plants or a beautiful centrepiece.
Hydrangea
Found in gardens all across the country, this lavish, flowering shrub is renowned for its stunning globes which bloom in an array of colours from mid to late summer.
There are many different types of Hydrangeas and they are super easy to grow and establish themselves quickly.
This shrub usually flowers in shades of pink, purple and blue and with some plants you can actually manipulate the colour by changing the pH levels in the soil.
These gorgeous showstoppers also vary greatly in size with some growing no more than three feet, whilst others can grow up to fifteen and span a width of twelve.
Ideally, you want to plant them in autumn in a sheltered spot that gets bright morning sunlight but plenty of shade in the afternoon.
Buddleia davidii
Also known as the 'Butterfly Bush', this gorgeous shrub produces masses of blossoms that bloom from summer to autumn.
It's flowers come in many different shades but if you've chosen it to attract butterflies then they seem to prefer the species that blooms in mauve.
Buddleias require full sunlight and well-drained soil and can grow to around ten feet tall.
They tend to respond well to being cut back hard in spring as this encourages growth which will produce more flowers.
Fast-growing shrubs for hedges
Not only will a fast-growing shrub for hedging enhance your privacy, but it will also add texture, colour and structure to your garden.
There are many shrubs, coming in all shapes and sizes, which are perfect for establishing a hedge quickly and easily.
Portuguese Laurel
This speedy evergreen is the perfect shrub to create an elegant hedge for your garden.
Bearing glossy dark-green leaves which grow from striking, red stems, it also produces sweet-smelling, white blossom in the summertime, as well as small red berries making it very attractive to both butterflies and birds.
This resilient shrub can grow up to five meters in height but is easily maintained and shaped, only requiring one trim a year in summer.
It is best grown in a sheltered spot in sunlight or partly in shade.
Apple Blossom
This splendid shrub is also an evergreen with thick, leathery green leaves, with five-petalled flowers that bloom in summer and early autumn in shades of white, pink or red.
Not only are they ideal for hedging but they are also adept at growing in tricky garden spots, tolerate a wide range of soil types and can also provide an excellent windbreak.
Preferring to grow in full sunlight the Apple Blossom can also be grown in pots and, likewise, will adapt well to growing on a rockery.
Fast-growing shrubs for starting a garden from scratch
If you've found yourself in the often daunting position of starting a garden entirely from scratch, then fast-growing shrubs are an excellent way to quickly make an almost instant impact whilst the slower growing plants get themselves established.
Whether you want to quickly create splashes of colour, dazzling focal points or a plant to conceal an ugly wall or fence then a fast-growing shrub will be just the ticket.
Rambler Rose
This rampantly growing shrub is perfect for clothing an unsightly wall or draping over an archway.
Hopelessly romantic, rambling roses can spread to up to six meters so do make sure you have ample space for them.
They usually produce an abundance of flowers in late spring or early summer, blooming for several weeks.
Ramblers are healthy shrubs, resistant to disease, require minimal care and will tolerate most soils and partial shade.
Forsythia
Perfect for hedging and sloped or informal gardens, Forsythia shrubs can add a dramatic flair to any garden.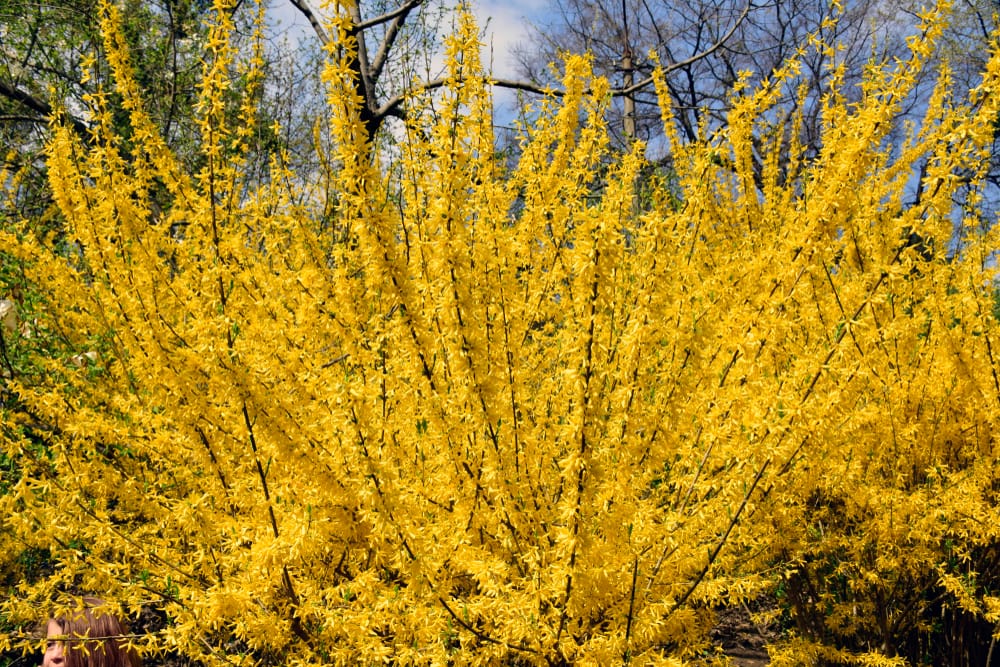 Easily recognisable by their bright, yellow flowers that bloom in early spring, this plant is easy to take care of and maintain.
Enjoying full sunlight, this shrub should be planted where it is likely to receive around six hours of sun in well-drained soil.
Lavatera
Lavatera, or 'Tree Mallow', are perfect for adding beautiful colour to your garden.
From mid-summer, they boast numerous large flowers in shades of pink, white and purple, which can be prolonged by frequent dead-heading.
This shrub is straightforward to grow and care for and can grow to up to two meters, so while it can be a border plant, you will need to provide it with plenty of space.
Shrubbily Jubbily
Hopefully this guide has given you plenty of inspiration to get started with shrubs. Though only a handful of fast-growing shrubs have made our list, there are thousands to choose from. So you're sure to find the perfect one to fit your needs.
When choosing your shrub, be sure to do your research to help you understand the best conditions in which they will thrive (we recommend visiting the RHS website for this). Before you know it, your garden will be bursting with life and colour.