Overview
| | |
| --- | --- |
| Official Plant Name | Lavatera |
| Common Name(s) | Tree Mallow |
| Plant Type | Perennial Flower |
| Native Area | Macaronesia, North Africa, Europe, Central and South-Western Asia, Ethiopia, North America and Australia |
| Hardiness Rating | H5 (mostly) |
| Toxicity | None |
| Foliage | Long-stalked evergreen with grey-green leaves and stems |
| Flowers | Large funnel-shaped blooms |
| When To Sow | March, April, May |
| Flowering Months | June, July, August, September |
Sunlight
Preferred
Full Sun
Exposure
Sheltered
Size
Height
1 – 2.5M
Spread
0.5 – 1M
Bloom Time
June – September
Soil
Preferred
Most Soil Types (Not Heavy Clay)
Moisture
Well Drained
pH
Any
Described as adding a romantic touch to your garden due to all those lovely pink, purple and white coloured blooms, Lavatera is a tall flower which is pretty easy for even the most basic gardeners to grow.
It is regularly likened to Hollyhocks – although there aren't as many colours as such since Lavatera itself is mostly white, with shades of pink, purple and red.
There is no denying Lavatera looks great for the border of a garden. But it's also eye-catching in a large planter, thanks to its generous blooms (four to 12 cms in diameter) and the way they grow in clusters. You will find the Annual version of Lavatera begins flowering around the middle of June and lasts all the way through until those white and frosty crisper days of autumn.
The genus of the flower is from the Malvaceae family, which is native to the likes of North Africa, Europe, Asia, the west side of North America and Australia – so it's pretty prevalent around the world!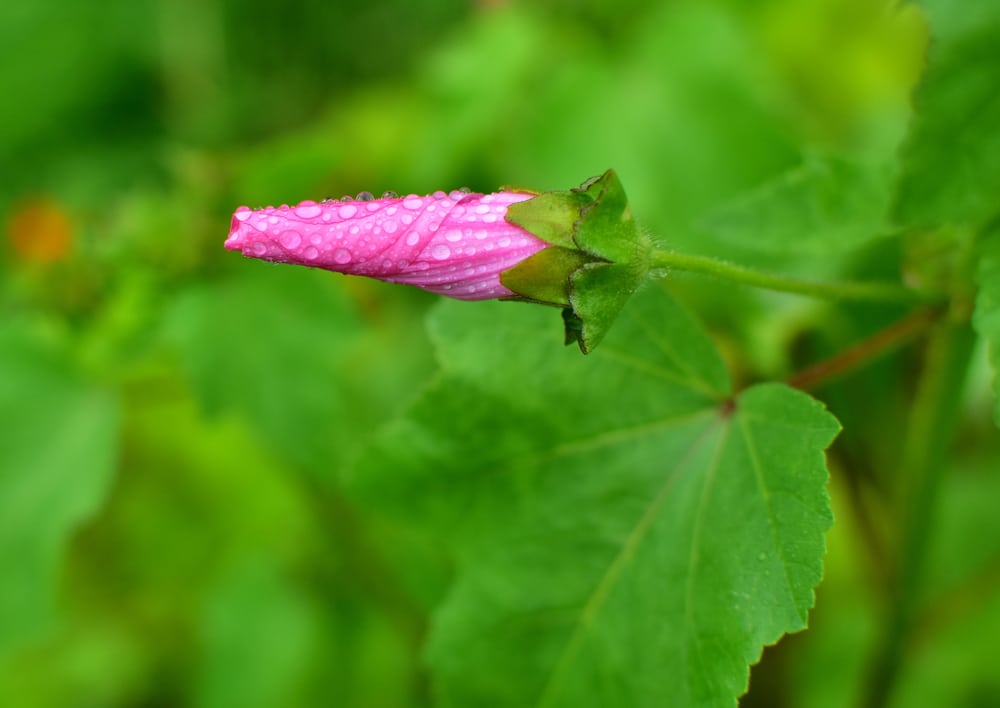 A commonly-used name for Lavatera amongst the gardening community is Tree Mallow. But you'll also find it referred to as Annual Mallow, Rose Mallow or Royal Mallow.
Varieties of Lavatera
In total there are actually 25 different species of Lavatera, and which can basically be broken down into annual and perennial varieties.
Annual Lavateras
One of the most popular of the annual variety of Lavateras is L. trimestris. The rather funnel-shaped flowers from this plant range from white (Mont Blanc) to light pink (Pink Beauty), dark pink (Silver Cup) and cherry pink (Ruby Regis). Some of the blooms also feature eye-catching darker veining, much of which is contrasting and grows to a deeper shade near the centre of the flower. The blooms resemble those found on Hollyhocks (which is why it is always being mixed up with these by amateur gardeners) and can be up to three inches wide. The actual plant tends to grow up to two feet tall.
Perennial Lavateras
The Perennial form of the Lavateras plant is the one you will find most often referred to as Tree Mallows. These are shrub-like and fast-growing and are the forms of the plant that look great as borders. They tend to be particularly colourful and prevalent in their second year of growth.
Some of the most popular forms of Lavateras that you are likely to encounter in gardens around the UK and Europe include:
L. thuringiaca
L. thuringiaca is the perennial form of the plant you are most likely to encounter, such is its popularity. The blooms are a range of different pink shades and the shrubby plant will grow up to 1.8 metres before disappearing every winter.
Lavatera x clementii 'Barnsley'
Lavatera x clementii 'Barnsley' can often be found in many large gardens. Growing to two metres tall and producing hollyhock-like flowers from June until September, the blooms are white and red in the centre, eventually fading to pale pink as the summer progresses. It is a fast-growing plant.
Lavatera 'Barnsley Baby'
Lavatera 'Barnsley Baby' tends to be a smaller (in every sense) version of the above 'Barnsley.' It looks similar, but only grows to a total height of 75 cm. This makes it an excellent flower to grow if your garden is rather space-compromised.
Lavatera maritima
Lavatera maritima can grow as high as eight feet tall and can spread by as much as 12 feet. Its blooms are white and pink while the stem looks like a grey to green shade. An extremely hardy plant, it is ideal for gardens near the sea; where growing other more 'gentile' types of flower may be somewhat of a challenge.
Colourful Combinations
It may not be as colourful as Hollyhocks in terms of variety, but the shades Lavatera does offer are stunning. Many of the flowers also have their beautiful trademark striations of deeper tones. The dark eyes in the centre of the flower can also prove extremely eye-catching. In fact, one thing is absolutely guaranteed – regardless of where in your garden you plant, it will always be one of the first flowers your eye fixes on.
Feeding, Care & Growing Tips
Easy to grow from seed and to care for as time goes on, Lavatera is pretty robust when it comes to coping with strong winds and poor soil. Although it doesn't usually produce its beautiful and abundant five-petalled flowers until its second year, when it does, it certainly makes up for the lack of blooms in Year One.
Butterflies and bees love this plant – which is a big plus since these benefit the flowers. Lavatera also self-seeds so pretty much ensures its place in your garden year-after-year (even if the shrub itself tends to die out after around five years).
The Perennial version requires quite a bit of space in the garden to allow it to spread easily without hitting any obstacles. Height-wise you're looking at from three to six feet.
Insects aren't a particular problem for most types of Lavatera – but frosts can be, unless they are pruned in spring to get rid of any damaged parts of the plant.
Habitat & Growing Conditions
The type of soil Lavatera likes best is that which is well-drained or even soil which is generally considered too poor for many flowers to grow in. It doesn't need a lot of watering – only really if there hasn't been rain for some time and anyway, you'll be able to tell if it needs watering since the petals will start to fall off.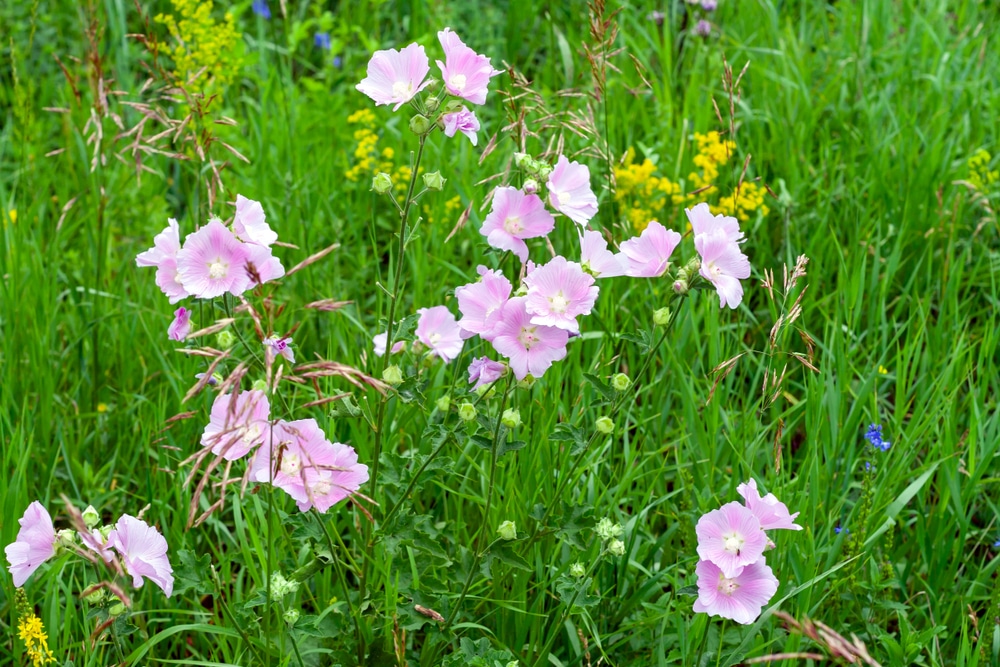 It doesn't need fertiliser either, unless it's during the summer and even then, only monthly in order to prevent it growing too many leaves.
Lavatera are particularly popular with gardeners who lie near the coast. That's because salt simply isn't a problem for this plant. If it's very cold though it's a good idea to grow them beside a wall for added shelter.
In terms of light, Lavatera will flourish in the sun, but it's fine in partial shade too. However, being such a fast grower, the plant can flop if there is far too much shade. Pruning regularly means the branches will grow strong and keep them from spreading too much.
Pruning Tree Mallows
The best time to prune Lavatera is early to mid-spring. That's because there should be practically no chance of frost at this time. To prune, be pretty ruthless as these plants prefer a thorough trimming in order to allow the new shoots for the year to flourish. As well as regenerating the Lavatera, a good cutting also prevents the stems from becoming too old to flower.
To do the job properly you will need secateurs, loppers and possibly even a pruning saw. With the secateurs cut each stem so that it is displayed just one foot above ground level. In the event of very thick stems, it's advisable to use a pruning saw. Brittle stems especially should be cut back; you will find these snap off easily anyhow. A dead stem is one which, when you scrape back the bark, remains brown coloured. If the stem is green when you scrape back the bark then this is a sign it is still alive and should be cut back after a 'swelling' (ie sign a new shoot is appearing).
Where To Buy Lavatera
You can, of course, buy Lavatera from any reputable garden seller in the UK. But, much more satisfying, is for you to grow the plant from a cutting from a friend. Because they flourish early it would just be a matter of planting it directly into your own garden and nurturing it (it won't need much) until you can tell it's flourishing and can manage on its own; this shouldn't be too much of an ask since it's a pretty hardy plant.
Common Diseases & Problems
Lavatera is considered pest- and disease-free because it rarely suffers – and can easily resist – insect or disease damage. But there are exceptions, such as Hollyhock Rust Aphids and Spider Mites.
These can be prevented in the first place though by ensuring the area around the plant is clear from rubbish and weeds. This ensures the soil is good and doesn't allow pests to get near the Lavatera. Don't use fertilizer with a lot of nitrogen either as aphids in particular love this! Here's how to get rid of certain pests:
Hollyhock Rust
This is transmitted by insects and wildlife from infected plants to healthy ones. It's a fungus known as Puccinia malvacearum and is found in many gardens around the globe- especially during spring and summer. Yellow foliage generally indicates its presence, together with leaf withering and then dropping-off. The way to keep the disease under control is to cut off the affected leaves so the fungus can't spread.
Aphids
These insects suck from the plant's juices and affect its appearance (rather than its structure). In this sense, the damage is more cosmetic. It's possible to get rid of them using a water hose, gardening oil or insecticidal soap if there's a lot of them.
Spider Mites
Resembling little black dots, two-spotted spider mites sit on the plant's foliage and can usually only be spotted for sure by using a magnifying glass. That way you can tell if the dots are stagnant (so part of the leaf) or moving (a certain spider). These are dangerous to Lavatera because they suck plant juices from the foliage and young stems. The result is that the leaves turn yellow and deformed.
A garden hose sprayed directly onto the flowers and leaves (and underside of the leaves) is a great way to get rid of these tiny spiders. You can carry this out for several mornings in a row and them every few days. If there are lots of the little blighters then try spraying the leaves with insecticide soap or, in the event there are just too many spider mites, then consider employing a miticide formulation.
Frequently Asked Questions
Can I prune lavatera in Autumn?
No, it's best to prune in early spring.
How do I propagate lavatera?
It's self-propagating! However, the plants can easily be grown from seed (their long root system doesn't do well when transplanted). Plant in spring around 18 to 24 inches apart and wait for them to germinate in up to 20 days.
Can I grow lavatera in a pot?
You can also grow several seeds indoors in a peat pot and choose the strongest to plant. Once it is approximately four inches tall plant it outdoors.
How tall does lavatera grow?
It depends on the particular variety of Lavatera – some can grow to as high as eight feet.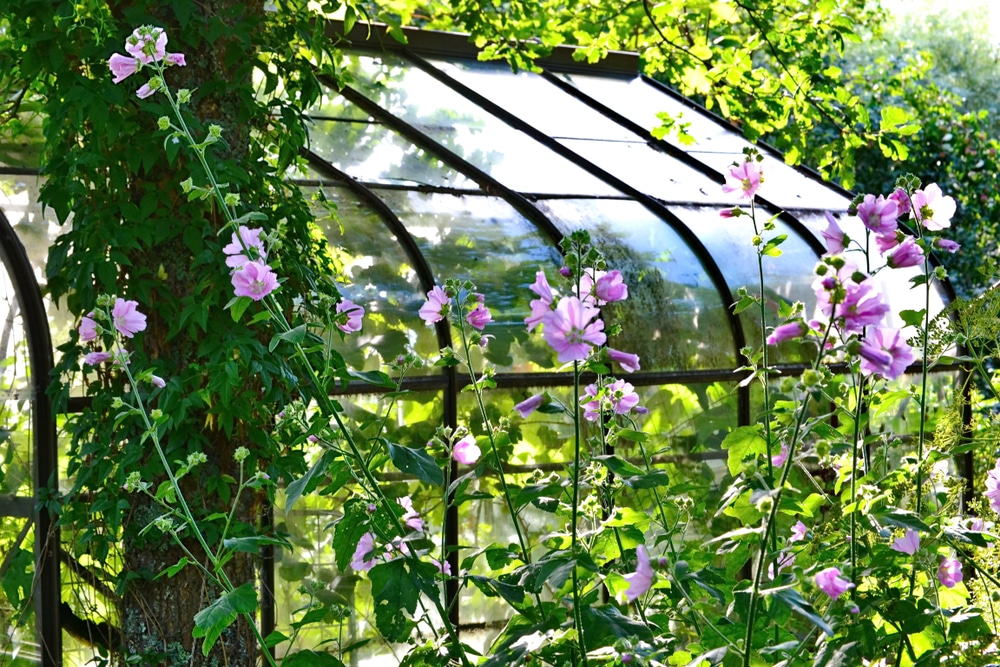 Is my lavatera dead?
If the root system is damaged it may well be. This can sometimes be caused by strong winds.
How long does perennial lavatera last?
The typical plant will stay in your garden for around five years before finally dying off – but will probably have self-propagated by then anyhow!
Dean Wilson
I'm an avid gardener and home DIY enthusiast from Yorkshire in the North of England. I'm passionate about helping our readers get out into their gardens - by making the most of the outdoors and ensuring they get the best possible deals on their gardening equipment. I also believe strongly in the preservation of our beautiful garden wildlife.