Overview
| | |
| --- | --- |
| Official Plant Name | Heleniums |
| Common Name(s) | Sneezeweed |
| Plant Type | Perennial Flower |
| Native Area | Americas |
| Hardiness Rating | H7 |
| Toxicity | None |
| Foliage | Simple leaves |
| Flowers | Daisy-like flowers |
| When To Sow | March, April, May, September, October |
| Flowering Months | July, August, September, October |
Sunlight
Preferred
Full Sun
Exposure
Exposed or Sheltered
Size
Height
1 – 1.5M
Spread
0.1 – 0.5M
Bloom Time
July – October
Soil
Preferred
Most Soil Types
Moisture
Moist but well drained
pH
Any
Heleniums are an interesting lot. They're related to sunflowers, sharing the bright yellow-orange bloom and tall stature, while being striking enough to carve out their own reputation amongst gardeners.
If you're looking for a fairly manageable plant to bring some visual interest to your garden, then look no further.
Aesthetically, heleniums lend themselves to grassy, prairie-style backdrops. They generally like bright sunlight, making them a good choice for particularly sunny spots that other plants may not enjoy.
They're perennials, meaning that if you look after them properly, they'll come back year after year.
And many of the varieties are popular amongst bees and other pollinators, giving them an important role in encouraging and protecting these insects.
After reading this helenium care and growing guide, you'll know everything you need to get these sun-loving beauties thriving in your garden.
What are Heleniums?
This plant genus is named after Helen of Troy, of Greek mythology fame. Helen was the daughter of Zeus and Leda – pretty important mythological figures – and was said to be the most beautiful woman in the world.
We're not expecting you to be as enthusiastic about heleniums as whoever chose their name. Sure, they're pretty, but naming a flower after the world's prettiest woman sets a pretty high bar!
So there you have it – as well as bringing a splash of vibrant colour, heleniums are a great way to bring Greek mythology into your garden.
What more could you ask for?
Choosing the right helenium
Despite North American heritage, there are several helenium varieties suited to growing in UK gardens. We've rounded up a few of our favourites, with special attention paid to those awarded with the Royal Horticultural Society's Award of Garden Merit – a vouch for their quality and suitability.
All varieties below are hardiness rating 7, meaning they can survive in temperatures below -20°c, practically guaranteeing their survival in British gardens.
Helenium 'Chelsey'
Flowering forth with beautiful red blooms in late summer, helenium Chelsey is a great introduction to this plant's majesty. Late-blooming flowers are a good way to keep visual interest going in your garden year-round, and helenium alongside flowers that bloom in spring is one way to achieve this.
The requirements are par for the course for heleniums: full sun, well-drained soil, with little fuss about soil composition as long as it's dry. Size-wise, Chelsey will grow up to about a metre, and it'll take up to five years to get there.
Helenium 'Sahin's Early Flowerer'
No clues for guessing where the name comes from. Early flowerer flowers earlier than other varieties, coming out in early summer, rather than late. This variety can be used alongside other heleniums to keep visual interest going year-round, as we mentioned in the previous section.
The size and preferences are similar to Chelsey: full sun, well-drained soil, up to a metre high over a few years.
Helenium 'Dunkle Pracht'
For the non-German speakers amongst us, the name translates as 'dark splendour', and it's easy to see why –
The rich, hearty orange tones of this helenium variety will hit full swing in late summer, staying in bloom through autumn. Variation between colour palettes of different helenium types is subtle, so it's worth familiarising yourself with each one before choosing which to buy.
Helenium 'Rubinzwerg'
Another German name, this time meaning 'ruby dwarf'. And again, it's easy to tell why. This helenium variety boasts rich orange-red leaves, bringing to mind the resplendent colour of a ruby gemstone.
This variety stands proudly upright, distinguishing it from some other clumpier varieties. It'll grow to about a metre high over a few years, and favours direct sun and – you guessed it – well-drained soil.
Helenium 'Waltraut'
While it looks like it, this name doesn't seem to be German. We're none the wiser to what a 'waltraut' is..
The plant, however, is a stunner. Rich orange petals radiate from a brown seedy centre, bringing a burst of colour to your garden in summer and autumn.
This is another upright variety, standing above some of the lower-growing clustering varieties mentioned previously. Combining the two types is a reliable way to add another layer of visual interest – the vertical element.
How to grow Heleniums
Search for heleniums in Google, and you'll most likely come across several references to 'prairie planting'. If you're not sure what this means, let us fill you in.
Prairies are areas of wild grassland where grasses and wildflowers are left to their own devices. The result is a rich blanket of colour, less manicured than most kempt gardens, but capable of just as much beauty. In recent years, prairie planting has grown in popularity, as gardeners look to bring the raw, rugged natural aesthetic into their own backyard.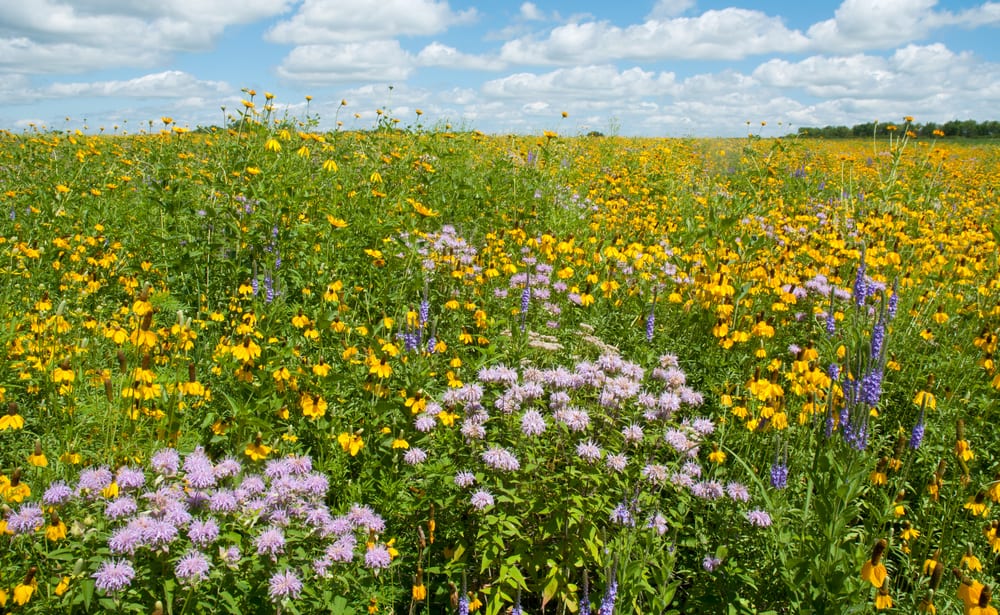 If this is a look you're interested in, then heleniums are definitely the right choice. As a North American prairie plant by heritage, they're perfectly suited to recreating the look in a UK garden.
Here's how to grow and care for heleniums to ensure optimal results.
What you need to know
We'll start with a recap about this plant, so you can ensure it's the right choice.
Heleniums are very hardy perennials that bloom in summer, usually late, until late autumn. They're richly yellow, orange, and red. They like full sunlight and well-drained soil, and don't present too much of a challenge for new gardeners.
When to plant your Heleniums
For best results, sprout your helenium seeds indoors then harden them off for a couple of weeks before planting out. Look to plant them out ideally not later than the end of March. If you miss this time window you can plant them a bit later, but they won't have enough time to establish if you leave it too late.
You can add fertiliser each spring to nourish the plant and pave the way for optimal growth next season.
Where to plant them
Somewhere sunny! If you can only find a spot with partial shade, we advise opting for a yellow variety over orange or red. This is because the pigmentation indicates a tolerability for lower levels of sunlight.
When you've found a suitable spot for your helenium, dig a hole that's about twice the size of the plant's roots. Whack it in, cover it over, then water generously before adding a few centimetres of mulch to retain the moisture.
Watering
While heleniums like well-drained soil, they also need to be watered regularly to ensure the best growth. If you leave heleniums to dry out completely they will struggle to survive, so be vigilant to ensure they stay healthy.
Deadheading and pruning
As with most flowering plants, deadheading and pruning are encouraged to aid with healthy growth. If you're not familiar, deadheading refers to removing tired (or 'spent') flowers to allow healthier growth in newer ones. By getting rid of flowers that are on their way out anyway, you allow the plant to allocate more resources and nutrients to fledgeling blooms.
Simply pull off any flowers that look brown around the petals, or seem to be wilting. Pull them off carefully to avoid damage to the stems, then watch as the next generation of flowers take their place.
Supporting tall heleniums
Some helenium varieties grow tall and need a little support to stay strong. You can achieve this by placing a stake near the roots when you plant out in spring, and encouraging the helenium to lean against it for structural support.
Once the plant is established it probably won't need ongoing support. When you're happy that they've reached this stage, just remove the stake.
Ready for the next season?
Trimming back helenium stems when the flowers begin to die in late autumn / early winter helps promote better growth next season. Using secateurs, trim back to just below the level where foliage occurs.
After a few years, your plant will be ready to divide. You'll be able to tell when it starts looking a bit less glorious and a bit more haggard. At this stage, dig up the plant, tease apart the roots into three or four sections, and replant each as its own adult plant (or pot them up and give them as gifts! Spread the love!).
Prairie planting
As a little bonus, we thought we'd introduce a few other plants that go well with heleniums if you're interested in trying out prairie planting –
Rudbeckia is a bold yellow flower native to North America, that sits gracefully alongside the colour palette helenium offers.
Fennel is a rustic-looking perennial that grows tall and lends a captivating fragrance to your garden. It works well toward the back of displays thanks to its height.
Angelica gigas is an 'umbellifer', meaning a plant with umbrella-shaped flowers. They bring a different shape to the mix, contributing to the visual interest.
Calamagrostis is a tall, fluffy grass that provides a great backdrop to the dots of colour offered by heleniums and other prairie flowers.
Molinia is another grass valued for its role in providing a backdrop. Of special interest is the partial transparency, letting other colours and shapes shine through the display.
This type of gardening is well worth a look if you're not acquainted. It's a great way to play with common plants and themes, while bringing something undeniably rustic and noteworthy to your garden.
Common Problems
Heleniums attract the attention of a few garden undesirables. Here's what to look out for, and how to keep them at bay.
Slugs & Snails
These gross, slimy customers need no introduction, and won't wait for one before letting themselves into your garden to investigate the tasty treats on offer. And sadly, young helenium plants definitely fall into this category.
Your best bet is to manually remove inquisitive slugs and snails. Poison pellets are another, less humane, option if you find yourself running out of patience.
Leafspot
This fungal disease leaves blemishes and pockmarks on plant leaves, the result of a fungus growing inside and feeding on the plant's nutrients.
With leafspot, prevention is best. Water the soil beneath your helenium rather than watering from the top of the plant and letting it trickle down. Dry leaves with good air circulation are far less prone to damage.
If leafspot does take hold, many products are available from gardening stores. Some are natural and organic, others use more controversial chemicals to eradicate the condition. It's up to you to decide which product aligns best with your gardening ethos.
To Helenium And Back
Offering a unique combination of Greek mythology and splendid colour, heleniums are a great choice for any UK garden.
They offer a late-in-the-year bloom to keep visual interest going for longer, and they lend themselves well to all sorts of contexts, from borders, to flower-beds, to increasingly popular prairie planting.
With lots of varieties to choose from – many of which hold the coveted RHS Award of Garden Merit – you're not short of options.
And with high hardiness ratings, simple demands, and relatively low-maintenance needs once established, heleniums are a good choice for even the most novice gardener.
We hope our guide has been useful in convincing you to incorporate heleniums into your garden, or in troubleshooting any issues you have with heleniums you've already got growing.