Combining the powerful energy of red with the happiness yellow, the colour orange is said to represent enthusiasm, joy, creativity and sunshine.
It is considered an energetic colour, believed by some to evoke feelings of courage and strength and passion within us.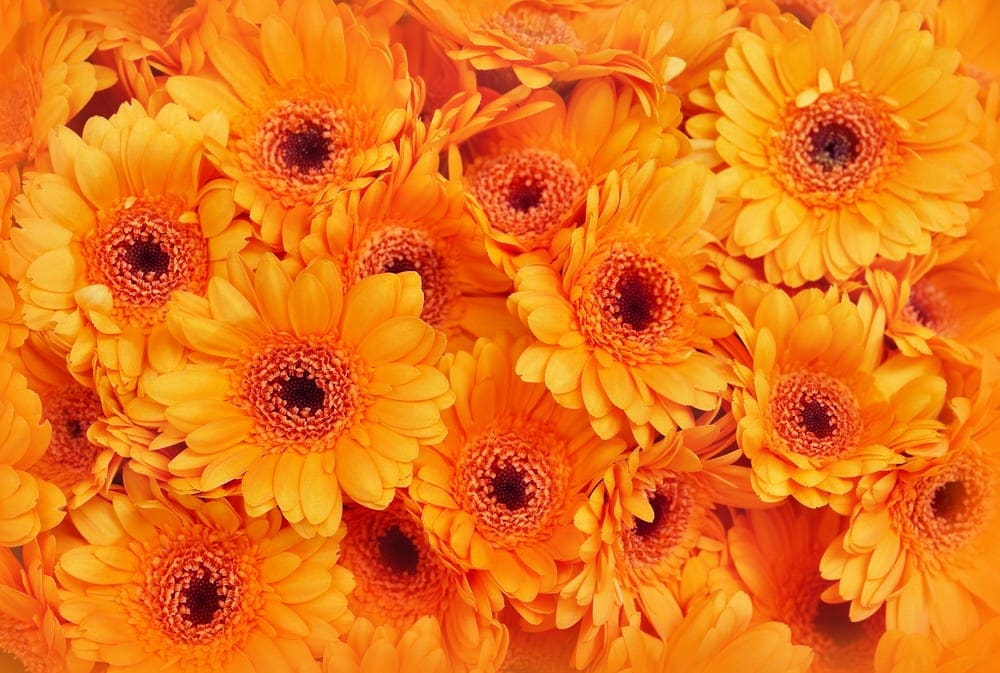 Whether or not you buy into such beliefs, orange certainly is warm and inviting. Many plants flower in this evocative colour, in all kinds of different shades.
So if you are ready to add a splash of excitement to your garden, we've put together some inspiration to help you choose the best plants with orange flowers for you.
Why choose plants with orange flowers?
Including the colour orange in your garden can add a layer of excitement and intrigue.
And with such a spectrum of shades to choose from, with plants flowering in a lighter yellow-orange right through to punchy reddened orange, there will undoubtedly be a plant for you that will help take your garden to the next level.
Using a bold colour like orange also means you can introduce other bold colours to your garden as well, meaning you can go all out if you want to with bright reds and pinks and dazzling blues, making for an exciting and edgy garden.
Orange flowers are also brilliant if you have opted for a tropical theme for your garden, the warmth the colour brings the taste of the exotic and transport you to balmy evenings in a far off land.
Orange you glad we're here to inspire you?
So, now that you've decided that introducing some plants with orange flowers into your garden is just what the doctor ordered it's time to decide what plant to pick.
With so many options to choose from it could be hard to even know where to start but we've done the leg work, so you don't have to.
We have put together a list of inspirations with different types of plants and varying shades of orange to help you find just what your garden needs.
1. Mexican sunflowers
Let's kick things off with this fiery little number, the Mexican sunflower. These free-flowering annuals grow anywhere from three to eight feet tall and bloom in an impactful and delightfully deep reddy-orange.
These sun worshipping, spicy, showy plants are ideal for beginners; they can grow in most soil types and require very little care.
Mexican sunflowers also attract butterflies and with their height bring them right up to eye level giving your garden an extra layer of magic.
2. Nasturtiums
Coming in an array of oranges from peachy yellow, all the way to burnt orange, nasturtiums are cheerful, quick and easy to grow, annual flowers.
Not only do these plants sport beautifully bright greenery and produce a delightful scent, but all parts of the plants are edible, making them an intriguing addition to salads.
Because of how rapidly they grow, these plants are also perfect if you are trying to encourage children to give gardening a go.
They are perfect plants for growing in containers but also make brilliant ground cover plants.
3. Iceland poppy
Blossoming in creamy peaches, yellow-oranges and simple oranges, this delicate-looking perennial plant shows that orange can also bring a sense of charm to your garden.
Flowering in late spring to early summer, the Iceland poppy usually grows no more than two feet in height and will attract birds, bees and butterflies to your garden.
The Icelandic poppy also comes in a variety of other colours, meaning that combining it with other colours is a great way to introduce more colour to your garden whilst keeping orange as the centre of attention.
4. Asiatic lily
Lillies are a real statement in any garden, and the orange Asiatic lily is no different. This boastful orange bloomer brings with it romance and drama and will also harmonise with other plants in shades of pinks and blues and pale yellows.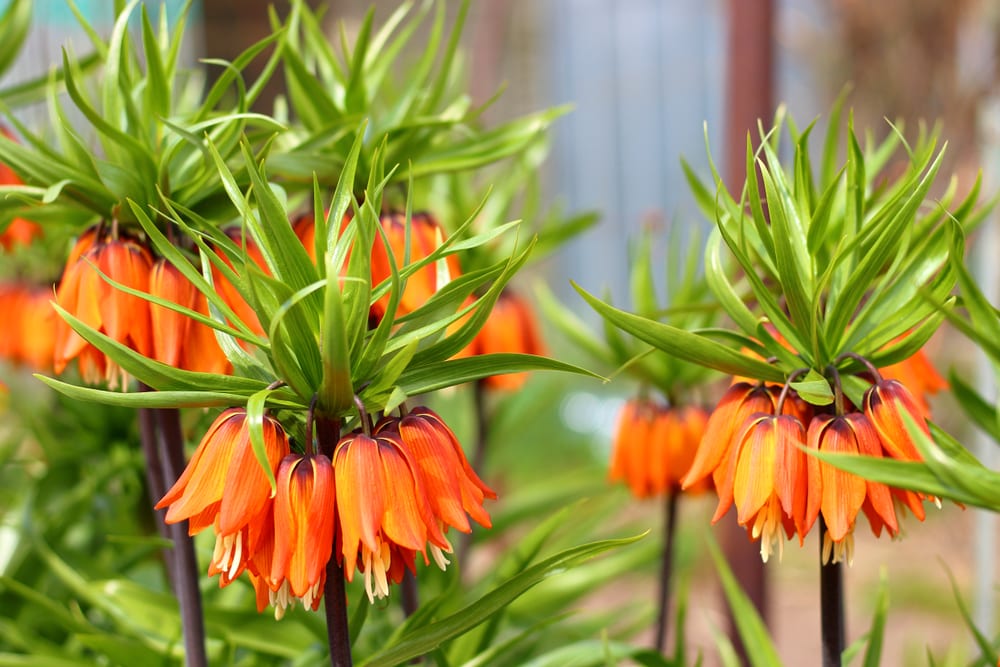 Blooming in late spring to mid-summer, these lilies are usually unscented, but what they lack in scent they certainly make up in style.
The key to these plants is to make sure you choose a location for them that will allow them to have at least six hours of sunlight. They are largely unfussy about soil, but in the right spot, this pretty perennial will reward you with beautiful, bountiful blooms that are guaranteed to impress.
5. Fritillaria imperialis 
If you are keen to add something a little bit different and unique to your garden, then fritillaria is the plant for you.
This bulbous perennial with its narrow, spiky crown of green leaves and it's dramatic bell-shaped orange flowers is a real show-stopper.
This plant will really give your garden the taste of the exotic. Thriving in partial to full sunlight and blooming in spring, fritillaria bulbs will produce the best blooms when planted in moist solid and once established are relatively simple to care for.
Reaching up to four feet in height, these striking plants are perfect for borders, and in the right growing conditions will readily produce huge clumps and are guaranteed to spice up any garden.
6. Campsis
Also known as trumpet vines, these cocky climbers are fast-growing and will quickly cover fences and walls.
This vigorous, woody, deciduous plant blooms from late summer to autumn and adds real value to any garden.
Their whimsical, orange trumpet-shaped flowers are real head turners and, full of fun, they will truly bring a sense of joy to any garden.
Plant these beauties where they will have plenty of sunlight and a surface for them to climb and they will reward you with their blooming-gorgeous blooms.
7. Marigolds 
Last but not least, this list could not be complete without the marvellous marigold. A firm favourite among gardeners, this no-fuss annual will bring the colour of sunshine to your garden.
Plant them in well-draining soil where they can enjoy full sunlight and their flowers will flourish from late-spring to autumn.
Marigolds are fast-growing and attract butterflies, bees and ladybirds and make a fine companion for vegetable patches as they can help protect them from pests.
This flamboyant flower is easy to grow, making it perfect for a kids project or new gardeners.
Orange is the happiest colour
It was Frank Sinatra himself who said: "Orange is the happiest colour" and we think he has a point.
Orange flowers bring such a cheerful, sunny vibe to any garden and will complement so many other shades and hues.
Hopefully you are now bursting with orange inspiration and ready to fill your garden with positive, energising tones that will keep you smiling day after day.
So what are you waiting for? Get out there and create the bold and beautiful garden you've been dreaming about!