Overview
| | |
| --- | --- |
| Official Plant Name | Nigella |
| Common Name(s) | Love-In-The-Mist |
| Plant Type | Annual Flower |
| Native Area | South Europe, North Africa, South-West Asia |
| Hardiness Rating | H3 |
| Toxicity | None |
| Foliage | Finely dissected leaves |
| Flowers | Solitary blue or white flowers |
| When To Sow | April, May, September, October |
| Flowering Months | June, July, August |
Sunlight
Preferred
Full Sun
Exposure
Sheltered
Size
Height
0.1 – 0.5M
Spread
0.1 – 0.5M
Bloom Time
June – August
Soil
Preferred
Chalk, Loam, Sand
Moisture
Well Drained
pH
Neutral / Alkaline
This article is for all you hopeless romantics out there.
Nigella, also known as love-in-the-mist is a charming, old-fashioned annual.
She produces stunning, solitary flowers which are encased in delicate, feathery bracts which give the impression of the flower being surrounded by mist.
Love-in-the-mist blooms in colours of blue, pink, lavender and white and can bring a real sense of magic to your garden.
Growing to a height of 15-24 inches and, if there is space, up to a foot in width, this pretty plant is perfect for pots and containers as well as mixed borders and gaps.
With its unusual and unique appearance, feathery foliage and fascinating flowers, love-in-a-mist can really provide texture, structure and interest to your garden, making it a firm favourite among gardeners.
What is Nigella 'love-in-a-mist'?
Nigella 'love-in-a-mist' is an upright growing, annual garden flowering plant that has a long season of interest. It is very easy to grow from seed and in the cooler months produces stunning flowers to cut. If you are able to resist cutting the flowers then come summer, you will be rewarded with kooky seed pods.
Belonging to the buttercup family, love-in-a-mist is native to southern Europe, northern Africa and the south-west of Asia. The flowers usually bloom from early summer but can bloom in spring and autumn too, and the plant self-seeds and grows in the same spot year after year.
Love-in-a-mist is said to represent harmony and love with the flower symbolising the bonds that bind people together.
The seeds of love-in-a-mist are frequently used in cooking; they are usually dried and can be found in baked goods, pickles, and can also be used as a substitute for pepper.
This effortlessly beautiful plant thrives best in full sun to partial shade and prefers moist, well-drained soil.
Why we love nigella 'love-in-a-mist'
With their quirky and unique beauty, it is hard to find a reason not to love these gorgeous plants. But if you are still not sold, here are a few more reasons to fall in love with them:
Nigella is great for sowing over spring bulbs; once the bulbs have finished blooming, nigella will take the stage and keep your garden looking glorious and filling up unsightly gaps.
Nigella is a fabulous cut flower making for charming displays. The funky seed pods are also a great addition to both fresh and dried arrangements.
Nigella makes is a charming choice for informal cottage gardens, but given how well it does in pots and containers it can work beautifully in any garden no matter the size or style.
Nigella is a prolific reseeder so, once planted, they will reward you with flowers year after year.
Varieties of nigella 'love-in-a-mist'
Now that you decided that your garden is simply crying out for love-in-a-mist, then its time to choose the right one for your garden. There are many varieties to choose from, so we've picked out some of our favourites to help you get started.
Miss Jekyll dark blue
This popular, upright, bushy variety boasts stunning, dark blue blooms which are then followed with decorative, balloon-shaped seed pods which are a quirky addition for dried flower displays.
Growing to a height of 18 inches and 12 inches in width, this variety will is unfussy and will grow in any well-drained soil. Plant Miss Jekyll dark blue where it can receive full sun, and it will reward you with a fabulous display.
This species of love-in-a-mist is ideal for flower border and beds, city and country courtyards, cottage gardens and pots and containers for patios and decking.
Miss Jekyll alba
This splendid variety is very similar to the Miss Jekyll dark blue but instead sports pretty ornate white flowers and bright green seed pods. These will thrive in all the same spots as the previous species; however, they are particularly useful for brightening up sunny borders.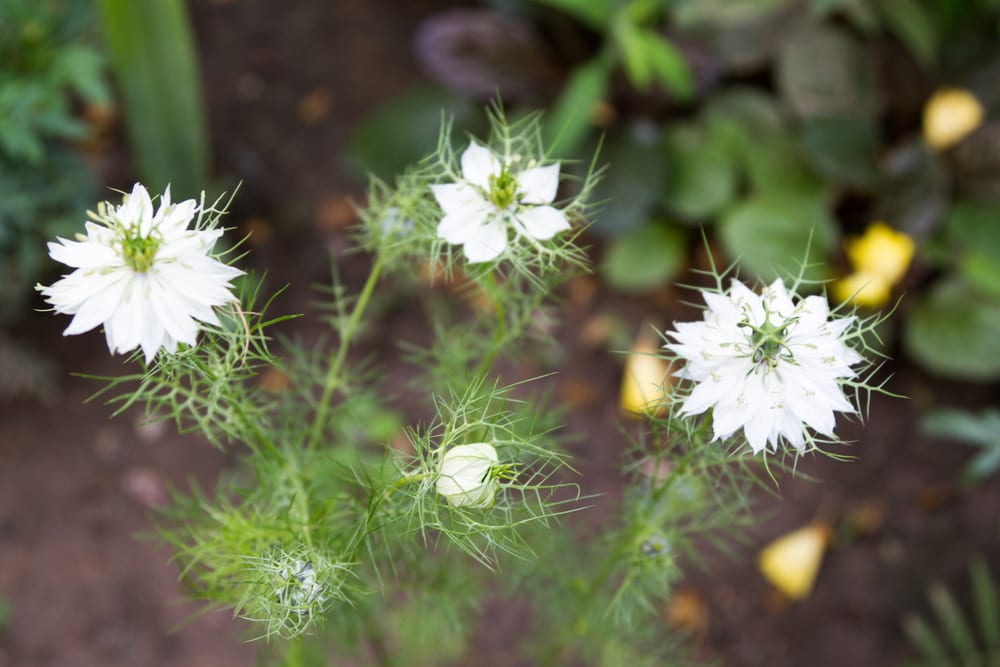 Miss Jekyll alba usually grows up to 20 inches in height and the same in width and is easy to care for, requires little pruning and is generally problem-free when it comes to pests and diseases.
This variety blooms between July and September and will thrive in moist, well-drained soil, full sun and in a sheltered spot.
Blue midget
This dwarf nigella is a little shorter than other varieties and only grows to around 10 inches in height, making it a brilliant option for edging. It has beautiful sky blue flowers and the same ferny, misty foliage as other members of the love-in-a-mist family.
Blue midget nigellas prefer moist, well-drained soil and full sun although they will tolerate partial shade. You can either sow your seeds between March and May, or in autumn, and they will bloom the following year.
You can cut flowers regularly to encourage growth and prolong the flowering window. You will also need to deadhead them if you do not wish them to reseed.
Persian Jewels
This type of love-in-a-mist produces a gorgeous jumble of bloom colours in shades of blue, purple, pink and white. Persian jewels grow from 12 to 18 inches in height and are perfect for bedding. They also make exquisite cut flowers and look simply stunning in a vase.
The seeds of this variety have a strong aroma and spicy taste and can be used to great effect in cooking and baking, adding a burst of flavour to bread, cakes and curries.
You should plant nigella in moist, well-drained soil and full sun and will flower from June to August.
Care and growing tips
Now that you have your heart set on planting nigellas and have chosen the perfect ones for your garden, it's time to get started. Thankfully these pretty plants are straightforward to grow and care for and are very low maintenance, and we've put together everything you need to know to get it the right first time.
How to plant
Love-in-mist does not do well being transplanted, so planting from seed is the best way to go. You can sow seeds from early spring and all through summer for same year flowering, or in autumn so they will flower the following year.
Sowing seeds is simple, just scatter them in your chosen spot and gently rake them in. Don't worry about covering them with soil but do ensure they are pressed in slightly and kept nice and moist. For the best result, choose a sunny, sheltered location.
Love-in-a-mist is a short-lived plant, but you can keep the flowers going by continuing to sow every four weeks or so. The bonus of them being short-lived means they tend to remain trouble-free as pests and diseases don't have time to take hold.
What soil does love-in-a-mist like?
Love-in-a-mist is remarkably unfussy but will thrive best in fertile, nutrient-rich soil, and while the soil needs to be moist, they don't enjoy sitting in wet earth. This plucky plant will also tolerate drier conditions and other types of soil including gravelly types, clay and clay-loam.
Watering
During dry periods we recommend watering your love-in-a-mist at least a couple of times a week, always check the moisture of the soil and then water accordingly.
Fertilising
If you want you can add a general-purpose fertiliser when you sow your seeds and then fertilise again around a month later.
Growing in containers
Love-in-a-mist makes a stunning addition to pots and containers. You can give them the best shot by sowing them inside and keeping them indoors for around six weeks. You can then place the pot or container outside in a sunny, sheltered spot.
As previously mentioned, these plants do not tolerate being transplanted well, so make sure you plant them in a pot or container with adequate space so you can avoid repotting.
Pruning
If you want to keep your plant flowering longer, you can deadhead or cut the flowers. That said, this will mean you will sacrifice the quirky seed pods which will also mean the plants won't self-seed meaning you will have to sow a fresh batch the following year.
Common Problems
This fabulous flowering annual rarely suffers from pests and diseases. That said, whiteflies, thrips and other common pests may find their way in. If this occurs simple spray the plant down with a hose and this will wash the pests away without damaging any flowers.
Fall in love with love-in-a-mist
As you can see, this gorgeous plant is one of a kind. It's easy to grow and easy to care for, making it easy to see why this plant has been popular for so many years. It'll add so much colour, texture and interest to your garden.
Be sure to research your chosen variety to give them the best start and they will reward you with their exquisite aesthetic year after year.