You've bought a bunch of pots for plants, ready to put your green fingers to work and bring a vibrant green flourish to your home.
But maybe you're wondering which plants are best for those pots? This is a question with surprisingly varied answers. "The best" depends on what you're trying to do, for starters.
Are you looking for plants for pots in full sun, or for shade loving plants for containers?
Are you looking for flowering plants for pots, or something evergreen to guarantee colour year-round?
Whatever pot-based needs you're aiming to meet, we've written this guide to point you in the direction of the best plants to help you get there.
What are the best plants for outdoor pots?
The great outdoors is the best place for plants. It's where they belong, and the conditions are most often right for them to thrive.
If you're looking for plants to fill your outdoor space – whether it's a garden, a balcony, a patch of pavement, or anything in between – we've got you covered.
In the sections below we'll explore the most commonly requested types of plants for outdoor pots, then give our favourite recommendations for each. This list is not exhaustive! You have tons of options for outdoor plants, so if you don't find something you like here, keep looking.
Hardy plants for outdoor pots
Hardy plants are those that can hold their own in tough conditions, from low temperatures to periods of drought. And let's face it: In the UK, where our weather flits between one extreme and another, hardy plants are a good bet.
The Royal Horticultural Society awards plants hardiness ratings depending on the conditions they thrive in. This ranges from H1a (plants that need to be in a greenhouse all year round) to H7 (plants that are quite happy on exposed mountainsides in sub-zero temperatures). We've included the hardiness rating for the plants mentioned below, and you can see the full scale at the RHS website, here.
Bay Tree (Laurus Nobilis)
If you've ever found an entire leaf in your curry, that was most likely bay leaf. The fragrant flavour is commonplace in kitchens, and the plant makes a welcome addition to any British garden.
Bay grows in pots or shaped containers like troughs and similar. It responds to pruning, and can be shaped if you're interested in topiary.
This plant has a hardiness rating of H4-5 depending on where it's placed – it will be less hardy in a container than it would be in the ground, and will fare slightly better in sheltered positions.
When cultivating a bay tree in a container, it likes a soil-based compost with grit for drainage. You only need to water moderately, and you can fertilise fortnightly between May and September. Repotting every two years helps this plant to thrive – aim to do that in spring.
Other honourable mentions
Pink Elephant (Hebe): Creamy pinks and greens give this hardy evergreen an intriguing and alluring visual appeal. We love plants with unusual palettes, and we recommend this Hebe to any budding gardener. The Pink Elephant has a hardiness rating of H4.
Perennial plants for pots
Perennials come back year after year, meaning that once you've added them to your garden, you can enjoy them for a good amount of time. They're perfect for gardeners who want to kick back and enjoy their outdoor space, without the pressure of planting out a new batch of plants every season.
Thankfully, there are plenty of perennials that grow well in pots and containers. Here are a couple of our favourites.
Peruvian Lily (Alstroemeria)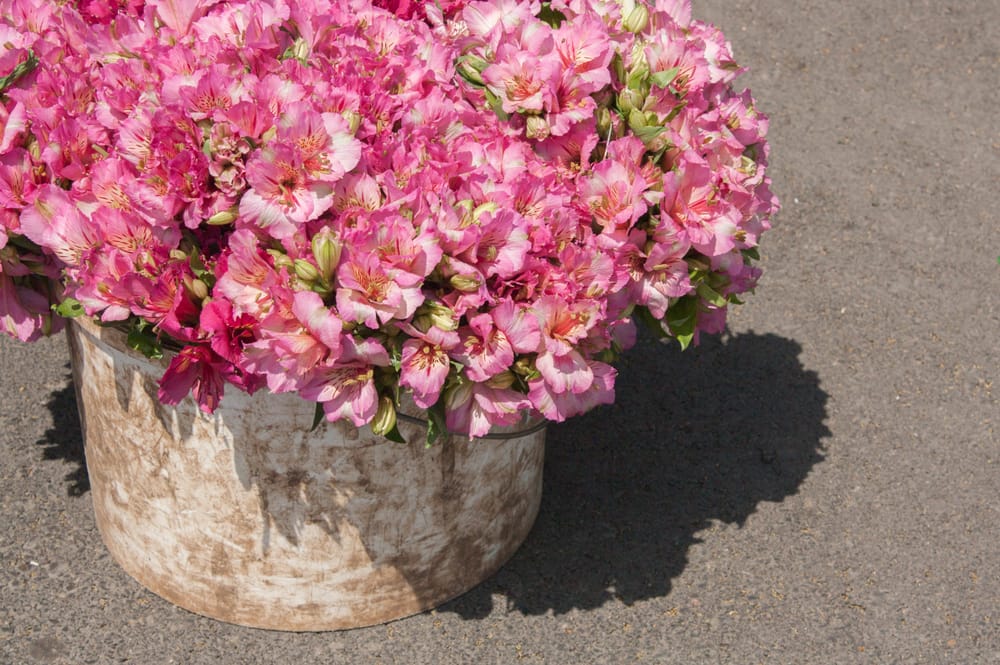 A mainstay in British gardens, and a plant with modern varieties to put exciting new twists on the traditional. Offering a rainbow of red, orange, yellow, pink, or white, the Peruvian Lily is a great choice for any gardener. Some varieties – including Sonata, Friendship, Spitfire, Tessa, and more – have received the RHS Award of Garden Merit, marking them as particularly well suited to gardens in our fair country.
Alstroemeria also makes for great cuttings if you want to grow new plants indoors, or give them as gifts. A truly versatile plant.
Other honourable mentions
Lavender: Who doesn't love lavender? We'll be honest, this is one of our favourite plants ever. The mind-blowing spectrum of pinks and purples it brings, the unmistakable and enchanting scent, and the fact that bees can't resist it. All these factors combine to make lavender a rewarding and beautiful addition to any garden.
Evergreen plants for pots
Evergreens are the best plants for pots all year round. Their foliage remains visually interesting throughout the year, and they don't require replanting or replacing next season.
Luma apiculata
This evergreen shrub sports attractive white flowers in summer and autumn, with purple berries at the end of its flowering season. It's received the RHS Award of Garden Merit (AGM), signifying its compatibility with UK growing conditions. So if you're looking for an evergreen that will thrive in pots in your garden, luma is a good bet.
In fact, luma is noted for its suitability for city courtyards and gardens, where your plant choices may be limited to those that can grow in containers.
This plant will keep growing for years to come, sometimes taking up to fifty years to reach its full height.
Other honourable mentions
Round-leaved Mint bush (Prostanthera Rotudifolia): This evergreen shrub has lovely purple flowers punctuating its aromatic green leaves. It's evergreen, but not as hardy as some other evergreens. For this reason it's recommended to take it indoors over winter.
Silver Queen (Pittosporum Tenuifolium): This attractive evergreen with creamy-green leaves and a faint honey-scent will grow well in containers.
Tall plants for privacy in pots
Sometimes plants in pots serve more than just aesthetic roles. They're great for portable privacy screens in overlooked gardens or anywhere else you might feel a bit exposed. Here are some tall plants for pots in your garden that will provide privacy and look lovely.
Bamboo
This plant is renowned as one of the fastest-growing in the world, and with good reason. Planting out bamboo in containers can give you a tall screen for privacy in just a couple of years. Buy an already-established bamboo plant for your container, and you can be behind its natural screen even quicker.
As well as helping with privacy, bamboo is a generally striking plant. It brings a nuanced visual to outdoor spaces, and harkens to Oriental settings. Paired with the right plants – or perhaps some nice fairy lights – bamboo can make an enchanting and exotic haven out of any outdoor area.
Other honourable mentions
Thuja (Arborvitae): These evergreen trees can grow up to 60 metres high, in the right conditions. Obviously a container in your garden probably won't provide those conditions, but they are known for their stature and density nonetheless, both of which properties are conducive to privacy in your garden.
Best plants for pots in full sun
If you've got a garden where space is at a premium, you may not have the luxury of putting your pots in the shade. This section showcases a couple of plants that are quite happy sitting in full sunlight; no gardener should be left behind just because their garden has no shady spots.
Prelude (Pieris Japonica)
Bundles of white lantern-shaped leaves grace this plant's branches in spring, and we absolutely adore it. This plant will do well in full sun or partial shade, as long as its sheltered from the worst of the elements.
Prelude has been awarded the RHS Plants for Pollinators label, meaning it'll attract bees and other important pollen collectors to your garden. If you're looking for colourful buds and buzzing company in your garden, you can't go far wrong with this plant.
Other honourable mentions
Little Linda (Kalmia Latifolia): A compact Kalmia with a truly stunning red bloom giving way to a calmer but no-less-striking pink. It's rare to find a plant with such a characterful colour profile. We think you'll love Little Linda.
Eternal Fragrance (Daphne Transatlantica): This Daphne variety has nice white flowers sometimes followed by colourful berries. It's semi-evergreen, and will grow well in full sun or partial shade.
Agapanthus: We're going to introduce this plant in a later section, but bear in mind that it's good for sunny spots as well.
Shade plants for pots
On the other side of the coin, some of us with small gardens aren't lucky enough to have a spot that gets reliable sunlight. If this is the case, you need plants that can thrive in partial or constant shade.
Thankfully, there are plenty of shade loving plants for containers to choose from. A small garden that doesn't get sun isn't the curse it initially seems to be.
Plantain Lily (Hosta)
There are many varieties of hosta, the vast majority of which thrive in shady conditions. These plants are better than average at attracting slugs and snails, those prevalent pests who threaten gardeners across the country. If you choose a hosta for your garden, be sure to take extra precautions against these slimy intruders.
Other honourable mentions
Midnight Sun (Lysimachia Congestiflora): Lysimacha is a shrub with leaves that spill downward to create a pleasing visual effect. They're popular amongst gardeners with shady spots that need filling, and for good reason.
Trailing Lobelia (Lobelia Erinus): A lot of plants fall under the Lobelia umbrella, but this trailing variety lends itself perfectly to hanging baskets. If you're looking for trailing plants for pots in your garden, this is an excellent choice. The bold and dramatic purple-blues are just lovely to look at, too.
Best flowering plants for pots
Not all gardeners require plants that put forth flowers, but to us, a colourful bloom is one of the most rewarding aspects of gardening. This section introduces some plants whose bouquets will impress even the most reluctant flower fancier.
Agapanthus
According to some gardeners, this plant has the interesting property of flowering more when its roots are restricted, making it perfect for pots. This doesn't mean you should let the plant get pot-bound – you still need to take the relevant precautions and repot occasionally – but you can get away with leaving it a little longer than you would otherwise.
Depending on the variety you choose, Agapanthus can bring blue, white, purple, or various other colours to your outdoor space. They're a versatile plant that will reward any gardener who incorporates it into their potted plant repertoire.
Other honourable mentions
Rose Munstead Wood: A hardy rose with climbing tendencies and a deep-pink bloom. This deciduous flower will bring striking colour to your garden in summer and autumn, and thrives in containers.
Dopey (Rhododendron Yakushimanum): This vibrant red rhododendron remains visually interesting after flowering, unlike some other plants in this family, who are noted for being a bit dull between flowering seasons. Dopey is a good bet for containers for this reason, as it doesn't waste space when out of bloom.
Top of the pots
After reading our guide to the best plants for pots and containers, you should have a pretty good idea of some of the options available to you. Pots and containers are a great way to expand your outdoor space. A small garden, or even an enclosed concrete balcony, don't need to be a hindrance to your green fingers.
Planting out in pots is rewarding whether you have one solitary plant outside your front door, or a bustling garden with many pots spilling forth with varied and visually exciting plants.
We believe that anyone should be able to bring plants to their outdoor space, whatever it looks like. With that in mind, we hope you enjoyed our guide, and that you feel inspired to go forth and pot plants to your heart's content.