Winter flowering plants are a boon for the gardener and winter wildlife.
But choosing the right plants can be a tricky business. It is important to choose the right plants for the right places, taking the conditions and the needs of the plants into account.
The good news is that no matter where you live in the UK, there are winter flowering plants that could suit your garden. In this article, we will look at shrubs, perennials or bedding plants, and bulbs. And we'll explore 20 of the best winter flowering plants that you could consider for your outside space.
Winter flowering plants are important for wildlife – providing a source of nectar when there are far fewer blooms around. This is good for wildlife, and therefore good for the ecosystem. But it is also good for you as the gardener. Having plenty of winter flowers around won't just look good and provide cheer when the weather is wilder. It will also mean that wildlife is in place to help you with your gardening through the rest of the year.
Winter Flowering Shrubs
First of all, let's take a look at some winter-flowering shrubs you could consider:
1. Daphne
There are a number of different Daphne varietals that bear beautiful blooms during winter or very early spring. D. bholua and D. odora are just two interesting and attractive options to consider. D. bholua originates in the Eastern Himalayas. 'Jaqueline Postill' has fragrant pinkish-white flowers. D. odora, native to Japan and Korea, is known for its pale pink flowers and glossy evergreen foliage. These are just a couple of different Daphnes that are beautiful in the winter months.
2. Witch Hazel (Hammamelis vernalis)
Witch hazel is a deciduous shrub whose wiry yellow flowers appear on bare branches in the middle of winter, adding plenty of interest to the garden at this time of the year. In addition to being prized for its winter flowers, witch hazel is also a widely used medicinal herb. This is a pest-tolerant and hardy species great for a woodland garden. It does best in a neutral to slightly acid soil, in a position sheltered from drying winds.
3. White Forsythia (Abeliophyllum distichum)
This is another deciduous shrub that bears flowers on its bare stems over the late winter or very early spring. The slender branches form fragrant white or pale pink flowers around 1cm across that somewhat resemble the flowers of Forsythia – hence the common name for this Korean native.
4. Christmas Box (Sarcococca confusa)
This winter flowering evergreen shrub is known for its fragrant white blooms that stand out in winter against the dark green foliage of the plant. As long as the soil is well-drained, Christmas box can cope with a site that is in full sun or shade. It could be a good choice for mixed hedging. 
5. Heathers (Erica ssp.)
There are a number of winter flowering heathers that work well to bring blooms to a garden over the coldest months. These low-growing shrubs can work well at the front of a bed or border, and can also work well in containers. There are varieties with flowers in a range of different shades from purple through pink to white.
6. Viburnum
Viburnums are another broad species that has a number of varietals that flower in winter. One example is Viburnum Tinus 'Trevor Eve'. This has pink buds around Christmas that then bloom into white flowers early in the new year.
7. Skimmia Japonica
Skimmia Japonica 'Rubella' actually flowers in spring. But over the winter months, it bears prominent flower buds that add a lot of interest to a winter garden. Other skimmia bear beautiful red berries over the winter months which are great for Christmas. Most skimmia are either male or female, so you'll need to grow two different varieties if you want females to produce berries.
8. Elaeagnus pungens 'Maculata'
An excellent nitrogen-fixing evergreen shrub, there are a number of Elaeagnus ssp. that can work well in a winter garden. 'Maculata' bears small silvery-white flowers between around October and January.
9. Mahonia x media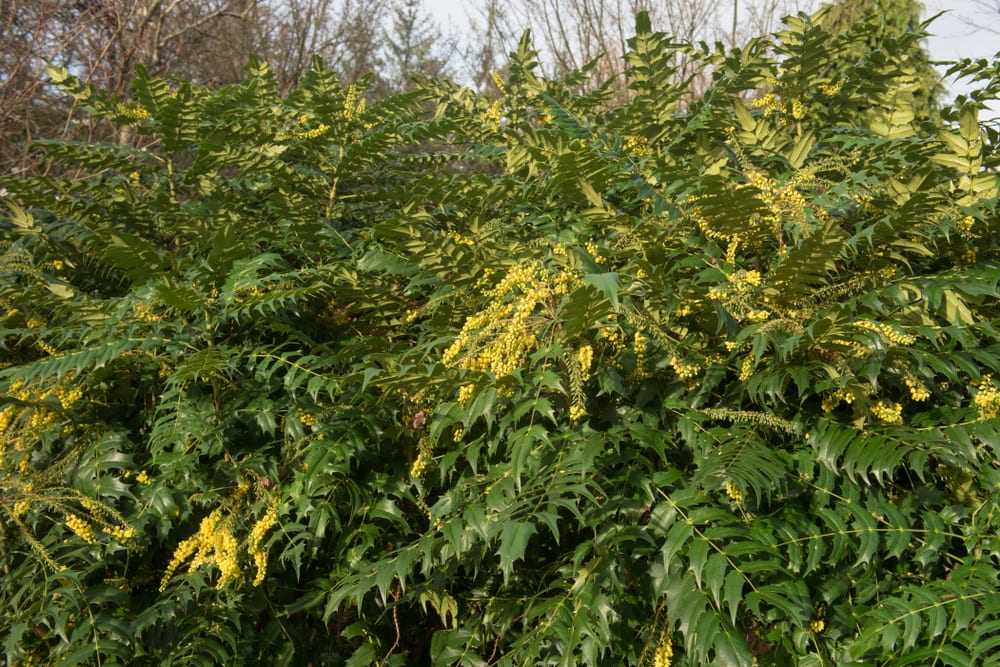 Several varieties of Mahonia are evergreens that bear attractive spires of sunshine yellow flowers in late winter. These cheerful flowers are followed by purple berries. Mahonia x media ('Charity' and 'Winter Sun') and Mahonia aquifolium are excellent shade-tolerant plants, bringing colour to even shady spots on a garden.
10. Strawberry Tree (Arbutus unedo)
This small tree or shrub will grow to an eventual height of 4.5-6m. It bears white or pink-tinged flowers between October and December, then small strawberry-like fruit in autumn, which are edible, and are sweet but somewhat insipid. It can be useful in making jams and preserves.
Sowing plenty of shrubs and woody perennials in your garden won't just provide attractive blooms and foliage over the winter months. It will also help you sequester more carbon in your garden than you could do by growing only annual plants. The more carbon you can store in your garden in trees and other plants and the soil, the more you will be helping to combat our climate crisis.
Winter Flowering Perennials/ Bedding Plants
If you want beds, borders, planters, containers or hanging baskets to look great all winter long, but don't have space for shrubs, here are some more winter flowering plants to consider:
11. Hellebores
Hellebores come in a range of colours and with a range of characteristics. The Christmas Rose is one common example, enjoyed around the festive season for its winter flowers. Many oriental hybrids are popular, as these are easy to grow. They are frequently bought as bedding plants from autumn onwards and used for adding late winter and spring interest to containers, beds or borders.
12. Iris unguicularis
Iris rhisomes need to be warmed up by the summer sun in August/ September. Warmed, they can then be planted out in a well-drained soil or placed in a pot indoors to force flowers for February. The flowers are an attractive violet hue, with white and yellowish patterns.
13. Bergenia Crassifolia
Bergenia Crassifolia, also known as winter flowering bergenia or winter-flowering elephant's ears, is a clump-forming evergreen perennial that is well known for its hardiness and vigour. Erect clusters of purple-pink flowers develop from winter into spring, and leaves often tinge red over winter, providing additional interest in the winter garden.
14. Pansies/ Violas
Pansies/ violas are amongst the most common and popular options when it comes to bedding plants for a winter garden. Winter pansies come in a staggering array of hues, and they can overwinter in a sheltered garden, or in containers, right through the coldest part of the year.
15. Primula/ Primroses
Primulas and primroses are also popular bedding plants for the winter months. These too come in a wide range of colours and can add interest and cheer to a winter garden.
Winter Flowering Bulbs
Finally, some of the most delicate and delightful winter flowering plants come from bulbs. Here are five further options to consider:
16. Snowdrops
Snowdrops are often one of the first blooms we notice each year. At their best when planted below trees in naturalistic drifts, snowdrops are a delight of the late winter. To make the display look more natural, scatter the bulbs across the area and plant them where they happen to fall.
17. Winter Aconite
This is another winter-flowering bulb that looks great in drifts in a woodland or forest garden. They thrive in moist soil and shade. The cheery yellow flowers resemble buttercups, but pop up in the depths of winter.
18. Cyclamen coum
These pretty pink flowers pop up their heads and bloom as early as January, emerging from a carpet of silver-marbled foliage. These are great companions for the two winter flowering plants mentioned above.
19. Crocuses
Emerging from late winter and into early spring, crocuses are another cheery sight. Plant into a sunny glade or naturalise in a lawn for a delightful and colourful flowering display early in the year.
20. Daffodils
Finally, we may think of daffodils as more of a spring-flowering plant. But there are a number of varietals that pop up earlier in the year. Early flowering cultivars like 'Rijnveld's Early Sensation' or 'February Gold' can have a big impact in a late winter garden. Paperwhite narcissus are also commonly forced to bloom around the festive season indoors.
Start Planting This Winter
Winter flowering bulbs are ephemerals – blooming over a period early in the year before storing nutrients in their bulbs for the rest of the year. This means that they can be useful in attracting and feeding pollinators early in the year when few nectar sources are about. But also in catching and storing water and nutrients and retaining them in your garden.
Winter flowering plants can each have a role to play in the long term health and aesthetic value of your garden. But it is important to bear in mind that you need to choose the winter flowering plants that work well where you live. Think about your climate, and the microclimate in your particular garden. Consider the sun and the wind, and of course the characteristics of your soil. Understand the specific needs of specific plants before you decide which to include in your winter garden.
Make the right plant and design choices and you can have a garden that is abundant and beautiful, not just over the summer months but all year round. You can have a garden that blooms in winter too when you choose the right winter flowering plants.

Elizabeth Waddington
A permaculture garden designer, sustainability consultant and freelance writer, Elizabeth works as an advocate for positive change. She aims to inspire others to reconnect with nature and live in a more eco-friendly way. She also tries to practice what she preaches as she tends her own forest garden, polyculture beds and polytunnel. See her personal website here.