Historically, the colour purple was associated with wealth and royalty, largely because of how expensive and rare the dye was that was used to produce it.
Purple exudes luxury, power and vitality and including purple flowers in your garden can really pack a visual punch.
With so many varying shades to choose from, purple can set a distinct mood within your garden, whether it's peaceful and tranquil, lavish and luxurious, or brilliant and bold. Purple flowers are a surefire way to make a statement and accentuate the aesthetics of your garden.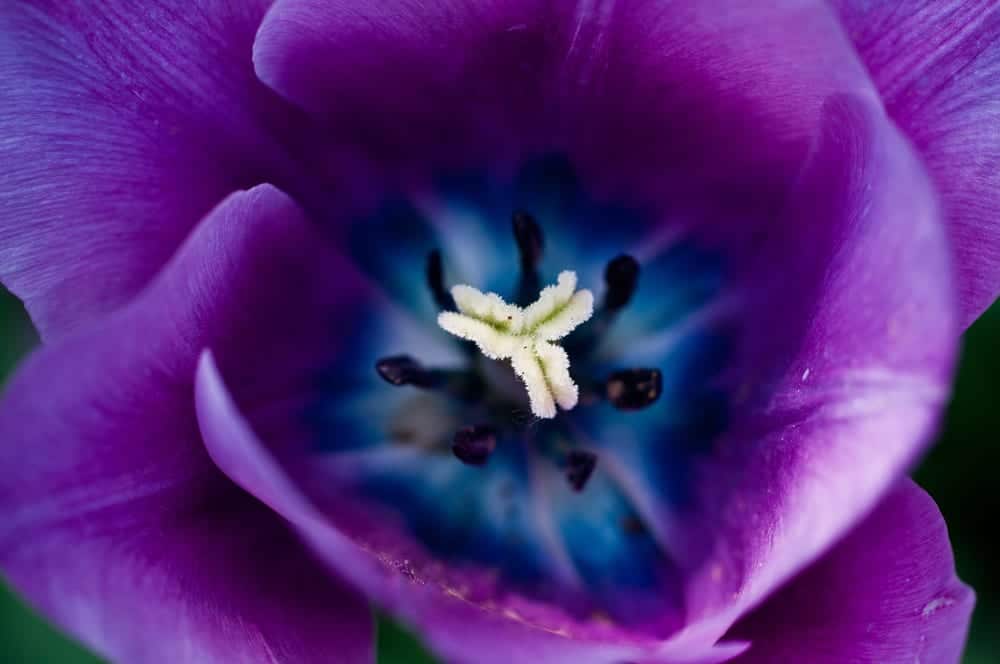 So if you are eager to introduce some purple passion into your garden but you're not sure where to start, we've put together some inspiration to help you choose the perfect purple flowers for you.
Why choose plants with purple flowers?
Including the colour purple adds a layer of opulence and richness to your garden.
What's more, purple pairs well with many colour schemes and will help make other plants pop.
Whether you go for a low-key lilac or a vivacious violet, there is always room in any garden for a splash of purple.
Purple naturally blends well with whites and pinks, but you can also really think outside the box and combine it with bolder colours like acid greens, burnt oranges and hot reds.
Purple plants are equally at home in traditionally-styled gardens as well as gardens with a more modern and contemporary approach. Plants with purple flowers have also become very popular within Japanese themed gardens, proving that the colour purple is exceptionally versatile.
So, now that you have decided that your garden is crying out for some purple power, we have handpicked some of our favourite plants to help take your garden from plain and placid to passionate and powerful.
The power of purple
As one would expect, there are thousands of plants with purple flowers to choose from, varying in shade, size and care needs. We've picked out some of our favourites to help you get started.
1. Clematis
Though clematis comes in a wide range of colours, there is an abundance of purple flowering varieties to choose from.
This popular purple beauty is easy to grow and, if selected carefully, it is possible to have flowers all year round.
Best planted in spring or early-to mid-autumn, this plant thrives in sunlight or partial shade. Keep in mind that clematis is a very thirsty plant and will not do well in dry soil but, when well-watered, you will be rewarded with gorgeous blooms in shades from soft mauve to deep, rich purples.
2. Buddleja
Also known as butterfly bushes, buddleias bear beautiful, conical blooms that butterflies and other pollinators find very attractive.
Coming in a variety of purple shades, this plant is easy to grow and maintain, and will thrive in almost any situation. That said, they will attract more butterflies and bees if they are planted in a sunny spot in well-drained soil.
We recommend planting in spring or autumn and that you cut them back hard from March to May, as cutting back late promotes late flowering.
3. Bellflower
This perennial purple plant gets its name from it's flared, bell-shaped flowers and makes a wonderful addition to cottage gardens and rock gardens.
This charming plant will tolerate shade but certainly prefers to be in full sun and the more sun received the more flowers there will be.
Sow your seeds in spring in well-drained soil and when watering, make sure the soil is moist but never overly soggy.
Bellflowers bloom in summer three or four weeks and sometimes longer and add a layer of joy and whimsy to any garden.
4. Lavender
Lavender has become hugely popular among gardeners, mostly thanks to it's gorgeous and relaxing fragrance, its heavenly purple shades and the fact that it is darn easy to grow!
Not only is lavender popular among gardeners, but bees also adore it. Lavender flowers during the midsummer gap when there is little forage and bees are at their hungriest.
Attracting these hungry pollinators to your garden will help your garden to produce more plants and flowers.
Lavender enjoys full sun and well-drained soil and should be cut back after flowering to avoid the stems becoming woody. You only need to water them sparingly and apart from that pretty much take care of themselves and will fill your garden with splashes of purple and their signature scent.
5. Wisteria
Wisteria is effortlessly beautiful and is famous for the pendulous lilac blooms that you often see climbing the walls of a country cottage or draping itself over a pergola.
Wisteria demands patience as it can take five years or more to establish itself and begin flowering, but its purple flowers are certainly worth the wait.
This vigorous climbing shrub should be planted between October and April in full sun on a south or west-facing wall or structure.
Plant in fertile, well-drained soil and water frequently, especially in dry spells as wisteria can quickly dry out.
Though it may take several years for you to enjoy your wisteria in all its glory, this powerful, purple plant is a real statement and will be the envy of all your friends and neighbours.
If you are keen to include wisteria in your garden, then why not check out our wisteria growing and care guide?
6. Catmint
This tough-as-nails purple perennial blooms for months and requires very little attention.
This is an ideal purple plant for novice gardeners as it is heat and drought tolerant, is robust and rarely needs watering.
Although it can be grown from seed, we recommend planting nursery-grown catmint in full sun anytime from spring to early autumn.
Catmint has a lovely, minty, aromatic fragrance and repels deer and rabbits. Despite its name, it is not attractive to cats, but it is incredibly seductive to bees, butterflies and other pollinators.
7. Allium
These adorable purple puffs look like they could be out of a Dr Zeuss book. They are full of character and are an excellent addition to any garden.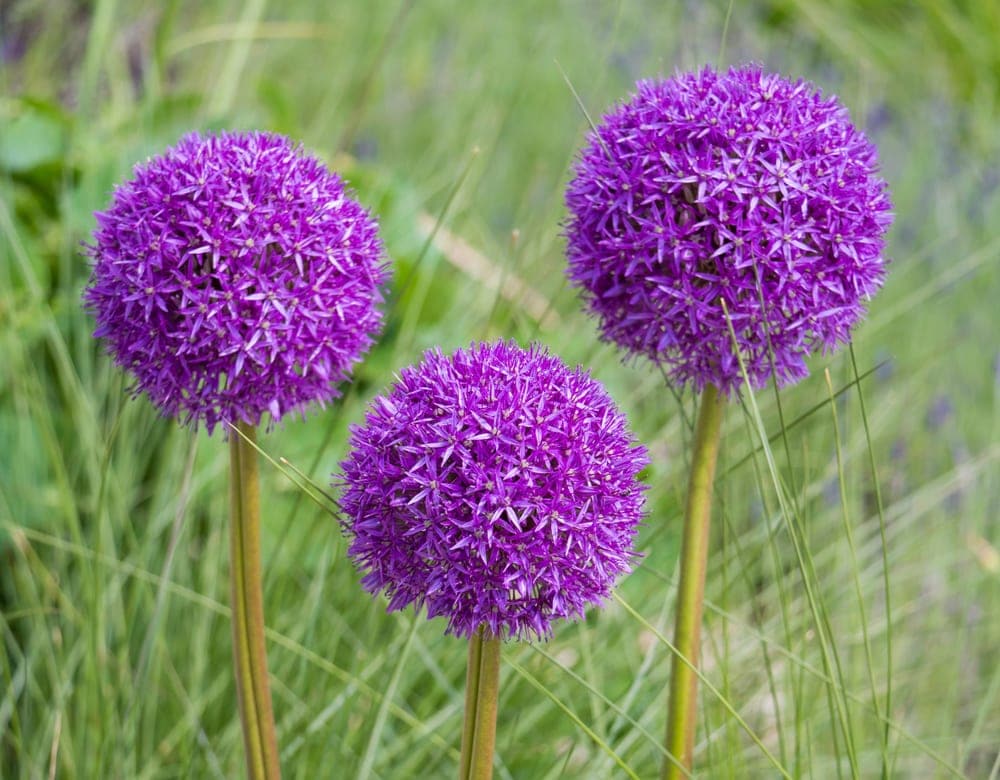 Alliums are super easy to grow, thrive in the sun and are drought tolerant. Best planted in mid to late autumn in well-drained soil, these adorable plants will flower throughout spring and early summer.
We recommend planting them in sunny borders or weaving them throughout feathery grass.
A garden of purple is always in bloom
It is said that a garden of purple is always in bloom, so what better reason to fill your garden with pretty purple flowers?
Hopefully, you are now filled with inspiration for incorporating purple plants into your garden, adding that gorgeous layer of luxury and richness.
Whether you stick with paler tones and pair them with whites and pinks or if you go all out with rich purples combined with bright and funky colours, you will have no problem creating something fabulous.
So let the purple passion course through your veins and get out there and start planting!