Overview
| | |
| --- | --- |
| Official Plant Name | Astrantia |
| Common Name(s) | Masterworts |
| Plant Type | Perennial Flower |
| Native Area | Europe and the Caucasus |
| Hardiness Rating | H7 |
| Toxicity | None |
| Foliage | Palmately lobed basal leaves |
| Flowers | Compact umbels of tiny flowers usually pinkish, reddish hues |
| When To Sow | February, March, April |
| Flowering Months | June, July, August |
| When To Prune | July, August |
Sunlight
Preferred
Full Shade / Partial Shade / Some Full Sun
Exposure
Sheltered
Size
Height
0.1 – 0.5M
Spread
0.1 – 0.5M
Bloom Time
June – August
Soil
Preferred
Most Soil Types
Moisture
Moist and Poorly Drained
pH
Any
The interesting pincushion blooms of Astrantia make them a popular choice for summer colour in a garden.
There are a number of cultivars of Astrantia that have been selected for their value to gardeners.
A. maxima, largest masterwort, has been given the Royal Horticultural Society's Award of Garden Merit. But there are also a number of other cultivars well worth considering – with blooms in an array of reds, pinks and whites.
What is Astrantia?
Astrantia is a genus of herbaceous plants. This genus takes its name from the Latin 'aster' which means 'star'. The name refers to the open, star-shaped floral bracts that radiate out around the pincushion-like flowering heads. One common name for this plant is 'Hattie's pincushion'. It is also referred to as masterwort, and melancholy gentleman.
As mentioned above, there are plenty of cultivars within this genus to choose from. But here are some excellent options for gardeners in the UK to consider:
A. 'Star of Fire' – deep red bracts tipped black, green leaves edged with pink and black.
A. major 'Bloody Mary' – dark green leaves and rich, dark red flowers with silver-green centres.
A. 'Gill Richardson' – vibrant cherry-red flowers from April-September.
A. major var. Rosea – dark foliage and charming pinkish-white blooms.
A. major 'Alba' – white flowers June-October.
Of course, these are just some of the options you could consider for your garden.
Why Grow Astrantia?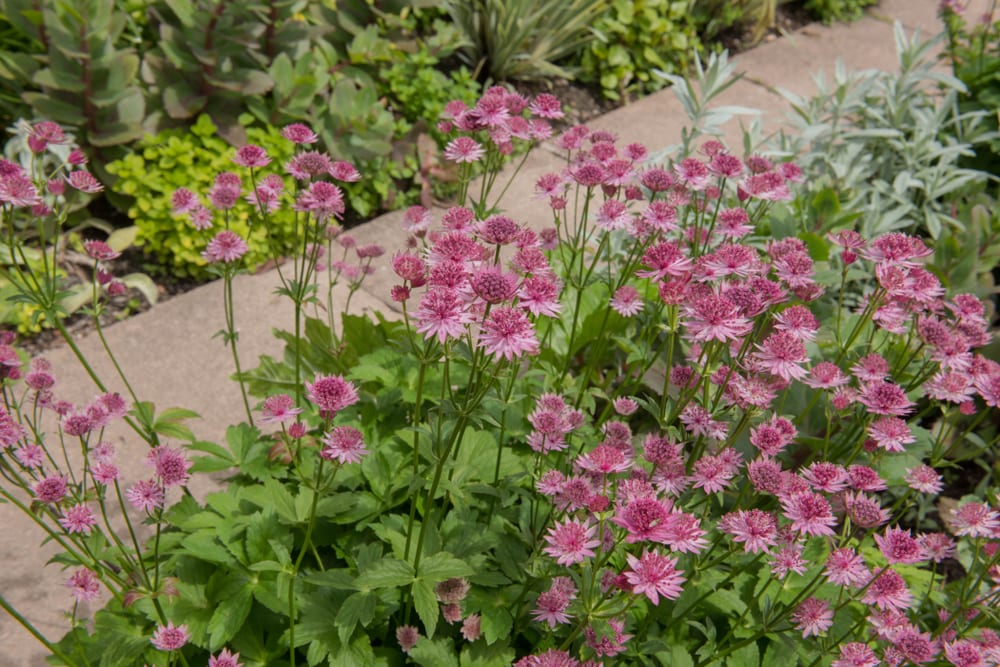 All of the varietals named above, along with a number of other beautiful options, are wonderful choices for a perennial planting scheme.
Aside from being prized for their attractive blooms, Astrantia is also a good choice for creating ground cover when the plants are grown in a group. An effective ground cover can protect the soil and keep your soil ecosystem healthy and productive over time.
Astrantia is also well-known for self-seeding in the right conditions. This can be great where gardeners are looking for a low maintenance and wilder garden scheme. However, you can also deadhead zealously if you want to discourage this.
Astrantia flowers can also make good cut flowers, so you could also remove the blooms before they set seed and use them for floral arrangements and displays inside your home.
These plants are typical plants for British gardens, having bloomed here since Tudor times. They look at home in a cottage or English garden type design. One of the other reasons for their enduring popularity is that they are slug and snail proof. So can be a good choice if these are an issue where you live.
Another major plus for gardeners growing Astrantia is the fact that these are excellent wildlife-friendly plants. They are fantastic for attracting native bees and many other pollinators, and other beneficial insects. So growing some Astrantia can help in maintaining the natural biodiversity that is needed for a healthy organic garden.
Where to Grow
Astrantia grows best in moist, humus-rich soil. A loamy soil that is high in organic matter is ideal, and sites with sandy soil will usually struggle to retain enough moisture. Clay soils can also be suitable for growing these plants, as long as they remain moist and do not bake dry in hot weather.
Astrantia will commonly thrive in the dappled shade beneath trees in a woodland or forest garden. Though it is worth noting that certain darker hued varieties will perform better in a sunnier spot. So it is important to know the needs of the varietal or varietals you are considering. Astrantia will also tend to do well under trees or shrubs or in glade areas between them, in a moist garden bed or border.
Astrantia lends itself well to planting in groups, where, as mentioned above, it will provide good ground cover between other plants.
Good companion plants for Astrantia include:
Dryopteris
Geums
Salvias
Thalictrums
Sambucus nigra
Though it will work well with many other plants that prefer relatively moist conditions.
Sowing or Planting
Astrantia seeds can be sown under cover in spring between February and April before being pricked out, potted on and planted out once the weather warms.
You can also sow seeds from your own Astrantia plants (or perhaps one that you admire that belongs to a friend or neighbour) directly in August or September in trays or drills in the garden, before pricking out and planting into their final growing positions the following spring.
Mature Astrantia can also be propagated by means of division in the spring. Simply lift the plant with a fork and gently pull the plant apart. Replant the divisions immediately or pot the divisions on.
Bedding plants purchased for your garden can be planted out between October and April. Simply remove the plant from its pot and position it in a planting hole. Refill the hole around the plant, firm it, and water well. Add a mulch of organic matter around your plants to retain soil moisture.

Caring For Astrantia
Astrantia plants should be well-watered. Adequate watering is particularly important to shepherd these plants through their first summer, especially if the soil in your garden is more free-draining. Note that plants grown in pots or containers will require more water than those grown in the ground.
Mulching
Mulching your plants with organic matter will definitely help in reducing water needs and conserving soil moisture. Remember, the less shade is available, the more water will be lost from the soil during sunny days. Replenish your organic mulch every year.
Autumn leaves or leaf mould, home-made compost and well-rotted manure can all be good mulch choices.
As long as the basic needs of moisture, soil and environmental conditions are met, Astrantia plants are relatively easy and low maintenance – requiring little care.
Deadheading
The main task (if you do not want your plants to self-seed, and want to prolong the period of blooming) is deadheading. Deadhead regularly and you will be able to enjoy more blooms over a longer time period. Cutting Astrantia back after flowering can encourage a second flush of flowers.
If you want to dry some Astrantia for floral displays inside your home, cut them in summer. Hang them upside down in a warm, dry place and they should keep well once fully dried.
Pests and Disease
Usually trouble-free and, as mentioned above, untroubled by slugs and snails, Astrantia can be susceptible to fungal infections such as powdery mildews. You can reduce the chances of a problem occurring by making sure that plants do not dry out and do not experience physiological stress. Plants not in tip-top condition are more likely to be a target.
Mulching well will also help to reduce the incidence of problems, as it can prevent soil containing fungal spores from splashing back up onto the plants' leaves. (When watering, dry to water at the roots and not from above, so foliage is not left wet.) Make sure there is good air flow around plants and avoid overcrowding.
You will be able to see if this problem has arisen by the white coating that appears on the leaves. To reduce the spread of such fungal infections in an organic garden, you should always remove affected foliage as quickly as possible. Usually, other interventions will not be required.
However, you can also make a home-made fungicide to spray on surrounding leaves, which can also reduce the spread and help in tackling milder infections. One example is a solution of 5% apple cider vinegar in 1 gallon of water sprayed on leaves in the cool morning hours. You can also use solutions containing garlic, or bicarbonate of soda if fungal infections such as powdery mildew become a persistent problem.
In autumn, cut back affected plants and be careful as you dispose of or burn the foliage. Do not add the material to your compost heap, and keep it away from other areas of the garden so the problem does not spread.
Grow them in the right places and consider the conditions they like best and you should find that Astrantia are superb, hassle-free flowering plants for your garden. As perennials, they will come back each year to delight you, and the bees and other insect life in your area.

Elizabeth Waddington
A permaculture garden designer, sustainability consultant and freelance writer, Elizabeth works as an advocate for positive change. She aims to inspire others to reconnect with nature and live in a more eco-friendly way. She also tries to practice what she preaches as she tends her own forest garden, polyculture beds and polytunnel. See her personal website here.