When the peak gardening season kicks in, you want your garden to be bursting with life and colour, and long flowering perennials are just the ticket.
The majority of perennials will offer second blooms to help prevent gaps in your garden, with little maintenance or additional planting required.
With some perennials, you simply have to remove the flowers before they start seeding, and this will encourage another burst of flowers. Other perennials just need to be cut back entirely after their first round of flowering, and should reflower again if fed and watered.
We also recommend deadheading to promote more prolonged flowering and help your garden to look it's best for as long as possible.
The best long-flowering perennials
To get the most out of your garden, we recommend planting in a mix of early, mid-year, and late bloomers. This will keep things as colourful as possible, for as much of the year as possible.
There are lots of long-flowering perennials to choose from, all requiring different levels of care and maintenance. We've written this list to help you get started.
1. Lavender
With its fragrant leaves and long-blooming purple flowers, lavender has always been a firm favourite in English gardens. Whether you have a country cottage garden or a more modern, contemporary design, lavender will always fit in and, as it can be grown in containers, it is perfect for even the most modest-sized spaces.
Lavender should be planted in spring from March to May in well-drained soil in a sunny, sheltered spot. You'll be rewarded with gorgeous flowers from late spring and all the way through summer.
They also attract bees and other important pollinators to your garden, so they really are a must-have.
2. Catmint
Nepata, or catmint, is also well-loved by pollinators, and this aromatic beauty blooms from late spring to the middle of autumn, producing gorgeous clusters of lavender-blue flowers.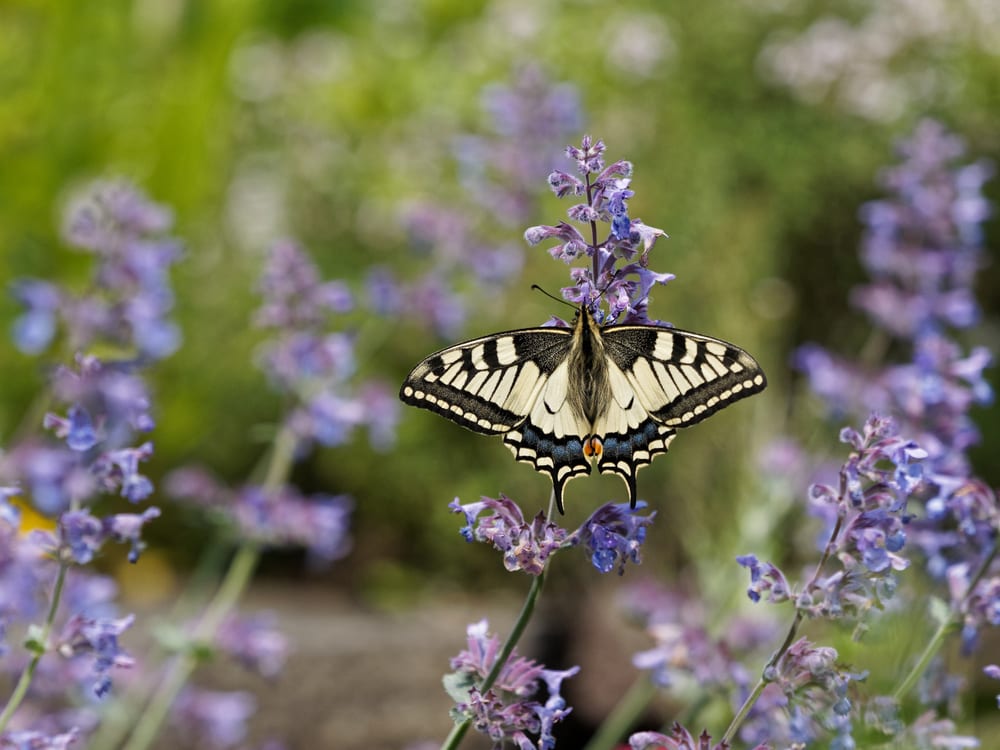 Catmint is easy to grow, and you should plant it out in spring. For best results, plant it in sun or partial shade and in average to well-draining soil.
This plant is a great companion for vegetable patches thanks to its insect repellant properties, and also lends itself well to edging. Take care to deadhead them to encourage further flowering.
3. Dahlias
If well cared for and deadheaded when necessary, Dahlias can put on their show from midsummer all the way through until the arrival of frost.
With colours ranging from pretty pastels to boastful brights, Dahlias make a real statement in any garden.
These little showstoppers should be planted during late May to mid-June, depending on one when the frost has ended. Dahlias prefer a sunny site in free-draining, lighter soil and you can boost your stocks by cutting and division, or by growing new plants from seed.
4. Yarrow
One of the longest flowering perennials, yarrow is a bee and butterfly magnet. It makes a lovely addition to herb gardens and flower beds.
Yarrow can be planted from October to March in full sun, and while it can thrive in almost any soil types, it much prefers well-drained soil. This plant will produce adorable clusters of flowers in a vast range of colours, and by cutting it back thoroughly in late summer, you encourage fresh foliage and blooms.
5. Hardy Geraniums
Reliable and long flowering, hardy geraniums can flower from April through till September in a variety of colours.
Tolerating both sun and shade they are best planted in well-drained soil and, if cut back after flowering, they will usually produce a second wave of blooms.
Hardy geraniums are also great self-seeders, and you will often find them flourishing in tiny cracks and spaces. They are also well-loved by pollinators such as bees and hoverflies and provide a long season of nectar and pollen.
6. Tradescantias
Resilient and easy to grow, tradescantias are short-lived; however, they frequently flower and have superb grassy foliage.
Producing unusual, three petalled flowers and thriving in a range of soils, this perennial is perfect for hanging baskets as well as for ground colour and filling gaps in borders.
Flowering from late spring to late summer this cheerful and charming plant is a beautiful addition in any garden.
7. Hemerocallis 
Also known as daylilies, this pretty little plant produces lily-like flowers that only last a day or two, but thankfully, in such an abundance that they span the period from Spring to late Summer.
With many colours to choose from, ranging from vibrant yellows and oranges to deep, burgundy-red, these plants bring a valuable flash of colour and life to your garden.
Plant hemerocallis in free-draining, fertile soil avoiding heavy shade as well as borders that are prone to drying out come summer.
8. Buddlejas
Also known as butterfly bushes, this deciduous perennial typically blooms from June through to September. It can reach up to eight feet in height and sometimes more producing long pinnacles of blue and purple clusters of purple and blue flowers.
Buddlejas should be planted in full sun and well-drained soil and should be watered slowly and deeply during dry spells. They are low maintenance and just require deadheading after flowering to prevent them from self-seeding.
As the name suggests, butterfly bushes are well-loved by butterflies as well as lots of other pollinators and beneficial insects.
9. Scabious
Although a meadow-flower, scabious looks equally at home in a more formal, manicured garden and are also a wonderful gap-filler. Flowering from June through to late August, this perennial comes in many colours, including white, blue and deep red.
Scabious prefer full sunlight but they will tolerate some shade and should be planted in moist, well-drained soil.
One single scabious can produce over two thousand seeds, which makes them a favourite amongst birds.
10. Black-eyed Susan
With their daisy-like appearance that blooms for weeks, this prolific perennial will bring a nonstop cacophony of colour to your late-summer garden, typically flourishing from late June until the first frost.
Black-eyed Susan requires minimum effort and care and should be planted in full sun and well-drained soil. Dead-heading will help prompt repeated flowering, and they are enthusiastic self-seeders. You can also cut back this plant to encourage another burst of blooms in Autumn.
These care-free wildflowers are a great way to attract birds into your garden.
11. Astrantias
These sophisticated shade-lovers sport showy, star-like flowers in a range of different colours. They also happen to be slug and snail-proof, making them an ideal asset for any border.
Astrantias should be planted in heavy, damp soil in full sun or dappled shade. They will also benefit highly from home-made compost or leaf mulch.
Flowering from June to August, this plant provides a long season of colour and, by cutting the plant back after flowering, you can expect more foliage and more flowers.
12. Penstemons
Penstemons are excellent long-flowering perennials that are popular with bees. If your border is lacking colour in late Summer, then this plant will make an immediate impact.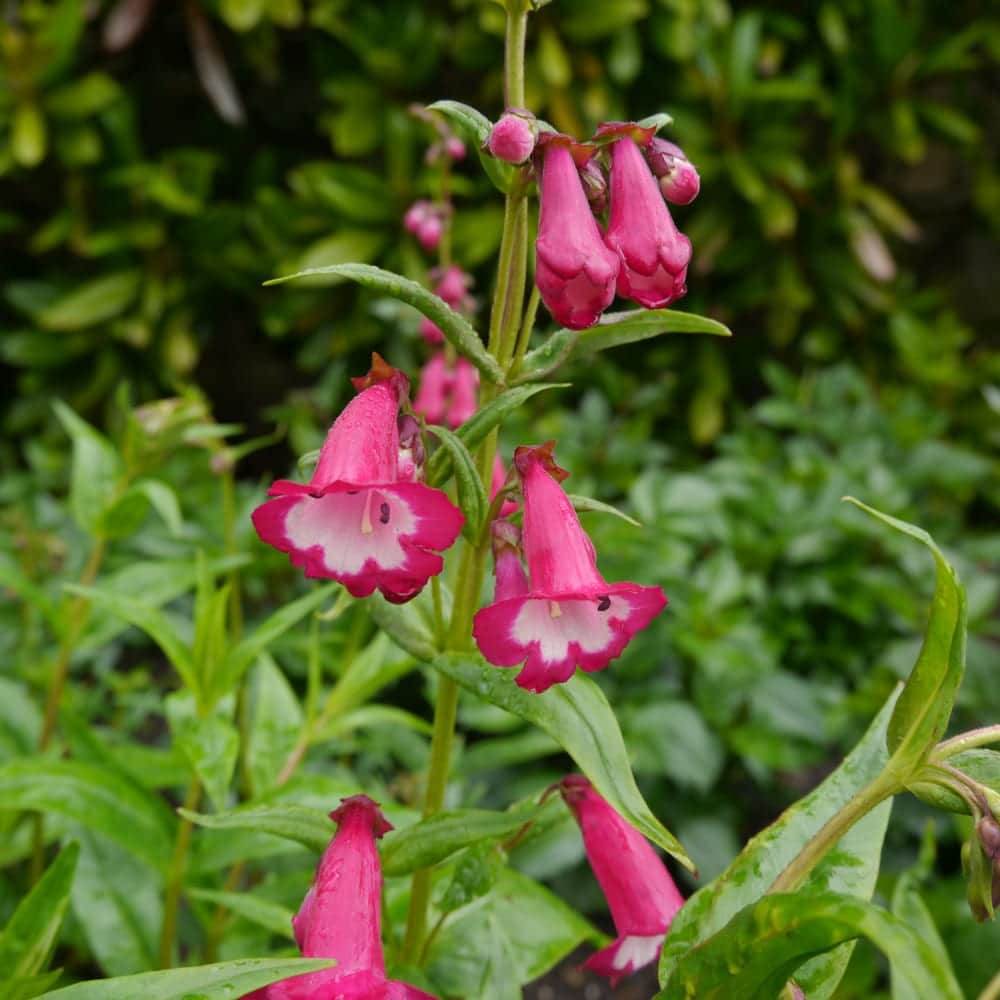 Grow penstemons is full sun to partial shade, in moist, well-drained soil. This perennial can suffer in winter, so we recommend waiting to cut back until late Spring. You can also take Summer cuttings to prevent later losses.
Plant penstemons in Spring, so they are well-established before the winter months. Plant in groups of three or five and this plant will reward you with flowers right up to the first frost.
Start planting those long-flowering perennials
Hopefully, by now, you are bursting with inspiration to help your garden boast colour for as much of the year as possible.
With so many long-flowering perennial plants to choose from, you will have no trouble getting the absolute most out of your garden whatever the style or size.
Make sure you do your research to ensure your plants flower for as long as possible, but with the right care, they will do the rest of the work for you.
So get planting, and reap the rewards of colour and happy pollinators that will truly make your garden a cut above the rest.